Since I very much enjoyed my visit, it would not be fair to the glory of Japan and its people to only provide a list of reasons you will hate the country (11 Reasons You'll Hate Japan).
Japan has a lot going for it too, and I am not just talking sushi and karaoke (although those are high on the list). I even included one more reason to love than hate to prove my sincerity.
KARAOKE
As I discussed before (A 4 Step Guide To Karaoke Superstardom), karaoke in Japan is far superior to its western counterpart. Private (climate-controlled) rooms, huge song databases, and the all-you-can-drink options make karaoke more than an activity for only the depraved, dive-bar regulars. With karaoke as an option, you will never not have something to do at night.
SNACKS
The quality and quantity of snacks is an important measure of a country's livability. Japan passes this test with flying colors. Based on snacks alone, Japan is one of the greatest countries I have ever been to. Grocery stores typically have an entire aisle dedicated to a colorful array of delicious snackage, and sampling each presents quite the challenge.
NOMIHOUDAI
Available at a surprising number of restaurants, bars, and karaoke parlors, nomihoudai is an amazing offer by which one can receive unlimited amounts of alcohol for a set amount of time. The cost of such an endeavor? Usually quite reasonable (maybe the cost of around four or five drinks).
FANCY TOILETS
Toilets in Japan are a thing of mystery to westerners (Toilets In Japan: To Squat Or Not To Squat) and using one for the first time can be a little confusing (if you intend on taking advantage of their many features, that is). The "fancy toilets" of Japan are wonderful and offer everything from heated seats to fake flushing sounds (to disguise your flatulence, of course).
THE FOOD
Japanese food is delicious. Sushi, ramen, horse, curry, soba, udon, tempura, and more – it's all fantastic. Japanese food isn't particularly spicy (which is sad because I love spicy), but it is what many would describe as "bomb kron" (and often beautiful as well).
CAT CAFES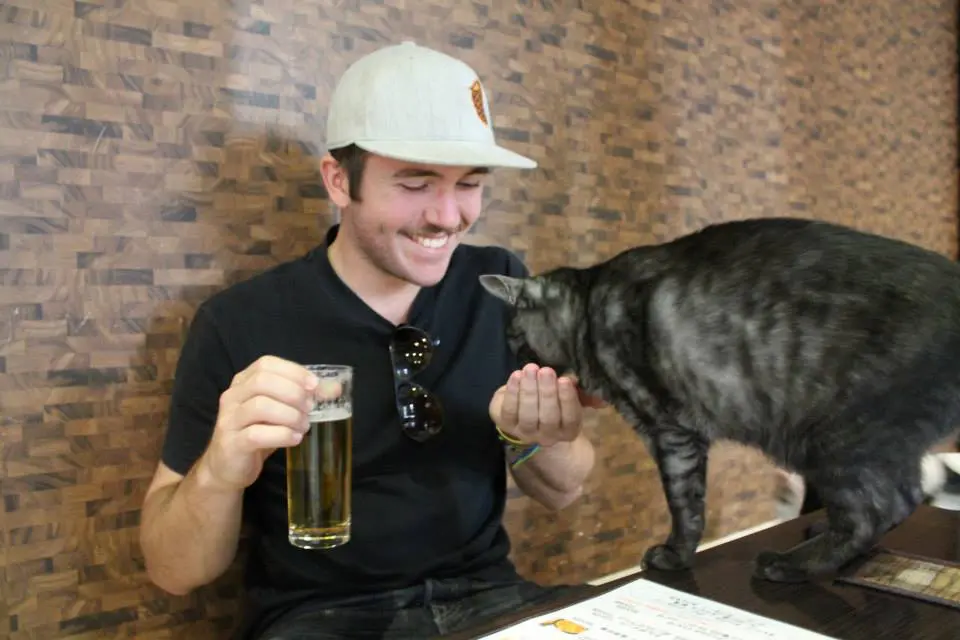 CAT CAFES! I don't know what to say about cat cafes except that you should go to one. Have no friends? Want to relax? Just want to touch a pussy? Go to a cat cafe. Where else can you lounge around, drink a beer, and be surrounded by beautiful feline friends for only $4 an hour? Nowhere, that's where. Even if you are one of those people who believes that they hate cats (you misguided soul, you), cat cafes are still an awesomely Japanese thing to witness while in the country. Interested? Check out my cat cafe experience.
SHIBA INUS
What's the most Japanese dog there is? The Shiba Inu. One of the oldest dog breeds in the world, and originally bred in Japan for hunting, these guys are still popular in the country today. Perhaps the most popular dog amongst the Japanese, Shiba Inus are awesome, and if it weren't for my current love affair with a Welsh Corgi, they would be a contender for my favorite dog breed.
CONVENIENCE STORES
Convenience stores are everywhere. Everywhere. Not only are they convenient, and also stores, but they frequently have (incredibly clean) public restrooms as well. They sell hot food, snacks, beer, liquor, nudie mags, and they have ATM machines! From the familiar 7-11s to the Family Marts and Lawsons, convenience stores in Japan truly are convenient. Did I mention convenient?
VENDING MACHINES
Although convenience stores are quite prevalent, they can't be everywhere (contrary to my previous statement). However, vending machines truly are everywhere. They contain hot drinks, cold drinks, and sometimes alcoholic drinks or cigarettes. Commonly found in groups of three or four (or more), they are open 24 hours and require no human interaction. Easy peasy.
ONSENS
Long day of hiking up volcanoes? Tired from working your ass-kicking job? Maybe just want to relax for a bit? Hot springs (or onsens as they are known to the Japanese) can be found throughout the country, and are remarkably refreshing. The best part? You get to be (legally) naked.
Read more about onsens at, The Onsen: Japanese Hot Springs (And Full Frontal Nudity).
TRAINS
Getting around Japan is easy thanks to an amazing network of railways. Traveling within and between cities is quick and straightforward (once you're onboard, that is). Although the shinkansen (bullet train) is incredibly expensive (flying is usually cheaper), you can always use the slower trains or secure a JR Pass prior to arriving in Japan (this allows you unlimited use of trains for a specified period of time within a specified region – worth your money if plan on traveling whilst in the country).
HOT DRINKS
I do not know what to call them, but whatever the opposite of a refrigerator is, Japan has them. I guess maybe just a heater? I will call them hot boxes. Despite my hatred for coffee (and hot drinks in general), I have to say that if I did enjoy the occasional heated beverage, these things would be incredible. If you want a hot can of coffee to go, it's readily available (and best of all without human interaction). Not only can you find hot drinks in your local convenience store, but they are in vending machines as well.