Whether your opinion of Japan ends up being that you hate it or you love it, one thing can be said with near certainty: you will love konbinis (at the very least you will use them frequently).
Convenience stores in Japan, or konbinis, have literally become so deeply integrated into Japanese society that I don't know how smaller or more rural towns manage to function without them (konbinis can actually be used as a measure of how rural a place is).
And these places aren't your dirty gas station mini-marts either; these are clean, welcoming, fully stocked, havens of paradise (and nudie mags).
Now, I would like to point out eleven reasons why konbinis are awesomely Japan while at the same time managing to break all the rules.
1. THEY HAVE TRASH CANS
This might not sound that exciting, but trust me, it is. If you have spent any time in the country, then you know that trash cans are surprisingly difficult to come by in Japan. Should you decide to take your food to eat whilst walking around and enjoying the sights (which I am told is rude to do), then good luck finding somewhere to do away with your trash (perhaps this is the country's passive, non-confrontational way of enforcing said ban on walking and eating). Many people sit in their cars in front of konbinis (or simply stand in front) while they consume whatever it is they bought (probably an onigiri (rice ball) or cigarette) before then throwing away their trash at the same konbini (because they know that if they leave, that trash is staying with them). For more on garbage in Japan check out: Garbage In Japan: The Country's Greatest Mystery.
2. THEY ARE EVERYWHERE
Konbinis are quite literally everywhere in Japan (perhaps the only thing more prevalent is Japanese people). There are konbinis across the street from konbinis, down the street from other konbinis, within sight of three other konbinis (you may think this to be an exaggeration, but places like this exist). In the time that I have been here, I have witnessed the construction of two new konbinis across the street from one another and a block away from an already existing third. It seems that every Japanese person need live within walking distance of a konbini to survive (I know I do). But beware: should you ever need a konbini, they are nowhere to be found (just like the police).
3. THEY SELL ALCOHOL
Konbinis offer an extensive selection of soft drinks, coffee drinks, hot drinks, tea drinks, juice drinks, and most importantly, alcoholic drinks. Not only can you buy shōchū in a juice box, but you can choose from a large selection of beer, wine, sugary hangover drinks, and even liquor (that can usually be found in convenient pocket-sized bottles). You need to be 20 years of age to purchase alcohol in Japan, but I have never seen anyone (or myself been) asked for identification (but maybe that's because foreigner). Sometimes (and I haven't figured out what exactly triggers this), you will have to hit an OK button on the screen in front of the register to confirm your age. However, since you are probably a confused gaijin, the cashier will usually just reach over and hit it for you.
4. THEY ACCEPT CREDIT CARDS
Breaking the norms of Japanese society, konbinis are one of the few places that you can count on being able to use a credit card in Japan. Since Japan is largely a cash-based society, many places in will only accept pieces of paper (and not plastic – or precious metals) as payment for goods and services (just pretend you're at a strip club). Konbinis will gladly take your money in plastic form and they will never give you any garbage about a minimum spend or service charge (but beware foreign transaction fees). Now you can indulge your drunken self at four in the morning when you don't even have they money to realistically do so (congratulations).
5. THEY HAVE BATHROOMS
In heavily trafficked areas of large cities the konbini bathroom can be a more coveted prize, but generally speaking, konbinis have public(ly accessible) bathrooms. I don't know what the etiquette on whether or not you are expected to purchase something during your visit, but nobody will confront you if you manage to make it out without deciding to indulge in a pizza dumpling or stick of fried chicken. Practically all konbini bathrooms I have encountered have been incredibly clean (even the dirtier ones are clean compared to what I grew accustomed to in the US), and the majority are even equipped with fancy ass-tickling toilets.
6. THE HAVE ATMS
Don't know what banks look like in Japan? Don't know how to ask where to find an ATM? Can't go to the bank ATM because it's closed? (Yes, bank ATMs close). Good news, the konbini has an ATM for you! Konbini ATMs don't close, but they do charge a fee (you're not used to this yet?). As far as overseas cards are concerned, 7-11 has proved to most successful for me personally (which is nice because it is also my konbini of choice, although Family Mart is making a run for first position).
7. YOU DON'T HAVE TO BACK INTO PARKING SPACES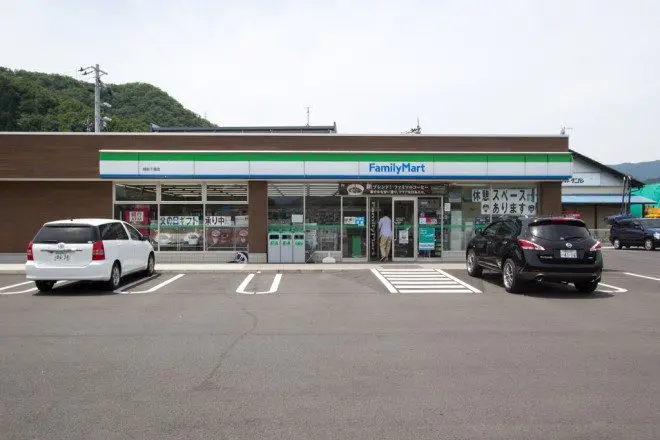 Okay, so you don't have to back into parking spaces in Japan (and if you're visiting, then chances are you don't really care), but the vast majority of people do – everywhere except at konbinis. For some reason, konbinis break the trivial, unwritten rules of Japanese society (which makes them awesome). To make parking at konbinis even more exciting, their parking lots are usually enormous for what they are (can be many times the size of the building itself) and they make excellent alternatives to paid parking lots (for all you rule-benders out there).
8. THEY HAVE PRINTERS
Now why would you need to print something? What age are we living in that people still need employ machines to produce pieces of trees with ink smeared on them? We're not in that age – which is why you don't have a printer – which is why you might end up needing one when the bureaucratic machine that is Japan requires that you produce something in physical form. Documents can be uploaded online ahead of time or brought on a flash drive (or other removable media) to be printed. These multifunction printers will also copy, scan, and sometimes fax (for some reason faxing is still a thing in Japan).
9. THEY ARE OPEN 24 HOURS
This is not true for all konbinis (this is merely speculation), but a large percentage (something like 95%, based on no information or research whatsoever) operate 24 hours a day. I have never seen a closed konbini in all my time spent road tripping and traveling around the country. Now you never have to worry about where you're going to get those midnight munchies or nightcap. Don't have a hotel? Why not try your luck at sleeping in the konbini bathroom? (I just had this idea – might have to give it a try in the near future). Not comfortable dropping trow in public? Thankfully the local konbini has your back (side).
10. THEY HAVE SNACKS
Do you like snacks? Because I like snacks. Apparently, so do Japanese people because that's what about a quarter of the konbini is devoted to. What kind of snacks? Candy, chocolate, rice balls, fried things, chips, cookies, crackers, pastries, and ice cream, just to name a bit of what you can expect. Fast food isn't incredibly prevalent in Japan (although there is the ever-present McDonald's) and I suspect that konbinis have stepped up to fill this gap in the lives of Japan's residents (because we as a species can no longer live without easily accessible and readily edible food).
11. THEY SELL PORN (AMONG OTHER READING MATERIALS)
As we found out recently in our examination of the keywords you search to arrive here, you are into full frontal Japanese nudity. Well, guess what – the konbini's got you covered. It doesn't matter if you're looking for some good old-fashioned naked ladies or you're into drawings of naked ladies instead – the konbini will sort you out. Unfortunately, these magazines are typically taped (or otherwise) shut so you'll have to purchase it before you take it into that nice konbini bathroom. Just a warning: penises and vaginas are blurred out in Japanese porn (regardless of the medium).
BONUS: SOME HAVE BOOKS FILLED WITH CAT PHOTOS