The EcoFlow DELTA mini is an 882Wh power bank weighing 23.6 lbs / 10.7 kg with three USB-A ports (one quick-charge), one USB-C port, five AC outlets, and one 12V outlet.
It's large enough to reliably power most larger devices like laptops, powered coolers, televisions, or drones. It can be charged via a wall outlet, a vehicle, or via one of EcoFlow's many solar panels. I have used the DELTA mini exclusively with the EcoFlow 220W Bifacial Solar Panel (in addition to wall and vehicle charging).
Here's everything you need to know about the EcoFlow DELTA mini.
Pros and Cons
+ Three USB-A, one USB-C, five AC outlets
+ Can be recharged via car, wall outlet, or solar
+ Charges 0 to 80% (via outlet) in 1 hour
+ EcoFlow app can be used to monitor/control
+ Handles make transport easy
– Solar panels are large and heavy
– Semi-irregular shape because of handles
– Only one USB-C port
– No discount for buying bundled items
The Specs
The following information reflects the EcoFlow DELTA mini only. The EcoFlow 220W Bifacial Solar Panel specs can be found here.
Weight: 23.6 lbs / 10.7 kg
Dimensions (in): 14.9 × 7.2 × 9.4
Dimensions (cm): 37 × 18.3 × 23.6
USB-C Ports: 1
USB-A Ports: 3
Type B Outlets: 5
Operating Usage Temperature (Discharge): -4-113°F (-20-45°C)
Capacity: 882Wh
Cell Chemistry: NCM Li-ion
Lifecycle: 800 cycles to 80%+ capacity
Solar Input: 300W
AC Output: Pure Sine Wave, 1400W total (surge 2100W), 120V~ (50Hz/60Hz)
USB-A Output: 5V DC, 2.4A, 12W Max, per port
USB-A Fast Output: 5V, 2.4A / 9V, 2A / 12V, 1.5A, 18W Max
USB-C Output: 5/9/12/15/20V, 5A, 100W Max
Car Charging: 12V/24V, 8A
Recharge Time (Outlet): 1.6 hours
Recharge Time (Car): 9.5 hours
Recharge Time (400W Solar): 3 hours
Country of Origin: China
MSRP: $999.99
The Features
EcoFlow's lightest DELTA power station, weighing 23.6 lbs / 10.7 kg with two handles
1400W output can handle 90% of electronics
X-Boost can increase output to 1800W to power other appliances such as a toaster oven, table saw, or hairdryer
Can power up to 12 devices at once
Will charge in 1.6 hours with X-Stream on
Photo Gallery
The Good
The Charge Time: The EcoFlow DELTA mini has a large battery capacity that can be charged in a surprisingly short amount of time. Using a wall outlet, you can get to 100% in under two hours and up to 80% in just one hour. I have numerous smaller power banks that take much longer to charge – to the point where I assume I won't have time to charge them fully unless they're left plugged in overnight. The DELTA mini is a welcome relief with its quick recharge time.
The Ports: The EcoFlow DELTA mini can charge up to 12 devices at once. There are four total USB ports (three USB-A and one USB-C), one 12V car port, and five Type B outlets (i.e. what you call a "regular plug"). I generally use a plug to extend the number of USB-C ports (more on this below), but there's more than enough to power everything I need while car camping or at a base camp (generally laptop, camera, headlamp, backpacking power bank, drone, GoPro, and string lights – among other things).
The Pass-Through Charging: Good news! The EcoFlow DELTA mini is capable of pass-through charging. This means that you can charge the DELTA mini while also using it to charge other devices. Many power banks either will not allow you to do this or the manufacturers strongly advise against it. EcoFlow only warns against pass-through charging if the DELTA mini's battery is low to begin with – you don't want it to run out of battery while both charging it and drawing from it.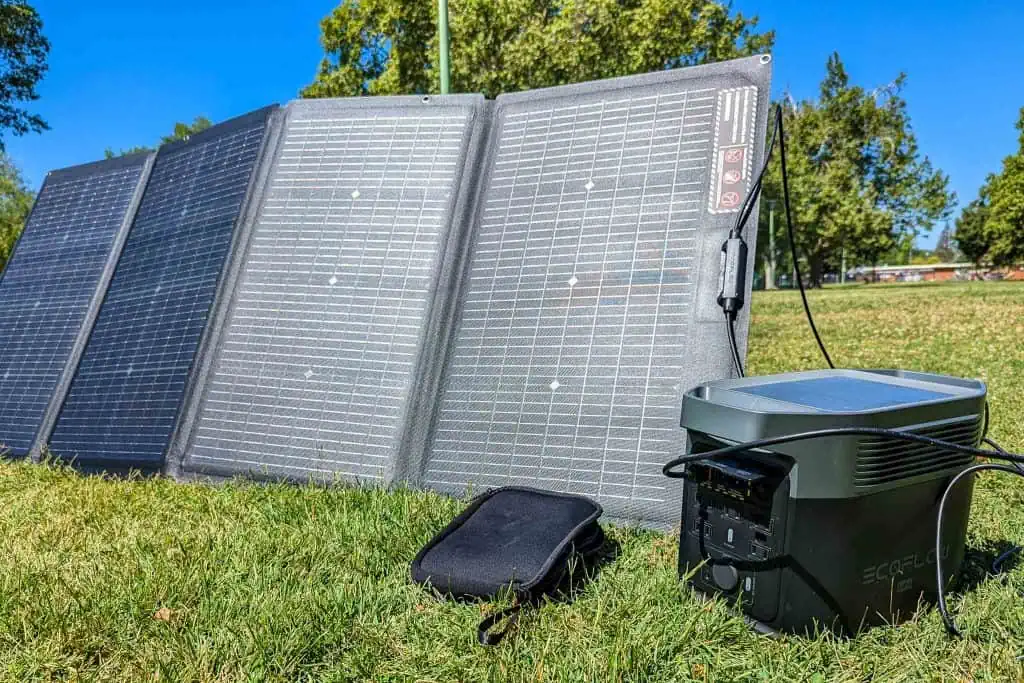 The Okay
The Panel Size: The EcoFlow DELTA mini can be used with a variety of solar panels – even third-party solar panels – but the issue with the EcoFlow panels is the size. I use the EcoFlow 220W Bifacial Solar Panel which works great, but it's a bit cumbersome and in addition to being heavy, it's incredibly long. The panels work well and charge the DELTA mini relatively quickly (three hours with direct sunlight), but in addition to being fragile, they are a bit cumbersome. You'll need to be intentional about packing your panel away when it's not in use.
The USB-C Port: Maybe there's a good reason for this, but like many power banks on the market right now, the EcoFlow DELTA mini only has one USB-C port. I feel that we've gotten to the point where it's not time we have more USB-C ports than USB-A ports as the majority of devices now have made the move to USB-C. I literally make purchase decisions based on whether a device uses USB-C. It's good that there's one USB-C port, but with such a full-featured power bank, I would hope for more.
The Shape: The shape of the EcoFlow DELTA mini is mostly good with a little bit of "to be improved". It has a flat bottom and top which makes it easy to stack and place on flat surfaces; it's stable. It also has two handles which make for easy transport, although it can be a bit awkward when carried by just one handle. However, the handles extend out from either side which can make tetrising it into your car, shelf, or otherwise cramped space a bit annoying – especially since if you're pushing it back against something you end up with some dead space between the unit and the wall created by the second handle.
The Bad
The Price: The EcoFlow DELTA mini is expensive with an MSRP of $1000 – and that's before you consider any taxes, accessories, or solar panels (the solar panels are equally expensive). The good news here is that the power station boasts a cycle life of 800 cycles to 80% capacity. That's over two years' worth of daily discharge. If you're using this casually and not for everyday life, that means your DELTA mini should last you a long time.
Who is it for?
For powering larger electronics or for an extended base camp setting where you want to power speakers, laptops, small devices, and possibly a larger device, the EcoFlow DELTA mini is a great option.
f you're looking for something to power a refrigerator, blender, or other large electronics to sustain off-grid living, this will be a great addition to your kit but I wouldn't use it as your primary point of power (especially if you have multiple large electronic devices that you are hoping to power for extended periods).
Wrap Up
The EcoFlow DELTA mini is compact enough to sit behind the seat of your car, on the shelf of your office, or between your legs at a bar (although carrying it in may be strange). It recharges quickly and has enough juice to fulfill most of your off-the-grid needs so long as you don't have an entire kitchen you're operating in the backcountry.
It can be used together with one of EcoFlow's solar panels or a third-party solar panel and will recharge (via solar) in as little as three hours (or under two via an outlet). It's not compact enough to fit into your backpack and it only has one USB-C port, but there's not much to complain about other than that. Did I mention you can control it with the EcoFlow app?
Questions, comments, or personal experience with the EcoFlow DELTA mini? Leave a comment below or get in touch and let me know!
Check out the EcoFlow DELTA mini here.
This page contains affiliate links, which means at no additional cost to you, I may receive small commissions for purchases made via these links. This helps to pay the bills and keep the site up and running. Thank you for your support!