NOTE: The SuperMegaUL 1 has been discontinued and replaced by the Mountain Hardwear Ghost UL 1.
Tents: portable fabric homes for hippies, hobos, and hikers. Commonly employed outdoors for use whilst "camping" a tent can be a person's best friend and nightly escape from the elements (or a terrible place to be cornered by a hungry animal).
Many hikers on the Pacific Crest Trail choose to forgo sleeping in a tent, choosing instead to cowboy camp most (dry) nights out on the trail. However, the charms of cowboy camping are lost on me, and I very much enjoy the comfort of my wilderness home each night. The Mountain Hardwear-produced structure I have been erecting nightly to protect me from the elements and insects goes by the name of SuperMegaUL 1, and it is fantastic.
THE BASICS
First of all: SuperMegaUL 1. Awesome name (although it is a mouthful).
Now before we move forward, in the interest of full disclosure, this is my first long-distance hiking trip and I have little to compare my experience with this tent with. The tent offers room for one person and a minimal amount of gear storage (mesh pocket, I love you).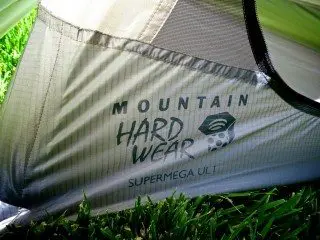 Minimum Weight: 1 lb 13 oz / 807 g
Packed Weight: 2 lb 3 oz / 0.98 kg
Floor Area: 16 sq ft / 1.5 sq m
Doors: 1
Poles: 1 (cross-bar style)
Vestibules: 1
Interior Height: 33 in / 84 cm
MSRP: $350 US
The Good
I can honestly say that I am one of the few people I met on the Pacific Crest Trail who had no complaints with my tent (that is, of the people I discussed tents with).
THE FREESTANDING | Although I wavered at times, I have decided that I most definitely prefer having a freestanding tent. You can easily shake it out in the morning, you do not need to worry about finding good ground to drive your stakes into, and you can just pick up and move if you decide you don't like your campsite – the benefits are well worth it (it may not seem like much, but when trying to put up your tent in the rain in terrible terrain you will be glad for your poles then).
THE WEIGHT | Being a freestanding tent, the SuperMega requires poles – and poles are heavy (relatively). However, that being said, this tent is one of the lightest in its class, and at under two pounds (minimum weight), there is not much to complain about.
THE NO HASSLE | Pitching and breaking down this tent was a breeze. It packs up easily (I did away with the stuff sacks, stored the stakes wrapped in the tent, and kept the poles separately), and can easily be tucked away into the corners of your pack. Rarely was I not the first of my companions with their tent pitched at night or packed-up in the morning.
THE POCKET It may not seem like much now, but the mesh pocket inside the tent was awesome. I am still unsure as to why exactly I was so grateful for its presence, but it was put to use every night, and it served to keep me organized whilst attempting sleep.
The Okay
THE INTERIOR | The tent is highest near the door at a height of 33″, and I could sit up (cross-legged) with my head in this space quite comfortably. But only in this space. Occasionally I found myself pressed up against the ceiling whilst sorting out my sleeping pad and bag, yet this provided only a minor inconvenience.
THE WEATHER RESISTANCE | Since it is a three-season tent, it does not stand up to rain and snow as well as a tent could (although the wind was never a problem once you got it staked down). However, if you do not have it staked correctly in wet conditions (and even when you do), then you can count on most of your belongings being moist (at best) in the morning.
THE VESTIBULE | Having a vestibule available is a definite upside (although using my alcohol stove in it meant certain death). The amount of space provided by the vestibule was quite small, and if I wanted to keep from leaning my pack up against the inside of it, then I would have to use my pack cover to ensure the protruding edges did not get wet.
The Bad
As much as I would like to say that my choice of tent for the PCT was perfect in every regard, I cannot.
THE PRICE | Not significantly more or less than any of the other single-person ultralight tents available, the $350 price tag could surely be improved upon.
THE STAKES | I do not know what I was doing wrong (the answer is nothing, the stakes are sub-par), but only two of the tent's stakes have survived without being bent, broken, or otherwise rendered less-than-ideal.
Conclusion
Overall, I was incredibly satisfied with my choice of tent, and I will most certainly employ the SuperMegaUL 1 in the future. I toyed with the idea of buying a Tarptent at times, but after hearing friends complain of the laborious setup (and witnessing much frustration), I reassured myself that I did, in fact, have the right gear for me.
Check out the SuperMegaUL 1 for yourself.
This page may contain affiliate links, which means I may receive small commissions for purchases made via these links at no additional cost to you. This helps to pay the bills and keep the site up and running. Thank you for your support!