I was first introduced to the Thrupack Summit Bum at the end of my Continental Divide Trail thru-hike and it's a real shame I hadn't known about it beforehand. It was as if I had just finished digging an enormous hole (you know, for a body or something) with my hands and along comes some asshole with a shovel. That said, this shovel has been with me ever since.
Thrupack was started by Paul (aka Skunk Ape) and is based in Norfolk, Virginia. My Summit Bum comes everywhere with me and it's quickly become one of my favorite pieces of gear. I tell everyone I hike with to get themselves one (and I've even bought myself a second after seeing some of the new colors – that teal is straight fire).
Note: I have a slightly older model of the Thrupack so my photos are slightly different from the current version. Also note that there is a Summit Bum UL available as well (made from 1.4 oz DCF aka cuben fiber). This review is for the regular Summit Bum. The Summit Bum also comes with an optional Comfy Strap (for an extra $15); I have a Comfy Strap and have included it in this review.
Testing Conditions
I've used the Summit Bum a lot – from drinking beer in Los Angeles to standing at 20,305 ft / 6,189 m atop Imja Tse (Island Peak) in Nepal. The Summit Bum has been a part of my backpacking kit since I got it and I haven't encountered any situation where it's been more liability than asset (except for all of the jealous stares I get walking around town).
---
The Specs
Size: 10 x 5 x 3 in / 25 x 13 x 8 cm
Capacity: 3L
Weight (Alone): 2.5 oz / 71 g
Weight (w/ Standard Strap): 3.5 oz / 99 g
Weight (With Comfy Strap): 4.7 oz / 119 g
Materials: Laminated VX21, VX25, or polyurethane-coated 210D Dyneema X Gridstop
Zipper: YKK #3 Aquaguard
Sizes: One size
Available Colors: Black, Blue, Brown, Orange, Purple, Red, Teal, White, Yellow
Country of Origin: USA
MSRP: $45
The Features
Easy-access pocket large enough for most smartphones
Fits any strap less than 2 in / 5.08 cm wide
Loops on all corners to attach chest-rigging
2 Internal pockets large enough for a small wallet
Internal mitten-clip
1 in / 2.54 cm Webbing strap included
The Good
THE PRACTICALITY | After hiking with a Summit Bum, I don't know how I ever got on without one. Probably just overfilling my backpack's hip belt pockets and my shorts. My Thrupack now holds everything that I'm going to need throughout the day unless I'm stopping for a meal. I use it to carry my sunscreen, maps, pen, head net, phone, spork, hand sanitizer, and (most importantly) snacks. Not having to stop and take off or fiddle with my backpack to get any of these things is a huge convenience and the fact that I have my snacks at arm's length means that I can hike while snacking. Such efficiency! No breaks!
THE POCKETS | There are three pockets on the Summit Bum, one exterior and two interior. The interior pockets are handy for keeping small or frequently used items easily reachable (I now understand the struggle of everyone who has ever dug through a purse knowing that something was in there but being unable to find it). The exterior pocket is large enough to fit a phone with a six-inch screen and a Lifeproof case. It's also deep enough that I've never had to worry about my phone possibly falling out.
THE CUSTOMIZABILITY | There are eleven different Summit Bum styles available (this does not include the Summit Bum UL which would make twelve) and there are twelve different Comfy Straps (not including the basic strap that comes with the Summit Bum which would make thirteen). That means a total of 156 possible combinations meaning that you (probably) won't be rocking the same Summit Bum as everyone else. If that's not good enough for you, you can also request custom work via the Thrupack Shop.
THE WARRANTY | The Summit Bum's stitching and craftsmanship are guaranteed for 3,000 mi / 4,800 km or up to one year. This means that if you're looking for a fanny pack to stand up to the rigors of a thru-hike, Thrupack has you covered.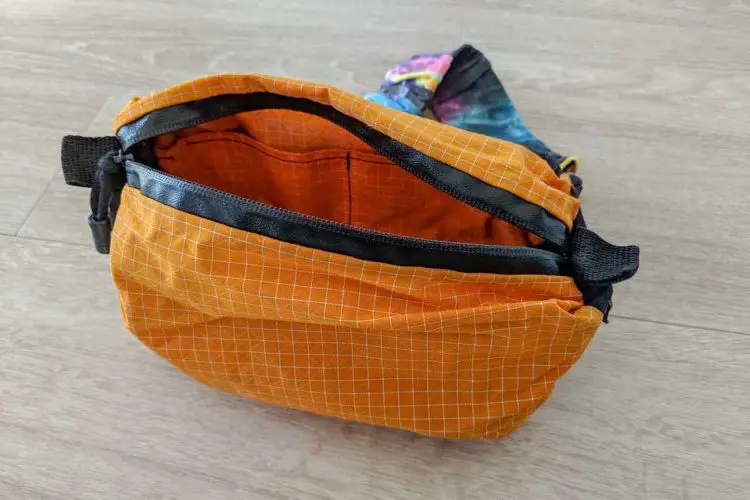 The Okay
THE WEATHERPROOF-NESS | Honestly, I've found the Summit Bum to be very weatherproof. I've never had a problem with items inside of the pack getting wet (even during heavy rain). I don't know that I would trust it to keep a stack of hundred dollar bills dry (because this is obviously something I'm always carrying around with me), and I definitely wouldn't want to submerge it, but for use in the rain it does a surprisingly good job of keeping things dry.
THE COMFY STRAP | I like the comfy strap and I prefer it over the basic strap that comes with the Summit Bum, but I find the sizing and the utilization a bit wonky. I originally got a large that I then downsized to a medium (what I'm using now), but I think I could have just gotten a small (it's a very stretchy material). I usually wear my comfy strap at the tightest possible size which leaves a long tail of fabric hanging off the strap. I usually shove this inside the loop where the strap fits through the Summit Bum, but it's not the most elegant solution.
The Bad
THE STRAP | There is not a great way to keep the strap attached to the Summit Bum and I find myself always trying to adjust it to hide the buckle inside the back of the Summit Bum. If it creeps out, it can stab into my gut, but I can usually keep it tame. I also wish there was a way to easily hide away the excess strap material that hangs from the Comfy Strap after adjustment (as I pointed out above).
Who is it for?
BEGINNER BACKPACKERS | If all you have is a daypack you might not need a Summit Bum, but if you want to be really cool you could just use your Summit Bum as your day pack.
CASUAL BACKPACKERS | If you're a casual backpacker then you might not see the utility in owning a Summit Bum, but guess what? You can use it everywhere! Disneyland? Check. The local brewery? Check. The movie theatre? Check. Medieval Times? Check.
WEEKEND WARRIORS | A Summit Bum is a great accessory for weekend warriors and is not something that you would find unhelpful on shorter trips. Definitely, a piece of gear to consider.
THRU-HIKERS | I can't imagine doing a thru-hike without a Summit Bum. It helps you to minimize the time you spend digging through your pack each day which means more time walking which adds up significantly over the course of a long-distance hike. That, and it makes you look really cool.
Conclusion
Honestly, I think the Summit Bum is awesome. There are probably some improvements that could be made to the design, but I'm very happy with the current version. Anything different in the future would simply be a bonus. At $45, it's a relatively inexpensive piece of gear that could make a huge difference in your hiking style.
Check out all the Summit Bums and the rest of the Thrupack lineup (including backpacks, accessories, and other fanny packs) here.
This page may contain affiliate links, which means at no additional cost to you, I may receive small commissions for purchases made via these links. This helps to pay the bills and keep the site up and running. Thank you for your support!