I almost feel wrong saying it (as I don't want to give the impression that I am in any way discounting anything I did and/or saw in Israel), but the Dead Sea has to be hands down the most awesome thing in Israel.
Before my journey to the Holy Land I had heard from friends, "Hey! You know you can float in the Dead Sea, right?" to which I responded, "Yes. You know that people float in water, right?" Not one person came anywhere close to properly conveying the sensation of floating on top of the Dead Sea.
You don't simply float in the water, you lie on top of it. Who would have known that at 1,388 feet (423 m) below sea level (the lowest point on Earth) you could find so much excitement. But before we get to the floating – there is the matter of the mud.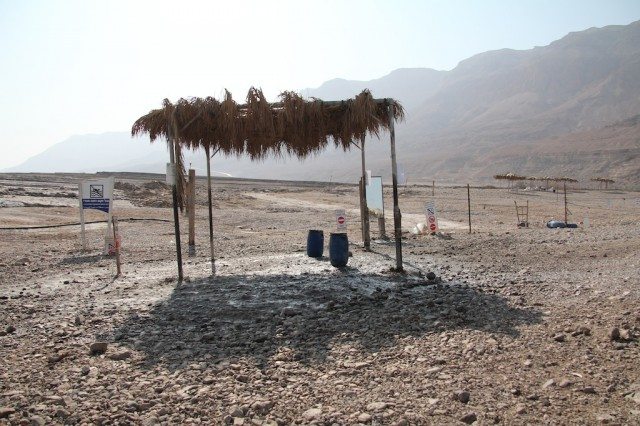 DEAD SEA MUD
The company AHAVA has made its fortune making "skin care products" and the like from the salt, mud, and water from the Dead Sea. Luckily for visitors to the Dead Sea, barrels of mud can be found down at the shore filled with the mud that can be bought elsewhere for ~$30 a tube. Now the idea is to take this mud and smear it all over your body (all over) before entering the water, and then upon washing it off your skin will glow like the freshly polished horn of a unicorn (I just felt slimy afterwards). Do yourself a favor and relax a bit after applying your mud, rushing straight into the water won't do the amount of time you spent applying your mud proper justice.
DEAD SEA FLOATING
Now it's time to get in the water. Walking down from the shore can be a little tough on your feet given that the sand isn't too fine and there are huge chunks of salt everywhere.The Dead Sea boasts a salt content of 33.7% – almost nine times saltier than the ocean (do not get that shit in your eyes). Because of this, the Dead Sea is mostly devoid of sea life (recently small organisms have been discovered in its depths) – get it? The Dead Sea. If you make your way from the sand into the water you will find that once you get deep enough for your feet to lift off the bottom, you will have no problem continuing upright through the water, moving your legs as if you were riding a bike. It's incredible. However, if you have a waterproof camera, it will not float. Just a warning. And on the note of warnings, do not shave the day you plan on going to the Dead Sea (unless you love the burn).
So if you are going to be spending some time in Israel, then do yourself a favor and experience a feeling offered nowhere else on Earth (except maybe your mom's water-bed).