As was to be expected, my Continental Divide Trail gear list at the end of the trail did not match up exactly with my pre-departure CDT gear list.
There's no better way to test gear than to take it thru-hiking, and there's no better thru-hike to test gear on than the CDT. I've divided this post into three parts: a list of my CDT gear, detailed descriptions of the gear, and explanations as to why I dropped or changed out pieces of gear.
A quick explanation of the post that follows: items highlighted in orange are new to the post-trail CDT gear list while items that are grayed out (like so), are items that I had at the beginning but that I dropped from my pack somewhere along the way.
---
BASE WEIGHTS
BASE WEIGHT: 14 lbs 5.14 oz / 6.495 kg
BASE WEIGHT (SAN JUANS): 20 lbs 15.14 oz / 9.501 kg
BASE WEIGHT (LANDER, WY to CANADA): 15 lbs 1.64 oz / 6.849 kg
---
THE BIG STUFF
TOTAL WEIGHT (BIG 3): 6 lbs 5.4 oz / 2.875 kg
TOTAL WEIGHT (BIG 3 + SLEEPING PAD): 7 lbs 3.3 oz / 3.268 kg
---
CLOTHING (WORN)
TOTAL WEIGHT (CLOTHING WORN): 2 lb 1.6 oz / 953 g
---
CLOTHING (PACKED)
TOTAL WEIGHT (PACKED CLOTHING): 1 lb 13 oz / 823 g
---
CARRIED/ON BODY
TOTAL WEIGHT (GEAR CARRIED/ON BODY): 1 lb 7.9 oz / 678 g
---
SNOW GEAR
TOTAL WEIGHT (SNOW GEAR): 6 lbs 10 oz / 2.977 kg
---
THE KITCHEN
TOTAL WEIGHT (KITCHEN): 15.3 oz / 434 g
---
THE OTHER STUFF
TOTAL WEIGHT (OTHER STUFF): 1 lb 10.4 oz / 748 g
BEAR SPRAY: 12.5 oz / 354 g
---
THE ELECTRONICS
TOTAL WEIGHT (ELECTRONICS): 1 lb 9.3 oz / 717 g
---
THE CAMERA GEAR
TOTAL WEIGHT (CAMERA GEAR): 1 lb 6.5 oz / 638 g
---
THE BATHROOM
---
THE OFFICE
DETAILED VIEW
WHY THINGS CHANGED
DROPPED: Double Mountain Fitted Baseball Cap
ADDED: "Make America Gay Again" Trucker Hat
WHY? Because you need to stand up for what you believe in.
DROPPED: prAna Ansa Shorts
ADDED: $5 Walmart Shorts
WHY? The prAna shorts are garbage and fell apart after a couple of weeks of hiking. I got some cheap shorts from Walmart meant to be temporary replacements and they ended up lasting the entire hike. Your gear doesn't have to be expensive.
DROPPED: Icebreaker Anatomica Long Boxer Briefs x2
ADDED: ExOfficio Give-n-Go Sport Mesh 6″ Boxer Briefs x2
WHY? I liked the Icebreaker Anatomica Long Boxer Briefs, but after about a month, both pairs I had holes worn in the crotch. When this happened, I replaced them with ExOfficio Give-n-Go Sport Mesh 6″ Boxer Briefs which lasted the rest of the hike (and in great condition).
DROPPED: Superfeet Wide Green Insoles
ADDED: Merrell Moab 2 Ventilator Low Hiking Shoe Insoles
WHY? I have nothing against the Superfeet Wide Green Insoles except their price. The new Merrell Moab 2 Ventilators have insoles with some actual support and are not just flat pieces of useless foam so I decided they were acceptable for hiking in.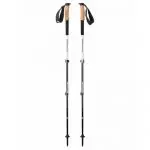 DROPPED: Black Diamond Ergo Cork Trekking Poles
ADDED: Black Diamond Alpine Carbon Cork Trekking Poles
WHY? There was nothing wrong with my Black Diamond Ergo Cork Trekking Poles except that I lost them. To replace them I ordered a pair of Black Diamond Alpine Carbon Cork Trekking Poles because they are slightly lighter and (more importantly) they pack down smaller. Also, they're carbon fiber, and carbon fiber is sexy (like thru-hiking).
DROPPED: Sawyer Squeeze
ADDED: Katadyn BeFree
WHY? The Sawyer Squeeze may be the standard thru-hiking water filter, but it's far from perfect and so when I saw the Katadyn BeFree, I decided to try it out (because my Sawyer had reached the point in its life when it slows down significantly). The Katadyn BeFree did great, but it too suffers from slowing flow over time. On my next thru-hike, I have no idea what I will be bringing.
DROPPED: Polycryo (groundsheet)
ADDED: Big Agnes Copper Spur 2 Platinum Footprint
WHY? I didn't have a problem with my polycryo groundsheet and it actually held up very well. I got the footprint for my tent in anticipation for the snow in the San Juans and although it is stupidly expensive, it was nice to have (especially for being able to set up only my fly with the footprint).
FINAL THOUGHTS
The Continental Divide Trail will is capable of doing serious damage to your gear (and your soul). There's no "perfect CDT gear list" and everyone's decisions as to what to bring will be different, but there are definitely winners and losers when it comes to gear.
The best advice you can get during the planning stages of a CDT thru-hike is to not worry about getting your gear dialed in perfectly – because it will probably change. Focus on your big three (backpack, shelter, and sleeping bag) and don't stress about the rest.
If you have any comments or questions about the gear list, then be sure to leave a comment or get in touch!
Disclosure: This page contains affiliate links which means at no additional cost to you, I may receive small commissions for purchases made via these links. This helps to pay the bills and keep the site up and running.