My decision to hike the Pacific Crest Trail for the first time (in 2013) was rather spontaneous.
Without getting existential, I can trace this decision back to a chance encounter I had with a man in New Hampshire. It's one of a handful of moments I can honestly say forever changed the course of my life (some others being my decisions to study in Brazil and work in Japan – so much karaoke).
My motivations for hiking the Pacific Crest Trail the first time were not rooted in a love of the outdoors or a desire for some imagined sense of spiritual enlightenment; no, they were much more simple. I thought it would be really cool to walk from Mexico to Canada (and I wanted to do something to allow me to stretch my savings over as long a period as possible – spending five months living like a woodland hobo seemed like the ticket).
My first day on the Pacific Crest Trail was literally the longest I had ever walked, hiked, ran, or otherwise traveled on foot in a single day (20 mi / 32 km), and my first night on the Pacific Crest Trail was literally my first night overnight backpacking. To say I had even the slightest idea of what I was doing would be grossly overstating the situation.
---
---
I experienced the classic PCT mental rollercoaster in 2013.
My first five weeks spent hiking through the southern California desert were an exciting new adventure filled with new friendships and experiences (mostly, pooping in holes). The next month crossing the Sierra was an awe-inspiring tour of some of the world's most incredible wilderness. But then, somewhere in Northern California, the tide turned and I began wondering what the hell I was doing out on the trail each day.
By the time I hit Oregon I was over it; I decided I would get off once I hit Cascade Locks (the Oregon/Washington border). Friends who hiked with me in Oregon will attest to my level of whininess and the displeasure I took in being on the trail.
I was committed to never set foot on any trail ever again and laughed in the face of anyone who told me that thru-hiking was an addiction.
Isn't being wrong fun?
The Pacific Crest Trail 2.0
It's not just me that's changed since my first Pacific Crest Trail thru-hike; the PCT has changed as well.
In 2013, there was no quota system in place to regulate the number of hikers beginning at the Southern Terminus each day. You simply applied for your PCT permit and went down to Campo (where the Southern Terminus of the PCT is located) whenever you were ready to start hiking. Now, a limit of 50 hikers per day is enforced at the US/Mexico border. Northbound thru-hikers wishing to apply for a permit on the day applications open now need to enter a lottery and are not guaranteed to be granted permission to begin on their first choice.
Speaking of the Southern Terminus – the monument at the Southern Terminus (and the Northern Terminus) has been replaced! It now faces toward Mexico which means that the everyone's Southern Terminus photos now lack the inclusion of the magnificent border wall…fence…structure…shame at the US/Mexico border at the start of the PCT. Getting a photo with new terminuses? Do I really need another reason to hike the PCT again?
---
---
But back to the hiker quota. This quota now in effect has largely (if not entirely) to do with something else that's changed since 2013 – the rise of the Pacific Crest Trail's popularity.
According to the Pacific Crest Trail Association (PCTA), a total of 988 northbound thru-hiking permits were issued in 2013. In 2018 that number had increased more than 450% to 4,506 northbound thru-hiking permits (along with 2,316 section-hike permits). I haven't seen the 2019 numbers yet but the number of northbound thru-hiking permits but the smallest increase in the past five years has been 10% (the largest was 80%), so we can probably expect at least 5,000 northbound thru-hikers this year.
The physical Pacific Crest Trail has changed as well. Multiple fires over the last six years have forced reroutes around still-recuperating sections of trail. In 2013, I was forced to skip a section of trail in Southern California due to the Powerhouse Fire. Hopefully, I will be able to hike this section of trail this year – or maybe it will be on fire again, who knows?
But it's not just fires that have caused the PCT to shift, there's also been a new 6.5 mi / 10.5 km section of the Pacific Crest Trail in the Sierra Buttes in Northern California. A new section of trail? Better hike the entire thing again. And this isn't the end of it, there are more (planned) new sections of PCT to scheduled for development in the next couple of years. I hope I don't need to hike it a third time.
---
---
But seriously, why?
The reasons I've been giving to others (but more importantly, myself) for deciding to hike the Pacific Crest Trail for a second time are (mostly) as follows:
My inexperience, a late starting date (May 17), and the wettest September on record in Washington made for an unsatisfactory end to my first PCT thru-hike. Hiking the PCT now (knowing, more or less what I'm doing) will (probably) be a completely different experience.
Due to inclement weather, I missed out on the entirety of the Three Sisters Wilderness in Oregon and Goat Rocks Wilderness in Washington (it was quite sad hiking through these areas in heavy rain and dense fog).
When I hiked the Pacific Crest Trail I made some great friends, but I didn't meet a lot of people (in the desert I probably met fewer than 30 thru-hikers). The crowds of thru-hikers on the PCT nowadays will certainly make the experience a different one (hopefully, not one I hate).
I write a lot about the PCT here on Halfway Anywhere and although a lot of the basic ideas and strategies behind thru-hiking remain relatively constant (buy unnecessarily expensive ultralight gear and fuck the haters, live your best trail life), things on the PCT have evolved since my first bout of thru-hiking. I need to get out there again and make sure I'm reporting only the most current and relevant information.
As much as I hate hiking, I love the adventure of thru-hiking – the sense of accomplishment at the end of each day, the justified eating of pizza in a hotel bed all day, and the general sense of being in complete control (or maybe being zero control?) of every decision I make.
I could really do with losing like 10 pounds (5 kg) and instead of using diet and exercise for a couple of months I prefer to use EXTREME WALKING and EATING WHATEVER I WANT for five months(ish).
---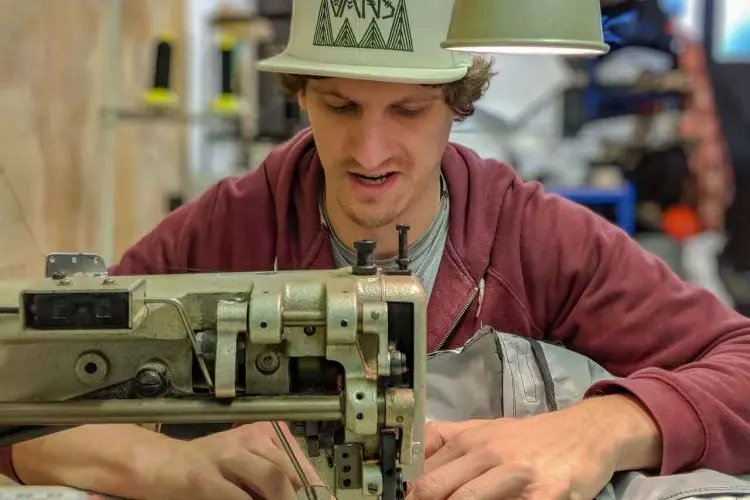 ---
Best or Worst Decision?
I'm trying to go into this thru-hike similarly to how I went into my first Pacific Crest Trail thru-hike, with very little expectation.
I'll be continuing to update Halfway Anywhere during this thru-hike, but it will mostly be content from trips I've already completed, PCT Round 2 posts will mostly come once I'm finished. If you want to follow me on the PCT this year, I will be documenting the journey on Instagram, @halfwayanywhere – so follow along and keep in touch!
The priorities this year? Have fun, meet people, eat lots of pizza, and (as always) don't die. See you on the trail, friends.