If you plan on hiking more than 500 continuous miles of the Pacific Crest Trail, you are required to obtain a PCT permit from the Forest Service. You need a permit to go for a walk in the woods? Silly, I know, but you also need a passport to cross imaginary lines between "countries" – equally ludicrous. However, the permit is free to obtain and only requires that you print and mail/fax the application (the permit page can be found here). At the same time, you can also apply for a permit to enter the Mt. Whitney zone (costs $15 and a checkmark on the application) allowing you to summit the tallest mountain in the 48 contiguous states (otherwise you have to enter a lottery for a Whitney permit).
CANADA PERMIT
Since the trail ends (or begins) in Canada, you will need to cross the US/Canada border to complete it. Legally, hikers cannot enter the US from Canada via the PCT (although I do not expect there would be anyone there to stop you – we will see), and to enter Canada from the US you must obtain a Canadian entry permit prior to your trip. On a side note, if you have a felony record (or a DUI – a more serious offense in Canada) you can be denied entry to Canada – so beware Billy Joel. Even with the permit, you will still need to carry your passport, passport card, or enhanced driver's license to cross the border (and to return to the US, if you're into that sort of thing). The necessary form can be obtained here (note: you will need to provide photocopies of your passport and ID along with the application).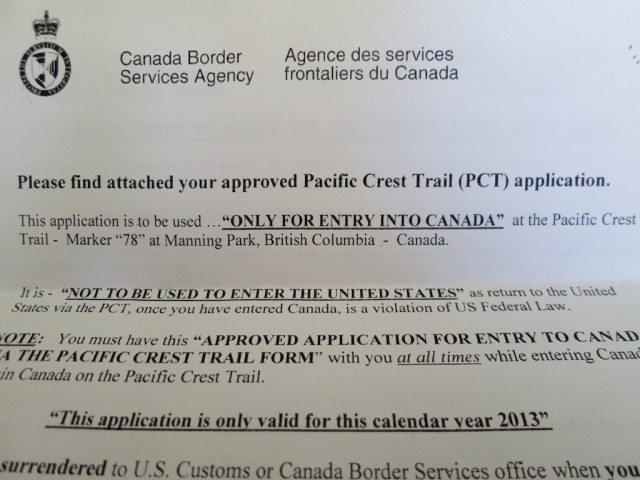 CALIFORNIA FIRE PERMIT
The last permit you may need (and will probably want) is a California Fire Permit. If you plan on doing any cooking of food, boiling of water, burning of witches, or elaborate flame-enhanced magic tricks, you (technically) will need to print out and complete one of these permits. You can download it for free and print it out yourself. I know, what's the point? Probably so you can be sued after you do something wrong. The permit can be found here (valid for 2013 – unsure if it gets auto updated).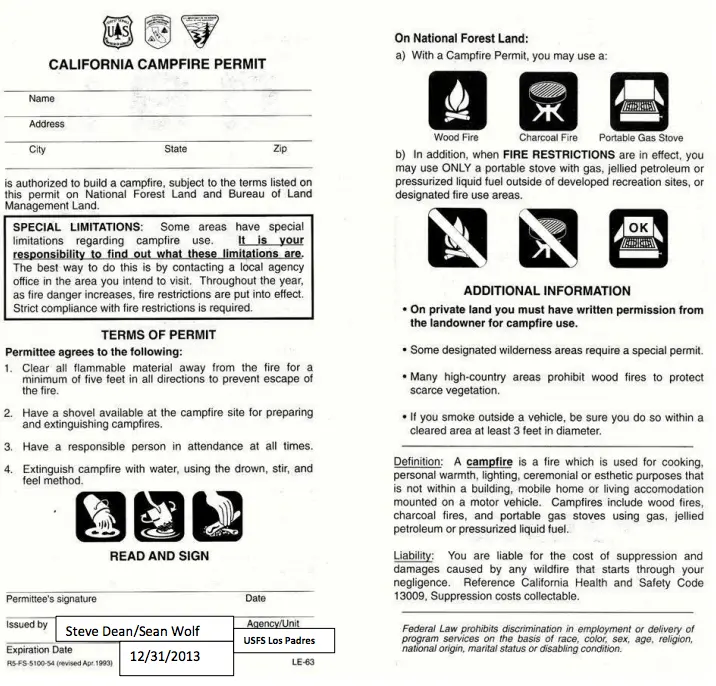 In the end, I question whether or not these permits are truly necessary to obtain. But being as they are free (minus the optional Mt. Whitney permit) and not difficult to come about, I say go ahead and do it for formality's sake. It's just that much more official once you get these pieces of paper in the mail (for which the turnaround time (PCT and Canada permits) was about two and a half weeks). Time to go adventuring.