If you're thinking about hiking the Pacific Crest Trail, then there's a pretty good chance that everyone in your life thinks they have some excellent advice to give you about thru-hiking (even if they've never set foot on a trail).
Fortunately you know better than to listen to them, and instead choose to believe the advice of strangers on the internet (that's me).
Here are some things that you should (or could) keep in mind as you drag your overburdened pack through the western United States.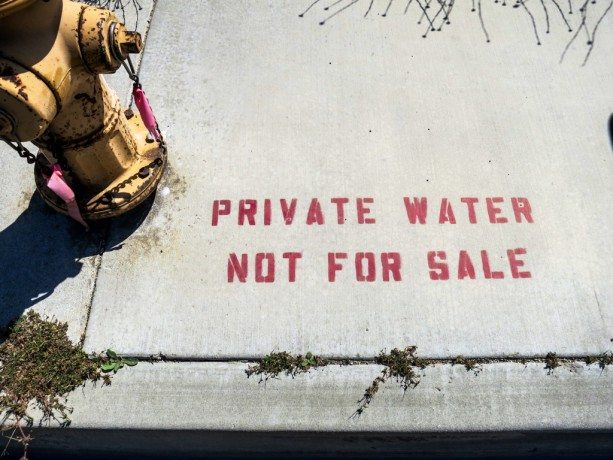 1. Water is free.
Water is one of the big concerns of many PCT hikers since it happens to be one of the things that keeps us alive. Many of us are brought up drinking this holy liquid out of disposable plastic bottles which must first be paid for (which is why Costco makes you walk past everything else to get to it). One thing that you need keep in mind on the PCT is that water is free. You (probably) have yourself some water treatment method, so if you're worried about drinking out of the fountain, the tap, or that murky puddle over there, then put your gear to work for you. Assuming you drink just one liter of water every five miles (not an accurate assessment of how much you should be drinking) comes out to 532 liters over the course of the trail (again, a terrible estimation). Buying even just a percentage of that water at $1/L (also inaccurate) can quickly cut into your thru-hike's budget (and create a lot of unnecessary waste).
2. If you find yourself in a fire, DON'T run uphill.
After stopping to watch helicopter water dumps and hiking through a forest fire in (literally past the flames), I met some firefighters at a trailhead approaching Seiad Valley. After some spur-of-the-moment trail magic (never have I been happier to receive a sack lunch from a stranger), they offered up some advice on what to do if you see smoke (or fire) whilst parading through the mountains: don't run uphill.
Now to some of you this may be obvious (and thinking about it now, it is), but it may not be your first thought in a panicked state (surrounded by fire). If you're having trouble getting why this is a bad idea, just imagine a fire burning up a mountainside and you running up to a (progressively smaller) bit of land at the top of said mountain side. Should the fire decide to make its way laterally in its pursuit of you, then you can easily end up literally surrounded by fire on a mountaintop (and if that doesn't terrify you, then you're not imagining it as vividly as I am).
3.You've never gone as far as you think you have.
Even after over two thousand miles (~3,200 km) on the PCT, I remained a terrible estimator of my day's mileage. Despite being excellent at calculating my pace, I was never (and still am not) very accurate at figuring the amount of time that had passed. Twenty minutes of hiking sometimes felt like hours, and hours sometimes felt like days. Perhaps my inability to accept that I was not making progress towards Canada as quickly as I would like was what kept me constantly thinking I had somehow gotten myself lost (where is that stream!?). I still vividly recall the first day on the PCT when I could swear that I had hiked a solid eleven or twelve miles, only to discover that I had triumphed over a mere six (some serious foreshadowing here). Only twice can I remember looking at the map and being surprised at how far I'd actually come since dragging myself from my down-filled human-sized sock that morning. So just to play it safe out there everyone, try not to overestimate your abilities and make sure to round down – way down.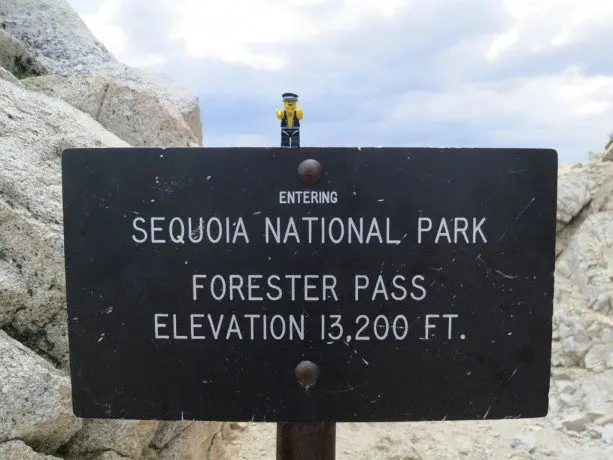 4. Careful opening containers at altitude.
If you've ever taken a bag of chips on an airplane and seen it balloon up once airborne, then you have experienced the magic that is air pressure (and if you haven't, then you really aren't missing anything). However, as I quickly learned, just a few thousand feet of elevation change can be enough to create a potentially damaging discrepancy between the air pressure inside your containers and the world around you (elevation gain is what really concerns us here). This air pressure sciencey business becomes a problem when dealing with anything liquid or viscous that could potentially seep out and create an unwanted mess in your pack or pocket (I'm looking at you, hand sanitizer).
5. Take out your sleeping bag as soon as you make camp.
I'm not claiming to know you or how you plan on carrying your gear, but I would wager that your sleeping bag (quilt, or otherwise arranged feather sack) will be stuffed down at the bottom of your pack and possibly into a sack of sorts. Typically this sack will be filled with down feathers (or imitation down feathers) which generate heat because of their loft. What does that mean? It means that a smushed up, wrinkled sleeping bag won't keep you as warm as one that's had time to get all nice and puffy. If you wait until you're cold and ready to sleep to take out your sleeping bag, then you will need to wait for it to reach its maximum keeping you warm temperature. Taking out your sleeping bag and setting up camp right when you arrive will also ensure you prime real estate should some other hikers decide to mosey on in later in the day to camp with you (because you know, you're really popular).
6. Those explosions in the night are icefalls (or rock falls? or glacial movement?).
When setting up camp near Mount Adams in Washington, I couldn't help but wonder what the hell the barrage of explosion sounding noises firing off the mountain were. It sounded like someone was doing avalanche control – but in the middle of September? Unlikely? Lady Killer, an older gentleman with an ambiguously unsettling interest in young females and the explanation of his past exploits and regrets, explained to me that the sounds are actually ice falls from the glaciers covering Mount Adams. This information was never confirmed via a third-party or my own research, but the explanation seemed reasonable enough to put my questions to rest.
Also, from near the end of the desert until well into Northern California I commonly heard mysterious bang-like sounds around sunset. BearClaw put my unfounded fears surrounding these sounds to rest by explaining to me that the sound was produced by hawks diving for prey and flaring their wings at the to brake themselves. Again, this has not yet been corroborated, but it sounded good enough to me at the time.
7. Never underestimate a clean (or new) pair of socks
As I remember it, getting socks from a relative on the gift-giving holiday of your choosing used to be a giant joke (and completely accurate depiction of reality). Really socks? Who wants socks as a present? I want some damn socks as a present, that's who. Never could I have imagined how incredible a clean, let alone a new pair of socks could be. A clean sock is more than just a piece of cloth to absorb your foot's perspiration and provide a cushion to walk on. A clean sock is a magical sleeve of (hopefully wool) goodness that can heal your blistering and aching feet of their ills in an instant. If you want to surprise yourself somewhere down the trail then throw a pair of new socks into one of your resupply boxes. You can thank me later.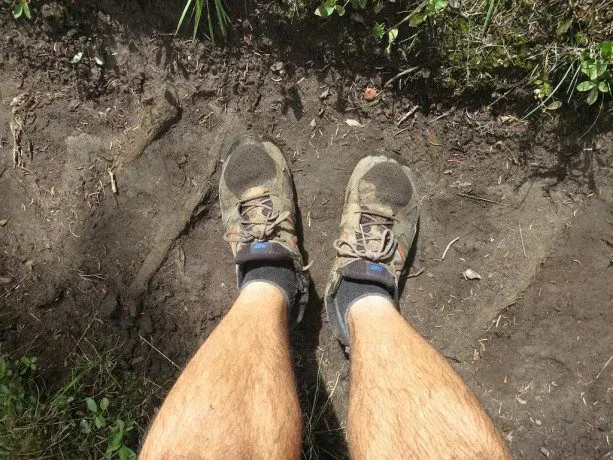 8. Stop trying to avoid getting your shoes wet.
Wet socks are awful (and possibly one of the most terrible things on the PCT). I don't know what it is or whether I'm alone in this sentiment, but something about walking around with wet socks (and shoes) makes me miserable. On day two of my PCT hike when I went barreling past an arrow indicating an alternate and ended up into a (surprisingly well camouflaged) stream, I had my first of many encounters with wet socks. Not yet knowing the value of a clean pair, I swapped socks and hung the wet ones on my pack to dry. The new pair because wet because of my now soaking shoes and instead of one wet pair of socks, I now had two. I had to learn the hard way, but you don't have to! Just remember that whether it's a stream crossing gone bad, snow, mud, rain, or some other liquid related incident, accept that there will be days your shoes, socks, and feet are going to be wet (and there's nothing you can do about it).
9. Don't gamble with mother nature.
If nobody's let you in on the secret yet, I'll help you out: mother nature is a beast and you stand no chance against her fury. It might be blistering heat in the desert, it might be an afternoon thunderstorm in the Sierra, or it might be a snowstorm in Washington because you decided to take your sweet ass time making it to Canada (or because it's the wettest September on record), regardless, you should know when to call it a day and when not to gamble with your safety in the interest of making miles. Stopping early (or even turning around) can be difficult to do once you're locked in to the mindset of having to make miles, but a few more miles for the day aren't worth getting yourself lost, heat stroke, hypothermia, or blasted by lightning. Pay attention to the weather and know when to take precautions to keep yourself safe (because I care about you).