The Everest Base Camp trek is considered to be one of the most spectacular hikes on Earth. It takes trekkers up through the valleys of Sagarmatha National Park and to the base of the tallest mountain on Earth.
Filled with a long history, fascinating culture, and incredible people, this trip is one for the ages.
QUICK EVEREST BASE CAMP FACTS
(Unofficial) Capital: Namche Bazaar
Language: Nepali
Currency: Nepalese Rupee, NPR
Time Zone: NPT (UTC+05:45)
Calling Code: +977
Drinking Age: 18
Drinking In Public: Yes
Drinking Tap Water: No
Flushing Toilet Paper: No
Vaccinations Required: CDC
Credit Cards: Carry cash
Tipping: Not expected
Emergency Number:
Outlets:Type C / D / M (230 V / 50 Hz)
Visa Requirements: External Link!
---
EVEREST BASE CAMP BASICS
LANGUAGE | On the road to Everest Base Camp, most everyone you meet will have some English language abilities (talk to the kids – they're very interested in you), so don't fret if your Nepalese or Hindi is a bit rusty. The two words that you'll need are namaste (hello) and dhanyabad (thank you). The Sherpa language, called Sherpa, is also spoken by some people. Sherpa is unwritten, which accounts for the various spellings of many of the villages (I'm looking at you Dhukla/Thukla); so don't worry if you're confused by different spellings on your map versus your guidebook (which is probably too heavy for you to be carrying in the first place).

GEOGRAPHY | The route to EBC follows a series of valleys up through the mountains (and there are actually a couple of different routes you can take). Most people start their treks in Lukla 9,383 ft / 2,860 m and climb to 17,598 ft / 5,364 m over the course of about ten days. The trail is incredibly easy to follow and the risk of getting lost is near zero if you have even the most basic of navigation skills (and even if you do wander off-trail, it won't be long before you find a village anyway).

LODGES | The lodges (or teahouses) scattered throughout the villages on the way to EBC are where you will (probably) stay on the way to Base Camp. During peak season, these can (apparently) get pretty crowded. However, if you're awesome and you go in the winter (more on this below), then you shouldn't have any trouble at all finding space in a lodge (as practically half of all the buildings in any given town are lodges).

VILLAGES | As much as you may imagine "trekking through the Himalaya" to be an exercise in solitude, this idea errs wildly on the side of "nope, sorry". On the road to EBC you will be constantly met with other trekkers, locals, pack animals, and, most exciting of all, villages. You may pass through as many as five or six villages in a single day depending on your route. All of them (at least on the EBC track) have food, accommodation, and friendly mountain-dwellers to aid you on your way up into the mountains.

WHEN TO GO | The most popular season for a trek to EBC is the fall (September to November), with the second most popular season being spring (March to May) – this is also peak season for Everest conquering. The summer months are monsoon season in Nepal and so unless you are a huge fan of trekking through the rain with limited views, it's probably best to avoid this time (unless you are willing to trade views for solitude).
---
EVEREST BASE CAMP PHOTOS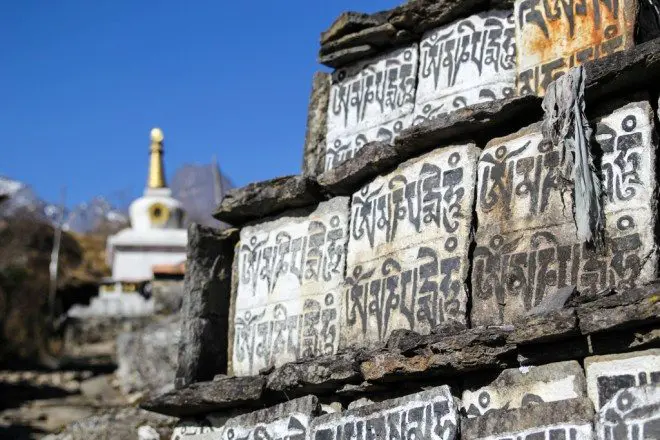 ---
WHAT TO EAT
Food on the way to Everest Base Camp is far more plentiful than you may imagine. Many of the lodges have a surprising number of options and you could easily find yourself eating something different every night (or be like me and stick to Dal Bhat, pizza, and momos).
DAL BHAT | Dal bhat is perhaps the most plentiful dish on the road to EBC, and is certainly one that you should be eating to fuel your marathon mountain march. This traditional meal consists of rice, lentil soup (dal), and vegetables (and/or some meat if you've opted to eat animals on this trek). In addition to typically being one of the cheaper options on the menu, dal bhat also means refills. Yes, you get complimentary refills on your rice, lentil soup, and vegetables. It's easy to see why this is what the guides and porters usually eat. Remember, "Dal Bhat power, twenty-four hours".

MEAT | There's not a huge debate surrounding the quality of meat on the way up to Base Camp (that I'm aware of), but it's definitely something trekkers should think about. Personally, as much as I love eating roasted animals, I do not eat meat in the Himalaya. Do I have a scientific reason for this decision? No. It's simply because I don't know how many days in the sun each meaty meal spent on the back of a porter (and because meat is generally more expensive). Also, since eating beef isn't really a thing in Nepal, and since cows are my favorite animals (to eat), it's not worth the risk.

ALCOHOL | As with meat, alcohol is something I avoid whilst hiking (upwards) in the Himalaya. This is a personal decision, but drinking alcohol (especially in excess) can hinder your acclimatization efforts – and altitude sickness is not something to be taken lightly. A night of partying in Namche is not worth turning your Everest Base Camp adventure into an expensive (but probably awesome) helicopter ride back to Kathmandu.

WATER | So now that you've sworn off the bottle, it's time to get serious about hydration. Water should be something you're constantly ingesting on your EBC trek. Chances are that your body will be in nonstop and desperate need of water to fend off the effects of altitude sickness, dehydration, and the possible fallout from your third helping of dal bhat last night.
---
TIPS & TRICKS
THE WINTER | Yes, "winter in the Himalaya" may sound like a scary thing, but the truth is that it's probably the best time to visit (this based on me only having been there in the winter). You may expect the winter months in the Himalaya to bring with them a ton of snow, but this is not the case. Most days you can expect clear skies with very little precipitation overall. Just make sure to bring an extra base layer.

WI-FI | Yes, with the civilization in the Himalaya, you will also find wi-fi. Generally speaking, once you get above Namche Bazaar it will be difficult (if not impossible) to get free wi-fi. Generally, you will have to buy cards from the lodges with passcodes for accessing the "EVEREST LINK" wi-fi network. These cards are sold in different denominations with the most expensive being 1,000 NPR (~$10 US) for 24 hours of use. These cards may not always be available, and lodges may not always sell them at face value. Also, many lodges turn off the electricity after a certain time (which means no more wi-fi), so be sure to ask ahead of time.

LUKLA FLIGHT | The flight to Lukla is commonly referred to being "the most dangerous flight in the world". This is largely because of its being placed on under-researched lists of random internet blogs (there have been three fatal accidents involving airplanes at the airport – the most recent of which was in 2010). Yes, the flight to Lukla is an adventure, but it's certainly not a death sentence. The flight will cost you around $150 each way, and

ATMs | Yes, there are ATMs on the way to Base Camp. As of writing this, there's one in Lukla, and one in Namche Bazaar. Neither is guaranteed to be working (and the once in Namche Bazaar). There are also places in both Lukla and Namche that offer cash advances with a credit card. Some places in Namche Bazaar accept credit cards, but very few places above Namche will take anything other than cash. So make sure you pull out enough for the way up (and back down).