Buckskin Gulch and Paria Canyon Overview
Location: Paria Canyon-Vermilion Cliffs Wilderness (Arizona/Utah, USA)
Length: 46 mi / 74 km from Wire Pass Trailhead | 50 mi / 80 km from Buckskin Gulch Trailhead
Type: One-way
Recommended Time: 3-4 days
Most Popular Months: March/April, October/November
Max Group Size: 10
Permit Required: Yes
Permit Cost: $9 + $5 per person per day (not night)
Dogs Allowed: Yes
Trailhead: Wire Pass Trailhead (36.183833, -112.376747) | Buckskin Gulch Trailhead (37.066754, -112.000331)
Low Point: Lees Ferry
High Point: Wire Pass Trailhead or Buckskin Gulch Trailhead
Elevation Gain: 1,794 ft / 547 m
Elevation Loss: ~2,500 ft / 762 m
Difficulty: Moderate to Strenuous
When to Hike: Weather and Conditions
Buckskin Gulch and Paria Canyon can be hiked for most of the year – so long as the road isn't impassable due to rain and there is no flooding on the horizon. That said, the most popular months are April, May, and June with things picking up again in September and October.
Peak Season Hiking (April-June): These months are the most popular for hiking Buckskin Gulch and Paria Canyon (and visiting the Wave). It's before the peak of the summer heat and flash flood season (but remember, floods can occur at any point during the year). The earlier you go, the colder it will be (especially at night), the later you go, the warmer.
Summer Hiking (July/August): I would never suggest that anyone do this hike during these months. Not only are July and August the months when the canyons most commonly flood, but they're also the hottest months – hot to the point where you'll probably be uncomfortable even at night with no sleeping bag and no clothes. Temperatures can frequently exceed and remain above 100°F / 38°C. Avoid hiking during July and August unless you have a specific reason for doing so.
Fall Hiking (September-November): This is when I hiked and when I would recommend hiking (I would also maybe go a bit later in the year). This is the second-most-popular time for visitors to the area, but it still falls well short of the peak in spring and early summer. There's a bit more chance of precipitation than in the spring, but there's a drop-off from the peak of summer.
Winter Hiking (December-February): There's nothing wrong with hiking during the winter – but it will be cold. I've been in this area in February (for a pre-dawn arrival at the nearby Wave) and can confirm that it's freezing. Historical temperatures have reached below 0°F / -18°C in the dead of winter. If you're planning on hiking during this time, prepare to be cold. Especially since you'll also spend a lot of time being wet – waders or a dry bottom might be a good idea (or even necessary).
Paria Canyon Permits
Permits for trips in Paria Canyon-Vermilion Cliffs Wilderness can be reserved at Recreation.gov. You'll want to make your reservation in advance – as soon as permitting opens.
Paria Canyon permit reservations open at noon (Mountain Time) on the first of each month for three months in advance. So, for example, if you want to reserve a permit for sometime in October, you can reserve it beginning July first at noon.
Permits are issued for the number of days your trip will be (not the number of nights). The permit fee is $9 plus $5 per person per day. So if two of you are going on a four-day, three-night trip, the permit cost will be $49.
You are required to pick up your permit in person. This can be done at the Paria Contact Station (March 15 to November 15, 8:00 am – 4:30 pm), at the BLM Information Center in St. George, Utah (Monday to Friday 7:45 am – 5:00 pm), or (sometimes?) at the Grand Staircase-Escalante National Monument Visitor Center in Kanab, Utah (I've received conflicting information on this, so call to confirm).
Your permit includes a parking pass for your car (or cars) that will allow parking at Lees Ferry and/or Wire Pass/Buckskin Gulch Trailhead. You will also receive wag bags with your permit (I received one per day for two people).
Camping
There are no established campgrounds in Buckskin Gulch or Paria Canyon, but you will find impacted campsites along the route. Please observe Leave No Trace practices at these locations and use a wag bag if you're camped in an area where you cannot dig a cat hole more than 200 ft / 61 m from the high-water mark.
Dispersed or "at large" camping is permitted along the route. You do not need to denote ahead of time where you're going to be camping.
There are no safe campsites (safe from flooding) in Buckskin Gulch until just before reaching the Paria River confluence (~13.5 mi / 21.7 km from Wire Pass Trailhead and ~17 mi / 27.4 km from Buckskin Gulch Trailhead). Once you reach Paria Canyon, you'll occasionally find an elevated campsite (the canyon will be much wider than Buckskin Gulch), and suitable camping opportunities will increase as you get closer to Lees Ferry.
Note: Camping in Wrather Canyon is prohibited; campfires are also prohibited.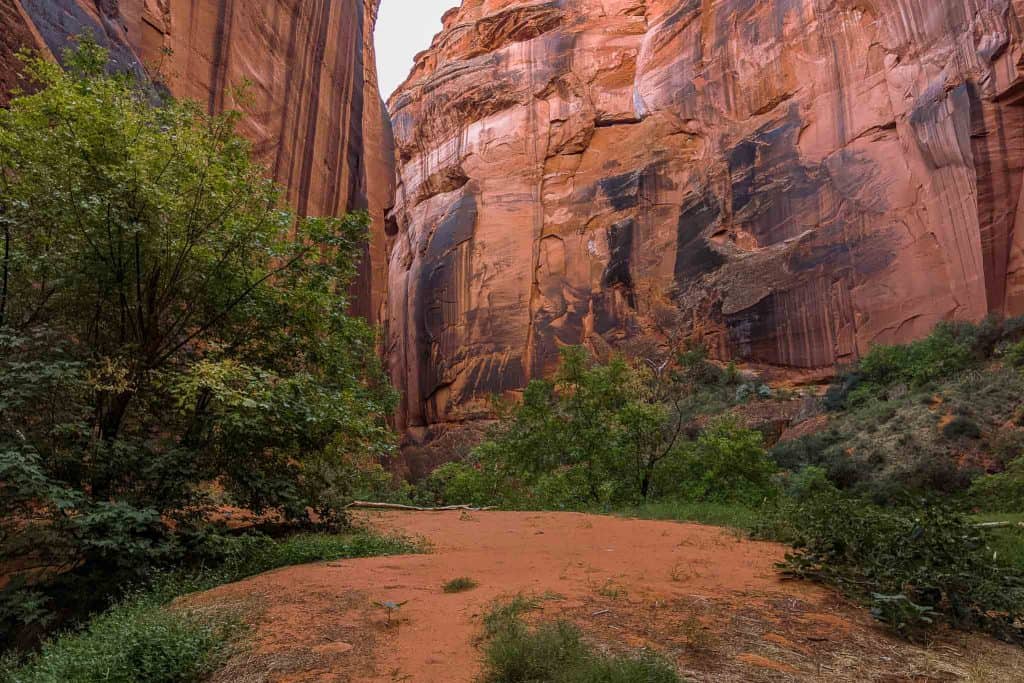 Itinerary
How many days does it take to hike Buckskin Gulch and Paria Canyon? If you really wanted to, it might be possible in a day, but I would not recommend attempting this. With all the feet-wetting and occasional route finding, it will not be an enjoyable single-day effort. If you're looking for a huge day. in the area, I would suggest the (logistically easier) Rim to Rim to Rim at the Grand Canyon Instead.
I would suggest three or four days for the Buckskin Gulch and Paria Canyon. Maybe five days if you're moving at a more leisurely pace, but I can't imagine taking any longer. I completed it in three days with plenty of time for filtering water, taking breaks, and making camp while the sun was still up.
Dispersed or "at-large" camping is permitted in Paria Canyon. In Buckskin Gulch I couldn't find anywhere that prohibits camping, but there aren't any suitable campsites that will put you at a safe spot should a flash flood occur. Also, it would be impossible to camp a sufficient distance from the "trail" in Buckskin Gulch.
It's recommended (or even required) that you complete the entirety of Buckskin Gulch in a single day; the first campsite you reach is just before the Paria River confluence. That means either a 13.5 mi / 21.7 km day from Wire Pass Trailhead or a 17 mi / 27.4 km from Buckskin Gulch Trailhead.
Gear & Packing List
You can choose to go lightweight in Buckskin Gulch and Paria Canyon, but there are a few things you should not be without if you are looking to have a successful trip (like a water filter and extra socks). I brought my normal backpacking kit.
For more recommendations on backpacking gear, check out my current gear list or gear reviews.
Route Description
Beginning at Wire Pass Trailhead, the route follows a well-traveled wash (that nearly resembles a dirt road) until it slowly begins to dip as canyon walls rise on either side of it as you enter the Wire Pass Slot.
Following the slot (there's only one way to go), you'll eventually make it to the intersection of Buckskin Gulch after around 1.7 mi / 2.74 km. Just before turning south (making a right) and continuing to follow Buckskin Gulch, you'll find a petroglyph panel on the southern (right) wall. If you would like to do a loop hike, you could turn north (left) here and hike out to Buckskin Gulch Trailhead.
Depending on the time of year and recent weather, you may or may not have gotten your feet wet yet. Don't get too excited if you still have dry feet, because I can guarantee you that if you're planning on hiking out to Lees Ferry, your feet will absolutely be wet and covered in muck and mud at some point (probably soon).
The route follows Buckskin Gulch, passing through sometimes chest-deep water (I encountered pools that came above my waist, I'm 5'10" / 179 cm) which may require you to take off your pack and carry it. Note there are very few (if any) safe places to camp in Buckskin Gulch (I didn't see anywhere stating camping here is prohibited, but it's not a good idea given the risk of flash floods).
That said, water levels will depend on when you're hiking and what recent precipitation has been like; if you're lucky, you might hardly encounter any water at all in Buckskin Gulch (but I would still prepare for wet feet).
The Middle Route is a way into/out of Buckskin Gulch just over halfway to the Paria River confluence from the Wire Pass slot intersects Buckskin Gulch. This route (which I have not personally taken) is described as difficult and as requiring some climbing proficiency (or at least comfort with exposure) to navigate. I would not expect that you can casually enter/exit the Middle Route and it should likely only be used as an emergency option (unless you are experienced with this route).
There are some petroglyph panels just up the start of the Middle Route as well as more a couple of hundred feet above the canyon floor on a west-facing wall. You will likely have to climb up on the ledges on the canyon's right to be able to see these petroglyphs.
After the Middle Trail junction, the route continues through Buckskin Gulch – alternating between easy walking through the slot and wading through the muck – until reaching your next major obstacle, the boulder jam.
You'll come to an area that opens up a bit and that can almost be described as looking somewhat akin to a cavern. It's unique as far as this route goes because it's one of the few times you can't see the trail directly in front of you. On the north side of the slot (the left if you're heading toward the Paria River), you'll need to make your way up to the top of a large boulder with a rope affixed above it.
Using this rope and the Moqui steps cut into the boulder, you'll need to lower yourself down to the ground below. It's a max 20 ft / 6 m drop. The rope isn't anchored directly above where the Moqui steps are, so it can be a bit awkward getting down this section. It would not be good if you fell here, so you'll need to be comfortable with a small amount of exposure as you make your way down.
I've been told by others who have completes this hike that the boulder is not always oriented properly for you to easily climb down (or up) the Moqui steps and that there is an additional route through the boulders known as the Rabbit Hole. This is an opening whereby it's possible to squeeze through. the boulder jam, but it may not always be accessible due to water levels, debris, or difficulty locating it.
From here, it's more of the same until just before reaching the Paria River Confluence.
The canyon will open up significantly and there will be a large amount of vegetation on the left with a sandy hill/ramp/elevated spot you can hike to the top of. This is the first safe campsite encountered when hiking through Buckskin Gulch. There is space for camping up top and a few more spots lower down. I believe there are also a few more camping opportunities just past this on the other side of the stream, but I didn't go up to investigate.
When you reach the Paria River Confluence you can either turn left and head out to White House Campground via White House Trail or you can continue following the Paria River through Paria Canyon toward Lees Ferry.
Once you enter Paria Canyon, the canyon walls slowly begin to spread farther apart.
You'll follow the river at first (the river may be dry for the first several miles), but soon you'll have the option of cutting up onto sediment deposits around bends as well. You'll still be crossing the river constantly, so don't have any expectation of making it out with dry feet, but you will leave behind the chest-deep slot canyon pools of muck.
If you look in the areas on the inside of the river bends, you'll usually be able to find campsites.
Make sure that if you're planning to filter from the springs, you pay attention to where they're marked. on the map (the map below shows approximate locations only). The springs are not obvious, marked, or necessarily easy to find; I could only find one.
Eventually, you'll find yourself hiking up and away from the river (on river right).
The trail stays high for a bit, but not always for long. You'll alternate between walking in/next to the river or above it. There are typically use trails on the banks if you take the time to look for them, but they're not always obvious from river level.
The camping opportunities are more plentiful here, but you'll need to fill up on water at the river if you decide to go this (camping) route. You'll be crossing the river plenty, so despite potentially walking for long enough for your feet to dry, don't get too excited.
We never had to walk in the middle of the river instead of being able to follow a trail once we made it this far into the (out of the?) canyon.
Eventually, the canyon walls will have fallen so far away that you'll forget they're even there. There's lots of exposure here, so be ready for the heat if you're hiking in summer in the middle of the day.
As you grow closer to Lees Ferry, there will be more colonizer trash (this time with informational signs!) on your left (and once on your right!) for you to stop and gaze at. You exit the canyon just above the parking lot where I indicated you leave a car above. You'll have to walk the road across a bridge before turning to continue on the road up to the lot.
Water Sources
Water is tricky in Buckskin Gulch and Paria Canyon. In Buckskin Gulch, you'll have plenty of water but it will mostly be filled with muck and heavy with sediment – not anything you would want to put through a water filter unless you had to. Bringing enough water for the entirety of Buckskin Gulch to the Paria River confluence is recommended.
That said, it is possible that the confluence and for a few miles beyond (towards Lees Ferry), the Paria River will be dry – depending on the year and time of year. I would suggest checking for the latest conditions when you pick up your permit.
The springs marked on the map by the Bureau of Land Management are:
Wall Spring: Approximately 2.2 mi / 3.5 km from the Paria River Confluence on the right side of the canyon. It's likely better to continue to the easier-to-find (and likely better flowing) Big Spring
Big Spring: Approximately 4.9 mi / 7.9 km from the Paria River Confluence on the right side of the canyon. This was the only spring I was able to locate during my hike.
The Hole: Approximately 11.7 mi / 18.8 km from the Paria River Confluence on the right side of the canyon in a rock alcove.
Shower Spring: Approximately 14.5 mi / 23.3 km from the Paria River confluence – difficult to find. I've been told there is a large camping area on the opposite side of the Paria from Shower Spring. Another hint from a reader is that you'll walk up the bank into the reeds to a shallow pool with water coming off rocks at the back.
Last Reliable Spring: Approximately 18.2 mi / 29.3 km from the Paria River confluence
These springs are all marked with an approximate location on the map below.
Moral of the story? Fill up on (a lot of) water whenever you have the chance – especially if you're hiking in warmer temperatures.
Map
The following is an overview of Buckskin Gulch and Paria Canyon with landmarks. Note, this should be used as a guide and it is not necessarily 100% representative of what's on the ground (i.e. you shouldn't just be blindly trying to follow this track).
Conclusion
Hiking Buckskin Gulch and Paria Canyon lived up to all my expectations (except for the part where we got hit with an unexpected thunderstorm).
This hike is remote, prone to flash flooding, has no defined trail (for the most part), and requires that you manage your water (and temperature). It should not be underestimated just because there are no big elevation changes or mountains standing in your way. If you get yourself into trouble out here, there are very few options as far as getting out.
That said, except for the muck pools and the winding river getting old after a dozen miles of each, it's an awesome area and certainly an adventure worth looking into if you have the proper expectations, weather window, permit, and logistical ability.
I'm always looking to improve upon the information and resources provided in these guides so if you have any questions, suggestions, or updates, please leave a comment below or get in touch.
Resources
This page contains affiliate links, which means at no additional cost to you, I may receive small commissions for purchases made via these links. This helps to pay the bills and keep the site up and running. Thank you for your support!