Washing a down sleeping bag (and other down gear) doesn't have to be scary and doesn't have to destroy your gear. Quite the opposite – it will likely extend the life of your gear so long as you take steps to ensure you're washing your down gear correctly.
There are a couple of methods available to you when deciding to wash your down gear. One is the bathtub method (which I will not go over here) and another is the front-loading washer method (my preferred method and the one I'll be covering in-depth here).
Regardless of how you choose to wash your down, what's important is that you do it. However, I will warn you ahead of time that it's a bit of a pain in the ass and is not something I look forward to doing.
Need to Know
Before we dive into the details (or if you're just skimming) there are a few important points that you should know (and that may or may not be repeated below).
Do not dry clean your down items – dry cleaning uses solvents that can damage your precious down feathers' natural oils and can end up doing more hard than good
Use down detergent – don't just throw your down items in with your regular wash, they require special care and a down-specific detergent.
Wash down separately – it follows from the above point, but make sure you're washing your down items separate from the rest of your laundry
Close all zippers, clasps, and velcro – and along the same lines, make sure you haven't left anything in any pockets (or somewhere lost inside)
Check the label (or with the manufacturer) – some sleeping bags and quilts are made with materials that require an enchanced level of care. Be sure to check and see if you need to take any special considerations when washing your bag.
It's often suggested to go to a laundromat with large, front-loading washers and dryers. Full disclosure, I typically wash/dry mine at home.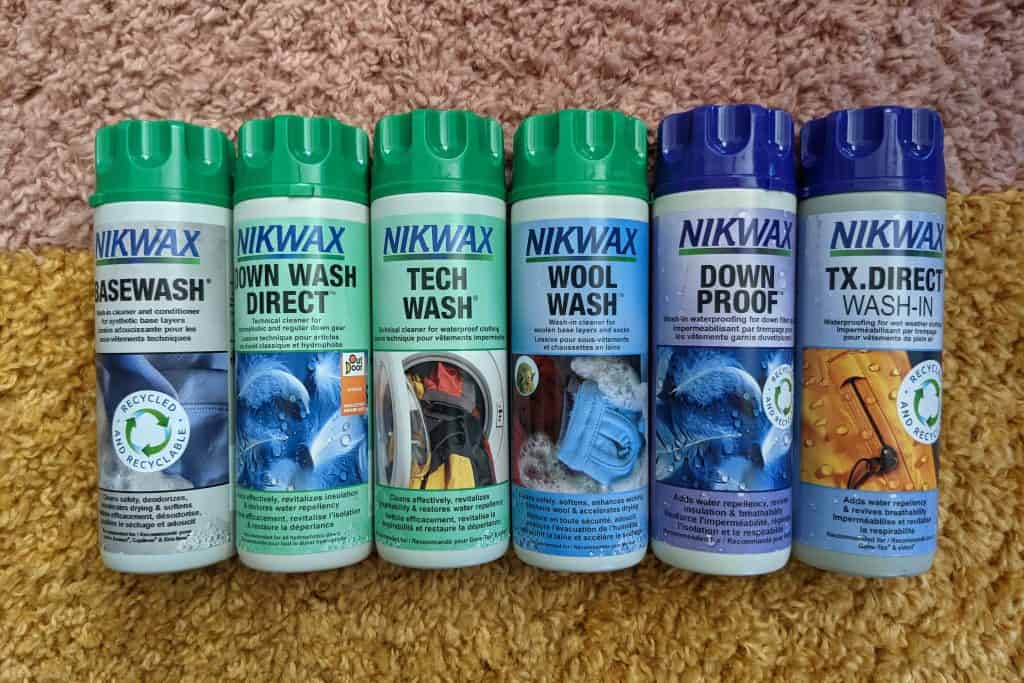 Why You Need to Wash Down
Down sleeping bags, quilts, and garments offer lightweight insulation that works by trapping air and heating it with your body heat.
When you beat up your gear outdoors, dust, dirt, sweat, body oils, and other nastiness build up on your down gear which in turn attracts water and causes your down to clump. Down clumps offer less (to no) insulation because you no longer have nice pockets for down to trap and heat air.
Hence why down is useless when it gets wet – it's not the feathers all around you keeping you warm, it's the air trapped within these feathers. This is also why most down gear comes with a DWR (Durable Water Repellent) finish – to keep water from reaching your precious down feathers.
No space for air means no warmth means bad times.
If you've noticed that your down gear isn't quite as puffy as it once was or that it's no longer keeping you as warm as it used to, it's probably time to wash your gear.
What You Need
You'll need a few things to get started washing your down sleeping bag (or quilt, jacket, or pants, or boots, or another down-filled article of gear).
Here's what you need to wash a down sleeping bag.
Front-loading washing machine (the agitators in many top-loading machines can damage sleeping bags)
A dryer with a low-heat mode (the larger the dryer, the better)
Tennis balls (or dryer balls)
At least a couple of hours
Patience (lots of patience)
An oversized bag for storage (this typically comes with a sleeping bag)
For down detergent, I have (and use) Nikwax Down Wash Direct.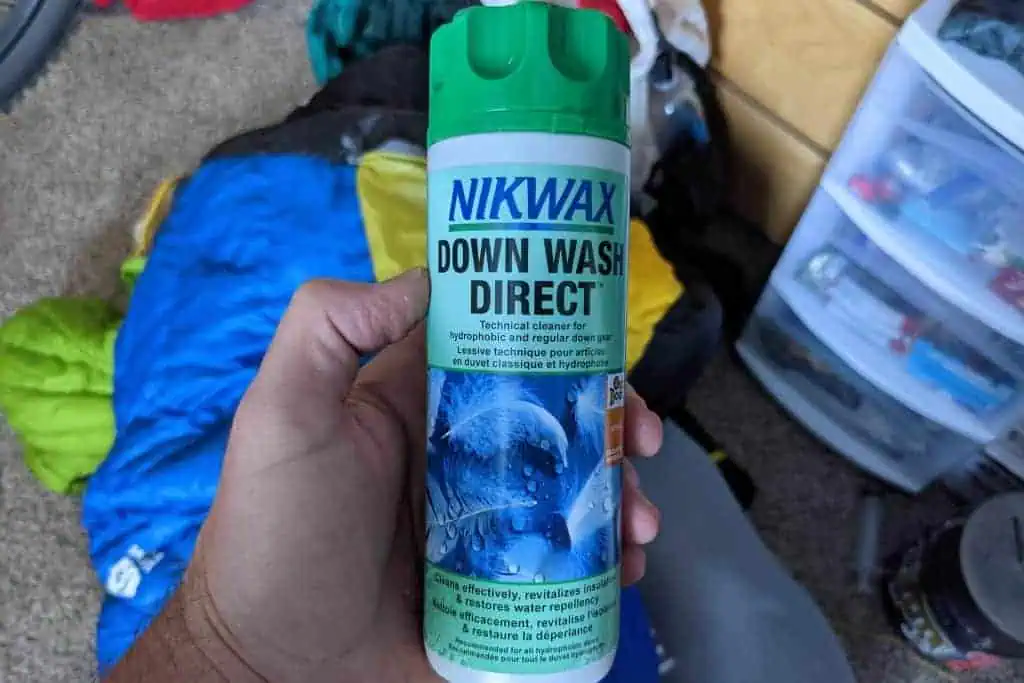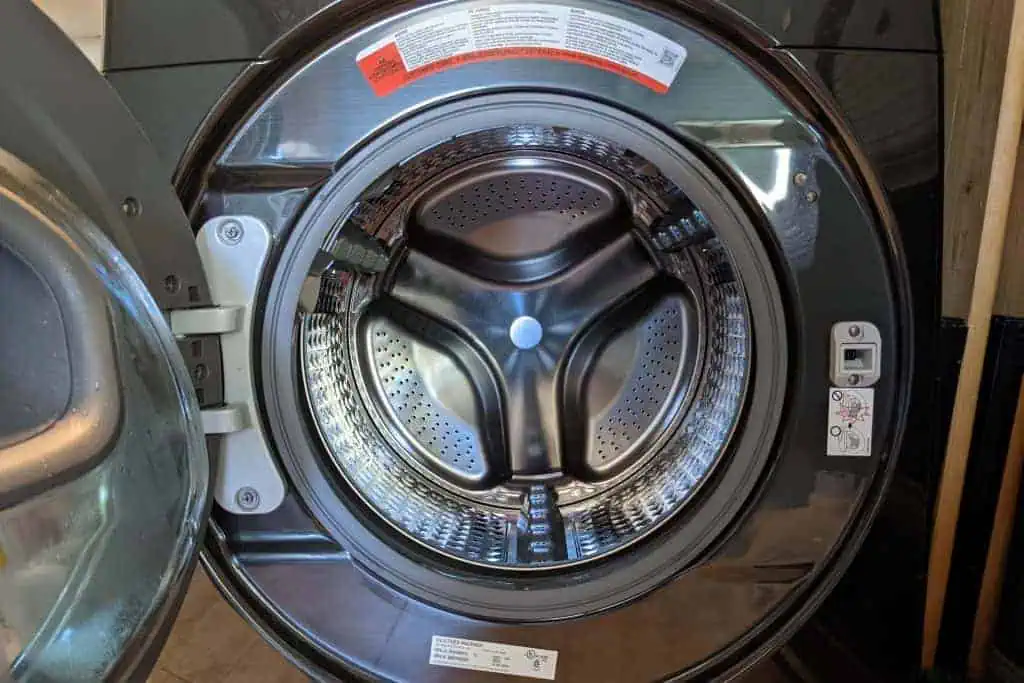 How to Wash
Washing your down sleeping bag is the easy part (once you've located a front-loading washing machine and gotten your down detergent).
Close all zippers, clasps, and velcro flaps on your sleeping bag.
Turn your sleeping inside out (this is for washing and also to ensure you haven't accidentally left anything inside of it).
Put your sleeping bag into a front-loading washing machine by itself (not with the rest of your laundry). You can also use a top-loading washing machine so long as it does not have an agitator.
Ensure that the detergent drawer (or wherever you put the detergent) is clean. Sometimes (especially if you're at a laundromat) the detergent drawer can get caked in leftovers from previous washes. Avoid this, if possible since you'll likely end up with some unwanted (non-down-specific) detergent in your load.
Use a down-specific down detergent (like Nikwax Down Wash Direct).
Wash your bag on warm, cold, or tap cold (recommended) on the delicates/gentle cycle.
Remove your bag as soon as the cycle finishes.
Do not simply pull your bag out of the washer and let it flop to the ground. The bag will be heavy and you will need to carefully support it as you move it to the dryer. If you fail to do this, the clumped down could potentially tear your bag's interior baffles. Be careful!
Lastly, don't be afraid. Your sleeping bag may be unrecognizable when it comes out of the wash. Have you ever seen a wet cat and thought to yourself, "Gross, what happened to that cute floofy cat?" That's kind of what looking at your sleeping bag is like when you pull it out of the washing machine. But fear not! The next step, the drying, will restore it to its former glory.
How to Dry
Now comes the fun part, drying your sleeping bag.
This is less complicated but more time-intensive than the washing part. This is where the patience mentioned above comes into play.
Carefully transport and place your sleeping bag into the dryer. The larger the dryer, the better (if you're at a laundromat, look for a large, commercial-sized dryer).
Make sure the dryer lint trap has been emptied – you should be doing this every time you put a load in to dry (and make sure there's nothing left over in the dryer from a previous load that could snag your bag).
Do not use dryer sheets or any other fancy dryer thing you may include with your laundry.
Place your tennis balls or dryer balls (yes, these fancy dryer things are okay – and practically necessary) inside of the dryer; I typically use three. These are in with the bag to help break up the clumps of wet down inside of the bag.
Run the dryer on low heat.
When the cycle completes, your sleeping bag will still likely be wet. Reach in to (or carefully take out) your bag and carefully break up clumps of down inside of the bag.
Put your bag in for another low-heat cycle. Make sure your balls aren't caught up in the sleeping bag and that they're still bouncing around the dryer.
Every ten minutes or so, stop the cycle to break up the clumps of down and free your balls.
Repeat the previous two steps until your bag is sufficiently dry.
Remove your bag from the dryer, break up any remaining clumps of down, and hang it out to dry for another 24 to 48 hours (you don't want to store your bag if there's any moisture in it).
Store your bag in an oversized sack/bag (one typically comes with your sleeping bag) – do not compress it.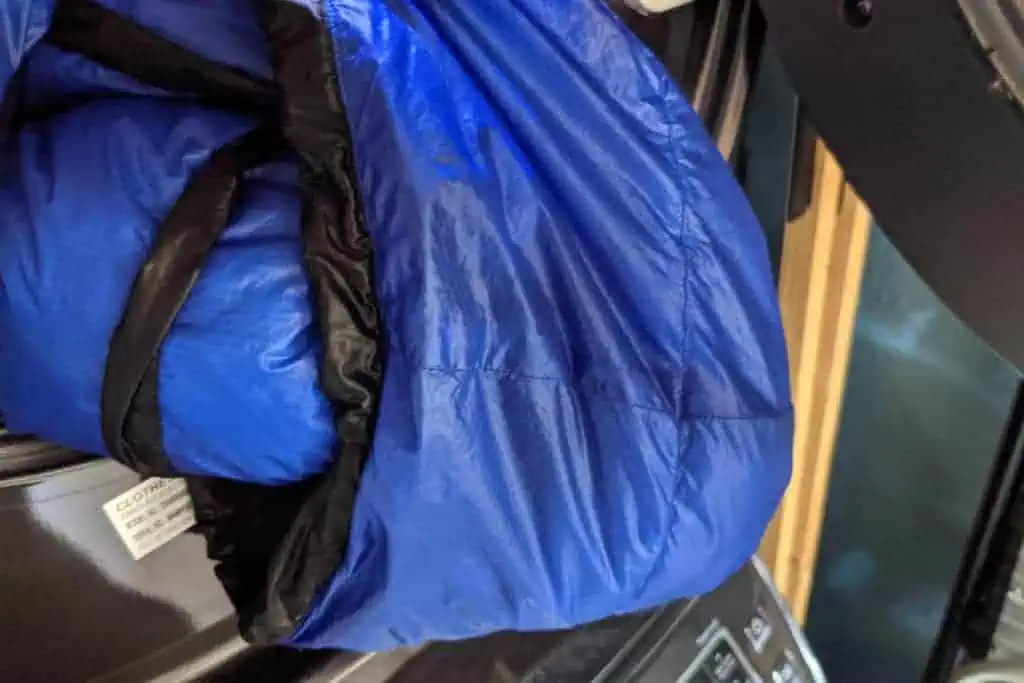 Wrap Up
Washing and drying a down sleeping bag can be a mission – especially if you don't have the means to do it at home (although some people will say that you should only be washing and drying bags in commercial-sized washers and dryers).
Just make sure to allow yourself plenty of time to wash your bag, you are careful with it when it's wet (and don't get too afraid of what it looks like), and then you take the time to fully dry it before storing it.
Questions? Comments? Tips on washing your down gear? Leave a comment below and let me know what's worked (or hasn't worked) for you!
This page contains affiliate links which means at no additional cost to you, I may receive small commissions for purchases made via these links. This helps to pay the bills and keep the site up and running. Thank you for your support!