The Hyperlite Mountain Gear UltaMid 2 is an ultralight, four-season, pyramid-style backpacking shelter designed to be set up with two trekking poles lashed together – Hyperlite Mountain Gear provides optional straps – or with an optional carbon fiber pole if you don't use trekking poles. Since it's a pyramid, there are no vestibules, but it has 63 ft² / 5.85 m² of interior floor space and the entire shelter (without optional pole or straps) weighs 18.85 oz / 534 g.
Weight

Ease of Set-up

Weather Resistance

Durability

Packed Size
Testing Conditions
I used the UltaMid 2 during a trip to Nepal and in California's Sierra Nevada. I used just the UltaMid 2 (I did not use any of the optional mesh inserts) and I primarily used it in shoulder seasons. Since I do not (usually) carry trekking poles, I set up the shelter using the Ruta Locura carbon fiber pole (available from Hyperlite Mountain Gear). This pole adds 8.4 oz / 238 g to the total weight of the shelter and is adjustable in 1 in / 2.54 cm increments, up to 8 in / 20.32 cm. I also had the Spruce Green version of the shelter (which weighs exactly the same but is sexier and $65 more expensive than the white).
The Specs
Capacity: 2
Seasons: 4
Doors: 1
Vestibules: 0
Weight: 18.85 oz / 534 g
Packed Size: 8.5 x 6 x 5.5 in / 21.6 x 15.2 x 14 cm
Floor Area: 63 ft² / 5.85 m²
Material: DCF8
Width: 6 ft 11 in / 210.8 cm
Length: 8 ft 11 in / 271.8 cm
Height: 5 ft 4 in / 162.6 cm
Country of Origin: USA
Color: White, Spruce Green
MSRP: $735 (White), $800 (Spruce Green)
The Features
Fully seam-sealed
DCF8 Dyneema Composite Fabrics (formerly Cuben Fiber)
Water-resistant two-way zipper
Comes with an X-Large Drawstring Stuff Sack
8 reinforced perimeter tie-outs
Line locks on all perimeter tie-outs
4 center panel tie-outs
Designed cone to prevent deformation when using oddly shaped poles, paddles, sticks, or skis
Dual peak vents with no-see-um mesh
Tie out on cone for hanging the mid from a tree
Equipped with eight 3 ft 2.8mm UHMWPE Core Guy Lines for perimeter tie-outs
Includes additional 100 ft / of 2.8mm UHMWPE Core Guy Line for center panel tie-outs
Photo Gallery
---
The Good
The Weight: The UltaMid 2, when being used with trekking poles, weighs 18.85 oz / 534 g. As far as four-season, two-person shelters go, there isn't much competition at this weight. The shelter is made of Dyneema Composite Fabric 8 (DCF8 – formerly known as Cuben Fiber) and is fully seam-sealed with a water-resistant two-way zipper. The reinforced peak of the shelter has two vents to prevent condensation.
The Weather Resistance: The UltaMid 2 is a pyramid-style shelter (in case you haven't been paying attention) – also known as a "mid" (where the name of the shelter comes from, get it?). Pyramids are structurally sound and capable of standing up to the elements – whether it be wind, rain, or snow. You might think that because it uses just a single pole, it wouldn't hold up well in a storm, but if pitched correctly and properly guyed out, you can count on the UltaMid to keep you protected no matter the elements. The shelter can also be easily pitched up or down (by adjusting the length of the center pole or trekking poles) depending on the weather.
The Interior Space: Mids can take some getting used to if you've never used one before and the UltaMid 2 is no exception. The usable space inside is interrupted by the pole in the middle (which makes mids a bad choice if you're looking to snuggle), and you're left with lots of low-clearance space near the edges. The perimeter of the shelter is great for storing gear and with 63 ft² / 5.85 m² of floor space overall, you won't have much of an issue fitting yourself and all your things inside – even if you're sharing the shelter with someone else.
The Okay
The Pitch: If you've never used a mid before – and especially if you've only ever used freestanding (or semi-freestanding) shelters – the Hyperlite Mountain Gear UltaMid 2 can take some getting used to. Since the footprint is a square, it's not as complicated as some other shelters to pitch and in fair weather, you shouldn't have any trouble getting it set up. It can be a bit more of a pain if you're setting up in the wind or otherwise inclement weather, or if you're setting up somewhere where the ground isn't very accepting of your stakes. If you end up having to set up the UltaMid 2 in the wind and using rocks instead of stakes, have fun. The good thing about getting it set up in wet conditions is that your interior won't get wet once you get your pitch (if you have a mesh interior you'll set this up second).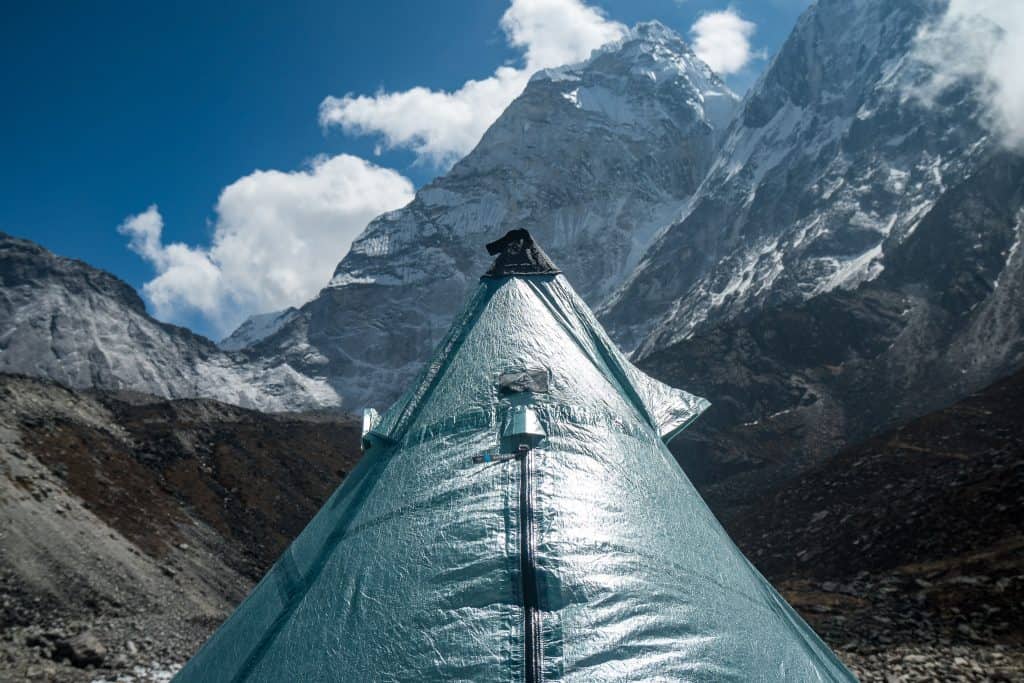 The Bad
The Bulk: My biggest complaint with the Hyperlite Mountain Gear UltaMid 2 is its bulk. It is far bulkier than I expected such a lightweight shelter would be – a result of the DCF8 it's made from. It helps a bit knowing that the bulk is simply an attribute of the shelter's fabric and not somehow an error in judgment in the production of the shelter. Over time, the fabric will begin to pack down smaller, but when it's new, you may struggle to get it back into its stuff sack each morning.
The Price: The UltaMid 2 is expensive. At $735 for white and $800 for green (plus whatever taxes you're subject to), it's a huge investment for what's essentially a single piece of fancy fabric. And then, on top of this, you'll pay an additional $15 for Ultamid Pole Straps, $30 for an Ultamid Stake Kit (more on these two below), and then up to $405 more if you want the full-size interior mesh with a floor. That means you could be looking at $1,250 (before taxes) for the most expensive UltaMid 2 setup. You could literally buy an old beater car for that price.
The Stakes & Straps: If you're spending $735 on a shelter ($800 if you want the green version), you would expect it to come with everything you need to set it up. However, if you are opting to use trekking poles, you'll need to purchase the Ultamid Pole Straps separately (if you don't already have something to lash your poles together); it costs an additional $15 for two straps and each weighs 0.5 oz / 14 g. Similarly, the shelter does not include any stakes. That said, many ultralight enthusiasts have their own favorite stakes, but Hyperlite also offers a stake kit (a set of eight weighing 0.4 oz | 12g per stake) for an additional $30. Since they're not included, maybe a discount on the straps/stakes would be nice with an UltaMid purchase? I don't know. I just know that $800 is a lot for a shelter that requires more be purchased to set it up.
Who is it for?
Beginner Backpackers: If you're just starting out backpacking, there's really no reason you should be looking at the UltaMid 2. Not sure how you found yourself here, but welcome. That said, don't let me stop you if you're set on getting one. Just remember what your friend Mac said when you use it once and then it lives forever in storage.
Weekend Warriors: If you're doing some serious occasional backpacking trips in adverse conditions and don't worry about burning through some cash, the UltaMid 2 could be a good option for you. That said, if you're more a casual weekend excursion taker, this shelter might be overkill.
Thru-hikers: The Hyperlite Mountain Gear UltaMid 2 could be a great choice on a thru-hike but the bulk might make someone think twice about having this shelter along for a long-distance hike. Something like the Dirigo 2 is probably better suited for a thru-hike, but that doesn't mean you should rule out the UltaMid 2.
Couples: As noted above, mids aren't great for snuggling, but they can be great for couples as they provide plenty of interior space for people and for gear. You'll only have one entrance/exit, but you won't have to do any climbing over one another to reach it. The only question will be who has to carry the bulky shelter since it can't exactly be split.
Optional Accessories
If you're not completely sold on the idea of having a pyramid-style shelter with no interior, you're in luck. The Hyperlite Mountain Gear UltaMid 2 can be with one of three different interiors to complete the shelter for additional protection from the elements, bugs, or the ground. If you want to be completely enclosed, you have the option of either a half insert or a full-size insert complete with no-see-um mesh and a Dyneema Composite Fabrics floor; they add 14.29 oz / 405 g and 22.08 oz / 626 g respectively. Alternatively, if you don't care about having a floor for your shelter (or you're using something else as a floor), you can get a mesh insert (without a floor) which adds an additional 14.74 oz / 418 g.
Most-popular Alternatives
Wrap Up
The Hyperlite Mountain Gear UltaMid 2 is an excellent shelter capable of handling the elements and keeping you protected no matter your adventure. It's versatile and can be used alone, or with one of three different interiors, and can comfortably sleep two people (or maybe even three in a pinch). Hyperlite Mountain Gear's attention to detail and pride in its products justifies the high price tag and despite the shelter's bulk, there's little to complain about.
I'm still not too into mids – simply as a matter of personal preference – but the UltaMid 2 has set my expectations high for future mids. Questions, comments, or personal experience with the UltaMid 2? Leave a comment below and let me (us) know!
This page contains affiliate links, which means at no additional cost to you, I may receive small commissions for purchases made via these links. This helps to pay the bills and keep the site up and running. Thank you for your support!