The SlingFin SplitWing is an ultralight modular shelter designed for ultralight backpacking, thru-hiking, or anyone who appreciates a large degree of flexibility in their shelter.
It comes as a tarp, a mesh shelter, or as a bundle that includes a removable vestibule; an optional floor is also available and is intended to be used as a groundsheet when not using the mesh body. The SplitWing doesn't include poles and is designed to be set up with two trekking poles or optional carbon poles, but if you decide to be creative with your campsite selection you could conceivably use the environment for a no-pole pitch.
Using the SplitWing does require a bit of know-how and it isn't as plug-and-play as some other (arguably lesser) alternatives. That said, it's nothing an instructional video won't help sort.
Here's everything you need to know about the SlingFin SplitWing.
Weight

Ease of Set-up

Weather Resistance

Durability

Packed Size
Testing Conditions & Notes
I used the SlingFin SplitWing for the entirety of the Arizona Trail and the Kings Canyon High Basin Route – in addition to the occasional shorter trip. It's currently my shelter of choice (check my current gear list to see if this has changed). I've only been out with the SplitWing in three-season conditions (I've yet to take into the snow), but I would bring it out in colder/snowier conditions so long as I wasn't expecting a blizzard.
NOTE: SlingFin has updated the SplitWing's design. It now has a bathtub floor (i.e. the mesh no longer goes all the way to the ground and the floor now comes up the sides slightly) and it now has adjustable stake loops at the four corners of the tarp.
Pros and Cons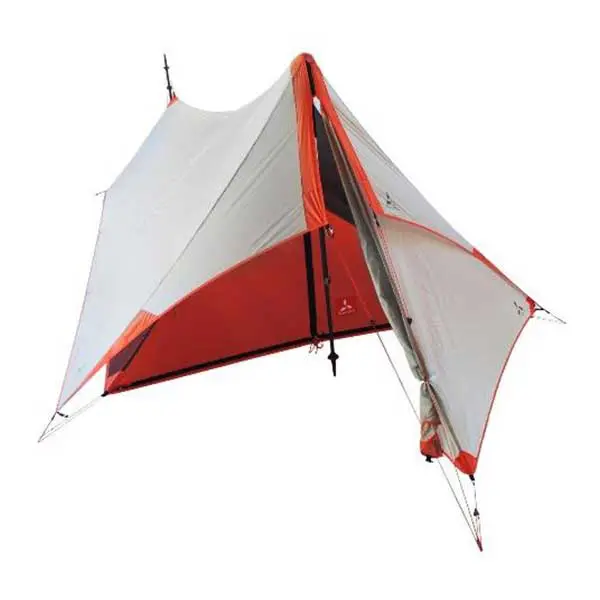 + Modular design allows for a variety of applications
+ Impressively compact when packed and stored
+ Lightweight as a bundle or even lighter as just a tarp
+ Can be set up with trekking poles or optional carbon fiber poles (or your environment)
+ Plenty of space as a single-person shelter
– Setting it up for the first time is potentially confusing without practice
– Not freestanding means campsite selection limited
– Frequently out of stock / nowhere to view locally
The Specs
Capacity: 2
Trail Weight: 21 oz / 595 g (+2 oz / 57 g with 6 DAC stakes)
Freestanding: No
Interior Height: 41-47 in / 104-119 cm
Interior Floor Area (mesh body): 24.8 ft² / 2.3 m²
Vestibule Area (outside mesh body): 6.8 ft² / 0.63 m²
Tarp Only (pitch-dependent): 27-32 ft² / 2.51-2.97 m²
Max Area (tarp + vestibule, no mesh body): 37.8 ft² / 3.51 m²
Poles Used (not included): 2 (trekking poles or custom poles)
Tarp Fabric: 10D Nylon 66 Ripstop Sil/Sil
Tarp Reinforcement Fabric: 20D Nylon Ripstop PE 1800
Mesh Body Canopy Fabric: 15D Nylon No-See-Um Mesh
Mesh Body Floor Fabric: 20D Nylon Ripstop PE 1800
Vestibule Fabric: 10D Nylon 66 Ripstop Sil/Sil
Color: Orange, gray, black
MSRP: $335
Photo Gallery
NOTE: SlingFin has updated the SplitWing's design. It now has a bathtub floor (i.e. the mesh no longer goes all the way to the ground and the floor now comes up the sides slightly) and it now has adjustable stake loops at the four corners of the tarp.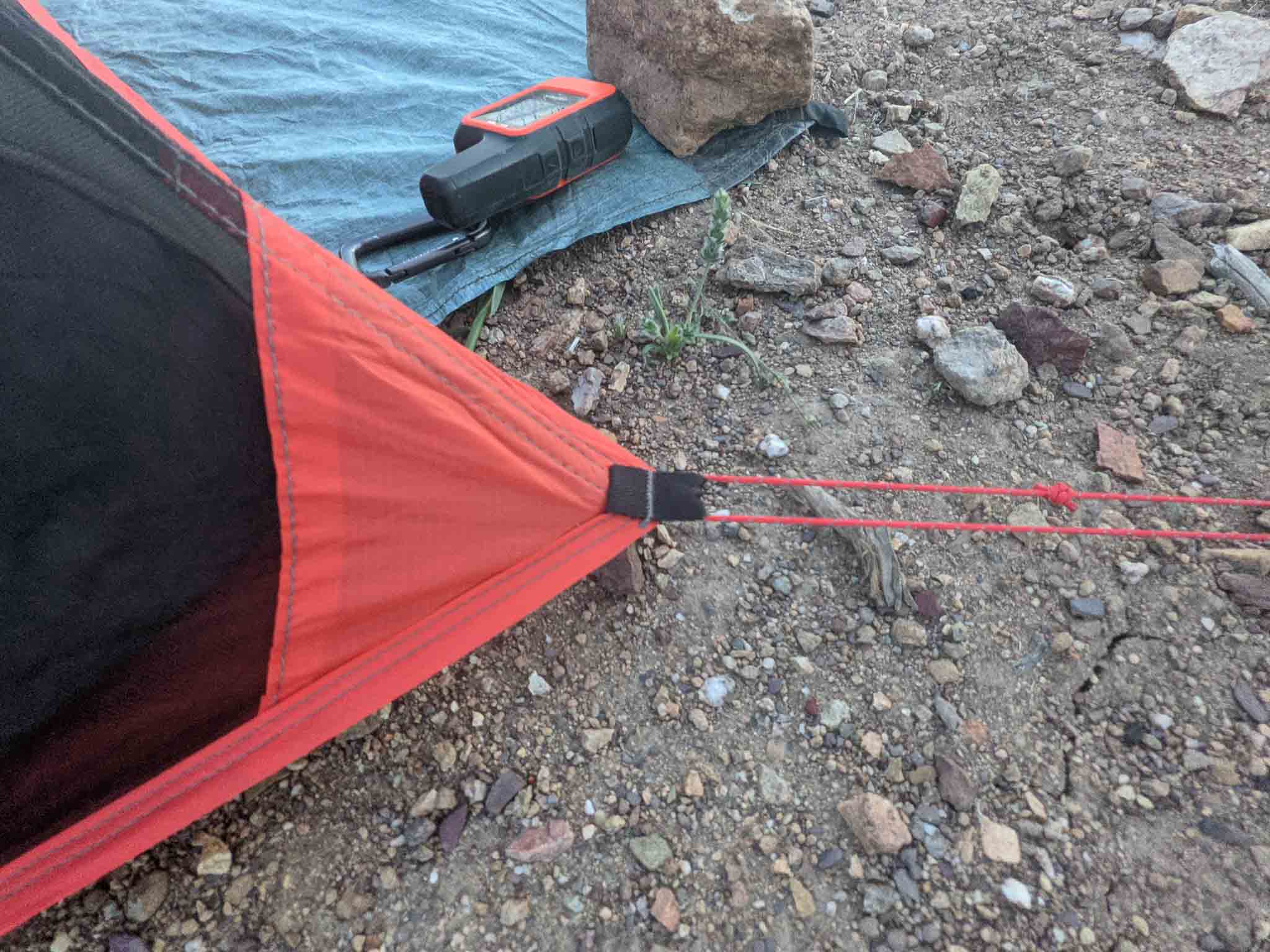 The Good
The Compactness: The SlingFin SplitWing is an impressively compact shelter. It's so small and compact I don't need to take its size into account when packing my backpack (I generally give special consideration to larger items such as my sleeping bag and food bag when packing). I separate the SplitWing into its parts when packing it (i.e. I pack the body, tarp, floor, and vestibule individually). Even if you were to pack the entire shelter into a single stuff sack, it would hardly take up more space than a 32 oz Nalgene. And the optional poles – if you're not using trekking poles – are small enough that you can easily store them down the side in an interior corner of your pack or slip them into an outside side pocket.
The Versatility: Because the SlingFin SplitWing can be used in a variety of setups – tarp only, tarp plus floor, mesh body only, mesh body plus tarp, or mesh body plus tarp plus vestibule, you're getting much more than a single shelter with the SplitWing. This makes it a great option if you want to have a single shelter for a variety of conditions or environments or if you are tarp-curious but aren't ready to fully commit to buying a standalone tarp – which the SplitWing tarp can be when used alone or in conjunction with the floor.
The Weight: The SlingFin SplitWing is a truly ultralight shelter. Not only does it pack down incredibly small, but it has a trail weight of just 21 oz / 595 g. Want to use just the tarp? You're looking at 7.9 oz / 224 g plus the weight of your stakes (minimum six). Just the mesh body? 11.2 oz / 318 g plus stakes. Adding the vestibule to the body plus tarp? Tack on 1.9 oz / 54 g. And if you add the optional poles (if you aren't using trekking poles), they'll only add 3.9 oz / 110 g (or 4.6 oz / 131 g for an adjustable pole). Adding six DAC stakes (the minimum number of stakes needed to pitch) will raise the weight another 2.4 oz / 68 g. That's a lot of numbers, so here's a chart.
| SplitWing Piece | Weight |
| --- | --- |
| Tarp | 7.9 oz / 224 g |
| Mesh Body | 11.2 oz / 318 g |
| Vestibule | 1.9 oz / 54 g |
| Floor | 3.4 oz / 96 g |
| Fixed-length Poles | 3.9 oz / 110 g |
| Adjustable Poles | 4.6 oz / 131 g |
| Six DAC Stakes | 2.4 oz / 68 g |
The Responsiveness: SlingFin is a small company that takes pride in the products it makes. The SlingFin SplitWing has been around for a while now and one of the biggest complaints (evident in the reviews on SlingFin's site) has been the lack of a bathtub floor. So what did SlingFin do? They added a bathtub floor. The folks at SlingFin aren't just out to make a buck (evident by the awesomely-competitive $335 price tag of the SplitWing) and take their customers and their feedback seriously.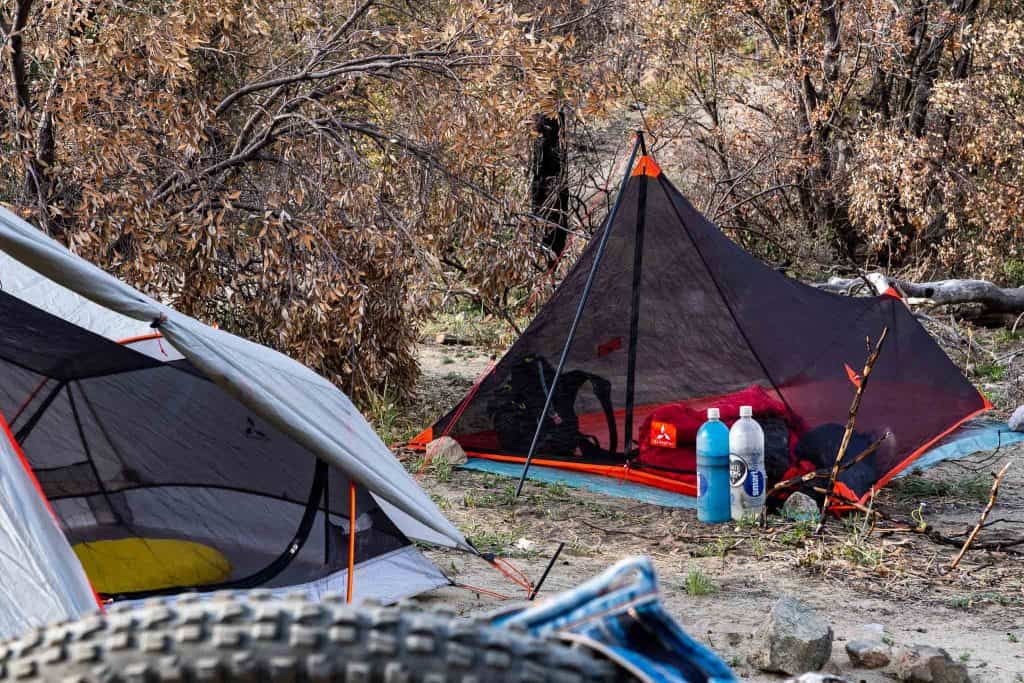 The Okay
The Learning Curve: A price to be paid for the SlingFin SplitWing's versatility, compactness, and weight? It's a bit trickier to set up than your "regular" tent. If you go out and try to set up the SplitWing for the first time without educating yourself first, there's a chance you may not have a great time and that your pitch will leave much to be desired. This is easily rectified with a bit of pre-trip education. SlingFin even offers an instructional video detailing how to properly set up the SplitWing.
The Interior Space: The SplitWing offers a good deal of floor space (for one), but you won't have much room to move about the interior mesh shelter – at least while upright. It's very much a "lay on your stomach and go about your things" shelter. There is plenty of space to sit up – you just won't be able to move around much without dragging your head/face on the mesh. The maximum interior height achievable is 37 in / 94 cm; that said, you can get the pitch up to 47 in / 119 cm if using just the tarp.
The Capacity: Although advertised as a two-person shelter, I would put the SplitWing in the 1.5-person shelter at best. Is it possible for two people to share a single SplitWing without being literally on top of one another? Yes, I have seen it done on multiple occasions. Would I be comfortable sharing the SplitWing? Not really. Could I make it work in a pinch? Sure. That said, there's plenty of room for one person to spread out with their gear.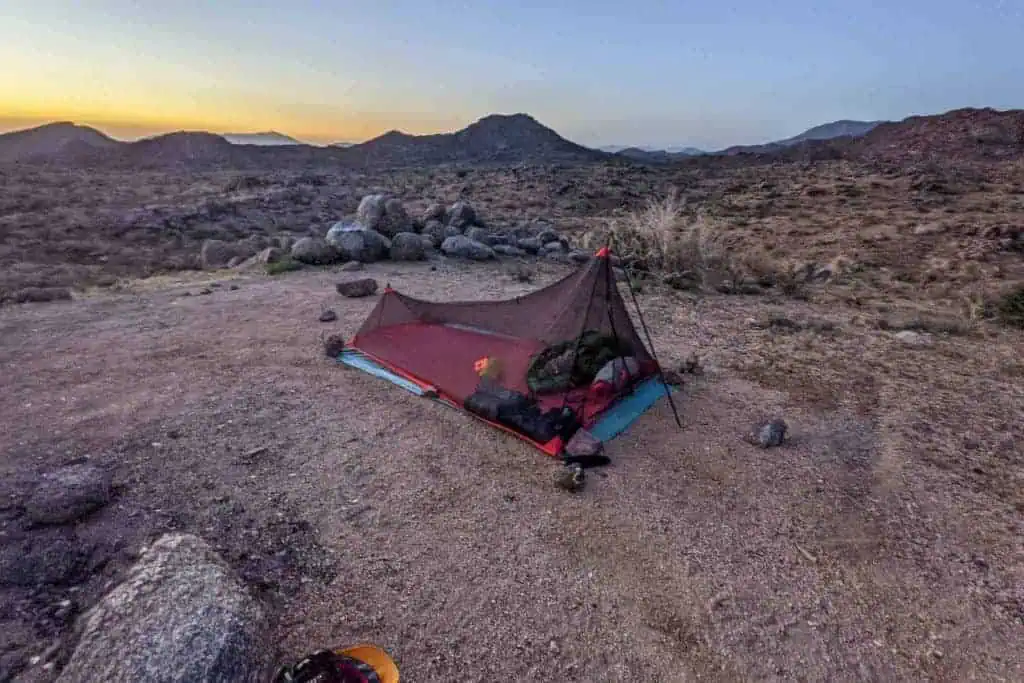 The Bad
The Supply: SlingFin is a small company and as such, it's not guaranteed you're going to be able to get your hands on a SplitWing at a moment's notice. Your best bet for finding a SplitWing is on the SlingFin website, but they're also available (sometimes) via Garage Grown Gear. In this same vein, there's nowhere to go locally to check out a SplitWing before purchasing one. That said, SlingFin's return policy is as follows: "Tents that have only been set up indoors and can be re-sold as new may be returned for a refund, minus shipping cost. Buyer pays return shipping. Credit card/PayPal transaction fees (3%-4%) may be lost for returns since Shopify and PayPal won't refund them".
The Pockets: One thing I love in tents that's noticeably absent from the SplitWing? Pockets. There are zero interior (or exterior, for that matter) pockets on the SplitWing. Could it be said that this is a weight-saving measure? It could be. Would I be mad if my SplitWing weighed an additional 10 g and came with an interior pocket? I would not. Would some people indeed be mad? Probably. That said, if you're using the tent by yourself, you will (should) have plenty of floor space to spread your belongings around.
Popular Alternatives
Wrap Up
The SlingFin SplitWing is a fantastic shelter that's somehow evaded the ultralight community for some time. If you don't need to have a freestanding shelter and want something lightweight, compact, and versatile, look no further.
With the SplitWing's variety of options – including purchasing the SplitWing pieces individually or as a set – and SlingFin's attention to both detail and customer feedback, I only expect that we will see future iterations and applications of the SplitWing continue to improve.
Questions, comments, or personal experience with the SlingFin SplitWing? Leave a comment below or get in touch and let me know! Check out the SlingFin SplitWing here.
This page contains affiliate links, which means at no additional cost to you, I may receive small commissions for purchases made via these links. This helps to pay the bills and keep the site up and running. Thank you for your support!