The Thule RoundTrip is a piece of luggage designed to safely and efficiently transport a bicycle (because sometimes a cardboard bicycle box won't cut it). There are two versions of the RoundTrip – a mountain bike version and a road bike version. They are similar but slightly different in their interior configurations.
Built into the RoundTrip is a work stand that can be used for repairs, assembly, or disassembly of your bike. There are three wheels on the case, two in the back if you prefer to lift the front and pull, and one in the front that swivels – making for easy transport around airports.
Here's everything you need to know about the Thule RoundTrip.
Protection

Compactness

Features

Weight

Versatility
Testing Conditions
I used the Thule RoundTrip to fly my gravel bike from California to Rio de Janeiro with three flights in each direction. This required me to travel with the case through three different airports (as I had to claim it upon returning to the US before checking in for my domestic flight) and in four different vehicles (to and from the airport at each leg of the journey), and the bag being loaded onto six different planes.
NOTE: There are two versions of the RoundTrip – the Mountain Bike and the Road Bike versions. They are very similar but offer slightly different configurations for bicycle storage. I opted for the mountain bike version since I thought this would afford me more flexibility. During my trip, I brought a gravel bike and it worked well in this case.
Pros and Cons
+ Easy to transport when loaded (or unloaded)
+ Does an excellent job protecting bicycle
+ Folds up compactly for (relatively) easy storage
+ Lots of extra room for gear (and interior pockets)
+ Built-in stand for repairs, assembly, or disassembly
– Case is heavy – depending on your bike you could be paying overweight fees when checking it
– Expensive compared to other options
– Choice between MTB and Road version can be tough if you have multiple bicycles
The Specs
The following information reflects the mountain bike version and the road bike version specs can be found here.
Weight: 29.54 lb / 13.4 kg
Dimensions (in): 56.69 x 14.96 x 35.04
Dimensions (cm): 144 x 38 x 89
Packed Dimensions (in): 56.69 x 14.96 x 9.45
Packed Dimensions (cm): 144 x 38 x 24
Material: Polyester
Closure: Zipper
Wheels: 2 rear, 1 swiveling front
Exterior Pockets: 0
Interior Pockets: 2
Max Wheelbase: 130 cm
Max Tire: 29 x 3″
Color: Black
MSRP: $999.95
The Features
Included work stand for maintenance, assembly, and disassembly
Bike attaches to the work stand inside the case for transport
Padded interior panels to protect the entire bike during transport
Side panels reinforced with 5 mm corrugate polypropylene
A molded HDPE bottom tub for additional protection
Sidewalls collapse for compact storage (144 x 38 x 24 cm)
Swiveling front wheel for easy maneuvering
Brake rotor pockets to protect rotors from bending stress
Drivetrain wrap to protect rear derailleur, chain, and bike frame
Work stand fork mount fits all front axle sizes (includes 15×110 boost, 15×100, 20×110, 12×100, and 9mm quick release)
Photo Gallery
The Good
The Protection: The Thule RoundTrip offers plenty of protection for your bike. This is, after all, the primary reason for getting a bicycle case, isn't it? You could just throw everything haphazardly into a box (or put it neatly into a box) and hope for the best, but having a protective case is certainly the preferable option. After (carefully) packing my bicycle, it successfully survived six airplanes, four cars, and four airports without any damage whatsoever.
The Compactness: One of my motivations for getting the Thule RoundTrip instead of a hard-sided case like the Thule RoundTrip Transition is because of the case's compactness – when stored. I've yet to see a folding or collapsible hard-sided case. The RoundTrip packs down relatively small; the largest packed dimension is its 56.69 in / 144 cm length. It stores easily under a bed, upright in a closet, or on an equally-long shelf.
The Built-In Stand: The Thule RoundTrip comes with a built-in bicycle stand. It stores seamlessly inside of the case (empty or with a bicycle) and has five pieces that easily fit together. It's easy to assemble and break down and I found it particularly useful for streamlining the bike-packing process and making the entire thing a lot less chaotic (as things have been when I've previously had to pack my bicycle into a large cardboard box).
The Pockets: The Thule RoundTrip has two interior pockets that are easily accessible even when the RoundTrip is packed with a bicycle inside. The zipper (which is also great) allows you to stash or grab items from the interior pockets (also zippered) whether the case is on its side, standing up, or loaded with a bike. On this note, there's also plenty of interior storage space for other (lightweight) gear like helmets or clothing (if you have the weight allowance).
The Okay
The Weight: At 29.54 lb / 13.4 kg, the Thule RoundTrip is not especially light. The case is easily maneuverable and the weight doesn't become a concern unless you'll be checking your bicycle with an airline. Unless you have a lightweight bicycle or airline status, you can expect to be paying for overweight baggage (if you weren't already aware, there is generally no extra charge for bringing a bicycle and it is treated like any other bag). You can travel without most pieces of the included stand if you need to shave weight.
The Sides: As described above, the Thule RoundTrip packs down nicely. This means it lacks the structural integrity found in some hard-sided bicycle case options. That said, the sides are not soft – they simply fold down when the case is opened and you can depress them if you place weight on them. In other words, you never want to place the case on its side and then stack heavy objects (e.g. additional luggage) on top of it. I only worry about this when the case is not in my control and is being handled by airline and airport employees.
The Wheels: The Thule RoundTrip has three wheels. Two permanently attached at the back and a single detachable wheel at the front allow the case to be easily rolled and pivoted on all three wheels or rolled on just the back two. Maneuvering the case is incredibly easy in either setup. However, you must detach and store the front wheel when checking the bag. Something I failed to do on the final leg of my trip and now I'm without a front wheel. Is it hard to take the wheel off? No. Should it be necessary? Probably not?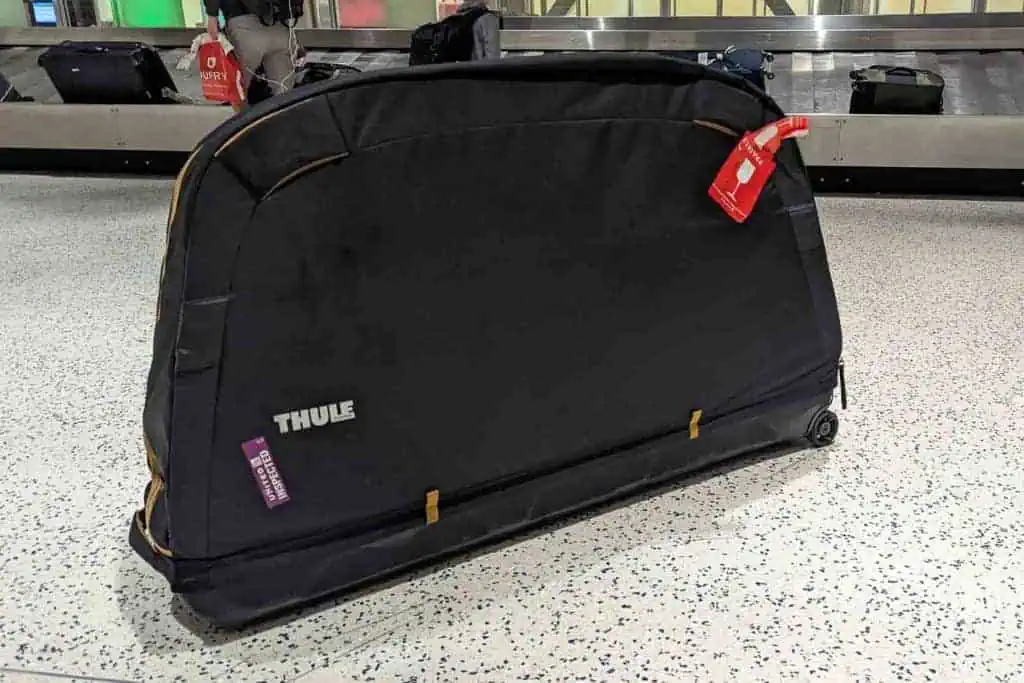 The Bad
The Cost: The worst feature of the Thule RoundTrip is its cost. It's significantly more expensive than most of the other options available for bicycle transport. Its high cost is not entirely unjustified as it's a quality product with plenty of features. However, its price tag will likely be a barrier that many would-be users won't be able to make it past.
Wrap Up
The Thule RoundTrip is a fantastic piece of luggage if you're looking to safely transport or travel with a bicycle. It's easily maneuverable, provides sufficient protection, packs down for storage, and can accommodate a wide range of bikes.
This package doesn't come cheap and those with multiple bikes may need to decide between the two models (I went with the MTB version since I figured it's easier to store a road bike in a mountain bike case than vice versa).
Questions, comments, or personal experience with the Thule RoundTrip? Leave a comment below or get in touch and let me know! Check out the Thule RoundTrip here.
This page may contain affiliate links, which means I may receive small commissions for purchases made via these links at no additional cost to you. This helps to pay the bills and keep the site up and running. Thank you for your support!