The Western Mountaineering AstraLite Quilt is a 19.1 oz / 542 g, 850+ goose down, three-season backpacking quilt with a 26° F / -3° C rating. It's the warmer of the two quilts currently manufactured by Western Mountaineering, the other being the NanoLite – rated at 38° F / 3° C.
The AstraLite has a sewn footbox (i.e. you can't lay it flat) with three flat elastic straps and a single button at the top for attaching it to a sleeping pad. Remember, quilts aren't insulated on the bottom and there's a good chance you'll want to use an insulated sleeping pad (like the Therm-a-Rest XLite) in conjunction with the AstraLite.
If you've never experimented with backpacking quilts before and are wondering how they differ from sleeping bags, imagine a sleeping bag without the "bottom" half of the top of the bag (where your back would be in contact with the ground if laying flat on your back). Instead of there being some sleeping bag (or quilt) here, you rely on your sleeping pad for insulation.
Warmth

Weight

Comfort

Packed Size

Versatility
Testing Conditions
I've used the Western Mountaineering AstraLite Quilt on summer/shoulder season hikes in California's Sierra Nevada and for the entirety of the Arizona Trail (where it can get a lot colder than you might think). At the time of writing this, I probably have slept in the AstraLite for close to five weeks worth of nights.
The Specs
Weight: 19.1 oz / 542 g
Fill Weight: 11.25 oz / 319 g
Temperature Rating: 26° F / -3° C
Fill Power: 850+ goose down
Loft: 4.5 in / 11 cm
Stuffed Size (in): 6 x 10
Stuffed Size (cm): 15 x 25
Shape: Mummy
Bag Length (regular): 5'8″ / 173 cm
Bag Length (long): 6'4″ / 200 cm
Shoulder Girth: 68 in / 172 cm
Foot Girth: 38 in / 96 cm
Shell Fabric: 12D nylon
Liner Fabric: 10D tafetta
Closure: Flat elastic straps
Hood: None
Country of Origin: USA
Sizes: Regular, Long
Color: Green? Seafoam Green? Metallic Silver?
MSRP: $420
The Features
European 850-fill goose down insulation is warm and highly compressible
Insulated draft yoke
The closure system secures from shoulders to feet
The top collar drapes around the neck to block wind and retain heat
Removable pad straps
Mummy shape
Sewn foot box
Western Mountaineering founded and based in Northern California
Notes on the AstraLite
Note that the AstraLite comes in two sizes, a 5'8″ (180 cm) version and a 6'4″ (200 cm) version. The 5'8″ (180 cm) is considered the "regular" version and the 6'4″ (200 cm) is the "long" version. If you're thinking to yourself, "Wait, I'm 5'10" (178 cm) and I've never had to bug a long bag – do I need the long AstraLite?", the answer is "no". The length of the AstraLite is shorter because it's a quilt and does not have a hood (like you would expect a mummy sleeping bag to have).
AstraLite Photo Gallery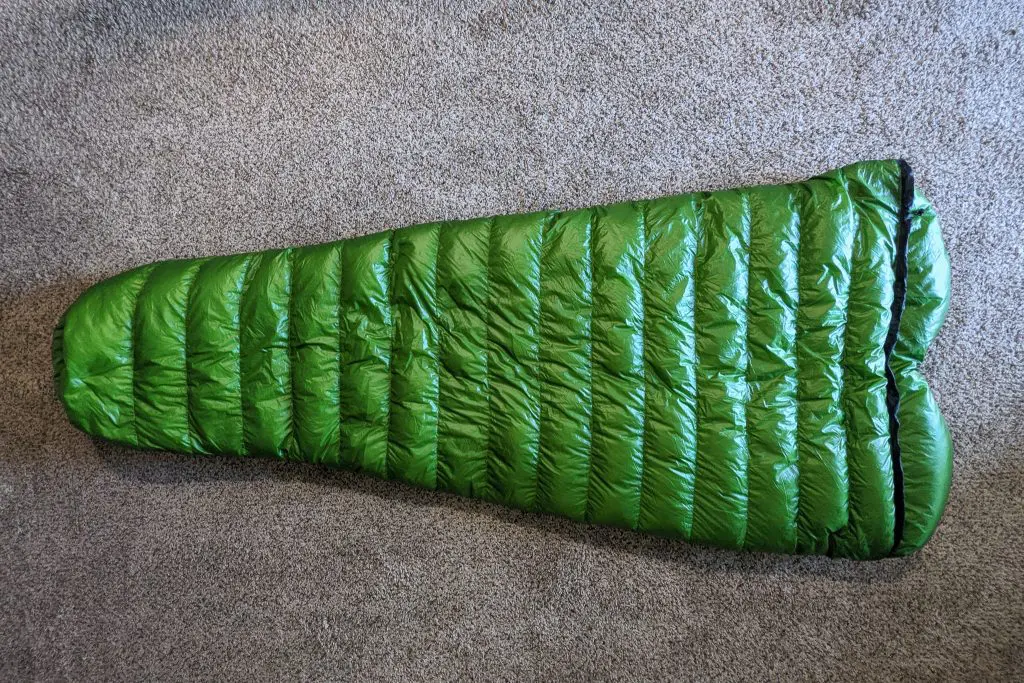 The Good
The Warmth: After my first couple of experiments with quilts, I was scared off after experiencing some cold nights in the backcountry. The Western Mountaineering AstraLite Quilt has convinced me I can be warm in a quilt – so long as I'm using it within appropriate temperatures. I have used the AstraLite down to just below freezing and have found it to keep me warm so long as I have it properly secured to my (insulated) sleeping pad. I've mostly used it with a Therm-a-Rest NeoAir XLite.
The Packability: I typically keep my sleeping bag at the bottom of my pack where it takes up the entire width of the pack's bottom. However, the AstraLite packs down small enough that I can choose between packing it slim and flat at the bottom of my pack or compressed into a corner, and then I can squeeze my sleeping pad or something else down at the bottom with the AstraLite. For a quilt that will keep you warm to below-freezing temperatures, it packs down very nicely.
The Warranty: Western Mountaineering stands behind their products and states on its website "products are guaranteed against manufacturer's defects for an unlimited time. Should a product fail due to a defect in materials or craftsmanship, we will, at our option, repair or replace the item at no cost to the original owner." If you rip, tear, burn, or otherwise destroy your AstraLite, then this warranty will not apply, but you can rest easy knowing that you will be taken care of if something happens to your AstraLite that is not your fault.
The Okay
The Versatility: One of the things I sometimes worry about on longer trips with the Western Mountaineering AstraLite Quilt is how adaptable it is to changing conditions. Because it has a sewn foot box and it can't be laid flat or opened up all the way, the AstraLite doesn't do a great job of being a blanket in warmer temperatures. The top half of it, sure, but that then leaves my feet either sweating in the foot box or cold outside (I don't typically sleep with socks on). So long as you know what you're getting into this won't be much of a problem, but the AstraLite definitely isn't the end all be all of my sleeping bag/quilt collection.
The Options: Quilts are by no means standardized and many quilt manufacturers offer a variety of lengths, widths, and fill powers when it comes to quilt selections. However, the AstraLite and Western Mountaineering are not members of this trend. The AstraLite comes in one width, one fill power, and two sizes – regular or long. There's something to be said for maintaining a certain level of quality control with quilt production, but this will leave some wanting more (like those who would prefer a shorter or wider version).
The Price: The Western Mountaineering AstraLite is not cheap. The regular is $420 and the long costs $435. However, you're paying for quality and a domestically-produced product. Western Mountaineering has long been known as a premium sleeping bag (and now quilt) manufacturer. All their bags are made domestically with ethically sourced goose down. You get what you pay for with Western Mountaineering and the high price tag is reflected in the quality of their gear.
The Stock: Because Western Mountaineering is a small company that sells exclusively through retailers (there are no direct-to-consumer sales offered on their site), it can sometimes be tough to find the AstraLite in stock (even online). Yes, it's good that normally you don't see something like 8-week lead times for these products, but when they do go out of stock, it can be frustrating since you have no idea of when they'll be back in the hands of a retailer ready to sell it to you.
The Color?: The AstraLite is pictured on Western Mountaineering's website in a metallic grey-looking color. However, most of the AstraLites I've seen out in the wild are more of a seafoam green color. And my AstraLite is green – the same color nylon shell as the Versalite (Western Mountaineering's 10-degree sleeping bag). This has all likely been due to supply chain issues and/or quality control measures on the part of Western Mountaineering, and ultimately the color of my bag isn't as important as its performance, but it's still odd to see so much variation between AstraLites.
Who is it for?
BEGINNER BACKPACKERS | If you're new to backpacking, one of the most expensive down quilts available is probably not the best piece of gear for you. Quilts aren't for everyone and despite the Western Mountaineering AstraLite being an awesome piece of gear, I would recommend starting yourself off with a traditional sleeping bag. If you have the money and are worried about having to upgrade your sleep system in the future, get yourself a down bag (instead of a synthetic bag).
WEEKEND WARRIORS | If you're going to be out frequently enough to warrant some investment in your gear and you already know that you're a fan of quilts, then the Western Mountaineering AstraLite could be an option for you. However, I would still caution you to be sure a 26°F/-3°C degree quilt is something you're going to be stoked to have before dropping $400+ on one.
THRU-HIKERS | A category that many quilt users probably fall into, if weight and space are of the utmost importance to you and you're not going to be spending too much time too far below freezing, then you can't go wrong with the AstraLite. That said, I would be sure that you know you like quilts before you decide to add this to your pack.
Wrap Up
If you're looking for a quality quilt that will keep you warm the Western Mountaineering AstraLite Quilt is an excellent option. It has restored my faith in quilts and has served me well at temperatures approaching (and just below) freezing. If you are looking to save weight but not at the cost of staying warm, you can't go wrong with the AstraLite.
Despite it not being the most versatile piece of backpacking gear and it lacking the customization options available with much of the competition, I have no hesitation recommending (and using) the AstraLite. I might even get myself a NanoLite (also from Western Mountaineering) since the AstraLite has done well in shoulder seasons and I'm sure I could get away with something that's not quite as warm for the summer months.
Questions, comments, or personal experience with the Western Mountaineering AstraLite Quilt? Leave a comment below and let me know!
Find It Online
[content-egg-block template=offers_list]
This page contains affiliate links, which means at no additional cost to you, I may receive small commissions for purchases made via these links. This helps to pay the bills and keep the site up and running. Thank you for your support!