The Ombraz Armless Sunglasses (pronounced ohm-bruhz) are a fresh take on sunglasses eliminating their glasses' arms in favor of a built-in nylon cord. The idea is simple – the arms of your sunglasses are useless and more a liability than an asset.
But are they? I've struggled in the past wearing sunglasses with certain headwear (particularly beanies, buffs, balaclavas, or helmets) and can certainly see the advantage of not having arms to smash into the side of my head and/or make the fit of my glasses awkward when venturing out with my cold-weather gear.
Ombraz makes an excellent case for the elimination of sunglasses' arms.
Pros
ZEISS polarized lenses Lightweight and compact Included case with microfiber cloth Prescription option available Lifetime warranty
Cons
Can be annoying to remove when using headwear or headphones Cord doesn't allow for great "hanging from neck" length (longer cord option?) Regular size is too small for my head (large size in the future?)
Ombraz Armless Sunglasses Testing Conditions
I have used the Ombraz Armless Sunglasses while backpacking, trail running, mountain biking, and rafting (in addition to everyday wear). I use the Leggero because they have the largest frame size and I have a giant head. I have both a polarized pair and a blue blocker pair. If you are interested in a detailed review of the Leggero specifically, you can find it here.
Specs and Features
Polarized: Yes
Cord Fabric: Recycled Nylon
Lens Color Options: Grey, Brown, Yellow, Clear Blue Blockers
Frame Color Options: Charcoal, Tortoise (Classic/Leggero Only), Ember (Leggero Only), Slate (Dolomite Only), Matte Brown (Classics Only)
Frame Size Options: Narrow, Regular (Classic), Narrow/Regular, Large (Dolomite), Regular, XL (Leggero)
Frame Base Curve: 6
Included Case: 3 mm-thick neoprene
Country of Origin: China, South Korea, USA
MSRP: $160
Adjustable, abrasion-resistant, built-in cord
German-engineered Zeiss optics with 100% UVA/UVB protection
Hard-coated, hydrophobic, and oleophobic lenses
Handmade acetate, base curve 6 frames with no hinges or screws
The included case comes with a built-in microfiber cloth
100% compostable packaging with zero plastic
20 trees planted for each pair sold – carbon-negative product
Free shipping within the USA
30-day return period
Lifetime warranty
Sizing Chart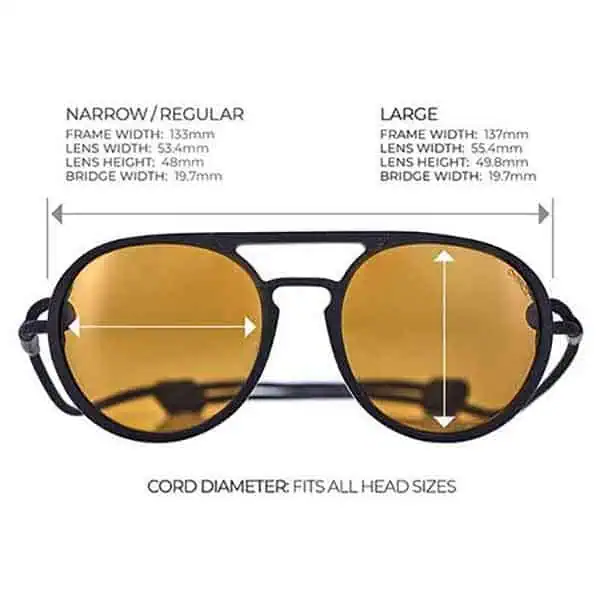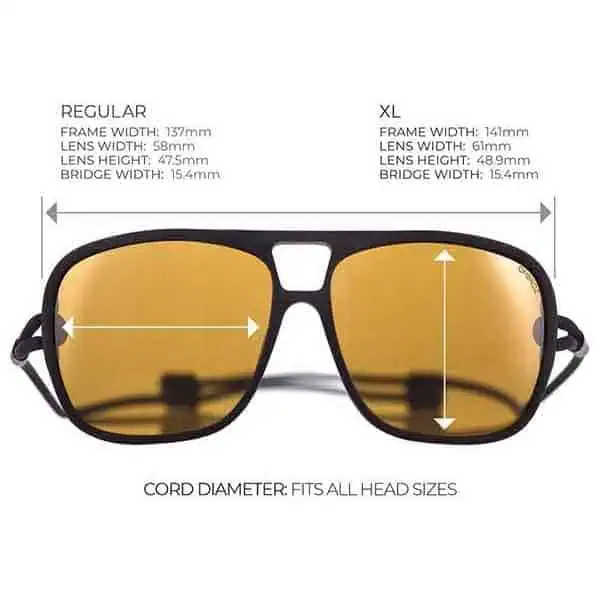 Ombraz Photo Gallery
The Ombraz pictured here is an XL pair of Leggero with polarized yellow lenses and a matte black frame.
The Good
The Lenses: If you're looking to buy sunglasses (especially if you're looking to buy sunglasses to use as glasses for the sun and not simply a fashion accessory), you should spend the money to get polarized lenses (they're objectively better than that $20 pair you got at the pharmacy two years ago and have been wearing ever since). Ombraz Armless Sunglasses come with polarized lenses (although there are blue blocker and non-polarized versions as well) and come in three varieties: grey, brown, and yellow. All three options are hard-coated Zeiss lenses offering 100% UVA/UVB protection.
The Comfort: When these sunglasses are playing nicely with my face, Ombraz are very comfortable. I was afraid that they would always be bouncing around my face, feel like they were falling away from my face, or be too tight (as a result of my trying to avoid one of the other two scenarios). However, I found the Ombraz to be very comfortable. Under a helmet, under a beanie, over a beanie, or under a mess of hoods and a hat, they do an excellent job of staying put (even when running) and you can easily forget that you're wearing them in the first place.
The Options: The Ombraz Armless Sunglasses offer three lens colors, polarized or non-polarized lenses, blue blocker lenses, three frame colors (except the Dolomite which only has two), and two frame sizes. Despite their sizing not being consistent across the different frames (the Leggero is the largest), there's really something for everyone here. Another note – for those of you with prescription vision, they offer a prescription option as well (the cost for prescription Ombraz is $345 a pair for regular glasses and $395 for sunglasses – I don't know how this compared to the average mark-up for prescription options, but it's more than double the price of a normal pair of Ombraz – $140/pair).
The Warranty: Ombraz offers a lifetime warranty on all of its glasses' cords, adjustment systems, and frames. Not included in this warranty are lenses. However, Ombraz has a turn-key lens replacement program through Lens & Frame Co; the cost for (non-prescription) replacement lenses is $65. They even state "If your Ombraz should for some reason fall off while getting sendy, shoot us a note and we will see what we can do." What this means, I'm not entirely sure. Like if you lose them they'll replace them? Or if the lenses get scratched because they fall off they'll warranty them? That said, they certainly sound like a company that wants its products to last and wants its customers to be happy.
The Okay
The Versatility: When you discount all my rain jackets, down jackets, and technical gear, I own very little everyday clothing; I'm far from a style guru. However, I feel as though the range of situations that the Ombraz is somewhat limited. They're not wrap-around cycling lenses and they're not mountaineering goggles, but they're also no Ray-Bans (my other pair of sunglasses that I typically wear hiking). Honestly, I could probably get away wearing these glasses in nearly any social situation I find myself (whether it be a function of the situation or just my lack of caring), but I can imagine some of you out there would need a second pair of sunglasses to ensure a wider circle of social acceptability.
The Bad
The Removal: Sure, you can talk a lot of shit on glasses' arms, but one benefit (at least as far as I'm concerned) is that you can easily remove and put on your glasses. I found myself frustrated with the Ombraz Armless Sunglasses whenever I had to remove the glasses (either to clean them, defog them, or just put them somewhere). I typically am always wearing a hat which meant that in addition to loosening the cord, I usually have to remove my hat as well to facilitate getting the glasses off my head.
The Hang Distance: When I'm using sunglasses with arms, I usually use a sunglasses retainer (you know, that super cool piece of fabric that attaches to the end of each arm so that you can hang the glasses from your neck). However, the length of this retainer is much longer than the Ombraz cord which means that my glasses can be removed without removing my hat and they hang down on my chest when I'm not wearing them. The Ombraz hang a bit too close to my neck for comfort and end up laying flat against my (usually very sweaty and disgusting) self (instead of the frames/arms supporting the glasses in a way that the lenses do not come into contact with me). Perhaps I'm just not evolved enough yet, but I found this to be a slight annoyance with the Ombraz.
The Sweat: One thing that will happen if you're out working hard in your Ombraz is that the nylon cord will become sweat-soaked. This is perhaps one situation where arms are preferable since you can quickly rinse arms off with some water. You can rinse your cord off with water, too, but then it's wet. I suppose just a minor inconvenience, but there have been times when I get home from a run with my Ombraz and then don't want to put them down on anything because of the sweat-soaked cord.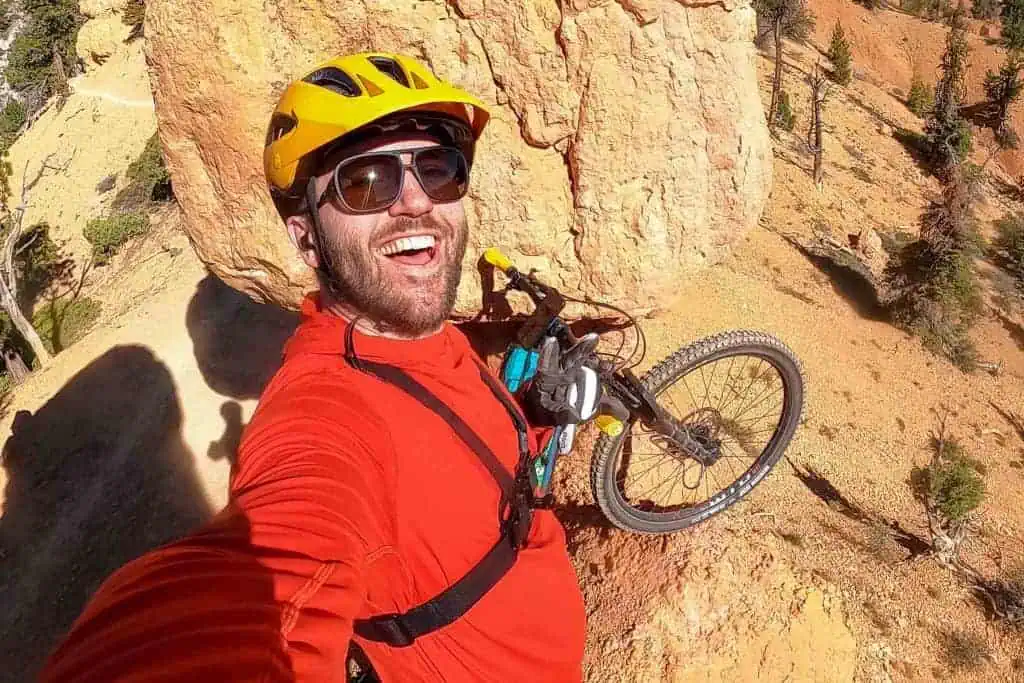 Ombraz Armless Sunglasses Conclusion
Ombraz Armless Sunglasses are a great addition to any kit and despite not being the be-all and end-all of sunglasses, they're most certainly an asset that I find myself using regularly.
These glasses have been evolving over the past few years and Ombraz as a company is super responsive to feedback and customer input. They're confident enough in their glasses to offer free shipping, free returns, and a 30-day trial period – so try them for yourself and see what you think.
Questions, comments, or personal experience with Ombraz? Leave a comment below and let me know!
This page may contain affiliate links, which means at no additional cost to you, I may receive small commissions for purchases made via these links. This helps to pay the bills and keep the site up and running. Thank you for your support!