I previously published a review of Ombraz armless sunglasses, but I've decided to give them another go since the Leggero and Dolomite models are now available in larger frame sizes that no longer look strange when put on my larger-than-average head.
Ombraz (pronounced ohm-bruhz) are designed with outdoor pursuits in mind. What makes them unique is their decision to do away with the traditional arms most glasses use to remain on your head. Ombraz use an adjustable nylon cord in place of arms to keep your glasses from falling off your head.
It may sound strange at first, but I promise you it looks far more interesting than strange (as in you'll get far more people curious to know what these magical armless sunglasses you have on are as opposed to people telling you that your glasses look weird).
Ombraz Leggero Testing Conditions
I have used Ombraz Leggero for an increasingly varied number of outdoor pursuits including hiking, trail running, rowing, mountain biking, and more. I've used them in the desert, at altitude, in the snow, in the rain, and on the river. I don't wear prescription glasses, so this review will reflect my experience with the stock Ombraz Leggero sunglasses.
The Specs
Cord Material: 0.8-oz 10-denier Pertex Quantum with a DWR (100% nylon)
Cord Fabric: Recycled Nylon
Frame Color Options: Ember, Charcoal, Tortoise
Frame Sizes: Regular (137mm wide), XL (141mm wide)
Frame Material: Cellulose acetate
Frame Curve: Base curve 6
Polarized Lens Options: Grey, Brown, Yellow
Lens Protection: 100% UVA / UVB
Non-polarized Lens Options: Grey, Brown
Blue Blocker Option: Clear
Included Case: 3mm-thick neoprene with a built-in microfiber cloth
MSRP: $160 (polarized), $145 (non-polarized/blue blocker)
Replacement Lenses: $65
Warranty: Lifetime
Ombraz Leggero Photo Gallery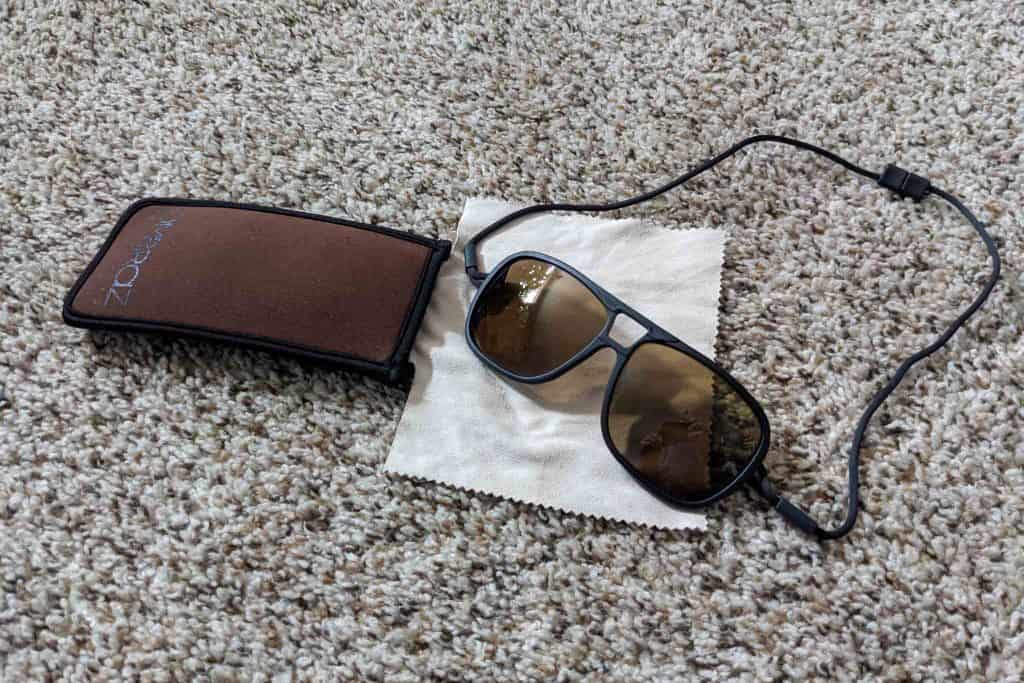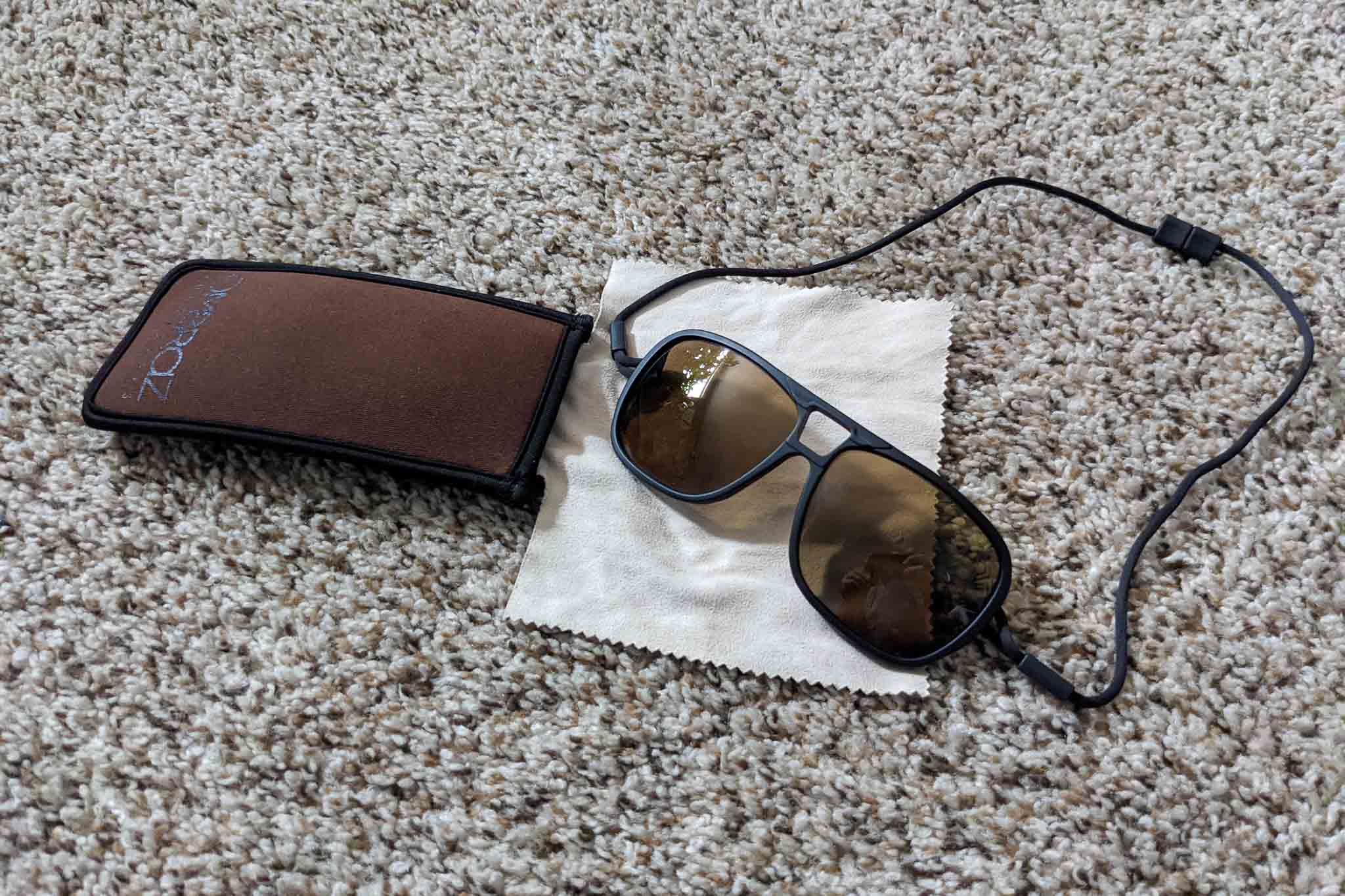 Ombraz Side Sheilds
It's worth pointing out that if you want to bring your Ombraz to the next level, the company also offers side shields for the Leggero (and its other models).
These are malleable, ventilated, pieces of rubber that can be attached to either side of your Ombraz to block peripheral light. They can be easily attached or removed and include an additional carrying case that allows you to store your Ombraz without having to remove the side shields.
You can check them out here.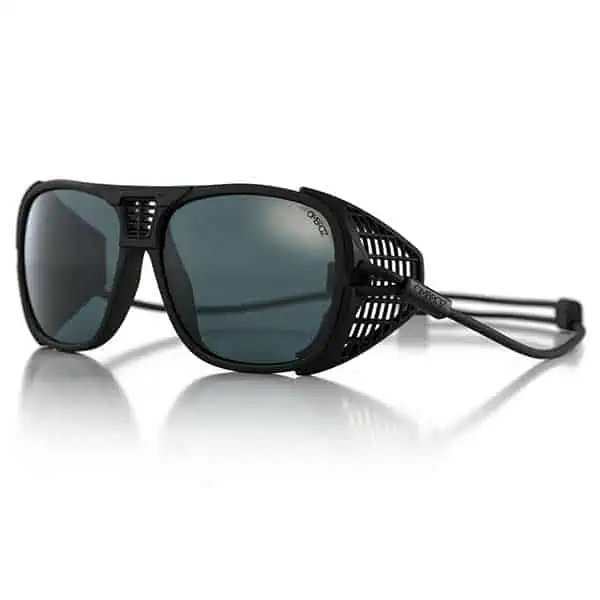 The Good
The Fit: Ombraz sunglasses do a great job of fitting around my large head. Because of the drawstring adjustment, they can fit a huge variety of head circumferences. You can dial in the fit depending on the demands of your activity or the conditions. They can be fitted close to your face to the point where your eyelashes are brushing them (not recommended) or a bit looser so that the top of the frame is just barely hanging forward away from your head (recommended). I often forget I'm even wearing them.
The Profile: The low profile of the Leggero (and other Ombraz models) means they can be slipped into a pants pocket, PFD pocket, backpack pocket, or bicycle pocket – really any pocket or confined space – with ease. The benefit of not having arms here is that you can put pressure on the glasses without worrying about the arms breaking or becoming loose. Sure, you could conceivably crack a lens or the frame if you apply enough force, but I've been rough with mine and have yet to come close to anything breaking.
The Lenses: The Leggero has hydrophobic (water-shedding), oleophobic (oil-shedding), and hard-coated polarized lenses offering 100% UVA and UVB protection. I've spent long days on the water, in the snow, and in the sun with these glasses and they perform as well as any polarized sunglasses I have or have had. There are also non-polarized and clear, blue blocker lenses available. Honestly, I might have to get a pair of blue blockers in addition to my current pair.
The Warranty: Ombraz offers a lifetime warranty on all of its glasses' cords, adjustment systems, and frames. Lenses are not included in this warranty, but Ombraz has a turn-key lens replacement program through Lens & Frame Co; the cost for (non-prescription) replacement lenses is $65. They even state "If your Ombraz should for some reason fall off while getting sendy, shoot us a note and we will see what we can do." What this means, I'm not entirely sure. Like if you lose them they'll replace them? Or if the lenses get scratched because they fall off they'll warranty them? That said, they certainly sound like a company that wants its products to last and that wants its customers to be happy.
The Okay
The Helmet Fit: The Ombraz Leggero, like all other Ombraz models, uses a cord around your head to stay put. This is certainly comfortable under your helmet and can be a lot more desirable depending on the type of helmet you're wearing. However, things can get a bit frustrating when trying to adjust your Ombraz while wearing your helmet (again, this can be made more frustrating depending on the type of helmet). Sometimes the added comfort (and security) is worth the hassle of adjusting (or removing) your Ombraz, but other times it's a pain. I typically end up having to remove my helmet to adjust my Ombraz.
The Adjustments: Following from the previous note on helmets, adjusting my Leggero can be both incredibly easy but also incredibly frustrating depending on the circumstances. If I'm out hiking in the heat and have minimal clothing on (except for maybe a sun hoodie), it's easy to reach back and adjust my Ombraz. However, if I'm hiking in colder temperatures and have multiple neck gaiters on my head, a hood or two, and then a hat to top it all off, finding the right combination of what layer my Ombraz cord should be at and how easily I can adjust it can be a delicate dance.
The Price: The Leggero (and Ombraz Sunglasses in general) are offered at what I would consider a reasonable price as far as polarized sunglasses go. They're certainly not inexpensive, but they're far from outrageously expensive as well. The polarized versions are $160, and the non-polarized or blue-blocker versions are $145. I would spring for the polarized version every time – especially if you plan on using your Ombraz mostly outdoors (that goes double for snow/water sports).
The Bad
The Removal: Probably my least favorite part of the Ombraz Leggero is how difficult it can be to remove them (depending on the day, conditions, and what I'm wearing). Sometimes I even get a bit claustrophobic with the glasses on if I'm trying to get them off quickly for some reason (mosquito behind the lens?) As with the adjustment noted above, the more hoods, hats, helmets, neck gaiters, etc. you have on, the more difficult it is to remove your Ombraz (and put them back on). Sometimes I struggle to decide whether I want them next to my skin or over my gaiters/hoods.
The Sweat: One thing that will happen if you're out working hard in your Ombraz is that the nylon cord will become sweat-soaked. This is perhaps one situation where arms are preferable since you can quickly rinse arms off with some water. You can rinse your cord off with water, too, but then it's wet. I suppose just a minor inconvenience, but there have been times when I get home from a run with my Ombraz and then don't want to put them down on anything because of the sweat-soaked cord.
Ombraz Leggero Wrap Up
The Ombraz Leggero sunglasses are a great addition to the Ombraz lineup – particularly if you have a large head and a need for XL frames (like myself).
They certainly have a place in my rotation and I will be using them in the future, but they leave a little to be desired. That said, so do most other sunglasses. As with many things in the outdoor gear space, there is rarely a perfect universal solution.
Find out more about the Ombraz Leggero here.
Questions, comments, or personal experience with Ombraz? Leave a comment below and let me know!
This page may contain affiliate links, which means at no additional cost to you, I may receive small commissions for purchases made via these links. This helps to pay the bills and keep the site up and running. Thank you for your support!