Teton Crest Trail Overview
Location: Grand Teton National Park (Wyoming, USA)
Length: 35-40 mi / 56-64 km
Type: One-way
Recommended Time: 3-5 days
Possible Time: 1 day
Most Popular Months: May to September
Max Group Size: 12
Permit Required: If camping, yes
Permit Cost: $45 per group (permit link), $35 per group for walk-up permits (more below)
Park Entrance Fee: $35/car, $30/motorcycle, $20 hiker/biker, free with America the Beautiful Pass
Campsite Reservations Required: Yes
Dogs Allowed: No
Low Point: String Lake – 6,873 ft / 2,095 m (map)
High Point: Paintbrush Divide – 10,703 ft / 3,262 m (map)
Elevation Gain (southbound): 8,112 ft / 2,473 m
Elevation Loss (southbound): 8,089 ft / 2,466 m
Difficulty: Moderate-Strenuous
Photo Gallery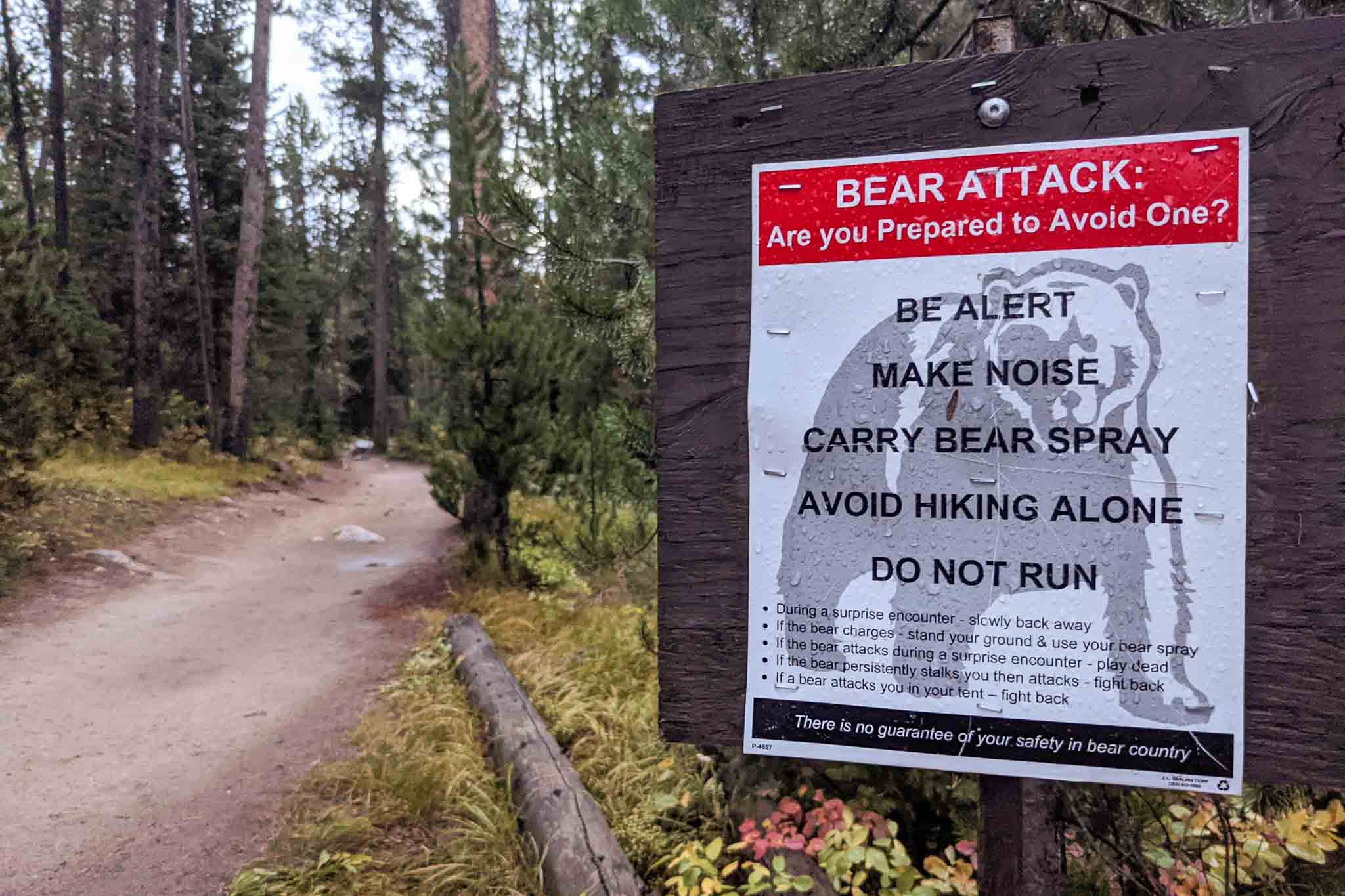 Peak Season (July to September): The most popular months for hiking the Teton Crest Trail are June to September. During these months, temperatures in Grand Teton National Park range from around 35°F / 1°C to 80°F / 27°C depending on the month and your elevation. These months are also typically drier than those preceding and following. Note that snow can linger in the high passes until as late as August, depending on the year.
Spring (April to June): Spring is generally considered too early to hike the Teton Crest Trail as much of the Tetons are typically under snow. If you're going to be attempting a hike in spring, expect cold temperatures, precipitation, and lots of snow on the ground. If you're wondering, "When will the trail be snow-free?" the answer – every year – is "you just have to wait and see."
Fall (October/November): Fall can be an excellent time to hike the Teton Crest Trail, as there are fewer crowds and cooler daytime temperatures. That said, winter can arrive at any moment, so if you're counting on a November hike being snow-free, I would reevaluate your expectations.
Winter (December to March): The Tetons generally see heavy winters with a huge amount of snowfall. If you're reading this wondering whether a winter Teton Crest Trail hike is for you, then it's probably not. Winter in the Tetons requires a huge amount of prior skill and experience.
How Permits Work
You need a reservation for each night you intend to camp along the Teton Crest Trail. You can include up to ten nights on a single permit. Reservations are made for camping zones – not specific campsites. Zones are marked with a sign, and everyone with a permit can choose where they wish to camp (so it's first-come-first-served in this regard). Camping in previously impacted campsites is strongly encouraged.
Gear & Packing List
For a multi-day backpacking trip on the Teton Crest Trail, you'll need a complete three-season backpacking setup. You should have everything you need to sleep outdoors, and you should go in with the expectation that you'll experience cold temperatures and wet weather (even if the forecast calls for sun – weather in the mountains can change quickly).
FOOD STORAGE: You are required to bring an approved food storage container if camping anywhere along the Teton Crest Trail. This means either a bear canister (like a BV450 or BV500) or an Ursack (the Major and AllMitey are both approved for use). If you do not have a bear canister, Grand Teton National Park will rent you one for free.
BEAR SPRAY: When traveling in grizzly bear country, it's always wise to carry bear spray – especially if you're traveling alone. If you have bear spray, make sure it's not expired, and test it (somewhere outdoors and away from others) before you start your hike. And make sure you carry your bear spray somewhere it's accessible – don't bury it in your pack.
MAP: The Teton Crest Trail is nice because you can see the entire thing on a single map – the entirety of Grand Teton National Park even. I generally use my phone to navigate – I suggest Gaia if you aren't already familiar – but a paper map is a great backup (and gives you an easy way to visualize the entire trail at once).
PERSONAL LOCATOR BEACON (PLB): A personal locator beacon is an essential piece of backcountry equipment that all too often gets dismissed or left behind. If you don't already have a device like a Garmin inReach Mini 2, it may be wise to check one out. At the least, its two-way messaging feature could be used to assist with logistics. At best, its SOS capabilities could save a life.
ICE AXE: If you're planning to hike the Teton Crest Trail earlier in the season, you may want to go equipped with an ice axe. One of the most important things about traveling with an ice axe? Knowing how to use it. Make sure you get a properly sized ice axe and that you know how it's used before you set off.
MICROSPIKES: As with the ice axe, a set of microspikes or hiking crampons is recommended if you'll be hiking the Teton Crest Trail in the first half of the summer – even as late as August some years. The passes can hold snow and ice, making travel potentially dangerous without proper equipment.
For more recommendations on backpacking gear, check out my current gear list or gear reviews.
Route Description
This Teton Crest Trail route description will cover the trail from north to south, beginning at Leigh Lake Trailhead and ending at Phillips Bench Trailhead along Highway 22. Hiking in this direction has approximately 1,000 ft / 305 m more elevation gain than loss.
The trail begins with its longest climb – up Paintbrush Canyon, nearly 8 mi / 13 km to Paintbrush Divide at 10,705 ft / 3,263 m. There are multiple camping opportunities in the canyon if you don't want to conquer this all in a single day (Paintbrush Lower, Outlier Site, Holly Lake, and Paintbrush Upper).
From Paintbrush Divide, the trail then has its longest descent – 2,851 ft / 869 m across 4.9 mi / 7.9 km – passing Lake Solitude, North Fork Cascade Camping Zone, and bottoming out at the junction for the Cascade Canyon Trail.
It then climbs along South Fork Cascade Creek through South Fork Cascade Camping Zone and up to Hurricane Pass at 10,338 ft / 3,151 m. This is the second-longest and final significant climb of the Teton Crest Trail. South of Hurricane Pass, you enter the Jedediah Smith Wilderness and the Alaska Basin.
The trail descends from the pass, passes a series of reliable lakes, and spends around 4.9 mi / 7.9 km in the wilderness area before reentering Grand Teton at Mount Meek Pass. There is an alternate route from the Alaska Basin, past Static Peak, and east out of Death Canyon. South of Mount Meek Pass is the Death Canyon Shelf Camping Zone, where there are seasonal streams and views down Death Canyon.
At the southern end of Death Canyon Shelf, you can continue south on the Teton Crest Trail or follow Death Canyon Creek down to the Death Canyon Camping Zone and exit the mountains via Death Canyon. Continuing on the Teton Crest Trail over Fox Creek Pass, the trail again briefly enters the Jedediah Smith Wilderness for approximately 1.5 mi / 2.4 km.
Reentering Grand Teton via an unnamed pass, the trail drops down to Marion Lake and then passes the junction for Granite Canyon. Continuing south, past the reliable Middle Fork Granite Creek, the trail enters the Granite South/Middle Fork Camping Zone. It's here you can detour to Rendezvous Peak and the Aerial Tram to Teton Village.
South of this junction, the trail exits Grand Teton for the final time and enters the Jedediah Smith Wilderness via Moose Basin. There's typically only one perennial water source in this final stretch – about halfway between the national park boundary and the trailhead. The trail for this final section is easy to follow, but it's not maintained as well as the rest of the trail (within Grand Teton).
There's a final climb of close to 1,000 ft / 305 m heading south out of the wilderness to Phillips Bench Trailhead/Highway 22, but the overall grade is downhill for this stretch.
Groups of seven or more must camp at one of the designated group sites.
Note: The trail also exits Grand Teton briefly between the unnamed pass just north of Marion Lake and south of Fox Creek Pass. This is another area in the Jedediah Smith Wilderness where there's no camping quota. The same is true of the entirety of the southernmost 9.2 mi / 14.8 km of the trail between Phillips Bench Trailhead and Moose Basin (where an unnamed pass separates Grand Teton from the Jedediah Smith Wilderness).
Alternates
There are a few alternate routes you can take if you want to change up your Teton Crest Trail hike or shorten it beyond starting/ending at the Aerial Tram – which is the first alternate we'll cover. There are a lot of ways to and from the Crest Trail, so it will be helpful to use this map when exploring your options.
This page contains affiliate links, which means at no additional cost to you, I may receive small commissions for purchases made via these links. This helps to pay the bills and keep the site up and running. Thank you for your support!