The Zpacks Duplex Zip Tent is an ultralight two-person, non-freestanding shelter designed for thru-hiking and ultralight backpacking.
It's Zpacks's flagship shelter and has become remarkably popular with thru-hikers on the Pacific Crest Trail and the Continental Divide Trail. It's been the most common shelter on both these trails for several years (the original Duplex, not the Duplex Zip).
Despite having over a decade of thru-hiking and backpacking under my belt, I hadn't used a Duplex myself until relatively recently. Maybe it was because I can be a bit of a contrarian or because of the price tag. Either way, I had resisted the Duplex – even arbitrarily actively disliked the Duplex – until now.
I am nothing short of impressed. Here's everything you want to know about the Zpacks Duplex Zip.
Testing Conditions & Notes
I used the Zpacks Duplex Zip on the Wind River High Route in Wyoming's Wind River Range. It's a rugged trail that spends much of its time above treeline. I encountered nearly daily rain, wind, hail, and even snow throughout my hike. I used the Duplex Zip every night of the hike (although I would have loved to do some cowboy camping). I slept in the tent by myself.
The difference between the original Duplex and the Duplex Zip is the zippered door closure on the Zip.
A large version of the Duplex, the DupleXL, is available for hikers up to 7′ / 2.13 m tall.
The Duplex Zip requires eight stakes and two trekking poles to be set up; neither stakes nor trekking poles are included with the tent.
You can use two 48″ Carbon Fiber Tent Poles to set up the Duplex instead of trekking poles.
Zpacks makes a Freestanding Flex Kit that can be used to turn the Duplex into a freestanding shelter and remove the need for trekking poles (or supplemental poles).
Pros and Cons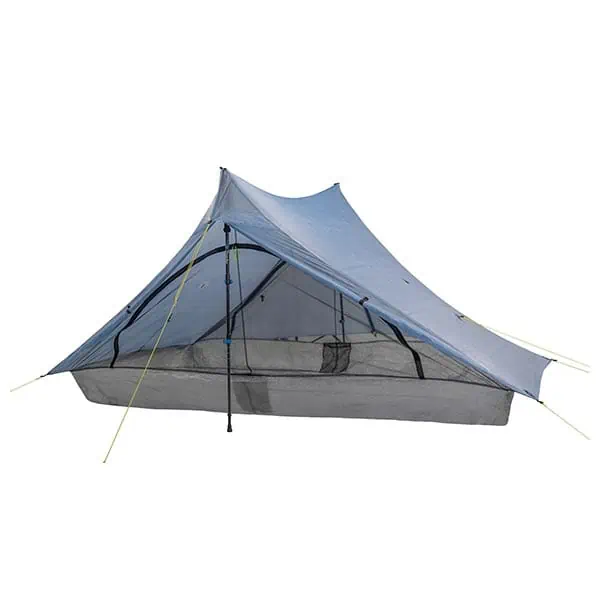 + Shockingly lightweight at just 20.4 oz / 577 g
+ Excellent waterproofness and weatherproofness
+ Easy to set up as far as non-freestanding shelters go
+ Plenty of interior space and vestibule space (for one)
– Single-wall construction means lots of condensation
– No way to open doors from the bottom
– A bit annoying to clean out the interior
– High price tag
The Specs
Capacity: 2
Trail Weight: 20.4 oz / 577 g
Freestanding: No
Stakes Required: 8
Poles Required: 2 (trekking poles or two 48″ Carbon Fiber Tent Poles)
Doors: 2
Layout: Symmetrical
Door Closure: Zipper
Open Door Securement: Magnetic
Floor Area: 28.1 ft² / 2.6 m²
Length: 100 in / 254 cm
Ridgeline width: 53 in / 135 cm
Width (including vestibules): 93 in / 236 cm
Vestibule Depth from Floor: 24 in / 61 cm (each side)
Interior Height: 48 in / 122 cm
Interior Floor Width: 45 in / 114 cm
Interior Floor Length: 7.5 ft / 2.3 m
Zipper Entry Height: 36 in / 91 cm
Bathtub Floor Height: 8 in / 20 cm
Packed Size: 6 in (diameter) x 12 in (15 x 30 cm)
Number of Pockets: 2
Pocket Size: 8 x 8 in / 20 x 20 cm
Included Stakes: 0
Included Stuff Sack: Zpacks Medium-Plus
Colors: Blue, Burnt Orange, Olive Drab, Spruce Green, White
Footprint: Optional (purchased separately)
MSRP: $699
Photo Gallery
The Good
The Compactness: I'm not sure if Zpacks has changed something with the build of the Duplex or if I was mistaken before, but I remember the Duplex being a massively bulky shelter when packed up. This is no longer (if ever it was) the case. The Zpacks Duplex Zip packs down small at 6 inches in diameter by 12 inches long (15 x 30 cm). The entire thing fits neatly inside the Zpacks Medium-Plus stuff sack (included with the Duplex). I've found folding the Duplex lengthwise into thirds and then folding the result in half once more before rolling it up works well to fit it neatly in the stuff sack (should you choose to use it), or you could stuff it in like a savage.
The Weight: The Zpacks Duplex Zip is as light as it gets when it comes to two-person shelters. Without stakes or poles, the Duplex Zip weighs 20.4 oz / 577 g. When I first unpacked the Duplex, I thought I had been mistakenly sent a smaller shelter because of how compact and light it was. It's hard to believe this shelter will keep you dry and protected from weather and bugs, but it does – and without needing heavy poles or unnecessary "features." Yes, you still need to include the weight of the eight required stakes (although you could technically get away with six) and maybe(?) your trekking poles (which can be swapped out for two 48″ Carbon Fiber Tent Poles), but either way, it's light.
The Weatherproofness: Bringing the Zpacks Duplex Zip into the Wind River Range, I was expecting some weather. However, I got near-daily, sometimes twice-daily – sometimes even thrice-daily – thunderstorms. We were hit with rain, wind, hail, and even snow; the Zpacks Duplex Zip took it all like a champ. I never had any doubts the shelter would keep me and my gear dry once a storm hit (despite being able to see through the semi-transparent 55 oz/yd² Standard Dyneema® Composite Fabric. As a bonus, setting up the Duplex in the rain was easy, and the interior stayed dry while I was setting it up each night (or afternoon).
The Pockets: The Zpacks Duplex Zip has two interior pockets – one at the center of each door along the bathtub floor. They are a little sad. Yes, pockets are something you'll have to sacrifice if you want to shave as much weight as possible, but I also enjoy them. In the Duplex, the pockets aren't entirely useless; each is 8 x 8 in / 20 x 20 cm, and they're suitable for holding small items like phones, headlamps, eating utensils, or (empty) stuff sacks. The pockets? They're okay. I would be sad if they weren't there, but they also leave something to be desired.
The Doors: The Zpacks Duplex Zip has two zippered interior doors. Each one is symmetrical and opens 180 degrees with the attached (non-zippered) part of the door along the bathtub floor. Each door is plenty big and can be opened halfway to access items in the vestibule. However, my issue with the doors is that they cannot be opened, so they leave only your feet outside the tent. In other words, if you're in a buggy area and want to sit in your tent while you take off your shoes (outside the tent) without bugs getting in, this is impossible. Make sense? It would be nice if the zippered doors extended along the bathtub floor a bit to allow access to items on the ground next to the tent without risking the entry of reader bugs into your tent.
The Length: The Duplex Zip has two guy lines – one at the head and one at the foot – meant to extend the tent's walls up a bit and provide additional stability in the wind. These two points do an okay job of providing just a bit more space inside the tent, but I still found myself wishing for just a couple more inches. I'm 5'10" / 179 cm; I frequently found my sleeping bag's footbox touching the interior tent wall. This became a more significant issue when these walls became covered in condensation, and I would wake up with a wet sleeping bag and a wet tent. If I were any taller, I would want the larger version of the Duplex, the aptly named DupleXL (get it?), for hikers up to 7′ / 2.13 m tall.
The Bad
The Price: Needless to say, the price of the Zpacks Duplex Zip will shock many of you. Yes, for the price of a used car, you, too, can be the proud owner of a sub-two-pound piece of fabric for sleeping on the ground outdoors. The Duplex Zip costs $699 before tax – $30 more than the original Duplex. And that's before you consider that you'll need eight stakes and a pair of trekking poles (all sold separately) to set the tent up. And if you really want to send it, you can get the optional Flat Groundsheet ($100), the Freestanding Flex Kit ($149), and two 48″ Carbon Fiber Tent Poles ($30/each), bringing your total to $1008 (before stakes).
The Condensation: My biggest problem with the Zpacks Duplex Zip was the condensation, and I used the tent alone. Every morning, I woke up to the tent walls covered in condensation, and I did my best to use my buff to dry them off before packing up. I don't want to imagine the amount of midnight face drip I would endure if I shared the tent. Most nights I've used the Duplex Zip, it has been raining and/or storming hard, preventing me from opening any of the doors for additional ventilation. However, even on the nights I was brave enough to leave a vestibule door open, I still woke up to the tent's interior walls covered in condensation. Maybe things would be different in the desert.
The Stakes: The Zpacks Duplex Zip is a $700 tent that requires eight stakes to be set up. How many stakes does the Duplex Zip come with? Zero. I suppose you could argue that if you spend $700 on a tent, you'll probably be particular about the stakes you want to use. However, you could also argue that for $700, the Duplex Zip should include the eight stakes it requires. Yes, frequently, the stakes included with tents aren't the best, but that's not stopping Zpacks from including some awesome ultralight stakes with the Duplex. That said, I wouldn't want to see (another) price increase.
Popular Alternatives
Wrap Up
The Zpacks Duplex Zip is a fantastic two-person, non-freestanding shelter that will hold up to the elements without taking up space in your pack. But it comes with a high price tag and may only suit those committed to keeping pack weight low or with cash to burn.
And if you're not a fan of using trekking poles or of the non-freestanding bit, you can opt for the Freestanding Flex Kit ($149), which turns the Duplex into a freestanding tent or for two 48″ Carbon Fiber Tent Poles ($30/each) which allow you to pitch the Duplex without trekking poles. It should be made clear this is an either-or situation; you would never use both of these at the same time as the Freestanding Flex Kit removes the trekking pole requirement.
Ultimately, only you can decide which shelter will be best for you. However, the Duplex Zip has entered my shelter quiver and is one I will most certainly be using more in the future.
Questions, comments, or personal experience with the Zpacks Duplex Zip? Leave a comment below or get in touch and let me know! Check out the Zpacks Duplex Zip here.
Rating + Recommendation
Summary
The Zpacks Duplex Zip Tent is a lightweight and innovative outdoor shelter for backpackers and campers. It features a unique zippered entry on both sides, enhancing convenience and ventilation while maintaining its ultralight design. The Duplex Zip offers a versatile and comfortable camping experience for those seeking lightweight adventure with its spacious interior, durable construction, and minimalistic setup.
Weight

Ease of Set-up

Weather Resistance

Durability

Packed Size
This page contains affiliate links, which means at no additional cost to you, I may receive small commissions for purchases made via these links. This helps to pay the bills and keep the site up and running. Thank you for your support!