As glamorous as living the life of a homeless person in the woods may sound, the daily routine out on the Pacific Crest Trail may not be exactly what you expect (or maybe it is, you clairvoyant bastard, you).
Days can range from incredibly exciting (you arrive in a town or find some trail magic), to average (you see some day hikers and maybe take a river swim), to awful (you fall, you throw up, you run out of water, you die).
Over the course of the trail you are guaranteed to experience many of each: amazing days, a lot of average days, and some "what the hell am I doing" days. But if the trail has taught us anything, it's that adaptability and perseverance (and water) are the keys to survival in the wilderness.
Although the daily routine varies dramatically over the course of the trail, I have attempted to summarize the takings place of a "typical" day below:
A DAY ON THE PACIFIC CREST TRAIL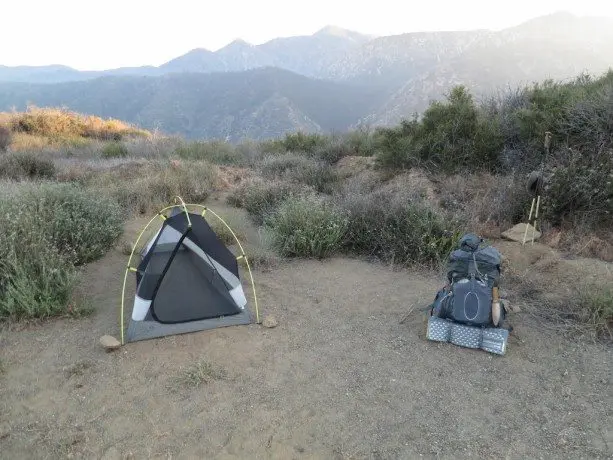 4:37 – Wake up. I can still see the stars. Excellent, it's not time to hike yet. I go back to sleep.
6:07 – Woken up by the sun. Damn, now it really is time to get up. I go back to sleep.
6:18 – Wake up again (why is this tent always in direct line with the rising sun?), go back to sleep.
6:32-6:55 Wake up for the third time (alright, I'm up) and proceed with morning routine (completing as much as I can without leaving my sleeping bag).
6:55 – Finally get out of my sleeping bag, break down tent, and slowly finish packing bag – tomorrow will be an earlier day (no it won't).
7:15ish – Say goodbye to camp and start walking (if camped near water, fill up on the good stuff and maybe drink a little).
7:38 – Hike (left, right, left, right, now left, now right, don't fall, don't fall, and repeat).
8:31 – Eat a snack whilst walking (mixed berry power bar or coconut chocolate chip Clif bar).
9:32 – HIKE (LEFT, RIGHT, LEFT, RIGHT, REPEAT).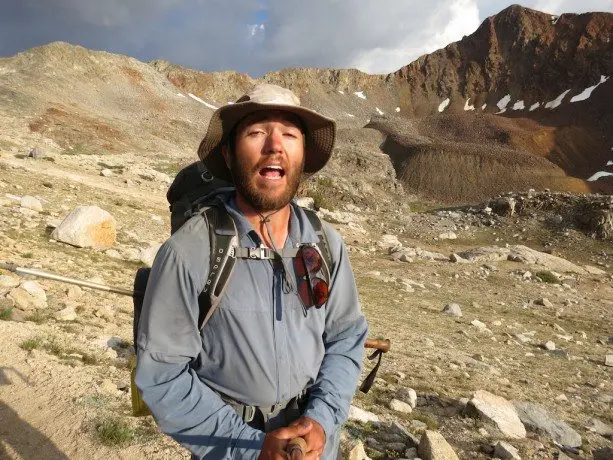 10:36 – Stop at a water source, make some Gatorade, drink some Gatorade, continue walking.
10:45 – Look at the map and attempt to figure out how much elevation still needs to be covered before this climb is over (answer: a lot).
11:02 – Eat a snack whilst walking (one benefit of thru-hiking is that you get to eat as many snacks as you want – just don't run out before town).
11:11 – Pull over for a pee break.
11:33 – Holy shit, a deer! Oh, it ran away.
11:47 – This looks nice, I think I will take a photograph of it.
12:04 – Realize that I have been spacing out for I don't even know how long…am I still on the trail? Look at the map and remember, "oh yeah, looking at this doesn't help at all." Whose footprints are these? Were these here before? Cross fingers and continue hiking.
12:19 – It's only been fifteen minutes since I arbitrarily decided that I was lost, am I lost? I decide to continue walking a bit farther before I decide to panic.
12:37 – Finally see a trail marker (or maybe a familiar footprint) – okay good, still on trail.
12:51 – Assess how far I have come today, and choose a site within the next mile that appears a suitable match for my lunching needs.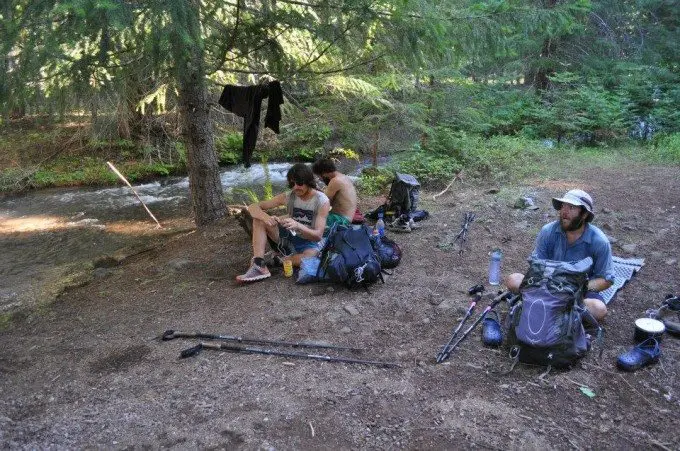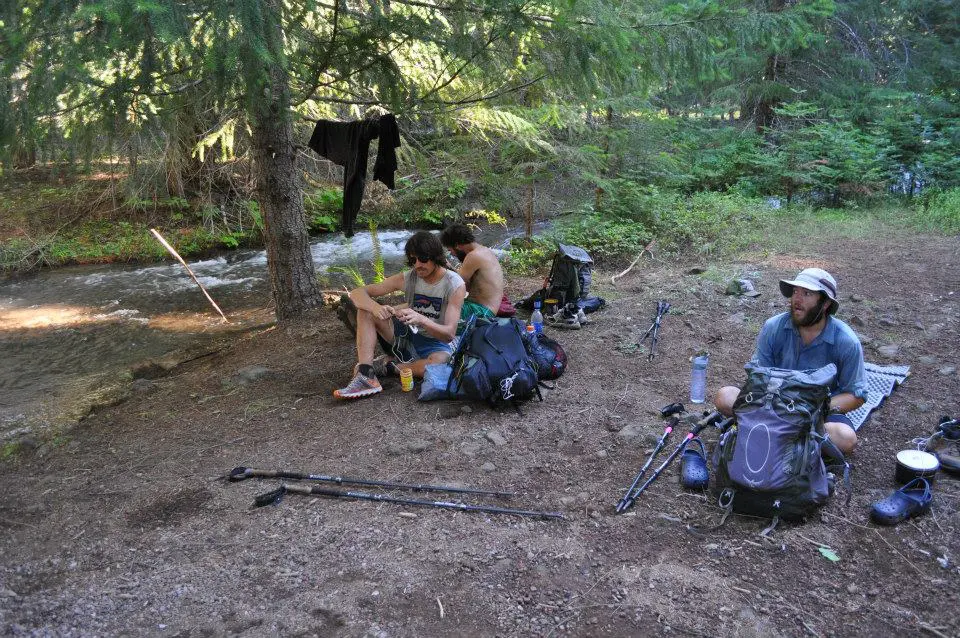 13:06-14:02 – Lunchtime! Stop near a water source and spend your longest break of the day chowing on some delicious cheese and sriracha tortillas (if in the desert, this break may be as long as three hours to avoid the hottest part of the day).
14:02 – Pack bag and get moving again.
14:17 – Never when I wake up in the morning, always immediately after lunch – why? Find some cover, dig a cathole, and defecate into it (read about advanced toilet strategies here).
15:03 – Encounter a new hiker. They appear to be a thru-hiker and so I make the split second decision to stop-and-chat instead of blowing past them.
15:30 – Cross a road – struggle to silence the voice in my head telling me to hitch to town and get a beer.
16:05 – Yes, still hiking.
16:42 – Wait, climbing again? I thought I was done climbing for the day. I pull out my map and see that I had previously miscalculated. Damn.
17:21 – See some weekend warriors and make some conversation in the hopes of scoring some food or soda from them – as usual, I am successful.
18:00 – Having reached an excellent place to camp I now stand looking at the map attempting to decide whether or not I have enough time to make it to the next decent campsite before dark (because hiking after dark is terrifying).
18:32 – Having decided to walk, I am now (for no reason whatsoever) checking my maps every ten minutes to convince myself that I am going to find my campsite soon.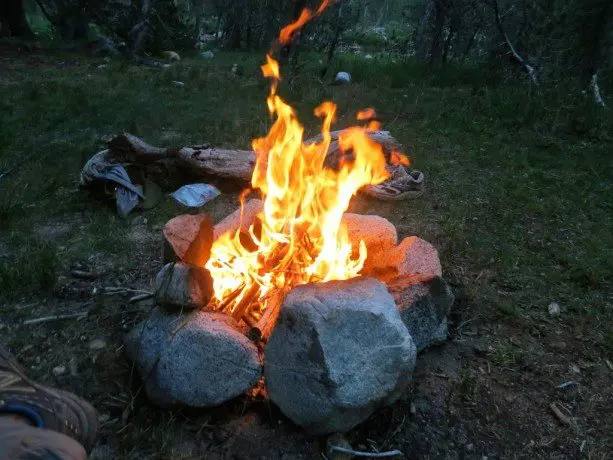 18:55 – Have another snack and drink some water – maybe the extra fuel will somehow bring about my campsite more quickly.
19:22 – It is really starting to get darker. Now, convinced that I am not making it to my campsite, I consider pitching my tent in the next acceptable tent site.
19:33 – I arrive at my intended campsite just as the sun vanishes beyond the horizon.
19:35 – Setting up my tent (complete with sleeping pad, sleeping bag, and the rest of my routine), I keep a sharp eye out to ensure that I am not being watched (by animals).
19:45 – Time to eat! At this point, I don't really care what food I am putting in my body since I will be asleep soon, and I eat my least appetizing food to spare myself tomorrow.
20:00 – Hang my food bag off a low hanging branch to prevent rodents from getting to it (a proper bear hang is impossible on the PCT – if a bear wants your food, a bear is getting your food).
20:05 – Document my mileage and highlights of the day, turn off my headlamp, close my eyes, begin sleep attempt one.
20:30 – Still not asleep I sit up and check the campsite for boogiemen. They sure are good hiders…if only I was a more effective seeker.
20:41 – Finally drift off to sleep.
22:32 – Wake up. What the hell was that? Is someone here? Sit up and check for the men of boogie once more. All clear. Go back to sleep.
And that's it! Exciting stuff, huh? Now just repeat this process every day for four to five months and you'll be at the Canadian border in no time!