I recently made the long-time-coming decision to purchase a van to convert. The first step of the process, deciding which van to get, proved to be more complicated than I anticipated.
Ford recently announced the 2023 Transit Trail – a Transit package with standard all-wheel drive, a 3.5 in / 8.89 cm higher ride than previous Transits, all-terrain tires, and an optional factory-installed roof fan. It's a van specifically targeting the outdoor recreation market and buyers wishing to convert their vans.
Meanwhile, Mercedes-Benz has released the 2023 Sprinter which features a new all-wheel-drive (AWD) system, a new turbocharged 2.0-liter inline-four diesel engine with a nine-speed automatic transmission, and superior off-road capabilities to previous Sprinter models (thanks to the new AWD system).
The Ram Promaster is the third and final vehicle that's commonly considered for a van conversion. However, I did not consider the Promaster because it is front-wheel drive only.
It was the announcement of the Transit Trail that set me off on this pursuit, but it was a Sprinter that I ultimately ended up with. Here's how it happened.
Ford Transit Trail
It is the Ford Transit Trail that initially piques my interest (again) in pursuing a van build.
The new Transit build looks awesome. However, I quickly discover that at the time of my search (the end of 2022), it is incredibly difficult to secure a Transit Trail.
In a strange move, Ford announced the Transit Trail just before they closed the vehicle order banks for the year. This means the only way to get a Transit Trail is to find a Ford dealer with a Transit on order that has the wheelbase and engine required for a Transit Trail build. The Trail package can then be added to this order – so long as it is early enough along in the build process.
I call every Ford dealership in California with no luck. Frustratingly, the Transit Trail is so new that many of the dealers don't even know what I was talking about when I ask after the build. It is a frustrating experience.
After all this time researching and pursuing a Transit Trail, I am stoked on getting a van. I move on to the next logical thing – telling myself I will just look – and decide to check out the 2023 Mercedes-Benz Sprinter van.
Mercedes-Benz Sprinter
Many people regard Sprinters as the gold standard for conversion vans; I count myself among said people.
When I began my van hunt, the Transit seemed an attractive option because it's typically considered to be a more affordable alternative to the Sprinter. I tell myself, "I'll just look at the Sprinters" since I am already excited about vans after diving to the bottom of the Ford Transit Trail rabbit hole.
After configuring a new 2023 Sprinter with all the features I would like, the sticker price ends up around $75,000. The Sprinter's expensive reputation is not unearned. That said, the base cargo Sprinter starts at $43,500. That said, adding a high roof and all-wheel drive (two must-haves for my van) adds nearly $16,000 to the price – before any additional features.
I begin calling Mercedes-Benz dealerships to inquire about Sprinter availability. After calling every dealership in California, Arizona, Oregon, and Nevada, I discover a few things. For one, not every Mercedes dealership carries Sprinters. More importantly, the 2023 AWD Sprinter availability is in a similar boat to the Transit Trail; Mercedes has closed the order banks for the year, and all the 2023 AWD Sprinters that are going to be made this year have already been made.
That said, I had managed to locate a couple of Sprinters meeting my specs at a handful of dealerships. Dealerships I will spend the next several days trading calls and emails with since they're all selling their Sprinters above MSRP – by as much as $25,000 over.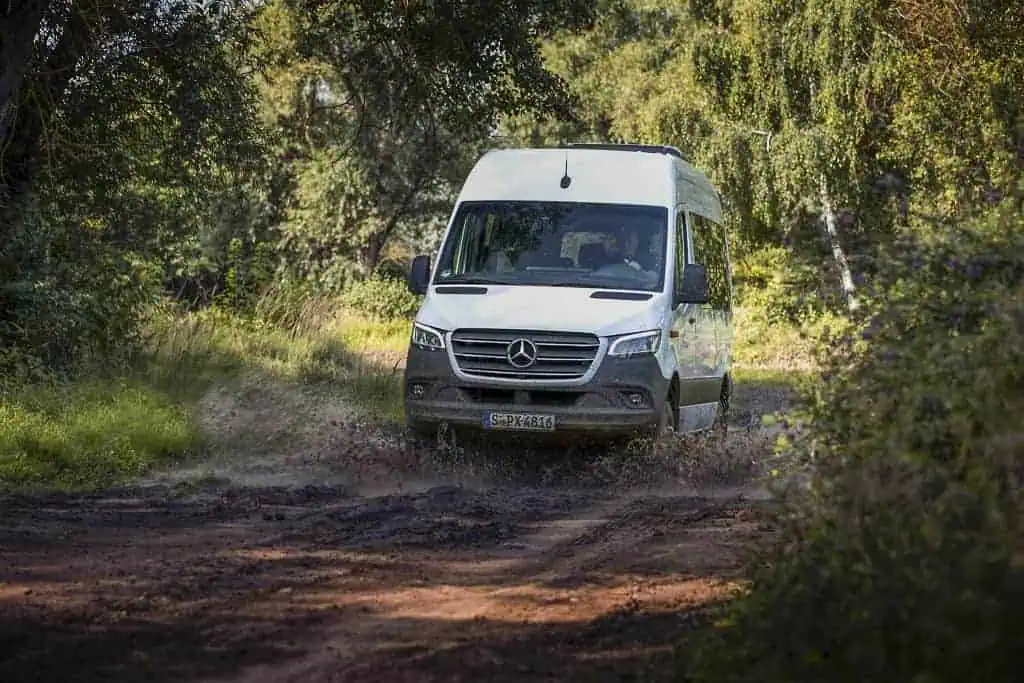 Return of the Transit Trail
I am deep in the Sprinter rabbit hole and have completely written off finding a Ford Transit Trail. Then, I get a call from a committed Ford salesperson who claims to be able to order a Transit Trail.
Previously, this person had been one of the dealers I would have put into the "has no idea what the Transit Trail is" category, but it was clear they had educated themselves. After speaking with them and seeing the build documentation it becomes clear they are telling the truth – there is indeed a way for me to order a 2023 Transit Trail.
There are a few options not standard on the Transit Trail I wanted to add. I request they be added to the build – a 360-degree camera, upgraded entertainment system, and extended fuel tank. When I receive the build sheet I am impressed to see that the Transit Trail I want is able to be ordered; I am surprised to see the price is nearly identical to the Sprinters I am looking at – just over $73,000.
This throws me off because I initially believe the Transit Trail will be the less expensive option. Now facing a near-even cost, I need to take a closer look at the details of both vehicles.
AWD Sprinter vs Transit Trail
I may end up doing an additional post regarding the differences between the 2023 Sprinter and the 2023 Transit Trail, but here I'll highlight my reasons for ultimately deciding to go with the Sprinter.
2023 Mercedes-Benz Sprinter Pros
Diesel engines, despite being more costly to maintain (and diesel currently being more expensive than gasoline), are expected to last significantly longer than gasoline engines. Yes, the maintenance may be more expensive, but these costs will never compare to the cost of an entirely new vehicle.
Sprinters, having been the longtime standard for van conversions, have a ton of aftermarket accessories designed specifically for the Sprinter. Yes, the rising popularity of the Transit has led to more Transit accessories as well, but the Sprinter still has the edge here.
The Sprinter has the option to include both swivel seats (another must-have for me) that are powered and heated. With the Ford Transit, you need to choose between swivel seats and powered/heated seats.
Despite the Ford Transit Trail riding 3.5 in / 8.89 cm higher than other/older Transits, the Sprinter still has it beat with 1.3 in / 3.3 cm more clearance than the Transit Trail.
The Sprinter has three USB-C ports. I love USB-C and can't wait for all devices and ports to use USB-C instead of the traditional USB ports. Not a huge deal, but something I thought was interesting and worth nothing.
2023 Ford Transit Trail Pros
The Transit Trail has the option to add an extended-range fuel tank from the factory, 31 gallons vs the Sprinter's 25-gallon tank.
There are far more Ford dealerships and mechanics available to work on gasoline-powered Transits than there are Mercedes-Benz dealerships and mechanics available to work on diesel-powered Sprinters.
Ford offers a 12-inch touchscreen vs. the Mercedes-Benz 10-inch touchscreen available in the Sprinter. The Ford infotainment screen is much sleeker and nicer looking than that available for the Sprinter (at least in my opinion). Both cars are Android Auto and Apple Car Play compatible.
The Transit offers more headroom in the high-roof version than does the Sprinter high roof. That said, both offer me (5'10" / 179 cm) ample standing room.
Wrap Up
Ultimately, I think both the 2023 Transit Trail and the 2023 AWD Mercedes-Benz Sprinter are great options for van conversions. However, surprised by the near-equal price, I decided to go with the Sprinter because of the diesel engine, additional clearance, and extra options available.
It's still early in my van journey, but now that I've taken the plunge and gotten myself a vehicle the fun part can begin. Building it out is the fun part, right?
Questions? Comments? Suggestions for a build? Leave a comment below and let me know!