The Hyperlite Mountain Gear Camera Pod is a lightweight, waterproof, protective camera case designed to protect your camera outdoors. It's intended to be attached to the front of a backpack, but it can also serve as a standalone protective case if you don't want to worry (too much) about gently packing your camera away.
The HMG Camera Pod is available in two sizes, regular and large, and in two colors, white and black. The regular size can fit cameras such as the Sony α6000 series, Canon EOS M6, and Sony RX100. The large size can accommodate cameras such as the Sony A7, Canon EOS, and Nikon Z series.
Here's everything you need to know about the Hyperlite Mountain Gear Camera Pod.
Weight

Protection

Waterproofness

Durability

Functionality
Testing Conditions & Notes
I used the Hyperlite Mountain Gear Camera Pod backpacking in both wet and dry conditions. I've also used it as a protective case for my camera while traveling (packed in a suitcase, thrown in the back of the car) and it's accompanied me as a protective case on a rafting trip as well (thrown into a dry bag with the rest of my gear). I have been using the large size of the Camera Pod with a Sony A7R series camera with a Sony FE 24-70mm f/2.8 GM lens. My setup fits snugly into the large and I don't know that I would want any longer of a lens as I don't think it would fit.
Pros and Cons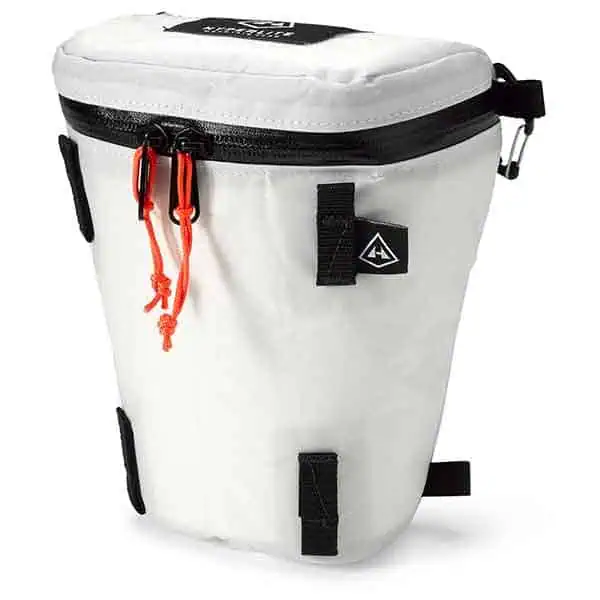 + Great protection from scrapes, scratches and bumps
+ Waterproof fabric and zipper
+ Compatible with a wide variety of backpacks
+ Built-in handle and included carabiners
– Adds bulk to a (presumably) already bulky camera
– Can cause extra sweating on chest
– Removal can be difficult (especially in a rush)
The Specs
Weight (Regular): 2.71 oz / 77 g
Dimensions (Regular): 7 x 5.5 x 3.75 in / 17.8 x 14 x 9.5 cm
Weight (Large): 3.73 oz / 106 g
Dimensions (Large): 9.5 x 6.5 x 4.25 in / 24 x 16.5 x 10.8 cm
Fabric: Dyneema Composite Fabrics (DCH150 + DCF8)
Regular Size: For smaller mirrorless cameras (e.g. Sony α6000 series)
Large Size: For larger mirrorless cameras (e.g. Sony a7iii, Nikon Z6, or Canon EOS R)
Sizes: Regular or Large
Colors: White or Black
Country of Origin: Mexico
MSRP: $119 (Regular) / $139 (Large)
Features
Low-profile handle for easy carrying
Eight points of attachment allow for a custom fit on a backpack
Water-resistant zipper
Uses 1/4″ closed cell foam
Includes two flat micro D carabiners
Compatible with most mirrorless and DSLR camera bodies with a zoom lens
Photo Gallery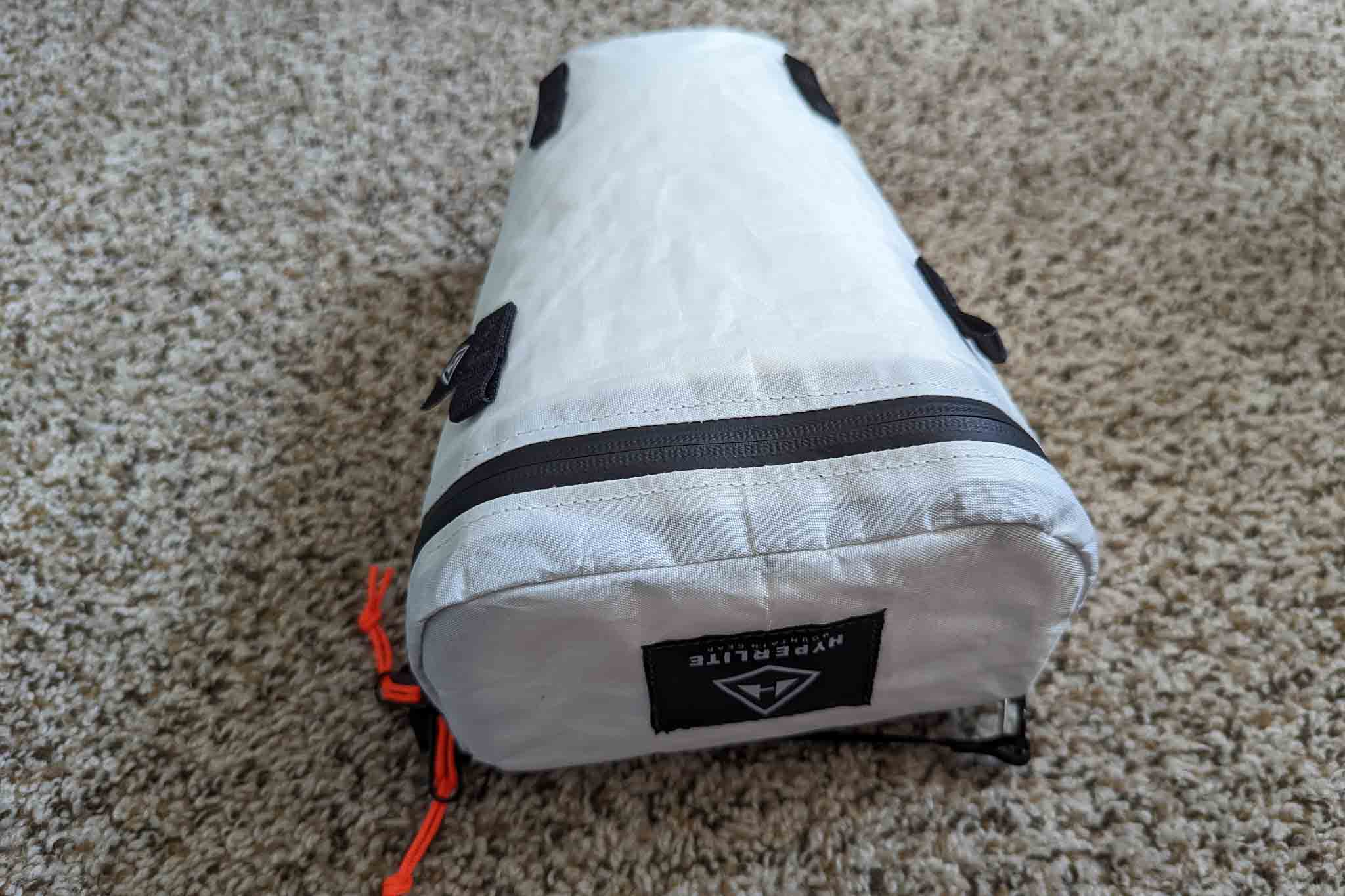 The Good
The Protection: The Hyperlite Mountain Gear Camera Pod offers plenty of protection for your camera. It uses 1/4″ closed cell foam and does an excellent job of protecting cameras from scratches, scrapes, and dings. I wouldn't trust it to protect my camera in a fall from higher than maybe knee-height and it's not going to give you the confidence to throw your camera on the ground, but it provides enough protection that you won't have to worry about your camera so long as the pod is closed and attached to your pack.
The Waterproofness: Quite possibly my favorite thing about the Hyperlite Mountain Gear Camera Pod is that it keeps your camera dry. No, the HMG Camera Pod is not submersible, but if you happened to somehow drop your entire (closed) Camera Pod into a body of water and then quickly fish it out, your camera would remain dry. I hate having to store my camera when it starts to rain and the Camera Pod eliminates the need to deal with this scenario.
The Weight: The Hyperlite Mountain Gear Camera Pod is a surprisingly lightweight piece of gear at just 2.71 oz / 77 g for a size regular and 3.73 oz / 106 g for a size large (the size I use). Its lightweight can, in part, be attributed to the Dyneema Composite Fabrics the Camera Pod uses. However, these fabrics also contribute to the relatively high cost of the Camera Pod.
The Handle: At the "back" of the Hyperlite Mountain Gear Camera Pod (i.e. the side against your body if you have it attached to the front of a backpack) has a thin handle that runs the width of the top of it. It may not seem like much, but this handle makes carrying the Camera Pod secure and simple – when it's not attached to your pack.
The Okay
The Bulk: Because the Hyperlite Mountain Gear Camera Pod covers the entirety of your camera, it adds a significant amount of bulk. This can be an issue if you're trying to be as minimal as possible or you're putting your camera and pod into a bag with limited space. It's not a huge inconvenience but there's certainly added bulk to be considered when using the pod.
The Size: Despite there being two sizes of Camera Pod, they're not going to be the perfect solution for every camera. Many cameras will be too small to justify the pod (think a smaller camera with a pancake lens or small prime) and others will be too large (think longer zoom lenses). Not the end of the world, but something to be aware of.
The Bad
The Clips: Perhaps the worst thing about the Hyperlite Mountain Gear Camera Pod is the two clips used to attach the camera pod to your pack. They are small carabiners – the kind you would use on a keychain – and they attach with ease. They feel secure and I've never feared that they're going to disconnect. That said, they can be a much bigger pain to take off. I've, more than once, encountered the situation where nature has been urgently calling and I've struggled greatly to get the clips off in time to answer the call. It may seem minor, but in those moments it's everything. I wish it was easier to get off in a rush.
The Sweat: One thing I did not imagine beforehand but that proved to be an issue with the Hyperlite Mountain Gear Camera Pod was the amount of sweat caused by it. Instead of my torso being somewhere my body could breathe, it was suddenly suffocated by the Camera Pod and became the first place I started sweating upon exerting myself. And it didn't take much. Moving in direct sunlight, I began sweating under the Camera Pod well before anywhere else on my body. A total dealbreaker? Maybe for some in certain conditions. A bit of a drag? Certainly.
Wrap Up
The Hyperlite Mountain Gear Camera Pod is an excellent solution for anyone looking for an easy, waterproof, protective way to carry their camera while backpacking.
Having your camera dangling in front of you certainly takes some getting used to – especially if you're a sweater – and it can be a bit of an inconvenience at times. But that may be the price you pay for protecting your camera on the trail.
Questions, comments, or personal experience with the Hyperlite Mountain Gear Camera Pod? Leave a comment below or get in touch and let me know! Check out the Hyperlite Mountain Gear Camera Pod here.
This page contains affiliate links, which means at no additional cost to you, I may receive small commissions for purchases made via these links. This helps to pay the bills and keep the site up and running. Thank you for your support!