The BearVault BV450 is a polycarbonate (plastic), 7.2-liter, bear-resistant food canister (i.e. a bear canister or bear can) weighing 33 oz / 936 kg. It's approved for use to ward off both black bears and grizzly bears, and it is approved for use (mostly) everywhere you are required to have a bear canister (in the United States); but more on this below.
It is the smaller version of the (slightly) more popular BV500 – which is essentially the same product except with an 11.5-liter capacity instead of the BV450's 7.2. The BV450 is the second-most-common bear canister among Pacific Crest Trail hikers according to the PCT Hiker Survey as it is approved for use in Sequoia-Kings Canyon National Park, Yosemite National Park, and Lassen Volcanic National Park.
If you've read my BV500 review, know that this review is very similar since they're essentially the exact same bear canister except the BV450 has a smaller capacity and weighs less (they have the same diameter so the BV450 is basically a short version of the BV500).
---
Weight

Bear proof-ness

Ease of opening

East of packing/unpacking

Approvedness
---
Testing Conditions
I used the BV450 hiking through the Sierra Nevada on the Pacific Crest Trail (if you've been paying attention, yes, I've also used the BV500 hiking the Sierra portion of the PCT – I've done this twice). It's been my food container, seat, and large annoying thing in my backpack for many weeks.
---
Notes on the BV450
Always close the lid all the way before using it as a seat
The BV450 and the BV500 use the same lid (and you can purchase just the lid directly from BearVault if you somehow lose yours).
It's best to store your canister away from your campsite but close enough that you can hear if it attracts company.
Using reflective tape can help to make your bear canister easier to find in the dark.
You can mail a bear canister by putting a label on the outside of it – no box required.
Bear canisters are not odor-proof. They may dull the smell of what's inside them, but they do not completely mask what's inside them.
---
The Specs
Weight: 33 oz / 936 g
Capacity: 7.2 liters / 440 cubic inches
Material: Polycarbonate
Dimensions: 8.7 x 8.3 in / 22.1 x 21.08 cm
Color: Blue
Transparent: Yes
Tools required to open: None
MSRP: $69.95
---
The Features
Grizzly and black bear approved
The opening provides full access for loading, unloading and finding items
Patented design to allow for opening and closing lid without tools
Transparent polycarbonate housing resists impacts without shattering
Dimpled exterior helps to keep tie-down straps from shifting
---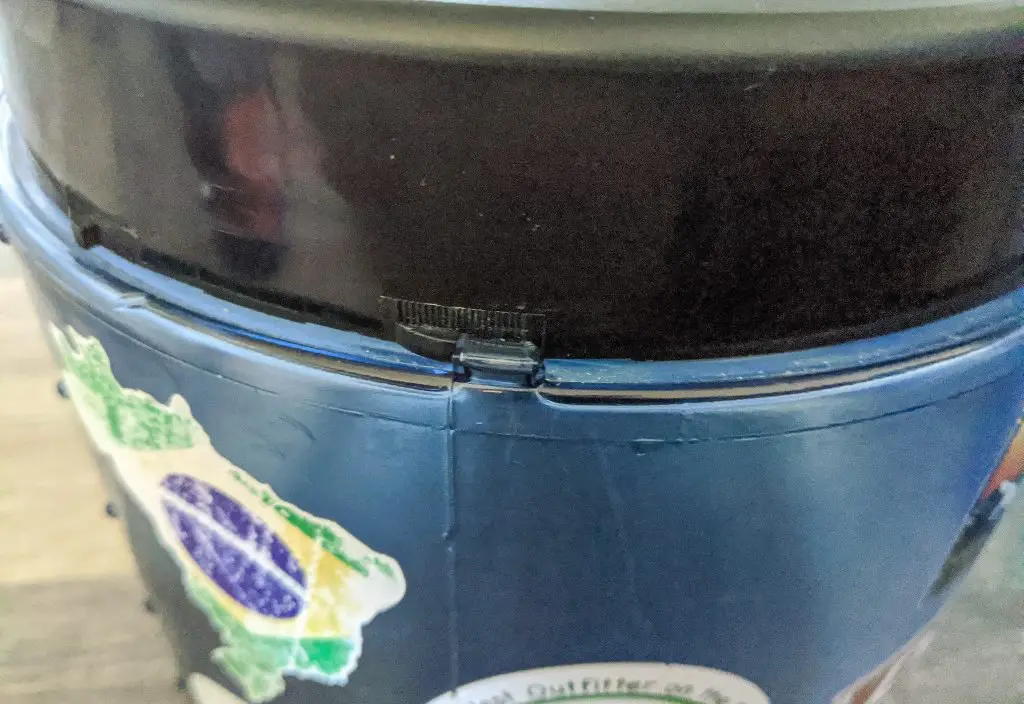 ---
The Good
The Durability: The BearVault BV450 won't break as a result of anything that you would accidentally do it whilst on (or off) the trail. Unless maybe you accidentally somehow ran it over with a car? You can really beat the crap out of your BearVault and not have to worry about it. That said, put some stickers on it – then maybe you'll treat it more nicely because you don't want to rip them?
The Transparency: The BV450 is made of transparent plastic (polycarbonate if you're cool) and it allows you to see inside it without having to open it. It's very handy. Yes, you probably know what's inside your bear canister already, but it's still nice to see inside without opening it (as a bonus, it's a great way to tempt the animals).
The Approved-ness: Yes, we should be carrying bear canisters because we want to protect wildlife and not just because rules and regulations require us to do so. That said, we have rules and they must be followed. Fortunately, the BV450 is approved for use everywhere requiring a bear canister in the United States (there's debate surrounding the High Peaks Wilderness in the Adirondacks since some bears there appear to be able to break into these canisters – more on this below).
The Seat: The BV450 makes an excellent seat – not quite as good a seat as the BV500, but still a pretty good seat. This is the one benefit to carrying a bear canister (and I guess the whole having your food protected thing). Just remember to close the lid all the way before sitting on it to avoid damaging your can of bears.
---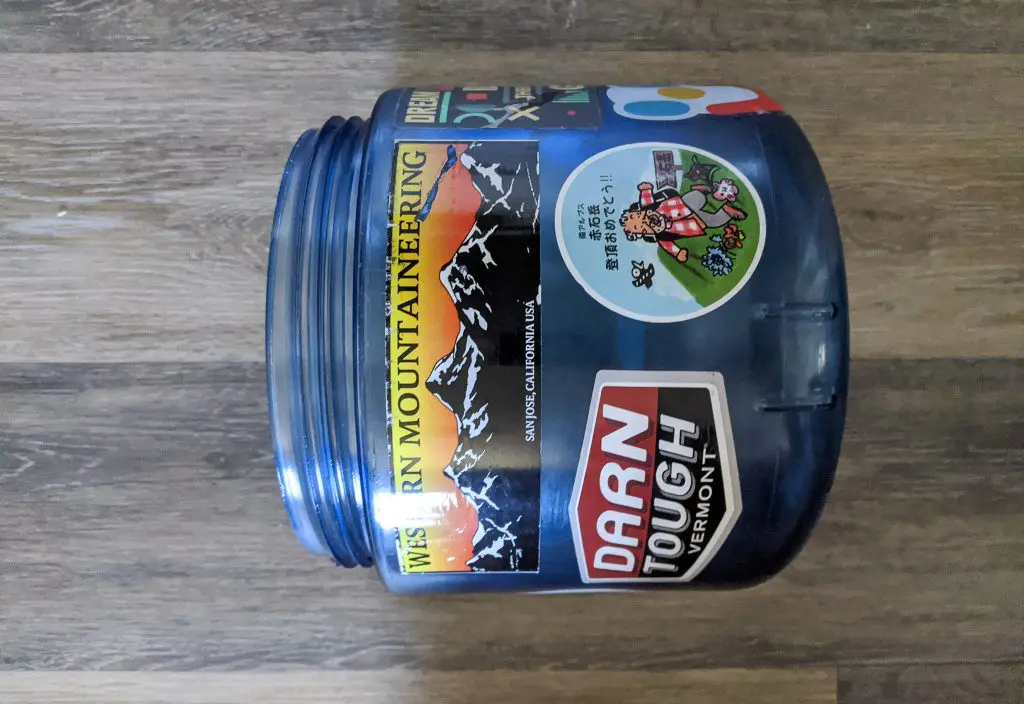 ---
The Okay
The Bulk: The BearVault BV450 is bulky, there's no way around it. That said, it's fairly uniformly shaped (the lid a slightly narrower than the body of the canister) so it's not too complicated to fit into your pack. It's significantly smaller than the BV500 and can easily be placed either vertically or horizontally in a backpack. I prefer vertical so I don't have to take it all the way out to access my food – but then I can't use it as a seat.
The Integrity: Yes, the BV450 is approved for use with both black and grizzly bears. However, there are reports of bears breaking into this canister. In some areas, bears have figured out how to unscrew the lid and/or break through the polycarbonate housing. It's still approved for use in places like Yosemite, Kings Canyon, Sequoia, and Lassen Volcanic National Parks, but you should check local regulations before heading out (or making a purchase).
The Cold: To open the BV450 you need to depress two adjacent tabs on the lid and turn them past a notch in the canister body. This requires nothing more than your fingers, which is generally a good thing. That said, with cold fingers (like those encountered after packing up a wet shelter in the morning), this can sometimes be difficult. I've never been prevented from opening the canister due to the cold – just inconvenienced.
---
---
The Bad
The Weight: It's a bear canister, so it's to be expected, but the BV450 is not particularly light at 33 oz / 936 kg. This is heavier than some of the three-season sleeping bags I use and is heavier than the backpack I used on the Pacific Crest Trail. That said, it's one of the lightest options available if you're not looking to break the bank with a carbon fiber bear can.
---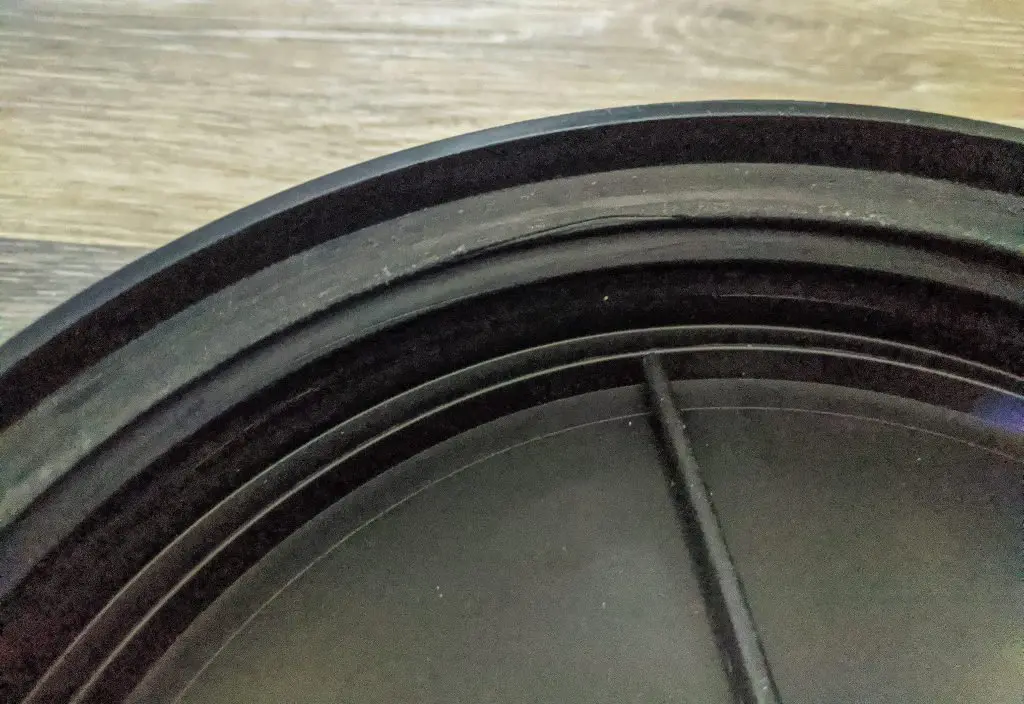 ---
Who is it for?
Solo Hikers: It might be scary to head out on an extended trip with the BV450, but I would highly recommend it over the BV500 if you're traveling solo. I have gotten six days worth of food into (and out of) this thing and I probably could have stretched it one more day if I had a little more control (and was willing to go a little hungrier). I don't think I will ever use anything larger than the BV450 again unless it's for a truly massive stint in the backcountry without a resupply.
Couples: If you're going out for one or two (maybe three) nights, then you could get by using the BV450 as a couple (depending on how carefully you pack your food). The better option may be the BV500 so that you're prepared for longer trips as well, but if you know that you're only going to be out for a night or two at a time, the BV450 is plenty.
---
Most-popular Alternatives
Conclusion
The BearVault BV450 is a great option for the solo backpacker in bear country. It may take a little getting used to if you're accustomed to a bit more room for all your food, but it's definitely manageable with its 7.2-liter capacity – even if you're a couple out for just a few nights.
The BV450 is probably my top recommendation for backpackers looking for a bear canister (particularly those interested in the PCT) as it's relatively inexpensive and it can hold enough to support a single person for nearly a week (don't forget, you can carry whatever you're going to eat your first day on the trail outside of your bear canister).
Check out the BearVault BV450 here.
This page may contain affiliate links, which means at no additional cost to you, I may receive small commissions for purchases made via these links. This helps to pay the bills and keep the site up and running. Thank you for your support!