Water caches are locations where water is stored or left out where there would otherwise be none. They have become increasingly common on long-distance trails such as the Pacific Crest Trail and the Continental Divide Trail, which may sound like a good thing – water caches mean hikers aren't forced to do huge water carries and that hikers have water available in otherwise dry areas of the trail. Good, right?
Not really.
With a growing number of hikers on these trails, we also see a growing number of trail angels – the selfless saviors of thru-hikers along the trail. In recent years, we've seen some trail angels grow beyond lending the occasional hand (or chilled beverage) to hikers as they instead become near-fixtures of the trail; we've also seen how the absence of these trail angels can seemingly disrupt thru-hikes.
That's the thing with trail angels – they are not (and should not be) a prerequisite to hikers being able to successfully complete their hikes; neither should the water caches they maintain.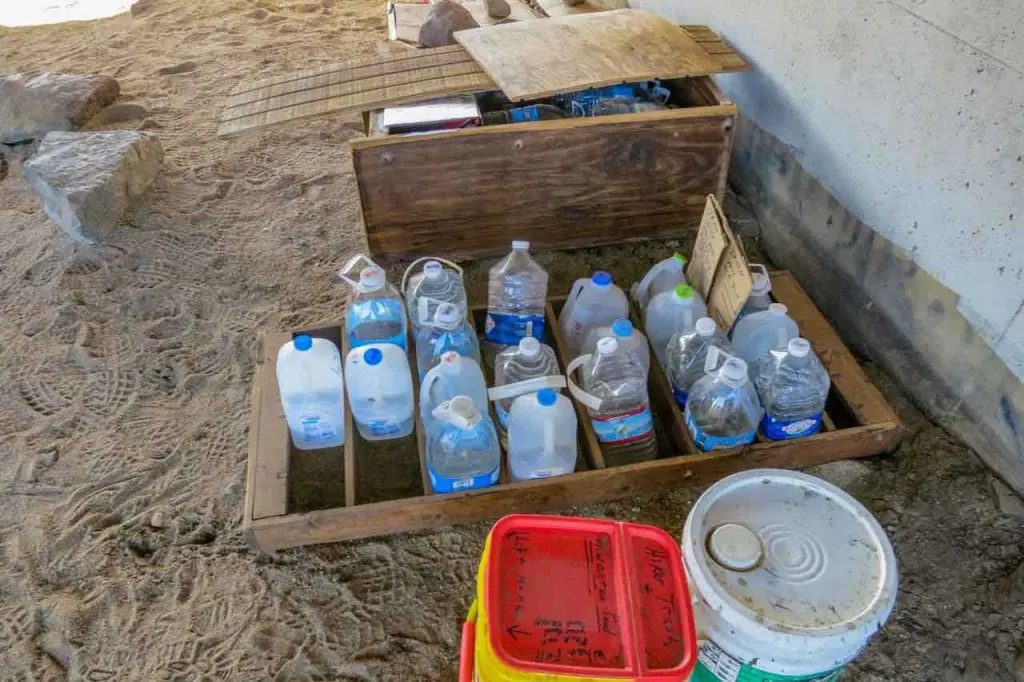 Water Caches Aren't Regulated
I do not doubt the intentions of those maintaining the water caches – they provide a service that most hikers will find themselves incredibly grateful for – but the trail angels stocking the caches are just that, trail angels. What does that mean? It means that they're just random people who like helping out hikers.
Anyone can call themself a trail angel – it's not like there's some governing body or organization of trail angels who hold everyone accountable for doing their part. That's what makes trail magic, magic; it's there one day and gone the next. Get it? Like magic.
Since imposing a quota on northbound hikers starting at the southern terminus of the Pacific Crest Trail, the PCTA has seen every day during March, April, and May fill with the maximum-allowed 50 hikers. Assuming each hiker will drink one liter and pack out four liters from a water cache (and assuming they're all hiking the same pace) means that a water cache will need 250 liters (66 gallons) of water per day to sustain the flow of hikers. Every day for three months. Three months at 250 liters (66 gallons) per day? 22,500 liters (almost 6,000 gallons) of water.
The amount of time and effort required to transport this water to a cache is enormous. And I'm assuming that someone has gallon jugs they're swapping out because the cost of buying 22,500 liters (almost 6,000 gallons) of water is in the thousands of dollars. Imagine what happens the day someone stocking a cache can't make the trip out – what if they get sick or they get into a car accident on the way to the cache? If hikers are relying on these caches then this could spell disaster for everyone counting on there being water available on a given day.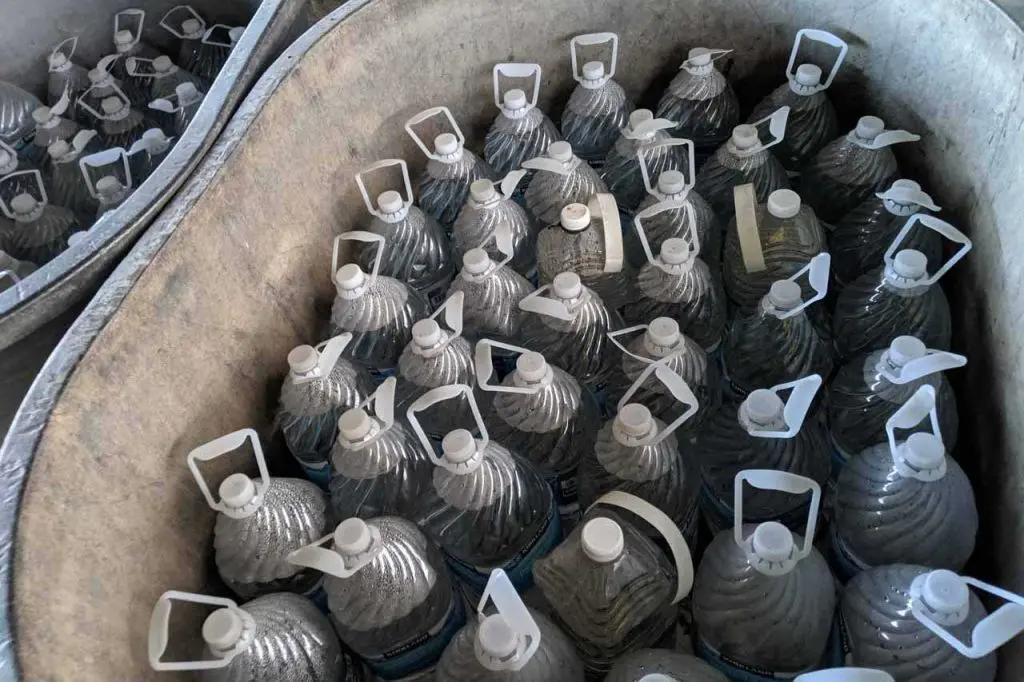 How much water does a cache need?
50 hikers per day
5 liters per hiker (maybe more)
250 liters per day
90 days worth of hikers
22,500 liters per season
In 2019, the PCTA issued 4,748 northbound thru-hiker permits. If each of these hikers relies on five liters of water from a cache, that's 23,740 liters (6,271 gallons).
Water Caches Harm the Environment (& Are Ugly)
Sure, the sight of clean, ready-to-drink water suddenly appearing in the middle of the desert may be beautiful in the eyes of a thirsty hiker, but water caches are anything but beautiful.
Oftentimes, caches are poorly maintained and end up being nothing more than a collection of trash. Empty bottles are objectively garbage and hundreds of empty (or even full) water jugs tied together on the side of a dirt road isn't a terribly inspiring sight. In their misguided attempts to help hikers, many trail angels end up doing more harm than good (like when you're hitchhiking and the person giving you a ride drops you where they think is best instead of where you've instructed them to).
Even the better-maintained caches end up attracting garbage from hikers. Carrying your trash out is something all hikers need to do, but for whatever reason, many decide that leaving their garbage at a water cache is acceptable practice (it's not). This garbage can then attract wildlife adding yet another unintended consequence to water caches.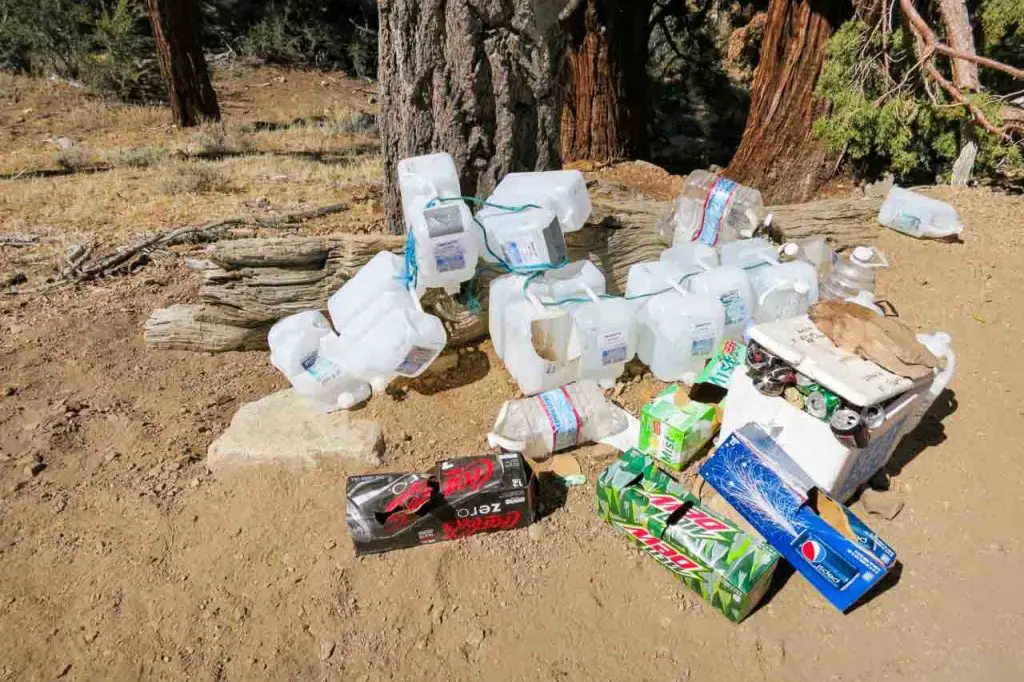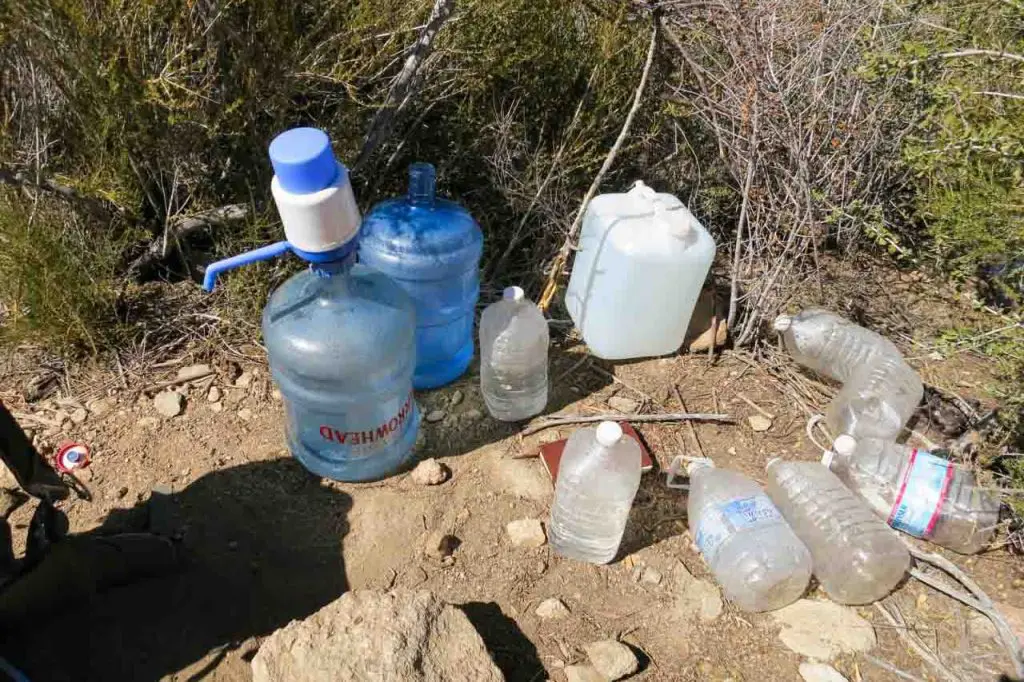 What's more is that because water caches are oftentimes the only water sources for miles in either direction, they become places where hikers congregate and camp.
Established campsites and campgrounds are (typically) set up to withstand the impact that comes with repeated use over the course of a hiking season. Random spots in the trail where people decide to set up water caches are not. Caches become de facto campsites in what's already a fragile (oftentimes desert) ecosystem. There's enough of a problem with mitigating hiker impact on the trail before introducing the introduction of water caches.
Even when it comes to natural water sources – just because there's water somewhere does not translate to this somewhere being a good place to camp (this is why camping next to rivers and lakes is not permitted).
Water Caches Aren't Necessary
These long-distance trails are not meant to be some super-accessible, family-friendly adventures fit for anyone and everyone who fancies themselves an extreme walking adventure; they're meant to be challenging. No reliable water sources for the next 45 mi / 72 km? Time to suck it up and be uncomfortable for a while because it looks like you're going to be carrying a lot of water.
There's no rule that says you're not supposed to have to carry water for long stretches on a long-distance hiking trail. In the southern portion of the Pacific Crest Trail and the Continental Divide Trail, you're hiking through the desert. There's a reason why these sections are consistently rated low on the "Favorite Section" portions of the PCT and CDT hiker surveys. They're typically the hottest sections and the sections with the least water – not a great combination, but a reality of the trail.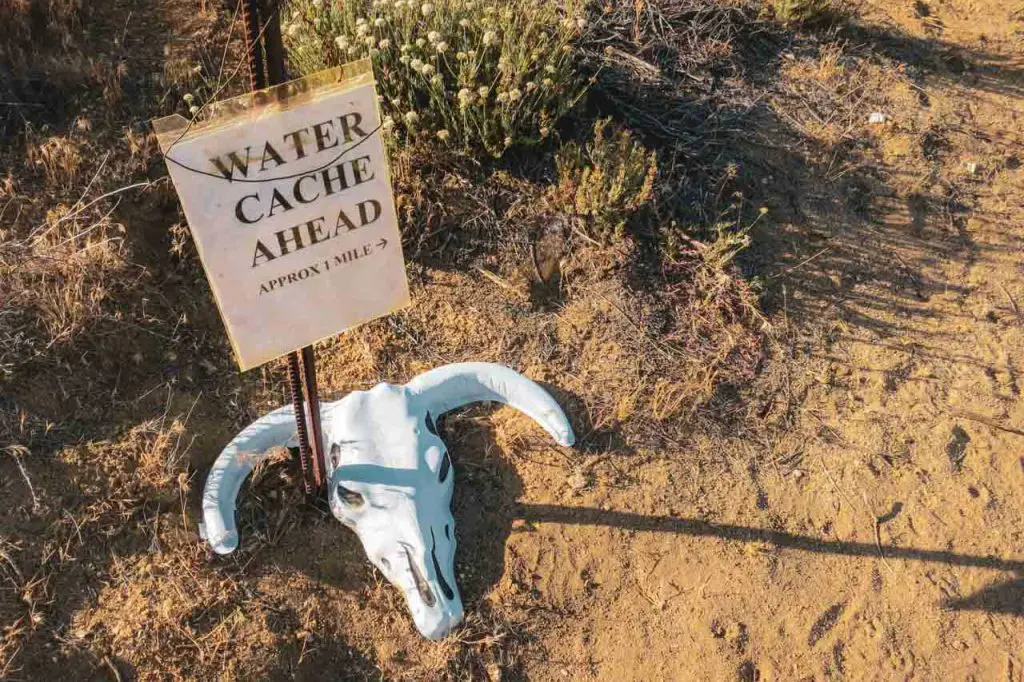 Wrapping Up
For the record, there are some water caches (like the caches in New Mexico's Bootheel on the Continental Divide Trail), that are managed for hikers who have either cached water for themselves or have paid for someone to cache water for them. These are not the water caches I am talking about here.
However good the intent, unregulated water caches are no good for hikers and are especially no good for the trails. No matter how much people are told not to rely on caches, some number of hikers will ultimately depend on them and put themselves at risk (not to mention the impacts on wildlife and on the trail).
As difficult as it may be, if you're a hiker, don't rely on water caches; it sets a bad example for others and the potential consequences (you die?) are not worth the benefits (you don't have to carry as much water). If you're a trail angel, don't set up water caches. If you want to help hikers, drive out to somewhere the trail crosses a road and dish out trail magic in the form of refilling water bottles, handing out cold drinks, or otherwise distributing delicious snacks and/or love to hikers.
Have fun out there, friends.