For a detailed account of Day 1 on trail, check out this post: Continental Divide Trail Day 1: The Middle of Nowhere.
CDT DAY 2: The First Detour
On my first full day on the CDT I wake up what I would generally consider fantastic weather – not a cloud in the sky. However, in the New Mexico Bootheel, perfect weather would (as I will soon learn) involve a single large and dark cloud floating directly in front of the sun.
I didn't sleep well last night, but each time I woke up I was treated to a spectacular celestial (that means space) display. Of all the places I've ever been, I would have to rate the stars in the New Mexico Bootheel as some of the greatest I've seen.
Today is the first day I'm packing up my gear on the trail (and it's my first time using much of it) and it's painfully obvious that I have a long way to go before I discover the most efficient way to get everything into my backpack (which is also new for this trail). By the time we get walking it's 7:30.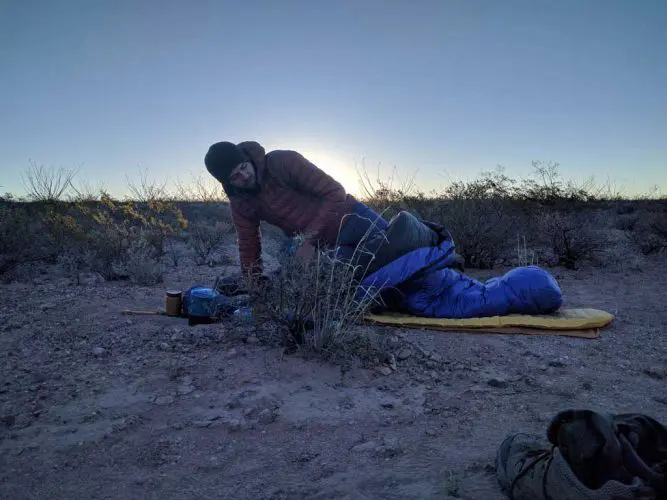 The trail follows a wash for a bit and there are a surprising number of CDT signs to guide us – far more than I thought there would be and far more than yesterday's short hike led me to believe. My Kestrel Drop D2 is reporting temperatures of around 80°F / 27°C today which is fantastic as far as I am concerned. Temperatures in the Bootheel can easily exceed 100°F / 38°C (aka call-it-quits weather), and for much of the day, there is literally nowhere to take shelter from the sun. Maybe I should have brought an umbrella for this section.
The blisters that sprang to life on my feet yesterday are now huge and throbbing between my toes. Every time I start walking I am in a lot of pain. It fucking sucks.
We reach the first of five water caches placed along the CDT between the Mexico border and Lordsburg and run into Radar, the kindly man who operates the CDT shuttle and caches water for hikers. We each paid $10 to have eight liters of water cached at each of the five caches since caching the water yourself is a lot of work.
After drinking our fill while cowering behind the cache box to escape the sun, we take the first of what will be countless Continental Divide Trail alternates. Instead of following the "official trail" which undulates through the foothills of the Big Hatchet Mountains, we opt to follow the dirt road next to the water cache (the same dirt road we used to get down here).
This should meet back up with the trail in 12 mi / 19 km near the second water cache (where we'll likely camp).
We're using the CDT App by Atlas Guides (aka Guthook) to navigate (iOS/Android), but my phone's GPS is acting up and I end up relying on Appa and Moist to report the distances to water and how far/when we're drifting off the trail. The rest of the day I spend trying to avoid all the spike-filled plants as alternate between dirt road and the bush (apparently, all the plants down here are covered in spines).
We meet back up with the trail just south of water cache two and again begin following CDT signs through the still very flat and hot desert. It's not always obvious where next sign is, but they aren't too tough to follow if you just keep meandering. Eventually, we reach the cache and set up camp under the setting sun.
First full day on the CDT? Success (except for the blisters).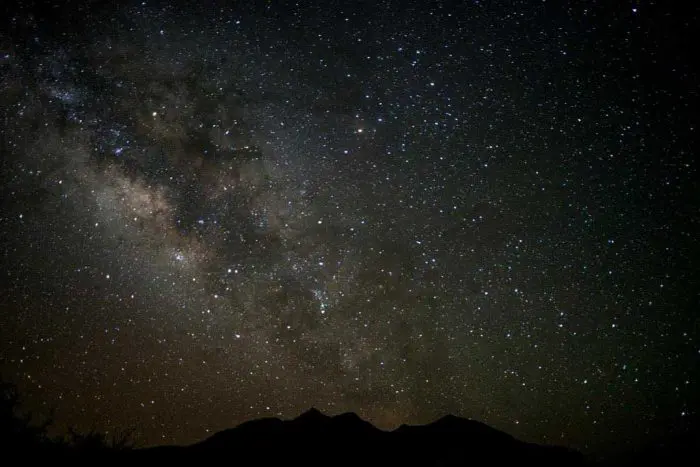 CDT DAY 3: First Encounters
We get started a bit later today and by the time we are walking, we see an unidentified hiker (or maybe just some lost dude) approaching from the south.
Despite it being only our second full day on the trail and there being no reason to feel in competition, we decide not to wait around to find out who it is since they'll probably (definitely) be stopping at the water cache. Anyway, if he's are catching us now, he'll definitely catch us again later.
This morning the trail marches us through sand as we continue to be guided by CDT posts. The trail itself isn't necessarily well-defined (you mostly just pick the path of least resistance through the low-growing shrubbery), but the posts are well spaced and easy to see.
An hour of hiking in the hot morning sun and my body has decided that it's time for a movement of the bowels. This is something I've gotten used to in the outdoors, but in the New Mexico Bootheel, you have few options when it comes to cover (a problem not usually encountered off trail). I manage to find a small rise to duck behind, but my head remains periscoping on a swivel to greet whoever happens past.
A warning to you readers and/or would-be CDT hikers, if you are disturbed by this recounting of my morning poop, then you have another thing coming. Best jump ship now.
Today's hotter than yesterday and after hiking for what I guess to be about ten miles in 94°F / 34°C heat and not seeing either of my two hiking partners, I decide to wait for them at the next water source – a solar-powered windmill just off trail.
At the water source I meet Numskull and Dirty Bird, my first hiker meeting of the trail. They tell me that neither Appa or Moist has passed the windmill and that they've been hanging out for a while; I guess I somehow passed them somewhere. The water here is good (but swarming with bees) and I cower with my new friends under the shifting shade of the windmill as I camel up for the next section.
Thirty minutes later, Numskull and Dirty Bird say goodbye and continue north. Not long after, I decide to do the same. Just as I am getting ready to go, Appa shows up – followed by Moist a few minutes later. After filling up their bottles, we continue on our way – a happy family once more. Our goal for tonight is at least cache three (most of the hiking/stopping/camping in the Bootheel revolves around water sources).
We reach the cache without issue and find Numskull and Dirty Bird who have adopted the same "camp at the cache" mentality as us. We decide to hike a bit farther, but before we go we are caught by the mystery hiker from this morning – Endless from Mass.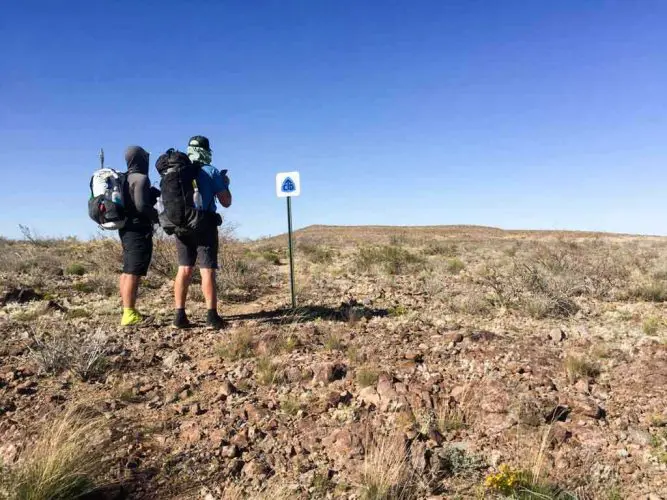 DAY 4: Cross Country Hiking
Today we manage to get an early start and get packed just as the sun is coming up – definitely the recommended strategy for the Bootheel (that midday heat is no fun).
I would be hard-pressed to convince you that there is an actual "trail" here, but, as has been the case until now, there are CDT signposts leading the way north. If you look really hard it's possible to see two, three, or even four posts into the distance. This particular morning the trail appears to do a big 90-degree turn west at some point. Since I'm an expert mathematician, I know that a2+b2=c2. Why walk a and b when I would just walk c?
Jesus Christ, I'm a goddamn genius.
The trail is flat and covered with the everpresent spine-covered bushes. There's a slight climb coming up (not much, but bigger than anything we've done until now) that is supposed to have a water tank somewhere along it. Hopefully, there's water.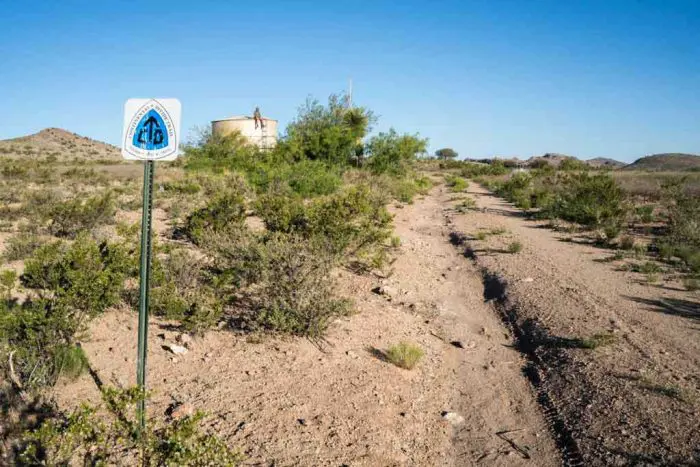 I find Appa perched on top of the tank and I join him on top next to a hole cut in the top (aka where we are getting our water from).
As we sit and burn in the desert sun, Endless arrives with his hiking partner Queen B. What's the 'B' for? Bee? Bitch? Bacchanalia? We'll probably never know. They've got pretty small packs which in the world of thru-hiking generally translates to bigger miles (and being super cool). They leave the water tank just before us and we decide we'll probably never see them again. I wonder where Moist is.
After another couple of hours of hiking (and can I just say that I am disappointed that I haven't seen a snake yet), we catch up to Moist in time for a small climb between two hills before our descent to the fourth water cache. Heading down, we have climb over some pipe gates and scoot under some barbed wire fences – luckily they aren't electrified.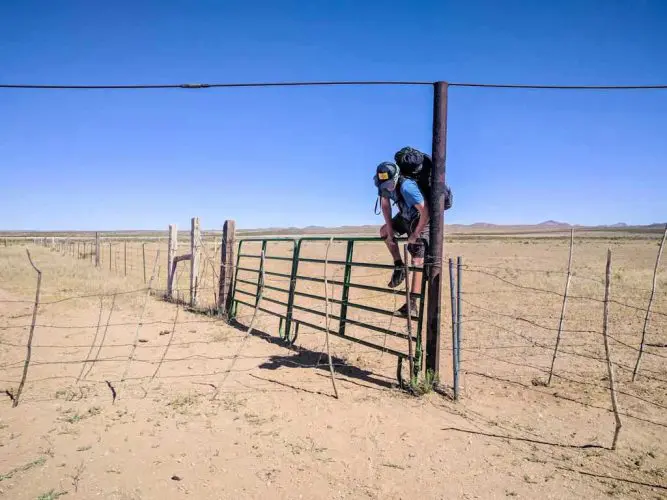 At the fourth water cache we meet Franklinstein and Fly Balls – two more experienced thru-hikers (everyone we've met until this point has completed at least one other thru-hike). There's no shade here and after filling up on water we decide to stop in the next place we find some cover. This place ends up being 4 mi / 6.4 km away (and it's not great shade).
The rest of the day has us climbing and crawling under many more fences as we head mostly cross country. And across that country, we find many of the CDT's infamous "New Mexico Water Sources" – aka old tires and rusted troughs filled with scummy water that you would probably never even think of drinking if your life didn't depend on it.
We make it to another solar well (generally there's good water at these sources) and fill up before continuing a few more miles to our day's camp. If all goes to plan and we aren't ax-murdered in the middle of the night, we should be hitting Lordsburg (our first town) tomorrow. Hooray, town!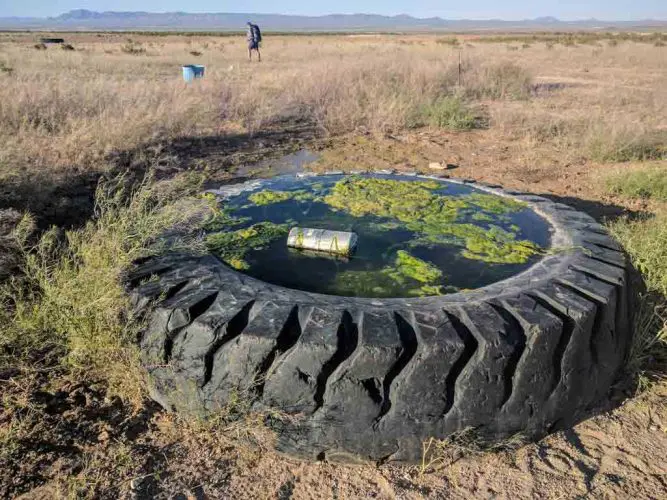 DAY 5: Lordsburg
Motivated by the promise of town, we wake up early and get hiking. It's not as hot today as it has been the past couple of days and we make it to the fifth water cache to find Endless, Queen B, and two new faces, Dr. Bug and Stud. After the proper hiker introductions (trail name, date started, where you're from), we get our water and head towards town.
Instead of using my trekking poles in this section I've had them in my pack and have instead been carrying a 1.5-liter water bottle (since, when full, it's heavier than my poles). I probably should have just left my poles in Lordsburg on the way down.
When we're close enough to town to get cell reception, I start calling the motels to ask about their prices and amenities (if they have laundry on premises, if they have detergent available, if they have a pool, if they have a jacuzzi, if breakfast is included (and if it's hot or continental), and if their rooms have air conditioning, flat-screen televisions, and refrigerators – all very important things to take into consideration).
We decide on the EconoLodge. It's $55 per night, but hikers get a $10 discount so it's only $45 for the total for the room (not per person).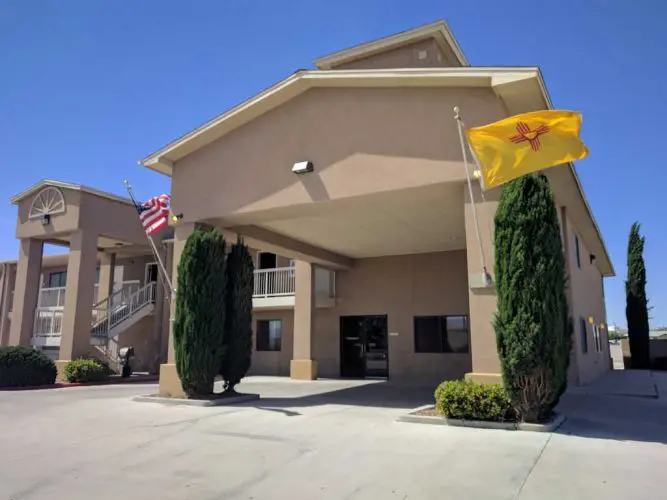 When we arrive at the EconoLodge the only room available is a smoking room. None of us are smokers and we don't want to stay in a room that reeks. However, the kind woman at the reception has a solution. There is one non-smoking room available but the lock on the door doesn't work – it's $40. Awesome. We take it.
After checking in, we head across the street to get some food at Kranberry's. This place also turns out to be very hiker friendly with excellent food and service (note: they do not sell alcohol). With full bellies we go about the rest of our town chores: resupplying at the grocery store, buying beer, showering, using a flushing toilet, and doing laundry ($5 per load and the hotel washes it for you).
We spend the afternoon watching Will Smith and Jeff Goldblum kick alien ass in Independence Day. The hotel is basically a hiker hotel and we're joined by the second hiker we meet from Massachuttes, Motown aka Gayle aka Concave (henceforth known as Concave). To celebrate our successful conquest of the Bootheel and our successful defense of the Earth, Appa makes us all jalapeño margaritas.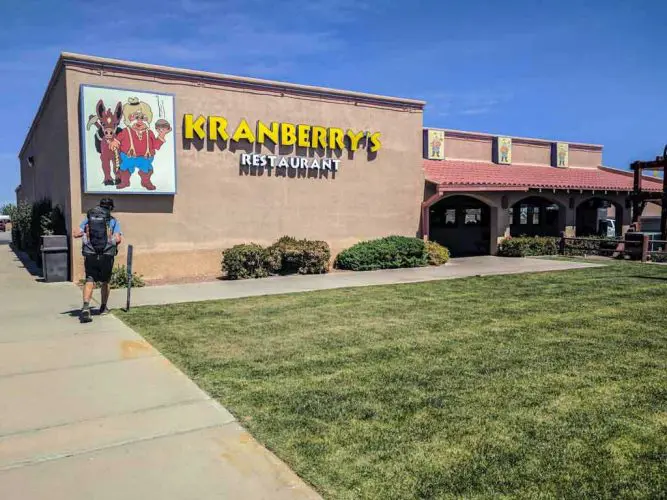 For dinner, it's back to Kranberry's. I get my first taste of New Mexico's famous(?) green chili on my burger. I'm told that basically everything in New Mexico has (or can have) green chili on it. Before heading to bed, we meet five more hikers: Sherpa C, two nameless dudes hanging out on the street, a woman who is driving around with her husband, and Mr. Ted Olson from Minnesota.
I guess the CDT is more popular than I imagined.
DAY 6: Damn you, cows
Leaving town is always a sad day, today is a sad day. And it's made even sadder to walk away from what will probably be our least expensive hotel of the entire trail – $13 per person per night? Are you kidding me?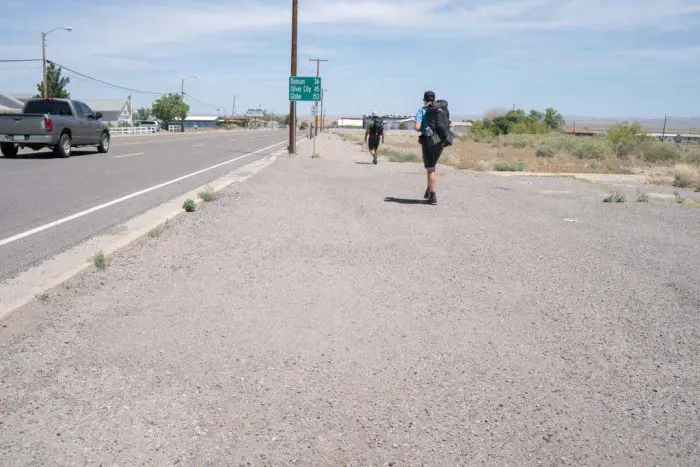 Appa wakes up first and gets us up for our included breakfast. What's that? I didn't mention that our $40 room also includes a continental breakfast buffet featuring a waffle maker? Yeah, it does. We load up on waffles with Concave before going back upstairs to pack our bags.
I'm not feeling fantastic after all the jalapeño margaritas last night, and we end up leaving the hotel around noon (nobody came to kick us out of our broken-lock room earlier). On the way out of town, we pass a McDonald's and are sucked in for one last assault on our arteries before beginning our day of intense exercise (this will probably help my stomach).
It's a 3 mi / 5 km highway road walk out of town – the first of many on the CDT. Clear of town, we leave the road and head into a large, flat, dry, shrub-ridden area. Yes, now we are back on the trail we've come to know from the Bootheel.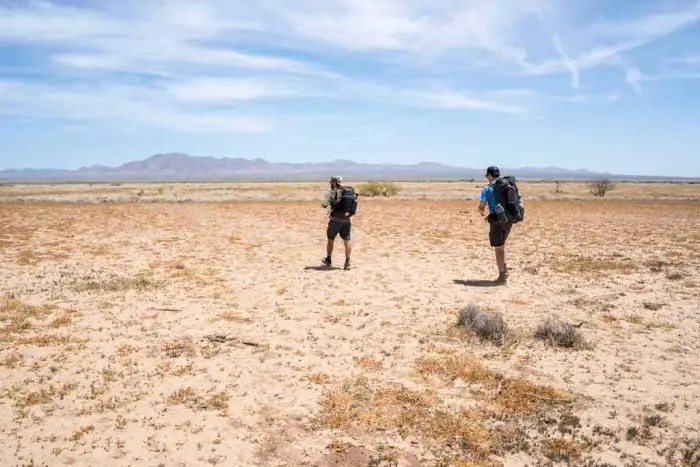 Once again, there are posts to follow through the seemingly endless desert expanse in front of us, and we hike until we come across a tree large enough to provide some shade (shade and water are two very valuable resources in the New Mexico desert).
A couple miles later we hit a dirt road that leads us into an area featuring the first real trees we've seen all week (that is, groups of trees instead of the occasional loner).
The road winds up into hills and we pass two dry water sources (probably best to carry more water than you think you're going to need). The third supposed water source takes us off trail and through a sandy wash were we find Dr. Bug and Stud.
This source has water, and it's also got cows. Lots of cows.
So many cows, in fact, that they are actively drinking out of the water source (a small metal trough) as we're filling our bottles. Mmmm, cow water.
We say hello to Franklinstein and Fly Balls as we head a bit farther north and out of cow territory in search of camp (dude, cows are loud).
DAY 7: Trail Magic
We wake up and are treated to a great (relatively great) water source.
We've officially entered a more mountainous area of the trail and we can no longer see until the horizon in all directions. There could be literally anything lurking around every corner. Around one corner are two hikers, Acorn and Dion, slackpacking southbound (but who are actually hiking the CDT northbound). Basically, they have someone waiting for them with their gear somewhere south of us (aka they're hiking without their full packs – or any packs).
But we're trying to get to Canada so there is little time for schmoozing.
We're strafed by a low-flying jet for the third time this hike and I'm reminded of an Air Force friend of mine who was stationed in New Mexico. He is fond of referring to it as "Satan's Asshole". Lovely place, New Mexico.
After heading off the trail a bit to refill our water at yet another scummy cow pond with Franklinstein and Fly Balls, we come across Ted Olson, Turtle, Dr. Bug, and Stud (who are all at least 20 years older than us). They missed the last water source and are all running low on life's elixir. Fortunately, not more than three minutes up the trail we discover a glorious cache of trail magic.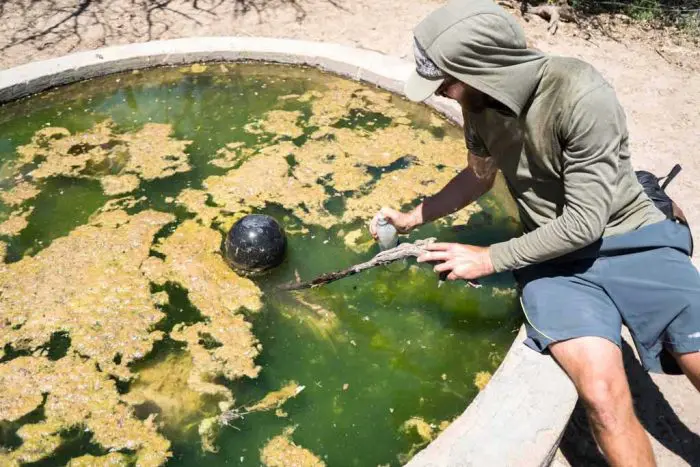 Although part of me wishes that "trail magic" had to do with a magician performing illusions for the amusement of hikers, this type of trail magic is just as good. In a shaded clearing, we find coolers filled with cold water bottles, soda, sandwich-making materials (including cheese, peanut butter, and jelly) fruit, and a variety of other snacks. An angel has obviously been here.
We all take a break together and – coming up next is the first real climb of the trail up to the 8,000 ft / 2,340 m Burrow Peak.
After fulfilling our magic quota we start the climb, which isn't too bad since it's now a bit later in the day and we finally have some trees for shade. On the way up we see four javelinas (little pigs) running for the hills. Too bad, they're probably delicious.
Tomorrow, we should be arriving in Silver City of Rat Race fame (and also home to Trail Days which took place last weekend), and we try taking an alternate route down to the road that we're going to follow to get there. Instead of finding the shortcut we wanted, we end up lost – even with the help of our GPS. We're deep in the trees and it gets dark quickly as we fail to get our bearings. Shit.
We end up cowboy camping in the first flattish spot we find.
Worst. Campsite. Ever.
---
Day 1: 6.7 mi / 10.8 km
Day 2: 19.2 mi / 30.9 km
Day 3: 20.5 mi / 33 km
Day 4: 24.6 mi / 39.6 km
Day 5: 14.6 mi / 23.5 km (Arrive Lordsburg, NM)
Day 6: 17.1 mi / 27.5 km (Leave Lordsburg, NM)
Day 7: 24.8 mi / 39.9 km
WEEK'S TOTAL: 127.5 mi / 205.19 km
---
CDT WEEK: 1 | 2 | 3 | 4 | 5 | 6 | 7 | 8 | 9 | 10 | 11 | 12 | 13 | 14 | 15 | 16 | 17
---
Disclosure: This post may contain affiliate links. This means, at no cost to you, I may receive commissions for purchases made via these links. This helps to pay the bills and keep the site up and running.