The Patagonia Guidewater Backpack is a fully submersible 29-liter backpack with an IPX7 rating and is made from 100% recycled nylon.
It has a large interior compartment with an interior stretch pocket, a modular zippered pocket (which can be attached to the inside or outside of the pack), an integrated net scabbard (or handy non-waterproof exterior pocket for slim items), a chest strap, and a removable waist strap.
Waterproof backpacks – particularly of the zippered variety – walk a delicate line between functionality and practicality. The Patagonia Guidewater straddles this line with arguments to be made both for and against it on either side.
Testing Conditions
I first used the Patagonia Guidewater Backpack on a month-long trip rafting the Colorado River through Grand Canyon. It was subjected to near-daily exposure to water, endless amounts of sand, sun, and wind, daily strapping to the deck of the raft, and me repeatedly stepping on it as I navigated my way around my boat.
The Specs
Weight: 2 lbs 2 oz / 960 g
Capacity: 29L / 1770 cu in
Dimensions (in): 13.5 x 9 x 21
Dimensions (cm): 35 x 23 x 54
Body Material: 14.4-oz 100% recycled nylon plain weave with a PU coating on the face and a TPU coating on the backer
Lining Material: 3-oz 200-denier 100% recycled polyester with a PU coating
Back Panel Material: 4.5-oz 100% recycled polyester hydrophobic monomesh
Webbing Material: 100% recycled nylon
Waterproof Rating: IPX7
Size: One size
Colors: Blue, Black
Country of Origin: Vietnam
MSRP: $299
Color Options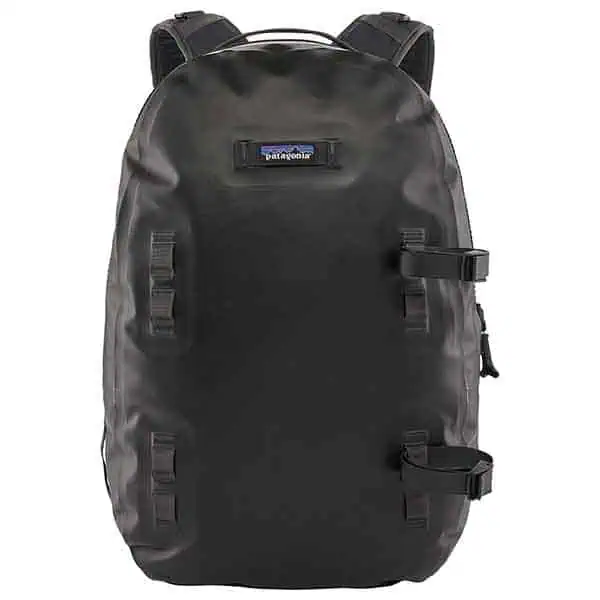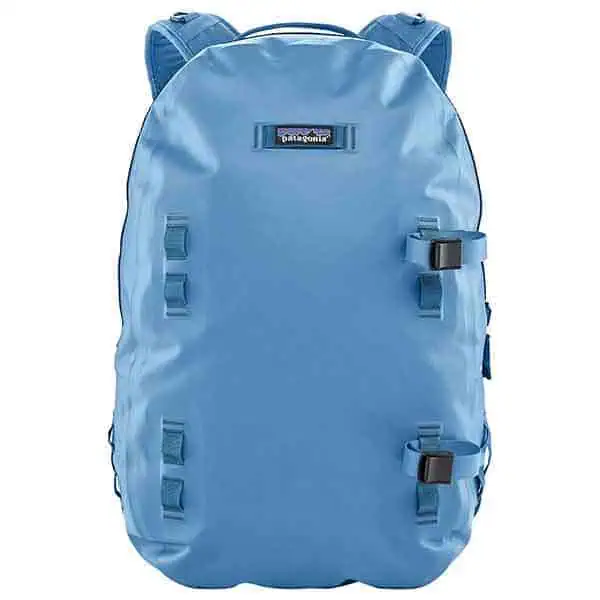 Photo Gallery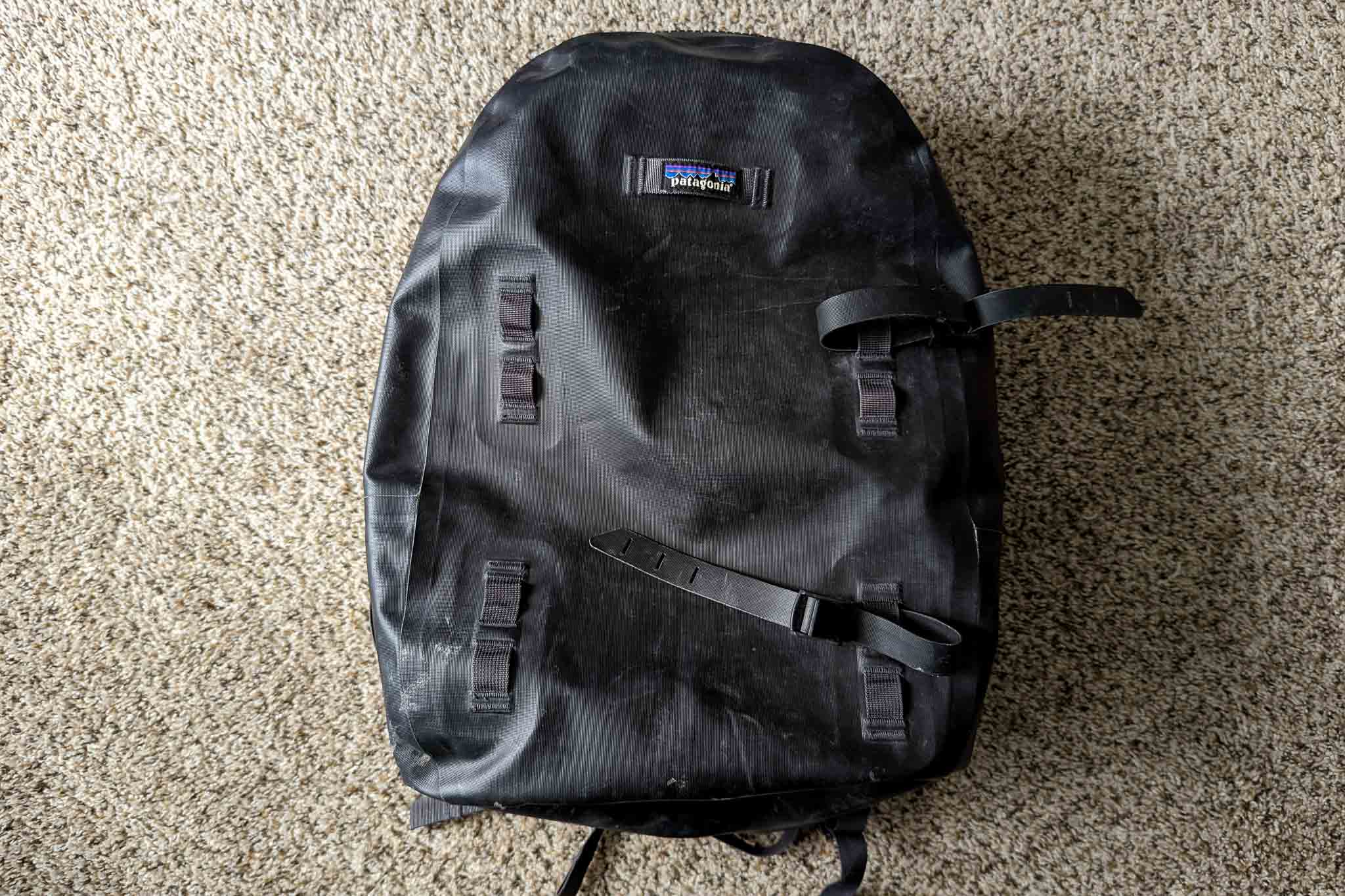 The Waterproofness: The Patagonia Guidewater Backpack is marketed as a waterproof, submersible backpack and in that regard, it gets full marks. I can't imagine a use case for submerging it beyond having it strapped to a watercraft and having that watercraft capsize (this was my use case). That said, its IPX7 rating (waterproof when submerged up to 3 ft / 1 m for up to 30 minutes) means that it'll keep your gear dry no matter the conditions so long as you're sure to properly close the zipper and you don't leave it underwater for more than thirty minutes (but if this is the case, you likely have bigger problems to worry about).
The Durability: The Guidewater is made from 14.4-oz 100% recycled nylon with a polyurethane coating on the face and a TPU coating on the backer. What does that mean for those of us not intimately familiar with fabrics? It means it's durable. I beat the hell out of this bag for a month – strapping it down tight to the deck of a raft each day – and it held up great. All the photos above are from after the river trip. It certainly looks used, but it's nothing beyond cosmetic wear.
The Functionality: The Guidewater has several features that may not be immediately apparent. There are tie-down/attachment points at the top, on the front, and on both sides (high and low on the pack). On the back of the pack (the part that touches your back), there's what Patagonia describes as an integrated net scabbard and what I describe as a cool exterior pocket for long skinny objects. On the front, two loops are (assumedly) designed to attach a tube (for fly fishing?) or whatever else your heart desires.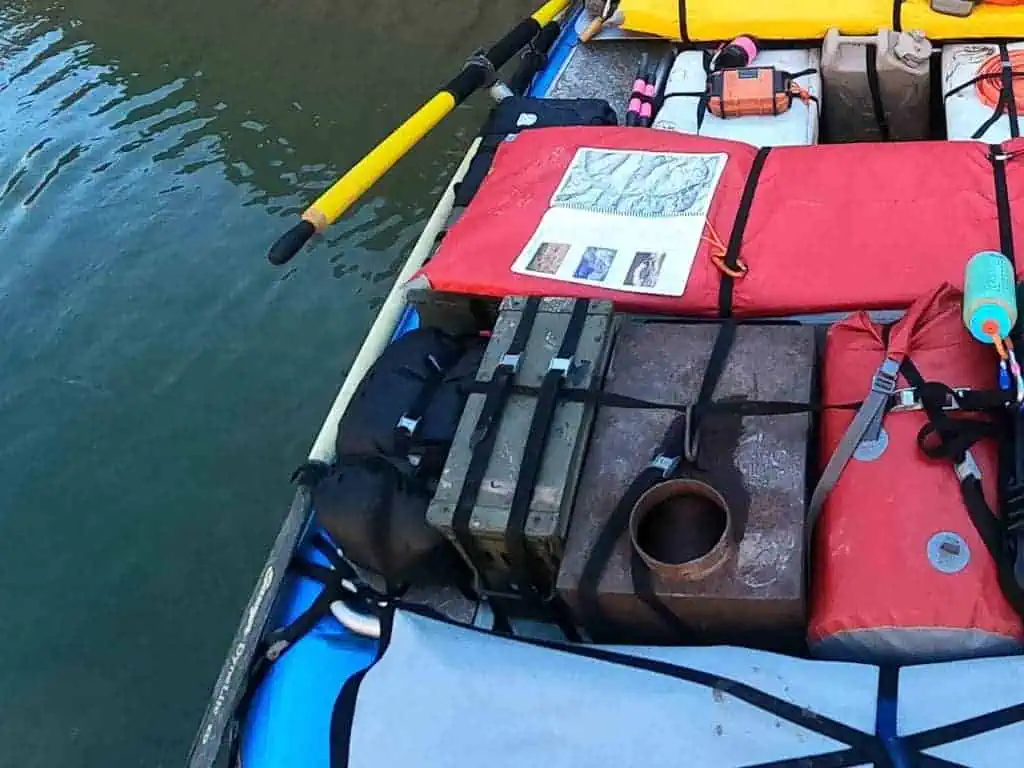 The Okay
The Usable Space: The Patagonia Guidewater Backpack has a zipper that runs around the top half of the pack. This is one of the things that makes the pack a bit annoying at times (but also a feature at the same time). It would be a perfect bag for books – large, wide, flat objects that can all sit at the bottom of the pack and be easily accessed from the top. However, if you're going to keep a lot of small objects in the pack, the total usable space can get tricky because the zipper needs to be opened up and then the front of the pack needs to be pulled back to access the interior. As opposed to a roll-top bag where the entire interior space is usable (but then it can be more difficult to access things further down).
The Pocket: The Guidewater has two pockets. One interior stretch drop pocket and one modular pocket that consists of a zippered pocket and two smaller drop pockets (large enough for a wallet). The pockets are features that play more into it being a backpack instead of just a single-compartment drybag, but I found myself not entirely enthused by the pocket. I would love to see the rear stretch pocket be extended further up or to have an exterior stretch pocket for a water bottle. I know it's submersible, but that doesn't mean I can't carry things on the outside, right?
The Bad
The Zipper: A questionable yet crucial part of the Patagonia Guidewater Backpack is the zipper. It's part of what makes it a backpack, but it's also not entirely awesome. To be clear, it is waterproof and does a great job keeping gear dry. However, I found that I typically had to open the entire zipper to access items inside the pack which usually meant laying the pack down on the ground (or flat surface) first. The zipper handle makes it easy to open and close (make sure to pull it hard for the last bit of closure), but the zipper can also be irritating on your skin if you find yourself repeatedly reaching into the pack to grab gear.
The Price: The Patagonia Guidewater is perhaps the most expensive submersible backpack currently available (tied with the YETI Panga Waterproof Backpack). The price isn't entirely unjustified but I think it being (looking more like) a backpack instead of simply a drybag with straps attached is what Patagonia uses to justify the price. Also, the zipper isn't cheap – especially compared to a rolltop bag – but the zipper can also be a source of frustration. Worth it? Maybe.
Who is it for?
The Patagonia Guidewater accomplishes its primary objective of keeping your gear dry – even when the bag is submerged in water.
I would suppose that the target market for this pack would be fly fishers but it served me well on a rafting trip. I anticipate bringing it on future river trips and potentially using it in conjunction with a packraft (on a river) to ferry gear for morning runs.
Honestly, the lack of an external water bottle pocket limits the application for this pack (as far as my personal use goes), but I can imagine using it on a jet ski, in the pouring rain on a bicycle, or on future boat-assisted adventures.
Wrap Up
The Patagonia Guidewater accomplishes its primary objective of keeping your gear dry – even when the bag is submerged in water.
I'm not 100% in love with it "yes go buy it right now!" but I don't hate it either. I love gear that's multifunctional and that I can beat the hell out of and this pack lives up to both these criteria. I'm sure I just haven't discovered my perfect use case for it yet. That said, it was a great bag to have along on the Grand Canyon and was a lot easier to open and close than the rest of my dry bags.
Questions, comments, or personal experience with the Patagonia Guidewater Backpack? Leave a comment below and let me know! Check out the Patagonia Guidewater Backpack here.
This page may contain affiliate links, which means at no additional cost to you, I may receive small commissions for purchases made via these links. This helps to pay the bills and keep the site up and running. Thank you for your support!