Living up to the tradition of reinforcing stereotypes you decide that you would like to ride a camel during your stint in the Middle East.
Good for you.
However, as the wide-eyed, camel-adventure hungry traveler you are, what you fail to realize is that your Lawrence of Arabia fantasy of plunging headlong into the dunes of the Israeli desert, shouting unintelligible battle cries and waving your sabre at some invisible enemy is that camel rides are not exactly what you had hoped for (and that the Israeli desert is duneless).
Imagine something a more like being placed on an old donkey at a petting zoo attached to a pole being led in a circle by a man who has no interest in your enjoyment or his responsibility as animal leader. Thrilling.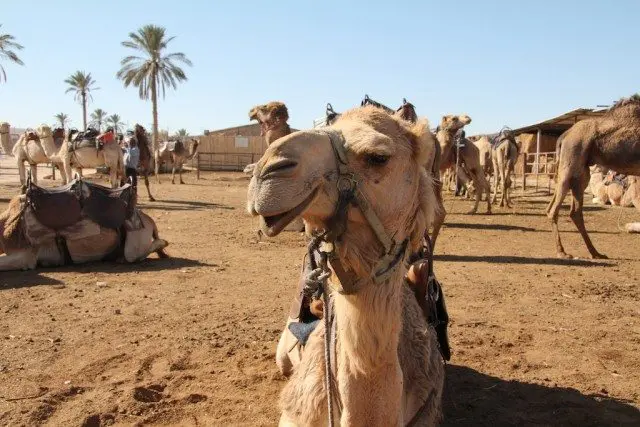 But camel riding has its redeeming qualities.
Getting on and off the camel is quite interesting as the camel must sit on the ground to allow for this, and once on the camel you sit much higher than you would on any horse (offering key tactical advantages on the battlefield). Once again, this excitement is short-lived because once the camel begins moving you will notice that the chaffing of your thighs and discomfort in your anus quickly takes hold as you begin to wonder if you will ever make it off this desert beast (you might not).
As fear turns to paranoia you begin looking over your shoulder wondering if the camel tied to the back of yours is going to eat your backpack or spit on you (it will).
Then when it is finally over you wonder if you will ever walk straight again.

Overall my experience on a camel was more than a simple tourist's activity; the ride taught me that sometimes your childhood dreams are better left unfulfilled – thanks camel.