Lake Morena is approximately 20 mi / 32 km north of Pacific Crest Trail's (PCT) southern terminus at the US-Mexico Border and is a landmark of sorts for PCT thru-hikers. Many hikers have it in their heads that they need to make it to Lake Morena on day one of their thru-hikes; many hikers are wrong.
If you get nothing else from this article, simply know that you do not need to hike to Lake Morena on day one of your PCT thru-hike.
Beginning a northbound Pacific Crest Trail thru-hike at the US-Mexico Border can be an intimidating moment for PCT hikers. The PCT Southern Terminus isn't necessarily the most inviting place. Concerns about the heat and available water are typically top of mind for the desert thru-hiker. If you aren't a seasoned backpacker, aren't used to hiking in the desert, or are maybe carrying a heavier pack than you normally would, hiking 20 mi / 32 km is a tall order.
I hiked to Lake Morena on day one of my first PCT thru-hike and it was not fun.

Between the southern terminus and Lake Morena hikers face two climbs over 1,000 ft / 305 m. This may not seem like much once you're further into the trail, but if you're new to hiking in the desert with a backpack, these can be quite challenging (especially if you're unfortunate enough to be doing this section on a particularly hot day).
In addition to the climbing, the southernmost section of the Pacific Crest Trail is exposed, offering few opportunities for shade and even fewer opportunities to hide under trees.
What complicates things further is the absence of reliable water sources in these first 20 mi / 32 km. Typically, the only on-trail water source that can be relied on is Hauser Creek – 15.4 mi / 24.8 km north of the border; in especially dry years, Hauser Creek can also be dry. There are small seasonal streams and a few off-trail water tanks and ponds that can also (sometimes) provide water, but these are not guaranteed full/flowing on any given day.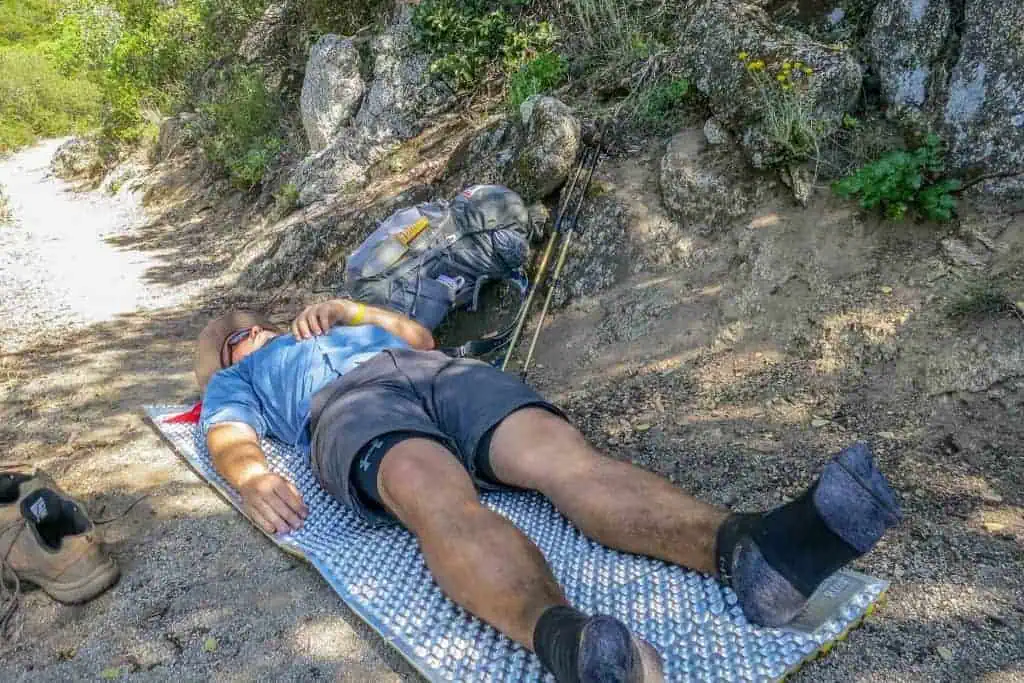 Will you get passed by people if you take more than one day to reach Lake Morena? Almost certainly. Should you care? Absolutely not.
The Pacific Crest Trail is not a race. Everyone's out there for their own reasons and nobody cares how many miles you hike each day (and if someone does, they probably have insecurities of their own that need to be examined).
If your objective is to finish the trail, focus on that. Crush miles when you're in Oregon and have seasoned hiker legs beneath you, not on day one in the desert. People have quit thru-hikes in these first 20 mi / 32 km – sometimes years of planning blown up in a single day.
Regardless of what your reason for being on the trail is, a crucial part of any thru-hike is just that – being on the trail. If you find yourself ill or injured and unable to hike, it doesn't matter who you are or what your motivations for hiking are because you're no longer hiking.