The Sawyer Micro Squeeze is a 2 oz / 57 g hollow-fiber membrane water filter that removes bacteria and protozoa from water. It's a common choice of water treatment for hikers on the Pacific Crest Trail and the Continental Divide Trail and is worth considering for shorter backpacking trips as well (it's probably better suited for shorter trips, but more on this below).
It is one of three filters in the Sawyer lineup – the Sawyer MINI and the Sawyer Squeeze being the other two. It's the last to be released of the three and is typically my second choice of the three (the original Sawyer Squeeze being my first choice).
That said, it's still got a place in the backpacking world and can't be completely written off. I do opt for the Micro every once in a while.
Weight

Treatment Time

Water Quality

Durability

Ease of Use
Testing Conditions
I've used the Sawyer Micro for over 1,000 mi / 1,600 km of backpacking and have used it dozens of times to filter hundreds of liters of water. I've used it to filter pristine mountain streams that probably didn't need filtering in the first place (but better safe than sorry) and nasty, cow-poop filled trough water.
The Specs
Color: Black
Weight: 2 oz / 57 g
Filter Medium: Hollow-fiber membrane
Housing Material: ABS plastic
Dimensions: 5 x 2 in / 12.7 x 5 cm
Country of Origin: USA
MSRP: $29
The Features
Rated up to 100,000 gallons / 378,541 liters
Removes 99.99999% of bacteria and 99.9999% of protozoa
Includes drinking pouch and straw to drink directly from a water source
Compatible with disposable water bottles with 28mm threads
Comes with a 32 fl. oz. reusable squeeze pouch, drinking straw, cleaning coupling, spare gasket and cleaning plunger
The Good
THE WEIGHT: The Sawyer Micro Squeeze weighs in at 2 oz / 57 g – 1 oz / 28 g lighter than the Sawyer Squeeze and the same as the Sawyer MINI. Honestly, I don't know why the Sawyer MINI still exists, but I guess it's available in colors. Unless you want to use purification tabs or chemicals, the Sawyer Micro is the lightest water filter you'll find.
THE COMPATIBILITY: Like the rest of the Sawyer lineup, the Micro comes with bags to use for filtering and is compatible with water bottles with 28mm threads. A number of disposable bottles use this size thread including smartwater or LIFEWTR (hikers like these for their superb structural integrity). As with the original Sawyer, you can replace the drinking part of the filter with a sport cap (I recommend doing this since you can drink from your filter more easily and you can keep your spout clean).
THE EASE OF USE: The Micro functions exactly the same as the rest of the Sawyer lineup – fill up bag/bottle, screw-on filter, and squeeze water through the filter. It's incredibly easy to use. Just remember that if you connect the Micro to a water bottle, that water bottle is now a dirty-water water bottle (i.e. it's been contaminated) until you have properly cleaned it (i.e. used chemicals).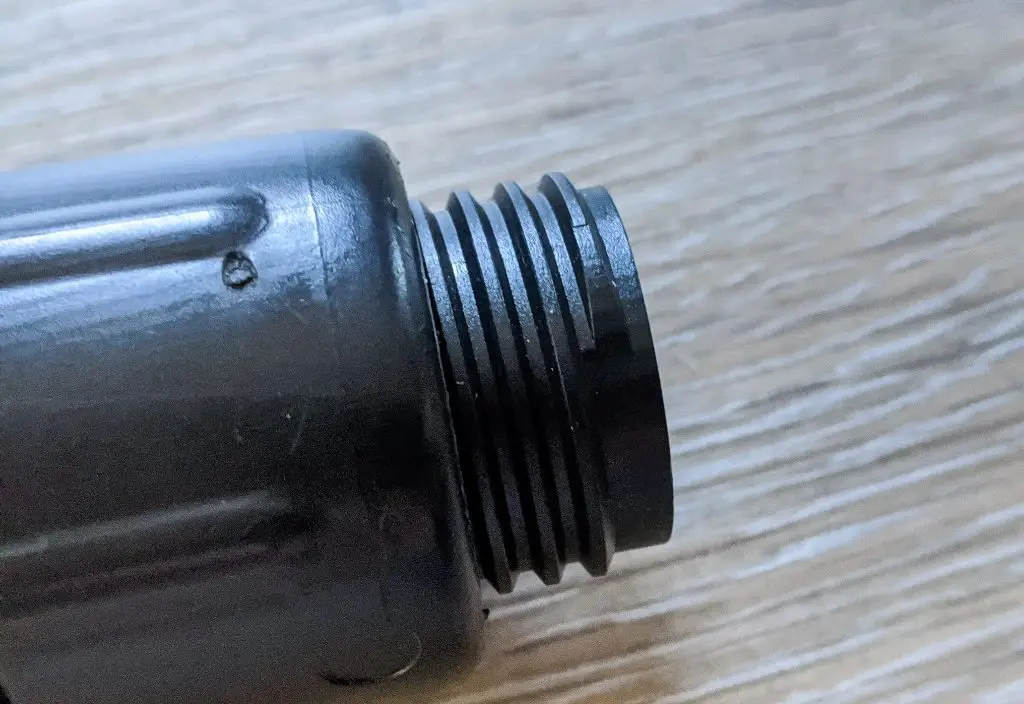 The Okay
THE FLOW RATE: The Sawyer Micro Squeeze has a decent flow rate out of the box, but this diminishes quickly – especially if you're filtering particularly dirty water. Yes, you can backflush the filter, but this will only do so much to slow the clogging over time. It's better than the Sawyer MINI but not as good as the Sawyer Squeeze (which has its own problems when it comes to clogging).
THE BACKFLUSHING: You get a plunger with the Micro which is for backflushing your filter. As I mentioned above, the backflushing only goes so far when cleaning out your Sawyer. Fun fact: you can also backflush the Sawyer with a water bottle and a sport cap. If you remove the top of your Sawyer, you can fit the small black spout directly into the sport cap and squeeze (clean!) water back through the filter to clean it.
THE O-RING: The o-ring (or gasket) at the bottom of the Sawyer Micro ensures a smooth transfer of water from your dirty water container and through the Squeeze. The Micro's threads (the ones that screw onto a bag or water bottle) are shallower than the threads on most water bottles so you need to take care when tightening your Sawyer or you will damage this o-ring. You may experience issues with the o-ring falling out when removing the Sawyer from my bottles – so be careful again. If you would like, you can replace the o-ring with a rubber gasket from a hardware store, but make sure you get one approved for food use (or just risk having toxins in your water).
The Bad
THE FREEZING: As with the other two Sawyers, the Sawyer Micro uses a hollow-fiber membrane to filter water meaning it can be damaged if it freezes. How do you know if your filter has frozen and is no longer treating your water? You don't. You just have to make sure you keep it out of cold temperatures in the first place. This can mean putting it in your sleeping bag (I bring an extra bag to do this since it will leak water) or wrapping it in your extra clothes on cold nights. Cold during the day? Good luck, friend.
THE BAGS: Sawyer includes one 32 fl oz pouche (aka bag) with the Squeeze Micro (you get two with the Sawyer Squeeze). These are supposed to be used as dirty water receptacles for filtering water and they do this just fine. The only problem is that they aren't very durable and will ultimately fail you. Many hikers opt to ditch the bags and instead use a water bottle as their dirty water receptacle. This works great but the one advantage to the bags is that they flatten out/roll up easily so you don't need to stop to let more air into them as you filter out water (as you have to do with a water bottle)
Who is it for?
BEGINNER BACKPACKERS | If you're just getting into backpacking, there's nothing wrong with a Sawyer Micro Squeeze, but I would suggest that you spring for the original Sawyer Squeeze if there isn't a compelling reason for you to want to save 1 oz / 28 g and/or $8.
WEEKEND WARRIORS | The Sawyer Micro Squeeze should only be your filter if you plan on filtering mostly clear water sources (free of debris/sediment) on an infrequent basis. Otherwise, just get a Sawyer Squeeze.
THRU-HIKERS | If you really are trying to shave every last bit of weight from your pack, you might want to consider the Sawyer Micro Squeeze. That said, the Sawyer Squeeze is worth the extra weight. If you're that worried about 1 oz / 28 g, I suggest you try bleach as a water purification solution.
A NOTE FOR COUPLES | If you are a couple and will be filtering a lot of water, you should each have your own Sawyer Micro Squeeze. Using only one would be incredibly frustrating for filtering large quantities of water. I suggest you consider something more convenient (but heavier), like the Platypus GravityWorks.
Most-popular Alternatives
| Water Treatment | Price | Weight | Type | Dimensions | Medium | Removes |
| --- | --- | --- | --- | --- | --- | --- |
| Sawyer Squeeze | $37 | 3 oz / 85 g | Squeeze/Straw | 2 x 5 in / 5 x 13 cm | Hollow fiber | Protozoa and bacteria |
| Sawyer MINI | $20 | 2 oz / 57 g | Squeeze/Straw | 1 x 5 in / 2.5 x 6.6 cm | Hollow fiber | Protozoa and bacteria |
| Katadyn BeFree | $25 | 2.3 oz / 65 g | Bottle | 11.3 x 3.5 x 2.8 in / 29 x 9 x 7 cm | Hollow fiber | Protozoa and bacteria |
| Aquamira | $15 | 3 oz / 85 g | Drops | N/A | Chlorine dioxide | Protozoa, bacteria, and viruses |
| Platypus GravityWorks | $100 | 10.9 oz / 309 g | Gravity | 3 x 7.4 in / 7.6 x 18.8 cm | Hollow fiber | Protozoa and bacteria |
Conclusion
The Sawyer Micro Squeeze doesn't make the best case for beating out the Sawyer Squeeze, but it's certainly better than the Sawyer MINI (especially when you consider the fact they weigh the same).
There aren't a lot of incredibly compelling reasons to get the Micro over the Original Sawyer, but if you are only going to be using it infrequently and with mostly clean water sources, then go ahead and save yourself the 1 oz / 28 g and $8.
Check out the Sawyer Micro Squeeze here.
This page may contain affiliate links, which means at no additional cost to you, I may receive small commissions for purchases made via these links. This helps to pay the bills and keep the site up and running. Thank you for your support!