The last 28 days have been spent making up for those first forty spent enduring the desert. The Sierra is nothing short of fucking incredible (profanity is necessary here to accurately convey the degree of incredibleness).
After getting super high for so many days in a row, it is hard to imagine how the remainder of the trail will compare to the majesty of the Sierra.
SECTION STATISTICS
Days since Progress Report I: 28
Section miles hiked: 395
Days camped: 22
Days camped alone: 2
Zero days: 6
Near-o days: 3
Days slept off trail: 5
Miles per day: 17.95
Miles per day (including zero days): 14.12
Longest day: 29
TOTAL STATISTICS
Days since Mexico: 68
Total miles hiked: 1095
Days camped: 53
Days camped alone: 9
Zero days: 12
Near-o days: 6
Days slept off trail: 21
Miles per day: 19.55
Miles per day (including zero days): 16.10
Longest day: 33
THE TRAIL
The segue from Kennedy Meadows into the Sierra is quite smooth: you go up above 10,000 feet and you rarely come down (good luck with altitude sickness).
Everything you read will say that your mileage/day will drop significantly in the Sierra, usually due to the large climbs and snow. However, you should not trust everything you read (except what you read here). The real reason your mileage drops is because of how beautiful your surroundings are. Suddenly you are able to swim in lakes, raft down rivers, go fishing, go climbing, cliff jump, and more – you are now happy for having started the trail so many days ago.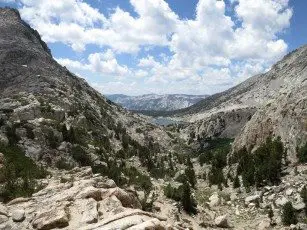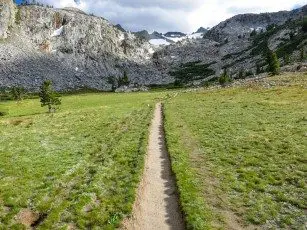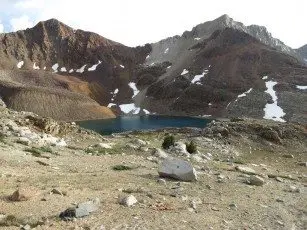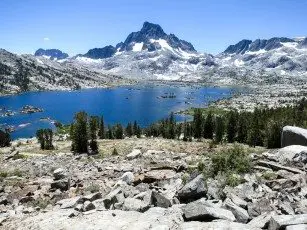 The past year (2013) was a relatively low snow year and so my daily mileage remained rather steady (although the constant threat of bears is likely responsible for some kick in my step). The daily agenda now becomes "going over a pass" which requires that you spend half your day climbing up a huge mountain, and the other half going down the other side (as opposed to waking up early, hiking, hiding out from the sun for a few hours, and then more hiking).
I think it is safe to say that I prefer the Sierra over the desert (despite the loads of day/section hikers I have started to encounter).
TRAIL TOWNS
My stops between Kennedy Meadows and South Lake Tahoe included:
Vermilion Valley Resort (VVR) (three nights, two zeros, resupply box pickup)
Mammoth Lakes (stopped due to injury, two nights, one zero)
Tuolumne Meadows (on-trail, one night, resupply at general store)
Bridgeport (long hitch, one night, small resupply at general store)
South Lake Tahoe (five nights, four zeros, full resupply at supermarket)
WILDLIFE
So now I suppose you want to hear about all the bears? Well, I have some bad news for you: I haven't seen a single bear since entering the Sierra.
The number of lizards has dropped dramatically (which is a bit sad because those guys were getting huge), and the number of mosquitoes has increased exponentially (I now am forced to wear long sleeves and pants in the heat of the day to avoid bites).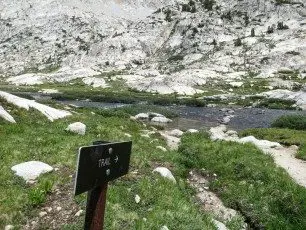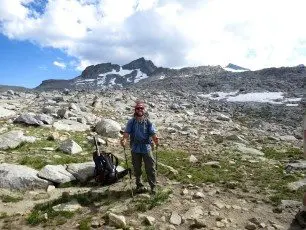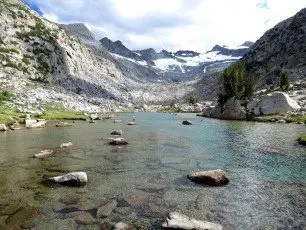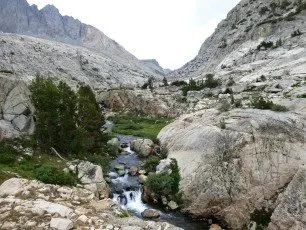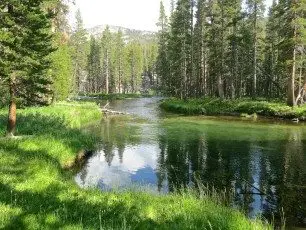 GEAR
The following is a list of the gear added to my pack to prepare me for my entrance into the Sierra:
The BV-500 Bear Canister
Mountain Hardwear Ghost Whisperer Down Jacket
Bug Repellant
Sea-to-Summit Head Net
The bug repellant was later tossed as the smell of DEET made me sick, and it was rather ineffective at preventing mosquito bites (long sleeves, pants, and a headnet worked wonders).
REFLECTIONS
The Sierra has reinvigorated me and I feel as though I have seen things that only a small percentage of people on this Earth will ever have the opportunity to see.
I literally cannot convey how epic and incredible the Sierra was. I would go back and hike that entire section in an instant (and I probably will, one day). Now, in the familiar city of South Lake Tahoe, we have Northern California to look forward to; and nobody really knows what we should be expecting.
PCT PROGRESS REPORTS: Desert, NorCal, Oregon, Washington