A Greyhound Bus from Los Angeles to New Orleans.
So much uncertainty. Do joyous memories, character-building life experiences, and lifelong friends await me on the road? Or is this as terrible an idea as it sounds?
TL;DR: it was a terrible idea.
The Itinerary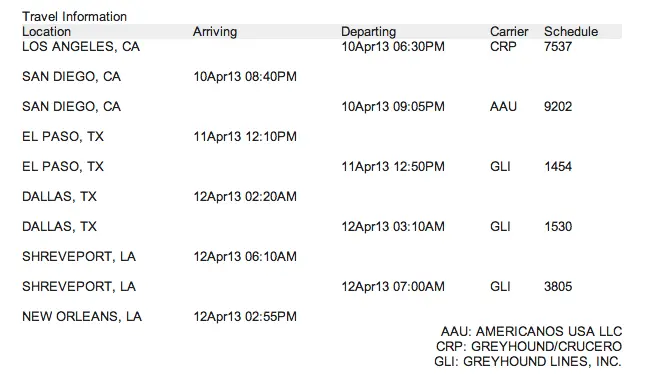 Los Angeles to San Diego. San Diego to El Paso. El Paso to Dallas. Dallas to Shreveport. Shreveport to New Orleans. Expected travel time: 37 hours.
What could possibly go wrong?
Sure, nobody ever has anything to say about the Greyhound, and I expect the entire bus will smell of stale beer and piss, but what better way to see the States of United America than to venture across it by bus?
Bus rides in other countries, and even on the East Coast of the US, have been successful on the whole, and my experience has yet to convince me that paying more for an airplane can be worth the investment (although I have yet to seat myself upon the infamous Greyhound).
I arrive at the station in Downtown Los Angeles and sit around watching unruly customers fight with the clerks over how much their tickets should cost and whether or not they should need that voucher they were supposed to print at home to bring with them as I wait for my carriage to arrive.
With the exception of the palm trees and sunshine outside the station is an otherwise depressing place, and I am not sure if most of the people occupying the terminal are awaiting buses or simply homeless.
I guess it's too late to turn back now.
The First 500 Miles (800 km)
We finally get moving.
Los Angeles to San Diego? I got this. I have done this drive plenty of times. The seat next to me is empty and the bus even has electrical outlets! Who knew that life on the Greyhound could be so enjoyable.
Nobody knew because the above statement is false. Life on the Greyhound is anything but enjoyable.
We arrive in San Diego after dark and pull into the station. I am a tad confused as to whether or not I am to remain on the bus since apparently whenever a bus is within 100 miles of the US/Mexico border, all announcements are made in Spanish. Normally this would not be a problem for me, but unfortunately, I do not speak crackly, garbled, loudspeaker Spanish.
I surmise that I am to exit this bus, and I follow the herd of passengers to a waiting area where we wait for our next driver to arrive. Bus number two left much to be desired.
The seats were upholstered with old scratchy carpeting, and the electrical outlets were no more. The floor was sticky, and the air-conditioning was broken. The seat next to me was still empty, but the bus had not finished boarding. I anxiously awaited the door's closure as I held my breath with each passing passenger.
The door shuts and we are ready to go. Success.
But guess what? That last guy who passed me? Turns out that all seats behind me are taken and so he makes his way back towards the front of the bus. He stops next to the vacancy in my row and surveys the forward rows. He sits down. So close.
My new friend makes a comment about us being stuck with each other and I notice that all of his visible teeth are gold. He also has more facial tattoos than any person I have ever seen, and his nails more closely resemble talons than little piggies. I think I will be this person's friend.
The bus gets moving and we each equip our headphones. I close my eyes and attempt to sleep.
Border Patrol
"Sir…sir…SIR! Are you a United States citizen?"
I believed my days of being violently shaken awake by law enforcement officers were long over, but thanks to Greyhound and our aggressive policing of the US-Mexico border, I was once again afforded the opportunity.
"Yes, I am" I answered as I put my headphones back on and closed my eyes, only to be shaken again.
"I'm going to need to see some identification," the officer said to me for reasons I still don't understand.
I handed over my license and after a quick inspection, he was on to the passenger in the row behind me. It was the same line of questioning, but this time it was in Spanish.
A few minutes passed and it became apparent that this conversation was not going in the passenger's favor. After hearing something about his documents not being good from the officer, the man was escorted off the bus, placed into handcuffs, and forever expunged from our bus (not that there was much to look forward to).
We would be stopped by border patrol once more before this journey was complete, and this time they had dogs.
"Whose bag is this?" an officer shouts as he points to (of course) my bag in the overhead storage.
"It's mine," I say, annoyed at the fact that I am on an uncomfortable bus now being berated by border patrol (what the fuck, America?).
"Do you mind if I take a look inside of it?"
"I do mind, but since I have a feeling you're going to have your way regardless, go ahead and look," I say knowing (pretty sure) I have nothing illegal inside of it.
With a "how dare you not appreciate my protecting you by searching your bag" sort of look, the officer opens my bag, pokes around, likely fondles my boxers, and then, satisfied, returns it to the luggage storage.
God bless America.
The Breakdown
About an hour east of El Paso, everyone on board was treated to a noise that sounded much like a firework going off in the rear of the bus.
An engine belt had broken and our driver steered us into the shoulder to inspect the damage.
Now the people in the bus at this point in the trip were a bit irrational, to say the least, and after only about two minutes of sitting on the side of the road, the back of the bus began to get antsy.
"What are we doing stopped here! This is dangerous! Let us off the bus or I'm calling the police!" one man started yelling. The bus driver got back on the bus, told everyone to relax, and to allow him to get in touch with the nearest station before we moved forward with any bus evacuation.
"You can't do this to us! You're holding us hostage! I'm calling the police!" the same man continued to yell, now getting some of the other passengers involved. Before I knew it I could hear him speaking to what I could only assume was 911 as the entire back of the bus became increasingly aggravated and began yelling, demanding to be let off the "unsafe bus".
Who are these people!?
Now bear in mind that at this point in time, we have been stopped for less than five minutes, the bus has been pulled completely out of traffic and into the shoulder, and the bus driver was actively searching for a solution to the problem. None of which merited any worry whatsoever, let alone the calling of police and the small-scale riot taking place at the back of the bus.
Now safely on the dirt shoulder, we are standing in the blazing Texas sun waiting for our salvation to arrive.
I make my way to a wire fence, clearly intended as a property barrier or to keep livestock in check, as far back from the road (and away from the other passengers) as I can. My solidarity is short-lived as a crazed woman from the back of the bus approaches me and demands to know what the fence I am standing next to is.
"You don't know?" I ask her, "That's the border fence."
"WHAT!? Where is the border patrol? Those Mexicans are going to get here easy with this fence."
Deciding to play along I fan the flames, "I know, right?! The border patrol is really slacking. Who is protecting our borders if not them?"
She rambles on for a few more minutes as I grow tired of her ignorance and feign a phone call.
A Morning in Dallas
With a new bus (and sadly, the same passengers) we finally make it to the next transfer point in Dallas.
The problem now? Everyone on the bus has missed their connections.
I rush inside the station and jump in line to await what will surely be an agonizing experience at best. Making it to the front of the line I am informed that I will need to wait three hours for the next bus to Houston to catch a bus to Shreveport to catch a bus to New Orleans.
Just what I wanted to hear.
Not having slept for over twenty-four hours at this point I begin to feel a bit anxious inside the overcrowded bus terminal. No seats remain and a security guard roams the grounds and yells at anyone caught sitting on the ground.
I stand guard over my phone at one of the station's two electrical outlets and try my luck at guessing who the power-tripping security guard will yell at next (he was especially fond of yelling at children).
Eventually, I have managed to stand around long enough and my salvation arrives in the form of yet another incredibly luxurious Greyhound bus.
The Promised Land
It took a total of seven buses, 52 hours of travel, and over 2,300 mi / 3,700 km to get me from A to B.
Was it worth it?
Absolutely.
How else would I have ever learned about the United States' aggressive border patrol tactics, the ignorance of the average American, or the sheer misery to be found at Greyhound stations across the country?
I think next time I will try my luck at hitchhiking.