As far as countries of the world go, I would wager that Japan is one you think you might know something about (as opposed to say, Equatorial Guinea).
However, if you have yet to visit Sunrise Land (and even if you have), then you may missing some of the finer details of what life in the country is like. You may think that everyone in Japan is friendly (wrong), that everyone can speak English well (wrong), that everyone eats whale (wrong), or that there are vending machines everywhere (that one's true).
With that, here are fourteen things you may not have known about the country and its people before today.
PEOPLE STILL USE FAX MACHINES
ATTENTION! Japan is not the futuristic robot-filled society you may imagine it to be. No, in Japan the technology of everyday life still very much lags behind what much of the world already considers to be the standard. One of the best examples of this may be the fact that people in Japan still use fax machines. During my time working at a Japanese public school I learned that fax, not email, was the primary mode of delivering information. Along these lines, it appears that Japan has an obsession with maintaining physical paper documents (as opposed to digitizing things) – I was once lectured about why scanning and then shredding paper documents was unacceptable (I was unconvinced).
RESTAURANTS AND BARS HAVE SEATING FEES
This does not apply to all bars and restaurants, but many bars and restaurants in Japan have a seating charge. What does this mean? It means that you have to pay just to eat or drink there – like a cover charge. In Japanese, it's sekiryou (席料) which translates to "fucking annoying" in English (note: my Japanese is rough). You won't see a sign or even be told about this when you sit down somewhere, so be sure to ask if you can manage (or just be prepared to be charged an extra ¥500-1,000+ per person).
YOU PAY PER PERSON AT HOTELS
Need a hotel room? Traveling with someone? Be prepared to pay per person at your Japanese hotel, and I'm not talking about an extra couple of dollars. You can expect to pay nearly double for a Japanese hotel room if you want to share with someone (and that's for the same room you would have gotten if you were along). Large international hotel chains and love hotels (more on these to come) generally do not implement this charging scheme but be sure to ask when making your reservation (and probably just say you're by yourself to be safe).
EVERYONE BACKS INTO PARKING SPACES
From what I have seen thus far, approximately 90% of people in Japan back into their parking spaces (the inverse of the United States). Personally, I like backing into parking spaces. Spending an extra ten seconds parking to save yourself potential minutes (which can be an eternity when inside a car) later makes a lot of sense (especially when you decide to dip out on your meal's bill). Nice thinking, Japan.
SOMETIMES YOU GET ACTUAL DISHES WITH YOUR TAKEOUT
This is obviously not the case everywhere (and perhaps it is rare), but in Japan I encountered, for the first time, a takeout restaurant that gives you your food with actual dishes. Is this form of takeout more expensive? How do you give the dishes back? What happens if you refuse? Is this helping save the environment? Unfortunately, I don' have the answer to any of these questions, but should I happen upon them, I will be sure to share.
THERE ARE A LOT OF JAPANESE PEOPLE
Sure, it may sound ridiculous to say out loud, but there are a lot of Japanese people in Japan. Especially in Fukui. It doesn't matter if you're at the American style burger restaurant, the 7-11, the McDonald's, the bank, or the tanning salon – you will find only Japanese people (wait, there are tanning salons in Japan? I don't know, probably not, but if there are, then Japanese people would be working there). Sure, in big cities you can find plenty of tourists and even some expats, but whenever I see someone who isn't Japanese in my town I feel compelled to go up to them to find out if they're lost.
YOU PAY BILLS AT CONVENIENCE STORES
Since online banking is not expected of Japan's financial institutions (that's right, no online banking), and since Japan is largely a cash-based society (also checks apparently don't exist), Japan offers you the convenience(?) of being able to pay your bills at konbinis (convenience stores). Everything from your cable bill to online purchases from retailers like Amazon can be paid for at your local konbini. Worried that there won't be a konbini near enough to you? Don't worry, there is.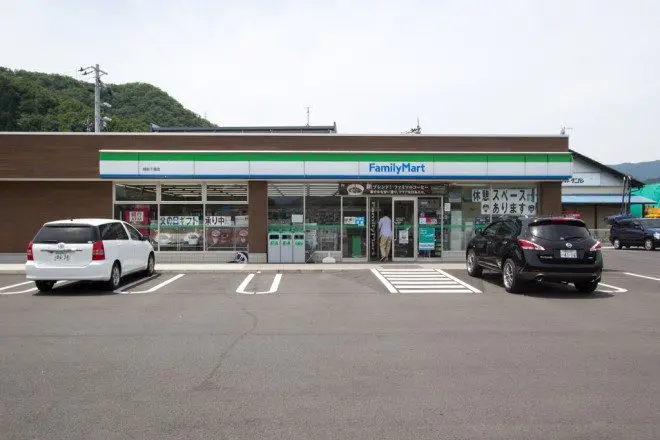 THE BULLET TRAIN ISN'T THAT FAST
Before arriving in Japan I heard the country's trains went upwards of 310 mi / 500 km per hour. I am not a train enthusiast, but the idea of being able to travel that fast and that comfortably made me quite excited (yes, that excited). I guess Japan's "bullet train" really lives up to its name. Except, no, it doesn't. The fabled train I was thinking of is called a maglev train. Japan's "bullet train" or shinkansen (新幹線) in Japanese only reaches speeds of 200 mi / 320 km per hour (still fast, but not impressively so). Japan does have maglev trains, but they are not in use commercially (so what's the point?).
YOU TAKE OFF YOUR SHOES
Everywhere from restaurants to temples, and even the gym, can require guests to remove their shoes. What do you wear instead of shoes? Indoor shoes, of course! Well, indoor shoes or socks. Or I suppose nothing if you happened to wear sandals (you animal). What are "indoors shoes"? Shoes that haven't been worn outside, duh (and that are preferably easy to put on and remove). Many places provide guests with complimentary slippers (that are something like a US men's 8) that you can try shoving your toes into and then scooting around in if you want to fit in (reality check: you don't).
THERE ARE THRIVING DVD STORES
Blockbuster may be a thing of the past in the United States of the America, but DVD stores in Japan are all over the place. It isn't uncommon to see the words "BOOK VIDEO GAME" in large neon letters (and in this case video and game are two separate things). What exactly has inspired the Japanese consumer's willingness to purchase and own DVDs? We may never know (on a related note, my hunt for LaserDiscs continues).
YOU PAY AT THE FRONT
If you decide to dine at a restaurant in Japan (because you're fancy and have disposable income), then remember that the reason your server has not come to collect your bill and payment is because someone is waiting for you at the front of the restaurant. Also remember that there is no need to tip (hooray!).
YOU YELL FOR YOUR SERVER
A typical American may believe "Japanese people are polite" and that yelling for your server in a restaurant is rude. That person may be surprised to discover that in Japan, yelling for your server is a completely acceptable thing to do – and it's awesome. Shouting すみません (su-mi-ma-sen / excuse me) in a Japanese restaurant (or really anywhere) is a perfectly acceptable should you require someone's attention. Just make sure there isn't a button to call the staff before you start shouting.
THERE ARE MOUNTAINS (AND BEARS)
What do you imagine if you are asked to think about Japan's geography? Beaches? Buildings? Fiery and violent volcanoes? School girls searching for the Legendary Silver Crystal? Well Japan has all of those things, and it also has some epic mountains (and not just Mount Fuji – which turns out to be not that great). Japan's Kita Alps (北アルプス), Chuo Alps (中央アルプス), and Minami Alps (南アルプス) have dozens of peaks to climb and as you travel north to the island of Hokkaido you can find what basically amounts to Japan's Alaska – a sparsely populated and nature-filled landscape complete with (a relative of) grizzly bears.
If you're interested in Japan's mountains, then check out my page on them here.
EVERYONE USES INTERNET EXPLORER AND YAHOO!
It really bothers me that people have this false image of Japan as being this hugely technological wonderland where everyone and everything is on the cutting edge of technology. This is not the case. If you have ever been on a Japanese website (and no, not just the ones with naked cartoons) you've probably noticed how incredibly loud they are. This is my theory as to why they use Yahoo! instead of the Google. Yahoo! is horrible to look at while Google is nice and clean. As far as Internet Explorer goes, I have no idea.