Even if you know nothing about Japan, I would wager you've heard of Mount Fuji (or tentacle porn).
Contrary to what you may assume about a country's highest mountain, the 12,389 ft / 3,776 m Mount Fuji (富士山), among the three dozen most prominent on Earth, is one of the most accessible peaks in the world (this based on zero research, but I would be surprised to learn it's not accurate).
I don't know if I've said it here before, but I've certainly said it enough to all you asking about hiking in Japan: Based on everything I've seen, my best assessment of the country's take on the outdoors is that (generally) Japanese people like to see nature, but not necessarily to be in nature (outside Hokkaido, Japan's northern island, the backcountry is practically nonexistent).
What does that mean? It means that no matter where you go in Japan's mountains, you would be hard-pressed to find yourself far from somewhere to sleep, to shower, or to buy a hot meal. Ropeways and pavement are commonplace in the mountains, and you'd be surprised how many summits are crowded with shops and restaurants filled with visitors sporting strollers, sandals, and high heels – Mount Ibuki in Shiga Prefecture is a great example.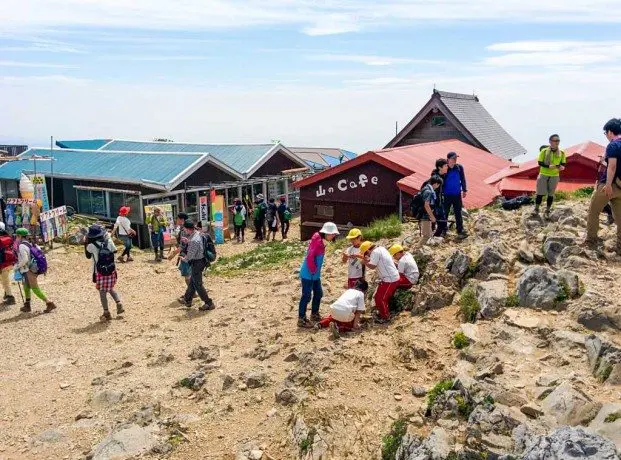 However, Mount Fuji is the centerpiece of this urbanization taking place in Japan's mountains.
Ten "stations" dot the path up to Fuji's summit, each with a store selling everything from overpriced food and drink to climbing equipment (including walking sticks, flashlights, and rain gear). You can even buy oxygen canisters for ¥1,500 to deal with the not-so-extreme altitude.
Most visitors to Mount Fuji begin their journey at the "fifth station" at an elevation of 7,562 ft / 2,305 m; this is the highest point accessible by car. The fifth station has an enormous parking lot, convenience stores, restaurants, souvenir shops, bathrooms, firemen, police, lodging, a guidance center, a post office, a shrine, lockers, and even a prefectural management office. It's literally larger and more developed than some villages I've been to.
The official climbing season for Mount Fuji is the beginning of July through the beginning of September. During this time, as many as 320,000 people climb the mountain, with the busiest days seeing upwards of 7,500 hikers; and that's looking only at statistics for the official climbing season via the four primary routes (National Parks of Japan website – Japanese only).
Seventy-five hundred people? That is enough to fill over twenty-two 787 Dreamliners (an arbitrary, but adequately large-sounding comparison – also, a 787 Dreamliner is a passenger aircraft in case you got left behind there).
Stations seven through ten offer crude accommodation with prices starting at ¥5,250 for a night on cramped tatami floors with approximately six inches of privacy from your neighbor. The eighth station has enough room for 500 people.
In the words of Atsugiri Jason, "Why Japanese people!?"
In addition to sporting the omnipresent uber-commercialism that's obsessed Japan, Mount Fuji now has eight wi-fi hotspots on the mountain – including one at the summit.
What a glorious way to fuck up an already depressing mountain.
I'm not saying that trying to pass hikers opting for a leisurely meander up the trail as they obliviously chat on the phone about the moments they are apparently experiencing isn't one of the things we visit mountains to do, but don't people find themselves "climbing a mountain" to get (at least a little) into nature?
Nature, at least according to Google, is:
the phenomena of the physical world collectively, including plants, animals, the landscape, and other features and products of the earth, as opposed to humans or human creations.
Now I'm not a word scientist (but wouldn't that be cool if it were a thing and I was?), but I think that by this definition, installing wi-fi on a mountain and giving people more of a reason to be on their cell phones is literally the exact opposite of nature.
But the truth is that a lot of tourists climbing Fuji are just that, tourists (yes, I'm putting it out there, "tourist" is a dirty word). They aren't there to appreciate the outdoors, peak bag, or "get away from it all"; they're there to take a photo of themselves, upload it to the social media of their choice, and tell everyone what an awesome time they are having (but that's a post for another time).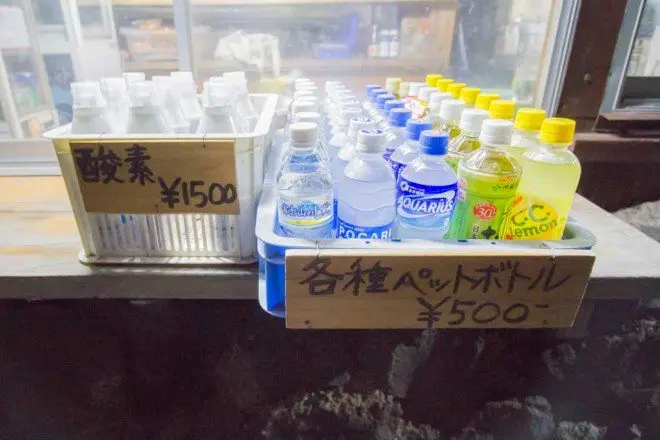 So, what else?
There are three categories of UNESCO World Heritage Site: World Cultural sites, World Natural sites, and mixed sites.
Which would you suppose Mount Fuji falls into?
If you guessed "natural sites", then congratulations! You're wrong! Mount Fuji is listed as a cultural site, and its status as such is conditional.
All the development that's taken place on Fuji has left areas looking more like landfills than protected spaces. At lower elevations on the mountain, people literally dump whatever they want (I'm talking vehicles and fridges level). The garbage left behind by tourists (and locals) is a huge issue, and the amount of garbage on the mountain has passed the level of "we should really do something about this".
In early 2016 UNESCO stated that if a (hopefully convincing and realistic) plan outlining specific measures to preserve the mountain is not put forth, then Mount Fuji will lose its status as a World Heritage Site.
Japan initially sought a World Natural Heritage site classification, but when they realized that the garbage and pollution problems facing the mountain were already out of hand they basically said, "Meh, might as try our luck at that other category."
However, those drinking the Japanese punch will tell you that the distinction as a cultural site is due to the mountain not constituting any particular ecological or geological significance – and definitely has nothing to do with all that poop and garbage.
Wait, poop?
Yes, poop. It turns out that when you have hundreds of thousands of people climbing up a mountain during such a short window every year, litter isn't the only waste problem you have to contend with – human waste all has to go somewhere too.
Until 2005 all the "toilets" on the mountain simply let their waste run down the mountain in what because known as the "white river" (a horrid and disgusting stew of toilet paper, piss, and shit).
In recent years, particularly with the push to get Fuji listed as a World Heritage Site, efforts have been made to get the poop problem under control.
Unfortunately, this does not mean you will be free from offensive odors on your way up to the summit.
Mount Fuji – what was undoubtedly one of the great climbs of Japan has been transformed into an epic failure of a tourist attraction.
If you are coming to Japan and have a limited number of days in the country (hell, even if you're coming to live here), then I implore you, please think twice before making the trip to Fuji-san (aka please, don't do yourself the disservice of choosing this to be the mountain you visit).
If you're looking to do some real hiking up mountains worthy of your time (and not polluted with garbage, tourists, and toilet water), then you have plenty of options.
Being an island born of volcanos, Japan has much in the way of scalable peaks. The most epic belongs to the Kita Alps (北アルプス). For a detailed report of the trek up many a Japanese mountain, check out my Japan Hikes page. Kita-dake (北岳), Japan's second-highest peak, isn't far from Fuji, and although I haven't made it up there yet, I can guarantee it will be supremely more rewarding than a slug up Fuji-san.
Have you climbed Mount Fuji? Are you thinking about making the mistake? Still not convinced? Leave a comment and let me know!