Imagine a place in the middle of the ocean along the Pacific Ring of Fire.
This place is filled with volcanoes and host to near constant seismic activity. We can expect that several times each century this place will experience destructive earthquakes that (may) also result in equally destructive tsunamis. In addition to earthquakes and tsunamis, volcanoes unexpectedly erupting kill even more of this places inhabitants.
Want to spend some time, or even build a civilization in this paradise? Well, I've got some good news: you can! Yes, I am of course talking about Japan. Land of the Rising Sun, birthplace of sushi, and home to deadly and mercilessness nature.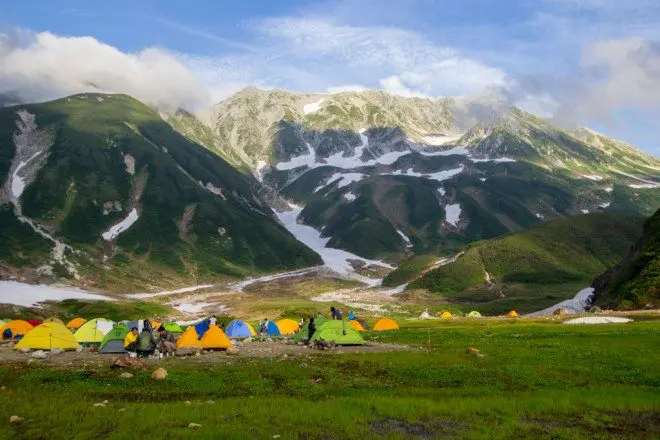 Perhaps in an effort to appease the mountain gods and to keep their country from being literally ripped apart at the seams, the people of Japan have created a list of 100 Famous Japanese Mountains or 日本百名山 (Nihon Hyaku-meizan).
Unfortunately, the amount of English language information to be found about Japan's 100 Famous Mountains is a bit lacking.
To rectify this obvious attempt by Japanese climbers to keep foreigners off their mountains, I have vowed to climb and document as many of these 100 mountains as I can (before fleeing Japan in search of less rice-filled pastures).
Here are all 100 of Japan's famous mountains. I will add links as I climb and post about each one.
I've got a lot of work to do.
HOKKAIDO
Akan Volcanic Complex (阿寒岳)
Daisetsuzan Volcanic Group (大雪山)
Mount Poroshiri (幌尻岳)
Mount Rausu (羅臼岳)
Mount Rishiri (利尻岳)
Mount Shari (斜里岳)
Mount Tokachi (十勝岳)
Mount Tomuraushi (トムラウシ山)
Mount Yōtei (羊蹄山)
TOHOKU REGION
Mount Adatara (安達太良山)
Mount Aizu-Komagatake (会津駒ヶ岳)
Mount Asahi (朝日岳)
Mount Azuma (吾妻山)
Mount Bandai (磐梯山)
Mount Chōkai (鳥海山)
Mount Gassan (月山)
Mount Hachimantai (八幡平)
Hakkōda (八甲田山)
Mount Hayachine (早池峰山)
Mount Hiuchigatake (燧ヶ岳)
Mount Iide (飯豊山)
Mount Iwaki (岩木山)
Mount Iwate (岩手山)
Mount Zaō (蔵王山)
WESTERN JAPAN
KANSAI
Mount Daisen (大山)
Mount Ōdaigahara (大台ヶ原山)
Mount Ōmine (大峰山)
SHIKOKU
Mount Ishizuchi (石鎚山)
Mount Tsurugi (剣山)
KYUSHU
Mount Kaimon (開聞岳)
Mount Kirishima (霧島山)
Mount Kujū (九重山) or Kokonoe
Mount Miya-no-ura (宮之浦岳)
Mount Sobo (祖母山)
KITA ALPS
Mount Goryū (五竜岳)
Mount Hotaka (穂高岳)
Mount Jōnen (常念岳)
Mount Kasa (笠ヶ岳)
Mount Kashima Yarigatake (鹿島槍ヶ岳)
Mount Kuro (黒岳)
Mount Kurobegorō (黒部五郎岳)
Mount Norikura (乗鞍岳)
Mount Ontake (御嶽山)
Mount Shirouma (白馬岳)
Mount Tate (立山)
Mount Tsurugi (剣岳)
Mount Washiba (鷲羽岳)
Mount Yake (焼岳)
Mount Yakushi (薬師岳)
Mount Yari (槍ヶ岳)
CHUO ALPS
Mount Ena (恵那山)
Mount Kisokoma (木曾駒ヶ岳)
Mount Utsugi (空木岳)
MINAMI ALPS
Mount Aino (間ノ岳)
Mount Akaishi (赤石岳)
Mount Hijiri (聖岳)
Mount Hōō (鳳凰山)
Mount Kaikoma (甲斐駒ヶ岳)
Mount Kita (北岳)
Mount Senjō (仙丈ヶ岳)
Mount Shiomi (塩見岳)
Mount Tekari (光岳)
Mount Warusawa (悪沢岳)
CHUBU REGION
Mount Amagi (天城山)
Mount Amakazari (雨飾山)
Mount Daibosatsu (大菩薩岳)
Mount Hiuchi (火打山)
Mount Kinpu (金峰山)
Mount Kirigamine (霧ヶ峰)
Mount Kobushi (甲武信ヶ岳)
Mount Makihata (巻機山)
Mount Mizugaki (瑞牆山)
Mount Myōkō (妙高山)
Mount Naeba (苗場山)
Mount Takatsuma (高妻山)
Mount Tateshina (蓼科山)
Mount Uonuma-Komagatake (魚沼駒ヶ岳)
Yatsugatake (八ヶ岳)
Utsukushigahara Highland (美ヶ原)