Starting elevation: 11,290 ft / 3,440 m
Ending elevation: 12,687 ft / 3,867 m
Elevation change: +1,397 ft / +427 m
Starting oxygen: 67% of sea level
Ending oxygen: 64% of sea level
Distance covered: 5.72 mi / 9.2 km
Time hiked: 4h 00m
After spending what feels like an eternity (something like 36 hours) at Namche Bazaar, today it's time to depart in search of a more peaceful Himalayan village (I'll never forgive you, Namche dogs).
I wake up happy that my sleeping bag has kept me warm despite the promise of colder temperatures last night. How colder temperatures? I have no idea. The forecast predicted nothing but snow the past four days, and I've seen nothing but sunshine (so I don't trust the temperatures either). Meanwhile, I have yet to invest in a thermometer, but the frozen condensation in my facial hair serves as a good temperature indicator for the time being (water bottles have yet to freeze).
Packing my things in record time I make my way up and out of the amphitheater that is Namche. All the lodges are still closed for breakfast and it isn't until the edge of town that I find a seat at the Sherpa Lodge for my morning feast of carbohydrates and water.
Before leaving the safety of the lodge I slip into their bathroom for some morning relief (typically I am not a morning person, but the Himalayas have changed that). Some thirty minutes later and it's time to go (had some serious reading to do). But what's this? The magical toilet flushing handle appears to offer no resistance when pressed. I think we may have a problem.
I am no toilet expert, but I think the basin behind the toilet need be filled with water in order for flushing to operate correctly. This basin? Zero water. Okay, no problem, just need to find some water (or I could sacrifice all my karma and abandon my mess for the next person).
No sink. No spigot. So what now? I guess I could spit into the basin, but that would take some time. Too bad I already peed. Well there's already water in the bo…nope not doing that either.
Before giving up, a large blue barrel on the other side of the room catches my eye. Could by some miracle this thing be filled with water? I make my way over to investigate. Huzzah! Water! And so I guess this empty coffee can on top is for scooping? A few trips to the barrel and the basin is filled. Time to put another toilet mystery in the books (that makes four on this trip).
Leaving the Sherpa Lodge I run into my friend Buddha (from yesterday) who is once again on his 1.86 mi / 3 km walk to school through the mountains. I only hope that one day I will be as awesome as him. I follow Buddha up to the junction I took yesterday and bid him adieu as I make my way in a northeasterly direction towards the Tengboche.
The trail, running along the seeming endless ridgeline leading out of Namche, proves relatively flat and easy-going. However, the monotony of the hike breaks with my constant encountering of fellow trekkers – two of whom happen to be my Australian friends, Bain and Sara, from day one. It's nice to chat with them, but before long their group rests and I continue on my own (being alone +1).
Moving on, I soon come across a near to death looking woman sitting at a table in the middle of the trail (these mushrooms took hold quickly). She has with her a sign written in (what appears to be) four languages and a donation box (but maybe this is just "free money for anyone who wants it" – that's a thing, right?). Turns out I am supposed to donate for trail maintenance.
Well I do like trail maintenance, but I also like not being taken advantage of. How can I be sure she won't abscond with my one dollar contribution before performing said maintenance? Speaking of maintenance, it looks like she could use some? Is she even breathing? So is this buying supplies or labor? Can I claim a tax deduction for this? Does she give receipts?
Tired of my head asking questions, and not willing to bear the guilt should this donation post be legitimate, I leave some Nepalese rupees in the box and continue skipping down the trail (yes, I skip – walking is for suckers).
As the trail descends to the valley floor below I encounter a few icy patches and wonder how the porters, carrying upwards of 175 lbs / 80 kg using only a strap around their head, manage to make it down without destroying themselves or their loads.
I am wearing only pants and a shirt (without base layers) for the fourth day in a row, and so long as I do not stop and rest for too long in the shade, I am plenty warm. Investing in a thermometer for my pack may be a wise decision for future documentation of extended periods of outdoor walking.
I continue downwards, resisting the temptation to stop and devour overpriced candy bars, before finally reaching the day's lowest point. How do I know it's the lowest point? Because I am crossing a river (and because the map says so).
Not particularly excited for the climb up to Tengboche, I decide to take my break in a courtyard with some familiar faces – Garth and Michael (from Australia). Because the elevation limits many people's ascents, you end up running into the same people over and over again up here.
Garth generously offers me a still hearty helping of pasta that he has decided not to finish and I graciously accept – devouring the meal in minute (that's right, singular). With a full(er) belly, it's time to get moving.
Immediately before starting my climb, I pass yet another (police?) checkpoint wanting to see my TIMS card and park permit (note: I doubt these posts are manned very late after dark – just saying).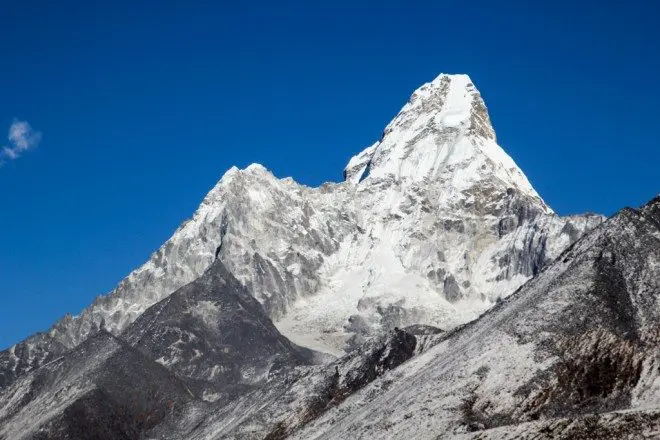 You'll know you've made it to Tengboche because: 1) You will have arrived at some buildings at the top of your climb, and 2) You will get a great look at Ama Dablam. This 22,349 ft / 6,812 m peak can be seen on the way out of Namche Bazaar as well, but from Tengboche, you can really appreciate the awesomeness of this mountain (I must climb it).
Tengboche also offers Everest Base Camp trekkers their first views of Everest itself (apparently something you can't see from Everest Base Camp). You can only see the tip, but the feeling is somewhere between cool and surreal (as is usually the case with just the tip). To know you're looking at the highest place on Earth (while at the same time making you realize that your existence is meaningless).
You will also be greeted with the Tengboche Monastery or Dawa Choling Gompa (which you have undoubtedly heard mentioned dozens of time until this point). Visitors to Tengboche are permitted to walk freely about the monastery grounds, and they can even get a peek inside during certain hours. I have to go back three times to finally find it open, but it is well worth seeing (especially since there really isn't much else to do up here).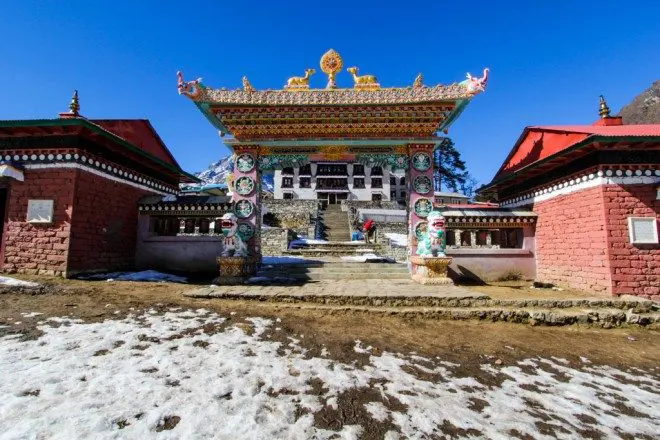 Tengboche slopes downward from your entry point, and further down on the left, a cluster of buildings plays home to the only other trekkers I can see. Must be time to make (second) lunchtime friends. After my usual scope of the area (need to be on the lookout for Nepali ninjas), I return to the tables outside the Tengboche Guest House and grab a seat with Franklin from New York.
Next to us is a family from England who are apparently very in touch with Nepal since all of them (including the three children) speak Nepalese (and no, they're not a Nepalese family who happens to be living in England). Today is Christmas Eve and they offer me and Franklin some chocolates they have brought from home (people in the mountains are always so kind).
I order a cheese sandwich and ask the owner whether or not I would be allowed to sleep on the ground outside of her establishment. She thinks I am silly (or more likely, an idiot), for requesting to do so, but she has no problem with me risking my well-being alone in the cold.
Finishing my second lunch I decide to explore the rest of Tengboche before doing whatever it is I am going to do before sleeping tonight. Back up the hill, there is a lodge with a large second-story deck that I decide will be better situated for sleeping than the ground in front of the Tengboche Guest House.
The staff of the Hotel Himalayan (at least this one guy with a US Army hat on) happily offer me their deck. They think writing "roof" in the book they keep tabs in has to be one of the funniest things they have ever seen. With my sleeping situation now secure, I decide to simply exist for a time in the common area of the hotel (which is the largest I have seen thus far).
As the day gets later and the temperature begins to drop, the poop-fired stoves are ignited as the rest of the porters, guides, and trekkers file in. Bain and Sara's group proves to be quite sociable, and their guide, much nicer than the one I encountered my first night in Namche (who basically told me to fuck off).
Dinner is the Hotel Himalaya's take on lasagna (would not recommend), and afterward, it's time to again venture outside for a last look at the mountains before the sun disappears from the sky. For the first time it feels decently cold, and as I chat with Texas Ted watching the sunset, I wonder if tonight will be the night I finally zip my sleeping bag to full mummification mode.
The monastery, proudly standing atop the highest point in the village, looks impressive in the nautical twilight, especially when you consider where the nearest road is (I haven't seen one since arriving in Lukla). The sky changes from blue to purple and back to a deep shade of blue before finally going dark and filling with stars.
With the sun now hidden behind the mountains, bedtime will soon be upon me (either that or the snow leopards). I head up to the deck and surprise a Japanese couple taking long-exposure photos of the landscape with 1) my intention to sleep outdoors, and 2) my broken and barely intelligible Japanese.
Crawling into my sleeping bag I can already feel that tonight will be a cold one. Good luck water bottles!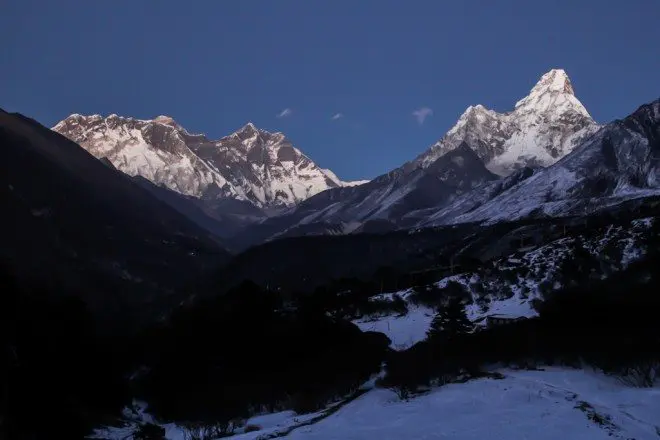 QUOTE OF THE DAY: "Still looking for that fuck that I give." -Bain, EBC Trek 2014
EBC Day 1 | 1.5 | 2 | 2.5 | 3 | 4 | 5 | 6 | 7 | 8 | 9 | 9.5 | 10 | 10.5 | 11 | 12 | 13