Want to know a secret about the Everest Base Camp trek?
Everest Base Camp isn't (necessarily) the highlight of the trip. That honor commonly goes instead to Kala Patthar.
What's Kala Patthar?
Exactly.
Since people unfamiliar with the Himalayas have likely never heard of Kala Patthar (and having the "what's Kala Patthar?" conversation can grow tiresome), it is easier for trekkers to simply say they're going to Everest Base Camp – since Everest is well-known as far as mountains go.
What surprises many people (myself included) is that you cannot see Mt. Everest from Everest Base Camp (that's how massive the mountains surrounding Everest are).
So where are the best views of Everest on an EBC trek? On top of Kala Patthar – duh.
Most hikers choose to ascend the peak, which sits just west of Gorak Shep, for either sunrise or sunset (because despite everything we're told as children, staring at the sun remains a favorite activity of many adults).
Since I make it to Everest Base Camp late in the day and do not have time to summit Kala Patthar for sunset, I opt to head up for sunrise instead (because spending an entire day eating dal bhat in Gorak Shep is not appealing).
It's four thirty in the morning when an alarm (programmed last night by my idiotic and masochistic self) starts shouting for attention.
I lie in my sleeping bag and consider not getting up until the sun decides to come around. I mean, really, do I have to get up and see the sunrise? The answer is yes, I probably should.
Last night I slept in my synthetic base layer (which had not been taken off since five days ago), and donned my wool base layer for the first time this trip; not because I was cold, but because I knew that I would be overcome by laziness in the morning (accurate prediction).
I pull on my pants, jacket, beanie, and gloves before finally summoning the will to stand up and pack my bag.
If I were a sane person, I would simply leave my belongings strewn about the room and bring only my extra (warmer) gloves, snacks, and water along for the hike. But since I have separation anxiety with my pack, everything needs to come with me (because you never know when an electrical fire will burn down the building with all your worldly possessions inside).
Heading downstairs I suck down my near-frozen water as I shove my last two Clif Bars into my mouth and quietly pay my tab.
Slipping out the door past the still-sleeping guides and porters who fill the lodge's common area, I step out into a frigid black void of howling wind. I suspect this will be a lot of fun.
My shoes fill with sand as my feet slip across the dry lakebed between the lodge and the base of the climb (seriously, who put all this sand here?).
The headlamps of earlier risers mark out a path up the mountain as I approach an arbitrarily chosen point at the base and search for the trail. This far above the tree line, there's zero in the way of vegetation so I cut directly uphill until I cross paths with a solo hiker and their guide who seem to have assumed one of the (many) crisscrossing (official?) trails up towards the summit.
After thirty minutes of hiking, I am exhausted. I need to sit down to catch my breath. Why the hell did I bring up my pack with me again?
Some hikers I met the night before passed me up with their guide as we grudgingly exchanged early morning "hellos". The look in everyone's eyes says "This had better be worth it."
After cresting a ridge about a third of the way up, the 18,209 ft / 5,550 m summit comes into view.
It's a long way up and despite knowing that looking and thinking about it will do me no good, all I can do is mentally frustrate myself into imagining how much further I have to go and the more tired I am going to be once reaching 50% oxygen (of sea level).
The next time I stop to catch my breath I dig into my pack to find my balaclava and gloves
. After no more than thirty seconds of balaclava hiking, I decided that I prefer a frostbitten face to not being able to breathe and return the now useless balaclava to my pack. The gloves, however, stay on my still-freezing hands (in addition to the liners I've had on since leaving the lodge).
If I make it more than ten minutes without pausing for a break I consider it a huge victory in my battle for vertical domination. My oxygen-deprived brain has somehow decided that this endeavor will be a failure if I don't make it to the summit before the sun appears on the horizon.
My seemingly hopeless struggle now becomes fueled by irrational thoughts of "seeing the sunrise" and I push myself harder than I have all trip.
Have I mentioned I can't feel my face?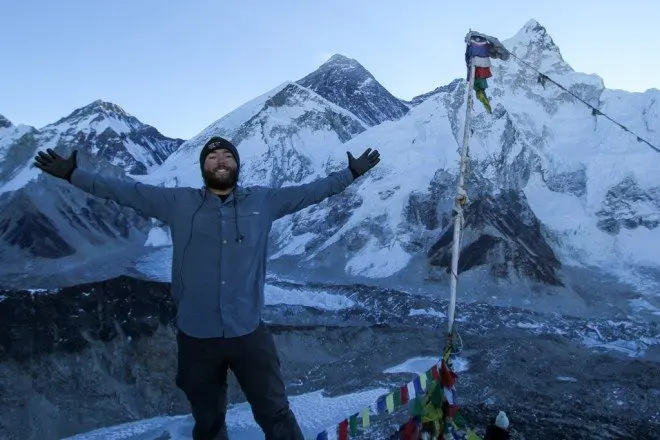 As I approach the summit I lose the trail and begin scrambling through the scree towards the mess of prayer flags and cairns.
This turns out to be a terrible decision (as most of my decisions are).
Now just a few dozen meters below the summit I literally feel as though my body may simply decide it's time to turn off and collapse me into a pile of useless frozen humans (how long before someone comes to my aid, I wonder).
Fighting back the urge to vomit, faint, sleep, or surrender to the cold I decrease my pace to approximately one step per twenty seconds as I slowly crawl towards the summit.
After what feels like forever, and what probably looks fairly ridiculous, I reach the summit of Kala Patthar where I have a clear and unobstructed view of the highest mountain on Earth (that's Mount Everest in case you've managed to avoid learning that fact).
As the sun rises, so do more hikers, and after about an hour of idle sitting (and frenzied water drinking), I have seen a lot of trekkers summit and then be forced down by the cold.
Seems the gear I brought turned out to be exactly what I needed to keep comfortable.
Soon I decide I've had my fill at what very well may be (but hopefully isn't) the highest elevation I will ever know.
I head straight down the mountain, ignoring the maze of trails etched into the sandy slopes as I pass the hikers who opted for a more reasonable (but less rewarding) hour of waking (as in time of day, not length of time to the summit).
The temperature has increased drastically since the sun lit up the mountainside and I make the trip down without my jacket, beanie, or gloves. Cruising down the mountain I am energized by the sun, the thickening air, and the promise of some combination of carbs, cheese, and tomato sauce once I get back to the Shep of Gorak.
It takes only a little more than an hour to skate down the 1,345 ft / 410 m climb, and once I reach the bottom a dark cloud of "your adventure is coming to a close" enters my peripheral.
The last ten days have been an incredible experience, but can this really be the end of my (first, but not last) Himalayan adventure?
Only one way to find out.
Down we go.
EBC Day 1 | 1.5 | 2 | 2.5 | 3 | 4 | 5 | 6 | 7 | 8 | 9 | 9.5 | 10 | 10.5 | 11 | 12 | 13