Starting elevation: 8,563 ft / 2,610 m
Ending elevation: 11,290 ft / 3,440 m
Elevation change: +2,727 ft / +830 m
Starting oxygen: 74% of sea level
Ending oxygen: 67% of sea level
Distance covered: 4.6 mi / 7.4 km
Time hiked: 4h 15m
Any doubts I had as to whether or not my sleeping outdoors instead of forking over the 100 Nepalese rupees (~$1 US) for a room inside are put to rest as I wake up to the sight of the sun dipped giants surrounding Phakding.
Looks like another beautiful day.
I kick off the morning with a meal of potatoes and an apple pancake. Despite my love of animal flesh consumption, I have resolved not to eat meat on the way to Everest Base Camp for fear that I will become sick from something that spent a day too long in the sun on a porter's back.
My calf is still killing me from my contorted sleep on the flight over, but I figure pushing through it and ignoring the pain is probably what a doctor would tell me to do; so that's my plan.
I fill up with a few liters of water compliments of the Buddha Lodge (I really hope it's filtered) and set off north to Namche.
From what I gathered on the internets (the single most reliable source of information ever), people consider this day to be particularly grueling. It's just under 3,000 ft / 915 m up to Namche – a vertical distance to be covered in roughly 4.6 mi / 7.4 km. Nothing too extraordinary (but maybe yeti battles?).
Not ten minutes into my hike and I encounter my first cluster of hikers. I recognize Bain and his wife Sara from yesterday and we discuss our expectations for the trek as well as what we've seen thus far (big mountains, hairy yaks, and beastly porters).
Besides them, I find a large host of trekkers from Australia and England accompanied by their guides. I also meet Kae – my first fellow solo hiker (guideless, porterless, and planless).
Kae, a world traveler from Japan, breaks many of the stereotypes cemented in my mind since beginning my extended stint in her country, and she basically turns out to be awesome. Despite our promising and blossoming friendship, I soon outpace her and find myself with a new companion: a little Nepalese boy who has decided that him and I are to be best friends.
Our beautiful relationship begins when I catch him staring at me and respond the way I do to all starers – I wave.
This gets him quite excited and as he runs up to me talking what might very well be gibberish. I outstretch my hand to engage in the universal act of high-five giving. He reciprocates and the rest is history.
For what the next half mile (possibly longer), this kid takes to running off ahead of me, turning around to see that I have not kept up, impatiently pacing as I trudge along with my pack, and then finally opting to run suicides to me until I reach the seemingly arbitrary point in the trail he's decided is our next waypoint.
What a champ (but mostly he's a little prick).
The sun finally crests the ridgeline as the trail begins to steeply climb up to what I can only hope will be Namche (it's not). With my chances of the dreaded ass chafe now at near certainty level, I press up the hillside with my escort to another small nameless village where he disappears into the streets never to be seen again (he's probably dead).
Continuing to the end of the village, I hear someone shouting for me to wait.
Not wanting to repeat yesterday's mistake of disobeying a Nepali police officer, I stop to see what the fuss is about. "TIMS card," a short and teenage-looking man says with an outstretched hand.
From what I understand, TIMS cards are (mandatory?) hiker registration cards to be carried whilst trekking in Nepal (but they probably just exist to generate revenue and serve no real practical purpose). "I don't have one," I tell him, hoping that I am not about to have to bribe my way up the mountain (I hope he likes candy bars?).
It's not like I didn't try (albeit not very hard) to get a TIMS card before entering the Himalaya, but for something that you are apparently required to have, they (whoever that may be) don't make it easy to go about getting one (or maybe they do? Honestly, I didn't try at all).
As it turns out, life on the trail continues to be one of little worry and TIMS cards can be purchased at this little shack of a checkpoint for the low price of 2,050 rupees – ~$20.50 US (that's almost a month's worth of accommodation up here).
Half of the required two-part bureaucratic cocktail in hand, it wasn't long before I happened across the second compulsory paper purchase: the Sagarmatha National Park permit.
The trail descends to a wall spanning the gap between two hillsides, funneling hikers through an archway featuring a Sagarmatha National Park sign. Beyond the archway stands a large yellow building with a backpacker and guide filled courtyard.
Signs indicate that I am now expected to surrender 3,000 rupees (~$30 US) to yet another unofficial looking post in return for yet another (slightly more official looking) piece of paper. I pay my entrance fee and the Sagarmatha Park permit gets stapled into my TIMS card. Mission accomplished.
Kae catches up while I am reorganizing my pack in front of the checkpoint. I decide to practice my elementary Japanese with her and once she secures her own permit we set off together into the mountains.
The uphill trudge to Namche continues, and after passing over a short bridge, Kae and I reach a fork in the trail. Not wanting to wait for someone to come along so we can ask directions, I do as I learned on the Pacific Crest Trail and take the uphill path. The trail always goes up (except for when it goes down).
We climb stairs until we meet a group heading down. "Is this the way to Namche?" Turns out it is, but it also turns out that the other way was too – and the other way is (supposedly) shorter and requires less elevation gain/loss.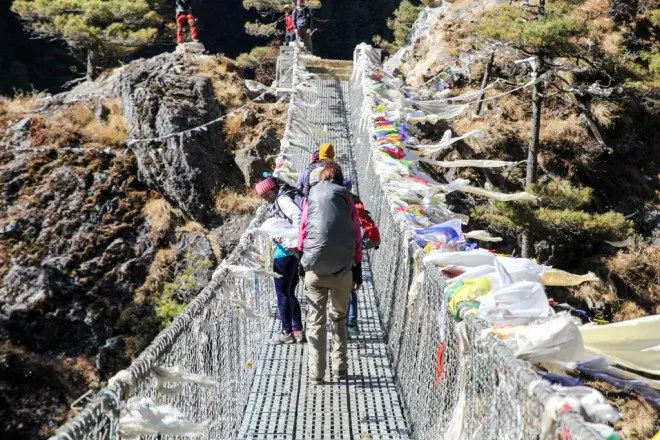 Not wanting to turn back, Kae and I press on up the hillside to enjoy a refreshingly empty (but steep) section of trail.
The trail takes us over another deceptively high suspension bridge where we encounter a group of middle school looking girls. Also on their way to Namche, we follow them off-trail and up increasingly steep switchback cuts to yet another TIMS checkpoint just below Namche.
I am asked for my fancy new TIMS card which I happily surrender to the jolly police officer guarding the entrance to the Himalayan hiker hub. Again, the model of my camera and phone are recorded in the case I meet my demise and my body turns out to be beyond recognition (I hope these at least make it back to someone I know when my body is found).
A minute of uphill later and I am looking at a four or five buildings spread out over a hillside. This is not Namche Bazaar. I was under the impression that we had arrived. Very anticlimactic.
The heart of Namche lies around the bend, and with one final push, we make it to our destination. I hope this place turns out as great as everyone says.
Walking up through the town I see signs for the Namche Bakery. That sounds good? Coming to an intersection I look up and see windows above me filled with hiker silhouettes – looks to be an alright view? I'll go there.
Turns out "there" is the bakery, and turns out that the bakery has free wi-fi, free charging, clean bathrooms, friendly staff, and halfway decent food. I order up a large cheese pizza (800 rupees / ~$8 US) and black tea (50 rupees / ~$0.50 US).
I invite myself to sit with some strangers who turn out to be a couple here from France. We spend the next two or three hours talking, drinking tea, and sampling the bakery's desserts (the chocolate cake isn't great, but I am told the cinnamon rolls are delicious).
Some clouds have begun to gather and numerous locals advise me that rain is expected. Still not wanting to move indoors, I head over to the Everest Bakery (literally across the street from the Namche Bakery) and inquire as to whether or not I can sleep on their porch. Again, it takes some convincing before they take my request seriously, but eventually, Susan, the boss man (yes, man), tells me I am welcome.
Curious as to the whereabouts of my Aussie friends Bain and Sara, I begin to inquire at the lodges as to the whereabouts of a large trekking group. Unfortunately, Namche is huge in terms of Himalayan villages and the number of "large trekking groups" currently held up here numbers beyond the amount of effort I am willing to put into a search for my new friends.
But I give a nearby lodge a shot just in case.
Walking in I immediately get the sense that I am unwelcome. I'm suddenly the local villain walking into a saloon – everything stops and everyone just looks at me. Ignoring the stares, I walk to a table of card players at the opposite end of the room. "Are there any Aussies in your group," I ask, breaking the room's silence.
"Nope, all Americans here. You're kind of the only one not in one of our groups here."
"Yeah, I got that vibe." Deciding to give up my search, I (apprehensively) try my luck at some friend making, "Well, you guys mind if I join you then?"
"Sure, grab a seat." Huzzah! Friends!
Before I can sit down their guide comes over to me for a word. "No, you have sit there" he says pointing to a table at the opposite end of the lodge.
Not understanding why he is saying this, I assume he must be joking and I pull out a chair. He now steps into my way and repeats himself, "Sit there."
"You're joking, right?" My inquiry is met with a silent stare – I guess he isn't. The still quiet again room hangs, half expecting a violent eruption of testosterone. However, I do not care to pick a fight over playing cards with some people I've never met before.
I serve up my best "fuck you" face (it's a work in progress) and head back to my porch for a night of relaxing stargazing. Just another reason not to travel with an organized tour.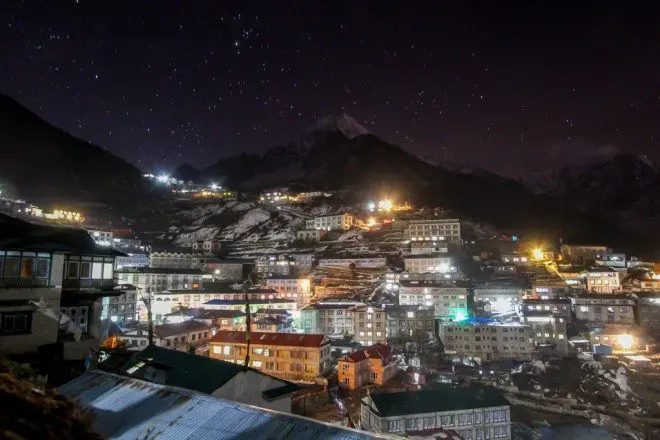 Tomorrow brings the first of two acclimatization days called for by the constant altitude gain. The longest of the potential hikes should not take more than three or four hours so I hope to sleep in.
If only sleep could for once come easily.
EBC Day 1 | 1.5 | 2 | 2.5 | 3 | 4 | 5 | 6 | 7 | 8 | 9 | 9.5 | 10 | 10.5 | 11 | 12 | 13