Preparing for a winter rafting trip in the Grand Canyon requires careful planning and packing. Once you're in the Canyon, there's no popping over to the store quickly to get something you forgot. Besides food and beverages, everything you launch from Lee's Ferry will be what you have with you when you exit the river (unless you're unfortunate enough to lose something to the River Gods).
This is not meant to list everything you need to bring on a winter Grand Canyon rafting trip. Instead, this list is intended as a guide to everything you could want to have on a winter Grand Canyon rafting trip.
I am happy to hear any suggestions for those of you who have been on this (or similar) trip in the past. The idea behind this list is that you can go through it to ensure you don't forget anything. I've created a separate post highlighting some of the most useful gear I discovered on the river.
Notes on the Gear
Please note that this gear list does not include (most) communal gear such as boats, a kitchen, or a groover setup.
This packing list is designed for anyone on a private or commercial Grand Canyon rafting trip with the aforementioned communal items supplied by an outfitter or guiding service. Yes, I know there are no commercial trips in the winter, but this packing list can also apply to other times of the year (but you'll probably want to leave the drysuit and down booties at home on a summer trip).
Additionally, all items listed/recommended for each piece of gear are simply suggestions. They are what I brought (or wish I had brought) on my winter Grand Canyon rafting trip. Not everyone is going to need a Type V PFD or a packraft.
Rafting Gear
Dry suit: Kokatat Meridian GORE-TEX – A dry suit is de facto mandatory (although not required by the National Park Service) for a winter Grand Canyon Trip. Yes, they're expensive (even to rent), but there is no getting around needing one.
Helmet: WRSI Current Pro Kayak – Regardless of which helmet you get, you will want a whitewater helmet (not a climbing, cycling, or snowsport helmet). Whitewater helmets are specifically designed/rated for multiple impacts (as may occur during a swim or a Canyon trip).
PFD: Astral Green Jacket – Every member of every trip is required to have either a Type III or a Type V PFD (i.e., a lifejacket, but since you're a cool rafter, now you say PFD or personal flotation device). Yes, you can rent one, but remember that you may have on some not-so-great rental PFD in every one of your photos on the river. They aren't too expensive, and I would suggest getting your own.
Dry bag (large): Watershed Colorado – I recommend bringing two – one for all your things and another for all the other things you will bring. There's a larger version, the Mississippi, but it's huge, and I think two Colorado bags is much more manageable. Use the Watershed coupon code HALFWAY for 10% off your order from Watershed.
Dry bag (small): Watershed Chattooga – This is a smaller dry bag to keep with you during the day on the rafts. Use the Watershed coupon code HALFWAY for 10% off your order from Watershed.
Contractor bag(s): Ultrasac Extra Heavy Duty (42-gallon) – I used these to line the inside of my dry bags to add an extra layer of redundancy (and to keep my dry bags in better shape).
Flask: GSI Outdoors Boulder 16 Flask – Glass is a big nope on the river, so where should you store your liquor? In soft flasks designed to do exactly that. The GSI Outdoors Boulder 16 Flask will fit in your day bag without the risk of breakage and will hold enough drink to get your boat through the day.
Water bottle: Nalgene 32oz Wide Mouth – You will want a water bottle on the river (please, nothing glass) that you can beat up. This can be a Nalgene, a Hydroflask, or any metal or plastic water bottle. Just make sure whatever you bring has somewhere you can attach a carabiner.
Waterproof hard case (large): Pelican 1400 Protector Case – If you're going to be bringing larger, more sensitive electronics such as cameras or lenses, you'll want a waterproof hard case to keep them while on the rafts. Don't skimp on this purchase; it could be the only thing between your gear and irreversible water damage during a rapid or a flip.
Whistle: Fox 40 Classic Safety Whistle – You want a whistle without a ball inside (so it won't get jammed) and one that's also incredibly loud (those rapids can be deafening).
River knife: NRS Pilot Knife – If you carry a river knife, you want one with a blunted tip so you don't accidentally puncture one of your precious rafts (or inflatables).
Locking carabiners: Black Diamond HotForge Screwgate Carabiner – You want at least three locking carabiners – one for your water bottle and two to secure your day bag to the raft. I would recommend more if you bring additional hard cases or river maps that must be attached to something.
Mesh bag: NRS Mesh Gear Bag – Most (if not all) of your rafts will have a drag bag for beverages, but it can be nice to have an extra mesh bag onboard the raft where you can throw things that can get wet. Otherwise, things can easily get long on the raft.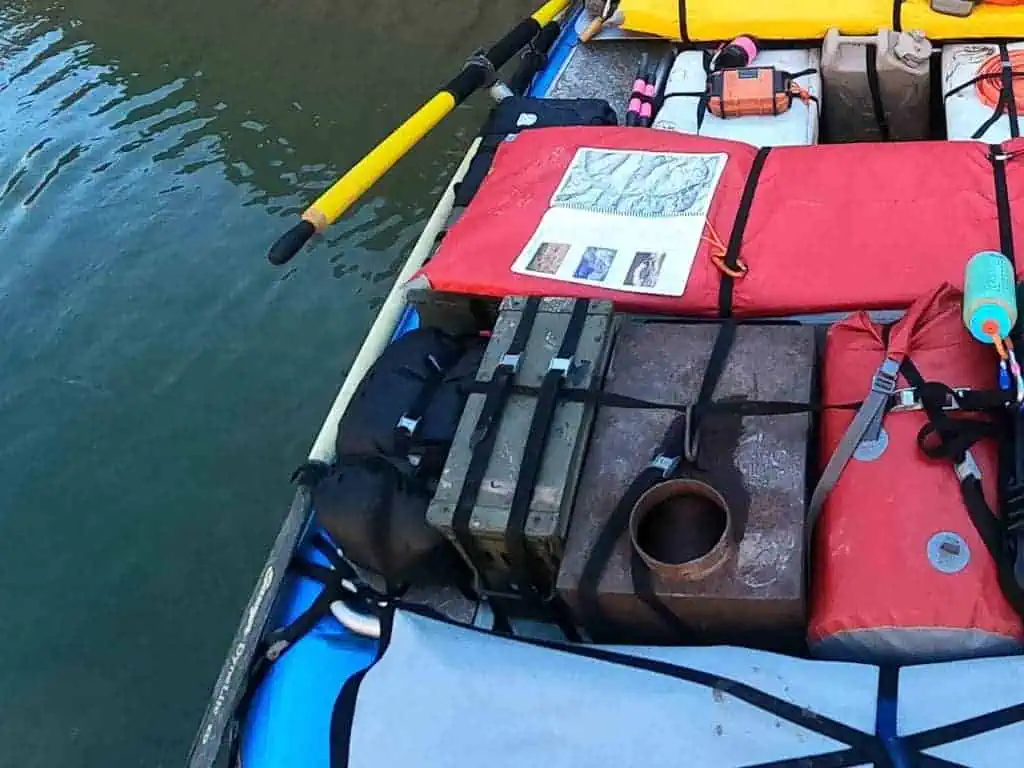 Boat Recovery Gear
Flip line: This is (probably) not something everyone on the trip will have, but having a flip line made of webbing and a locking carabiner is not a bad way to allocate some of your PFD's pocket space.
Accessory Cord: Some accessory cord for prusiks, leashes, or any number of other applications.
Pulley: Petzl Nano Traxion Pulley – As is the case with the prusiks, if you don't know why you would need pulleys on the river, you likely don't need them. However, if you know how to use pulleys (if you're captaining a boat, you likely should), then don't forget these.
Z-Drag kit w/ static line (communal): NRS Z-Drag Rescue Kit – This is likely something that your outfitter will provide, but if they're charging you for it and you have a long trip with a lot of people, it could be cheaper to bring your own.
Camping Gear
Tent: Big Agnes Wyoming Trail 2 – On my next winter Grand trip, I think this tent could be ideal. It has a covered front patio to set up your sand-free mat (something I recommend) or even a cot. Remember, you want something that will hold up should the wind pick up – we had two brutal windstorms during our first winter trip.
Sleeping bag: Katabatic Flex 15 Quilt – It will be cold on a winter trip, and you'll want a warm sleeping bag. I would recommend something like the Flex 15 Quilt since it'll keep you warm in freezing temperatures, but it can also be opened up if you find yourself in warmer temperatures one night.
Sleeping bag liner: Sea to Summit Thermolite Reactor Fleece Liner – To keep your sleeping bag clean, to keep yourself warmer, to give yourself another option on warm nights, and to have that little extra bit of comfort, I recommend bringing a liner for your sleeping bag – regardless of the sleeping bag or quilt you bring with you.
Top quilt/sheet: Rumpl Original Puffy Blanket – Yes, in addition to a sleeping bag, I recommend bringing a synthetic (not down) blanket to put over your sleeping bag. This prevents condensation from accumulating and/or freezing on your sleeping bag. If this happens, you'll pack up a wet bag in the morning that will never dry (because you're lucky to find the sun in winter). Don't say I didn't warn you.
Stakes: MSR Cyclone Tent Stakes – I would bring substantial stakes that will stick in soft ground and protect your tent from blowing away in the wind (the wind storms I encountered in the canyon were no joke). For this reason, the chunky MSR Cyclone is my preferred stake for pitching a tent in the Grand. Just make sure you get enough for all your shelter's anchor points. While you're at it, you might as well bring a stake hammer, too.
Pillow: HEST Camp Pillow – You can bring your regular pillow from home, but know it will likely get dirty and/or wet if you don't take extra special care of it. The HEST Camp Pillow is a good compromise between a "regular" pillow and a backpacking pillow. It's packable, comfortable, and expands to about the size of a standard pillow.
Footwear
Miscellaneous Gear
Packing cubes: Hyperlite Mountain Gear Pods – These work great for organizing your clothing inside your dry bags and adding an extra layer of protection for your gear.
Stuff sacks: Sea to Summit Ultra-Sil Stuff Sacks – For organizing your gear inside your larger bags (e.g., one for electronics, one for personal care, one for dirty clothing).
Tupperware – Get a plastic tupperware container with a snap-on/locking lid to bring your lunch and/or leftovers on the river with you each day. I highly recommend this. You can also use these to store/organize items such as journals or cables.
Massage ball: Rawlogy Cork Massage Ball
Massage gun: Therabody Theragun Mini
Parks Pass – This will save you money on your permit sign-up. I highly recommend it if you visit National Parks and don't already have one.
Pen(s)
Sharpie(s)/marker(s)
Coozie
Postcards – You can mail postcards from Phantom Ranch
Stamps – Don't forget to bring extra to share with your friends who forgot
Ziploc bags – Gallon and/or quart-sized storage and/or freezer bags are recommended for keeping things organized, clean, and dry.
Lighter – Maybe also an extra flexible lighter for when the one in the kitchen box goes missing.
Secret Santa gift – If you're going on a winter trip, you may be on the river over Christmas. Secret Santa is an excellent idea for a group activity. Don't forget your gift.
Book(s) – The Emerald Mile is always a good bet. Or check out 14 Books to Read Before Rafting the Grand Canyon
Driver's license – This will be checked at Lee's Ferry by a ranger before your launch.
Cash/credit card – If you want to make any purchases from Phantom Ranch (or buy supplies from other rafting groups)
Snacks – Be sure to have your own stash of snacks (it is better to bring too much than too little).
Communal Gear
Boot dry bag: NRS Heavy-Duty Bill's Bag Dry Bag (110 Liters) – Instead of making everyone store their (probably dirty) boots in their own bags, it's nice to have a communal boot bag for everyone to toss their boots into.
Tarp: Kammok Kuhli XL Group Tarp Shelter – If it starts raining at any point while your group is at camp, covering up the kitchen will be a priority if you hope to have a nice time making dinner and/or breakfast. A large tarp and some ingenuity with your spare oars will typically get the job done.
Group tent: SlingFin LFD – We had one of these on our trip, which was incredible. We set it up as a communal shelter on layover days, and it saved us twice when we had brutal storms in the canyon. I would hesitate to do another trip without this massive and amazing dome.
String lights: MPOWERD Luci Solar String Lights White 44′ – It will be handy to have string lights to put up in the kitchen or communal areas since daylight will be severely lacking on a winter Grand Canyon rafting trip.
Lantern: BioLite AlpenGlow 500 Lantern – Besides string lights, having a couple of lanterns along on your trip would be wise.
Holiday lights: MPOWERD Luci Solar String Lights Color 18′ – Trying to get festive on your trip? Bring some colorful lights to decorate your Oar Tree.
Instruments – Guitar, hand drum, tambourine, recorder, or whatever your heart (or ear) desires
Guitar dry bag: Jacks Plastics Guitar Dry Bag
Packraft: Alpacka Raft Gnarwhal Packraft – Having a packraft for people to paddle on the river and through minor rapids is highly recommended.
Stand-up Paddle Board: BOTE Breeze Aero 11′6″ Classic Cypress Inflatable Paddle Board Package – As is the case with the packraft, a SUP is a fantastically fun way to enjoy the river (and to watch your friends swim).
Dinner triangle – for summoning everyone to the food each night
Satellite phone – Required to have one on every trip. These can typically be rented from outfitters or independent stores if nobody in your group has one.
Gear Not Needed
Anything ultralight: There are better places to test out your new ultralight gear than river trips. Most of your gear will get wet, covered in sand, and badly beaten up on a Grand Canyon rafting trip; think durability instead of weight.
Bug spray: You will unlikely have any issues with flying or crawling bugs on a winter Grand Canyon rafting trip. You're probably safe to leave the DEET at home. However, if you're on a summer trip, you'll probably want some spray.
What do we think? Have any suggestions, critiques, or questions? I'm always happy to talk gear – though I often hesitate to admit it. Leave a comment below and let me know your thoughts.
This page may contain affiliate links, which means at no additional cost to you, I may receive small commissions for purchases made via these links. This helps to pay the bills and keep the site up and running. Thank you for your support!