Getting excited about a new product from a company is not something that I typically find myself doing, but in the case of Bluffworks, I've made an exception.
I've already reviewed both their Original Travel Pants and their Chino Pants, and if you've read said reviews, then you know where this is going.
Generally speaking, I don't find myself frequenting places that one would describe as "fancy" (unless I'm hiking through a national park with an upscale, tourist-packed hotel I can disappear into – Old Faithful Village Tub Room, I'll never forget you). However, the Bluffworks Gramercy Blazer makes it possible for me to travel like a dirtbag and still appear to be a respectable member of society.
It's pretty awesome.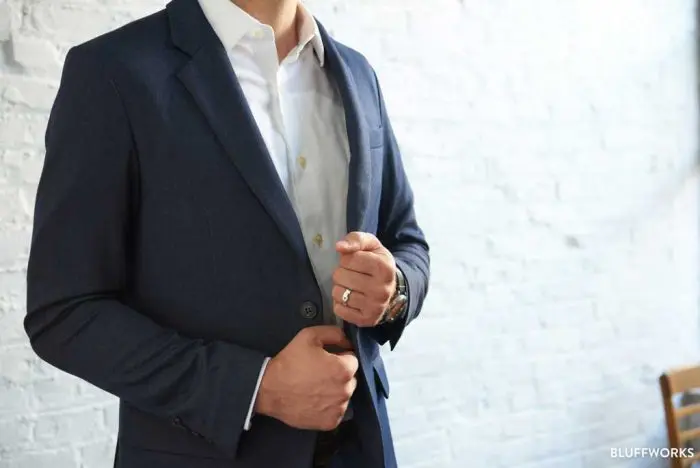 The Specs
100% technical, breathable quick-dry polyester with mechanical stretch
10 total pockets, including zippered storage for security
Polyester, perforated back lining / Unlined sleeves
Never fall off, MMS thread-wrapped buttons
Designed and manufactured in New York City
Machine washable / line or tumble dry
Machine wash warm
Hang or tumble dry on medium for 5 to 10 minutes, blazer will be nearly dry and you can remove
MSRP: $295
The Styles
Colors: Blue, Dark Gray, Light Gray
Fits: Classic or Slim
Chest: 36, 38, 40, 42, 44, 46, 48
Lengths: Regular or Long
Note: If you're a fellow lover of Bluffworks pants, then know that the material they use for the blazer is different from that of the pants. This means that (according to Bluffworks) the blazer coordinates with their pants, but is not the other half of a suit (fabric or color). However, Bluffworks has since released their Gramercy Pants, which match the Gramercy Blazer for a perfect suit.
The Good
THE VERSATILITY | When traveling fast and light, it's not practical to have something you're (maybe) going to use once. That pair of running shoes for "just in case"? Leave them at home. The Bluffworks Gramercy Blazer is definitely not something that you have to save for some formal occasion. Wear it with a t-shirt and jeans – awesome. Wear it instead of your down jacket in the cold – smart. Wear it with nothing underneath – sexy.
THE POCKETS | This thing has ten pockets. Two of these pockets (one inside the right breast and one in the vent) are zippered and are perfect for hiding valuables (or drugs). I'm lucky if I have ten things to put in my ten pockets, but if I just go with the classic phone/wallet combination that makes 45 different ways I can arrange these items in the jacket. Add a pen to the mix and that number jumps to 120. There's plenty of space to hide all your heavier items when the airline weighs your carry-on bag.
THE WASHING | Laundry is burdensome enough when on the road – especially in an unfamiliar country (what do you think the "quarters" of Mongolia when at the laundromat – hopefully, I'll soon find out). You don't need to take the blazer to the cleaners – throw it in the wash with your smelly socks and underwear with confidence. No washing machine? That's cool, just find yourself a sink and go to town. Hang, tumble, or simply wear it to dry.
THE FIT | Yes, I've shopped and bought a suit before. No, I do not have fond memories of trying to find something that fit me (and if I recall correctly, I still got my jacket tailored). I was not very confident that an off-the-shelf blazer from Bluffworks was going to fit very well. I was wrong. I'm 5'10" (and a half), 180 lbs (unless I'm cultivating mass for a thru-hike), and the Classic Fit 42 Regular fits perfectly.
And what's more?
The Okay
THE SIZING | The Gramercy Blazer comes in both classic and slim sizes. You can get either of these styles in either a regular or long. If you're looking for a short, then you're out of luck. For those of you with t-rex arms, the sleeves can be shortened (the sleeve's buttons are non-functioning and are usually moved when doing this). The body can also be taken in along the side seam and there are three seams in the back that can be taken in.
UPDATE: After this review was posted, Bluffworks released matching pants for the Gramercy Blazer.
THE COORDINATION | Yes, Bluffworks also makes pants. No, these pants do not match perfectly with the blazer to create a suit. The blazer and the pants use different fabrics and have slightly different colors. That being said, the blazer nicely complements Bluffworks pants. Just remember that Bluffworks is not a suit designer/manufacturer – it's a company built on creating outstanding travel clothing. Still, if you require a suit for travel and find matching pants, this is the blazer you want.
The Bad
THE WEIGHT | I live and travel out of a backpack. This means that weight is very important when it comes to deciding what goes into said backpack. My blazer, a Classic Fit 42 Regular, weighs 23.5 oz / 665 g. That makes it the heaviest (and bulkiest) piece of clothing in my pack (shoes excluded). Most people probably don't care about weight as much as I do (in relation to other blazers/jackets it's quite average), so this is a definite con to bringing the blazer along.
THE SEXES | I don't claim to know a lot about fashion and I certainly don't know a lot about women's clothing, but I do know that the Bluffworks Blazer only comes in what would traditionally be considered a men's cut. I'm sure there are plenty of you who don't subscribe to being told which cut of clothing pairs with your gender (or what time of day to eat certain foods), and that's cool. Just know that the blazer is available in both a classic and a slim fit – both of which can be described as traditional men's cuts.
Conclusion
Bluffworks is one of only a handful of companies that have managed to win me over as a die-hard customer and fan. It's like they make products just for me. In fact, sometimes they make products that I would never have imagined otherwise seeking out; the Bluffworks Gramercy Blazer is a perfect example.
This blazer checks all the boxes for me: it's versatile, it is wrinkle-resistant, it's packed with features, it requires little maintenance, and it can take a lot of abuse and mistreatment. Never did I imagine that I would be writing a review for (and praising) a blazer, but here we are. Do yourself a favor and get one.
Check out the Bluffworks Gramercy Blazer.
This page contains affiliate links, which means at no additional cost to you, I may receive small commissions for purchases made via these links. This helps to pay the bills and keep the site up and running. Thank you for your support!