The SlingFin Portal 1 is a lightweight one-person, freestanding shelter designed for backpacking, thru-hiking, bikepacking, or anyone who wants a freestanding single-person shelter with built-in stability and functionality.
It's the successor to SlingFin's flagship freestanding backpacking tent, the Portal – which is a two-person version of the shelter. Although the original Portal is only slightly heavier than the Portal 1, if you're looking for a small footprint and are looking to save some weight, this may be the tent for you.
Here's everything there is to know about the SlingFin Portal 1.
Testing Conditions & Notes
I used the SlingFin Portal 1 for the entirety of the Hayduke Trail – an 800-something-mile route across Southern Utah and Northern Arizona – for nearly two months. During the trail, I experienced blazing-hot temperatures in Grand Canyon National Park, snow in the Henry Mountains, thunderstorms on the Kaibab Plateau, and brutal winds on the plateaus outside Moab.
Pros and Cons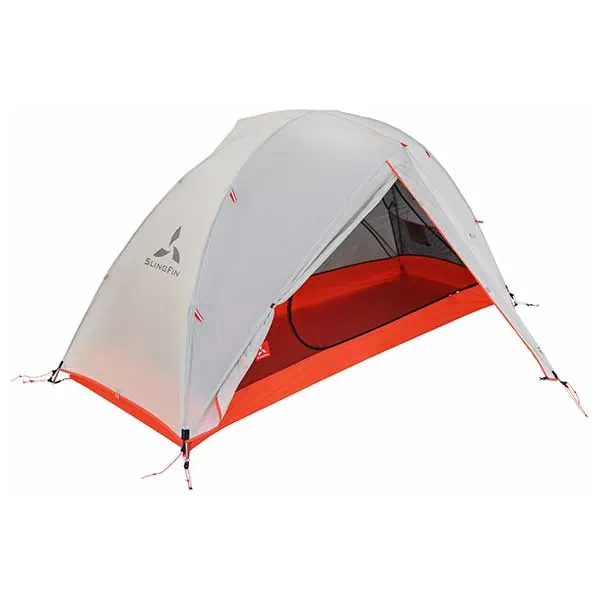 + Freestanding shelter that can be easily set up, moved, and broken down
+ Tent and poles both pack down compactly
+ Weather (rain+snow) and wind resistant – plenty of guy-out points and can be reinforced with trekking poles
+ Six interior pockets of varied sizes
– Not much lighter than the 2-person version
– Seam sealing costs extra
– Included vent kickstand is a bit strange and would be easy to lose
The Specs
Capacity: 1
Trail Weight: 2.5 lb / 1.334 kg
Packaged Weight: 2.91 lb / 1.318 kg
Freestanding: Yes
Doors: 1
Interior Height: 41 in / 111 cm
Floor Area: 19.25 ft² / 1.79 m²
Packed Size: 14 x 5 in / 35 x 13 cm
Floor Dimensions (in): 88 x 35 (head) x 28 (foot)
Floor Dimensions (cm): 223.5 x 88.9 (head) x 71.1 (foot)
Vestibule Area: 9.8 ft² / 0.91 m²
Vestibule Depth: 34 in / 86 cm
Number of Poles: 3
Number of Pockets: 7
Guy Out Loops: 10
Perimeter Pull-Out Loops: 3
Included Guylines: 6 (+2 pre-installed internal guylines)
Included Stakes: 10
Seam Sealed: Optional ($30 less if ordered unsealed)
Color: Orange/Gray
Footprint: Optional (purchased separately)
MSRP: $490
Photo Gallery
The Good
The Compactness: The SlingFin Portal 1 packs down to 14 x 5 in / 35 x 13 cm. I am a fan of storing all pieces of my shelter separately – the body, the fly, and the poles – and the Portal 1 easily fits inside my pack alongside my sleeping pad to make a nice "second layer" on top of my sleeping bag (which I generally keep at the bottom of my pack). The piles are straight (as in none of them are pre-curved/bent) and uniform when folded up. They fit nicely in one of my backpack's corners. On the whole, packing the Portal was never an issue.
The Strength: One of the advantages of a double-walled freestanding tent with ten guy-out loops, two pre-installed internal guylines, and the option to affix trekking poles to the exterior for additional support is the strength all this modularity offers. The SlingFin Portal 1 can be constructed to be about as bombproof a three-season shelter as possible. It served me well through rain, wind, and snow; I would trust it again in any of these conditions. Never seen internal guy lines on a tent before? Check out this detailed explanation from SlingFin.
The Pockets: If there's one thing the SlingFin Portal 1 isn't lacking it's pockets. The Portal 1 has seven pockets, one large pocket at the foot of the shelter along the entire side (big enough for larger items such as jackets), two overhead pockets (one on either side of the peak of the tent), two triangular pockets at the head of the tent, and two triangular pockets at the head on each side.
The Responsiveness: SlingFin is a small company that stands behind its products. The SlingFin Portal 1 is a newcomer to the SlingFin lineup (at the time of publication), and I wouldn't be surprised if the company uses feedback from its customers to continue improving upon the design. Tweaking the Portal 1 to better fit the needs of its customers is something SlingFin, as a small and independent company, can easily do (and is something they have done in the past for other shelters such as the SplitWing).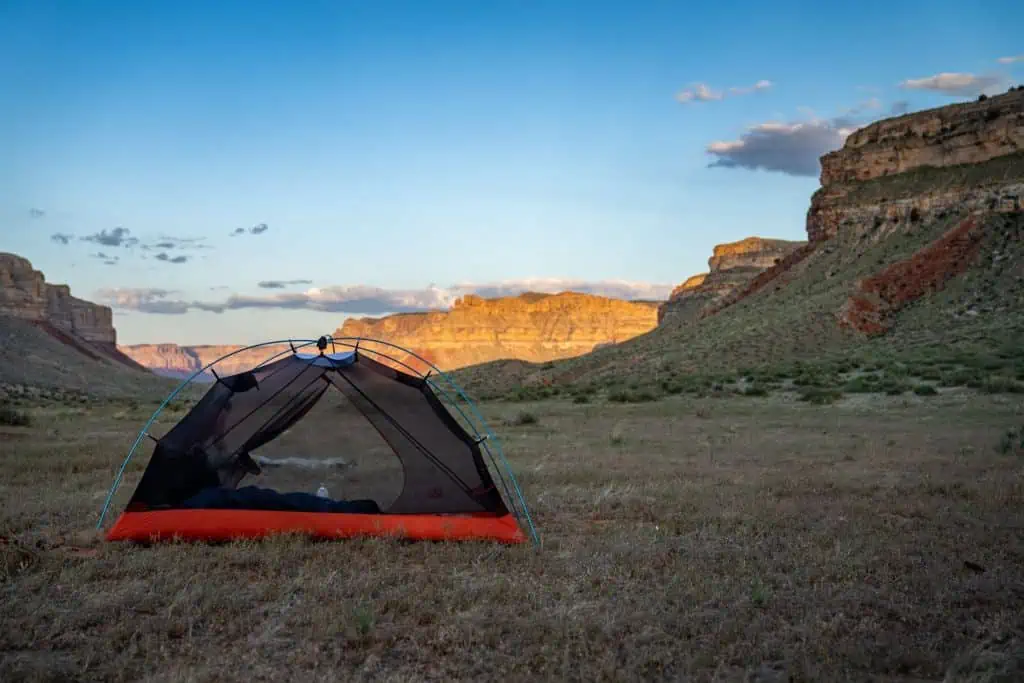 The Weight: The SlingFin Portal 1 weighs 2.5 lb / 1.334 kg. It's far from the lightest single-person shelter (even two-person shelter) available, but as far as freestanding one-person shelters go, it's fairly middle of the road. There's a footprint available for the Portal 1 that 3.9 oz / 110 g. Alternatively, there's also a Tub Floor available that can be used instead of the interior mesh shelter. This drops the weight of the complete shelter to 1.94 lb / 879 g.
The Kickstand/Vent: At the top of the zippered fly users will find two small patches of velcro. This is intended as a space for you to insert the included kickstand to provide ventilation while the fly is closed. This is a small piece that I usually keep with my stakes, but it's a piece I can imagine easily losing. It's a novel but strange ventilation solution for the shelter. I would love to be able to open just the lower half of the door instead (when the weather isn't too terrible). All that said, I never had an issue with condensation inside the Portal 1.
The Price: The SlingFin Portal 1 costs $490 which means that (in most states) you're looking at a $500+ shelter. It's not among the most expensive shelters available (believe it or not), but it's by no means inexpensive. That said, SlingFin is a small company and this is sometimes the (literal) price that must be paid for quality, small-batch products. A benefit to the Portal 1 is that it's a solid all-around tent (for one person) and you won't find yourself needing to supplement it with another shelter in most circumstances.
The Bad
The Seam Sealing: SlingFin charges an additional $30 to seam seal the Portal 1. Seam sealing is the process of applying a sealant to the seams of the shelter (can I use "sealant" and "seams" in the definition of seam sealing?) to prevent moisture from entering via small holes or gaps left from the sewing process. It's something you're going to want to do if you plan on using your shelter in wet conditions. Perhaps there's a good reason not to seam seal your shelter but I'm unsure what it could be. Seam sealing isn't incredibly complicated, but it can be a pain to do if you simply want to grab and go with your new shelter. Worth the $30 for your time? Maybe. Possibly just a way to make the price point of the Portal 1 under $500? Also maybe.
The Availability: Because SlingFin is small, they do not have retail distribution (as far as I know) and the only way to see one of their shelters is to find someone who has one (or order one yourself). The SlingFin return policy is as follows, "Tents that have only been set up indoors and can be resold as new may be returned for a refund, minus shipping costs and credit card/PayPal transaction fees (3%) since PayPal and Shopify won't refund them. Buyer pays return shipping." Basically, it's going to cost you at least $20 (probably) if you buy and return a Portal 1.
Popular Alternatives
Wrap Up
The SlingFin Portal 1 is a solid single-person freestanding shelter that can be used in a huge range of environments and applications. It served me well on the Hayduke Trail and I survived the two-month journey with no complaints on the shelter front.
If you're not worried about bugs and are looking for something a bit lighter (and with nearly as much strength), checking out the Portal 1 with the Tub Floor may be a good option as well.
Questions, comments, or personal experience with the SlingFin Portal 1? Leave a comment below or get in touch and let me know! Check out the SlingFin Portal 1 here.
Rating + Recommendation
Weight

Ease of Set-up

Weather Resistance

Durability

Packed Size
Summary
The SlingFin Portal 1 tent is a lightweight and durable single-person backpacking tent designed for outdoor enthusiasts. It offers a spacious interior, quick setup, and excellent weather protection, making it ideal for solo adventurers seeking reliable shelter on their journeys.
This page contains affiliate links, which means at no additional cost to you, I may receive small commissions for purchases made via these links. This helps to pay the bills and keep the site up and running. Thank you for your support!