Despite all the time I've spent tramping around in the mountains, I have had some difficulty finding a pair of shorts (or pants) that I am really excited about and can really recommend to others.
The cold usually doesn't bother me too much, so in the absence of aggressive insect swarms, shorts are typically my preferred mode of bottom coverage – even in the snow or rain. In the past, I have always gone with convertible pants and have ended up carrying around the pant bottoms some 95% of the time, "just in case". It was time for something new and so recently I have wearing the Mountain Hardwear Chockstone Shorts.
Really? How exciting can some shorts be?
I guess my life has reached a low point because I was pretty excited when I started wearing these – especially after murdering so many pairs in the past. If you're somehow equally excited about a pair of shorts, read on.
The Specs
Weight: 9.9 oz / 280 g
Fabric Body: Chockstone Midweight Doubleweave Softshell
Body Fabric Content: 91% nylon, 9% elastane
Fit: Active
Inseam: 12 in / 30.5 cm
Waist: Integrated belt
Pockets: 2 large zippered hand
Fly: Zipper
UPF Rating: 50
MSRP: $75 US
The Good
THE STRETCH | The Mountain Hardwear Chockstone Shorts are impressively stretchy and most of all comfortable. The stretch of the material also manages to solve one of the biggest problems I have had with literally all the previous shorts I used: the crotch ripping. Despite a lot of climbing, reaching, and overextending, the stretch in these shorts always manages to keep up with me and I never have to worry about (or be restricted by) the amount of flexibility in the shorts.
THE WATER RESISTANCE | I've used them hiking in the rain without any protection over them (mostly because I have yet to find a pair of rain pants I don't fill with sweat) and have been very happy with the results. These shorts are very water resistant and also dry very quickly. Everything in my pockets (phone included) has remained perfectly dry whilst hiking in wet conditions – even drier than things have managed to stay in my rain jacket pockets (I think I need a new rain jacket).
THE BELT | One of the problems I've had with shorts in the past (other than crotch ripping), is the constant battle to keep them around my waist with my backpack hip belt secured. Somehow my shorts always manage to wiggle their way down to an uncomfortably low level, forcing me to stop and adjust. Aside from the Mountain Hardwear Chockstone shorts fitting true to size (something that I've found difficult with Mountain Hardwear products in the past), the integrated belt works surprisingly well and remains secure even after hours of use.
The Okay
THE POCKETS | The Mountain Hardwear Chockstone Shorts have two zipper hand pockets, and depending on your needs, they might not be large enough to meet your needs. At first, it bothered me that both pockets were zippered, but it's something that I have managed to get used to (and helps a lot with protecting pocket contents in weather).
The Bad
THE LACK OF POCKETS | So yeah, I already talked about the pockets, but now I want to talk about the absence of pockets. Honestly, I would be absolutely in love with these shorts if it wasn't for this one thing: they only have two pockets. There are no cargo or back pockets. I don't care much about cargo pockets, but the no back pockets is annoying (now I have nowhere to put my flask). Although I have been getting used to using my hip belt pockets more, I would still love more accommodation for many (and probably largely unnecessary) things I enjoy carrying around.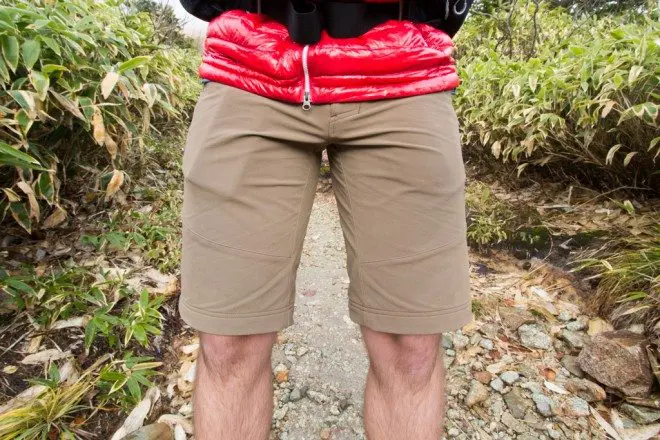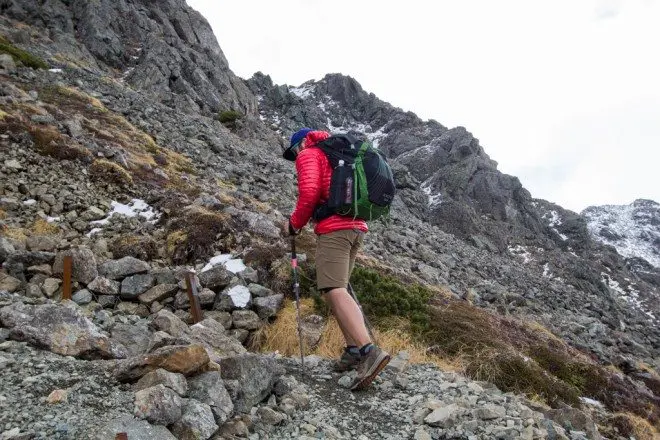 Conclusion
Even without the back pockets (which really did shock me at first – I didn't even think to check and see if the shorts had back pockets before procuring them), I am a fan of these shorts.
The comfort and flexibility that the fabric allows, and the fact that they fit, more than makeup for the inconvenience caused by only two pockets. Check them out here.
This page contains affiliate links, which means at no additional cost to you, I may receive small commissions for purchases made via these links. This helps to pay the bills and keep the site up and running. Thank you for your support!