Note: The Merrell Moab 2 Ventilator has been replaced by the Merrell Moab 3
The Merrell Moab 2 Ventilator is a ventilated hiking shoe made with leather, mesh, and a Vibram sole. They're not quite the trail runners that you find many long-distance hikers wearing, but they're also not quite boots. As I said, they're hiking shoes.
A pair weighs in at 31 oz / 879 g and will easily last for hundreds of miles. They're available in Men's and Women's, in regular and wide, and in a shoe (low top) and a boot (high top). They also come in a waterproof version.
If you're looking for something that's less intense than a traditional boot but something that offers a bit more protection and durability than a trail running shoe, then the Moab 2 Ventilator is worth checking out.
Comfort

Durability

Weight

Traction

Options
Testing Conditions
I've used the Moab 2 Ventilator for thousands of miles of hiking. I hiked the entire Continental Divide Trail with them, over 1,000 mi / 1,600 km of the Pacific Crest Trail with them, and numerous other trails including the Wonderland Trail, Timberline Trail, and the Lowest to Highest Route. I even wore them the last time I was trekking in Nepal. I've worn them in the desert, through the snow, crossing rivers, and scrambling up mountainsides. The Moab 2 Ventilator and I are very well acquainted. Honestly, there are probably few people (if any) on Earth who have hiked more miles in these shoes than I have.
The Specs
Weight (Pair): 31 oz / 888 g
Closure: Lace-up
Upper Material: Suede leather/mesh
Lining: Mesh
Midsole: EVA
Outsole: Vibram TC5+
Widths: Medium, Wide
Available Colors: Charcoal Grey, Beluga, Black Night, Boulder, Earth, Gold, Walnut
MSRP: $100
The Features
Suede leather and mesh upper
Bellows, closed-cell foam tongue to keep moisture and debris out
Protective rubber toe cap
Breathable mesh lining
Merrell M Select™ FIT.ECO+ blended EVA contoured footbed with added zonal arch and heel support
Molded nylon arch shank
Merrell air cushion in the heel
5 mm lug depth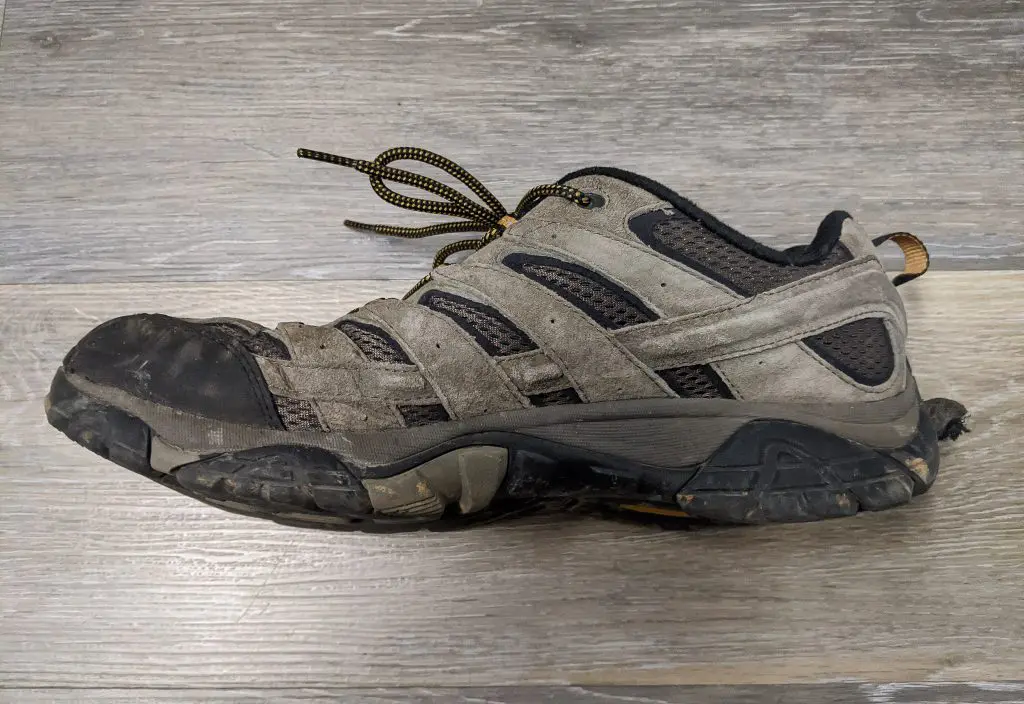 The Good
THE DURABILITY: The Merrell Moab 2 Ventilator refuse to die. They're incredibly durable and I often end up replacing them not because the shoe has worn out or ripped to shreds, but because the sole has been worn completely smooth. Usually, I experience some wear in the fabric where the laces come out at the top or around the heel. That said, I usually leave my shoes tied and just slip my foot out/jam my foot in instead of tying them every time I put them on.
THE COMFORT: Shoes are a very personal piece of gear and, personally, I find the Moab 2 Ventilator to be incredibly comfortable. Again, very personal as all of our feet are differently shaped and we all have different arches, lengths, widths, and ankles, but just know that should your feet be a match for the Moab 2 Ventilator, your feet will be happy.
THE WIDTH: I have wide feet and they've plagued me since I was a child (I always wanted those shoes with the lights in them, or Heelys, or Soaps, but my foot was always too fat). When looking for a hiking shoe, even the brands or models that are "generally wider" do me no good. Fortunately, Merrell has a wide version of this shoe. That is to say, the Moab 2 Ventilator comes in a size that's specific for people with a wider foot (that's me). If you don't have fat feet, it's available in a regular width as well (must be nice).
THE TRACTION: The Moab 2 Ventilator has a Vibram TC5+ outsole with a 5 mm lug depth. This is basically the depth of the shoe's tread. I've confidently walked up and down some steep slabs in these shoes and I've had some sketchy traverses in the snow with them as well (without using any additional traction). This is a big benefit to these being hiking shoes and not trail runners.
The Okay
THE WEIGHT: The Merrell Moab 2 Ventilator are hiking shoes, not the sexy trail running shoes that many long-distance hikers wear. As hiking shoes, they're great. A pair of the low-tops weighs in at 31 oz / 888 g. The high tops weigh 34 oz / 964 g. You're certainly not going to feel like your feet are weightless, but you're not going to feel like you have bricks attached to your feet either. The upside of the weight? Durability.
THE DRYING: I've done a lot of hiking through snow and rivers with the Moab 2 Ventilator. Yes, having wet feet sucks hard. Because these shoes are bulkier/heavier than others, they take longer to dry out. That said, I have never found myself wishing they were drying faster. It's the leather on the outside that takes longer to dry – the fabric on the inside usually dries as I continue hiking in them.
THE LACES: The laces on the Moab 2 Ventilator are decent. Most of the time they hold up for well over 500 mi / 800 km. On occasion, the outer sheath of my laces ends up tearing somewhere, but this is never before I've already started considering getting a replacement pair. But if you really hate the laces, you can always swap them out (but I can't imagine that being necessary).
The Bad
THE COLORS: Yes, I love that these shoes are available in a wide version, but why are you limiting the colors available in wide? Us wide-footed people want cool colors, too, Merrell. Not cool. That said, if you have regular-sized feet, your color options are actually pretty good. I really want some of the gold ones (I wonder what color they turn after hundreds of miles of abuse – the gray ones turn brown).
---
Who are they for?
The Merrell Moab 2 Ventilator is a shoe that you can use regardless of your hiking experience. If you're looking for something specifically for trail running or weight is of the utmost importance to you, then this may not be the shoe for you. But if you want something that's going to hold up, that's comfortable, and that comes in a variety of different options.
Most-popular Alternatives
Conclusion
The Merrell Moab 2 Ventilator is a fantastic hiking shoe if you're not comfortable in boots and you want something that's more durable than a trail runner. I've literally used over a dozen pairs, and I'll continue to use them for their comfort, durability, and fit.
If you're looking for something that you can wear off the trail, but that will still make your feet feel protected enough while on the trail, then the Moab 2 Ventilator is worth investigating (especially if you have wide feet).
Check out the Merrell Moab 2 Ventilator here.
This page may contain affiliate links, which means at no additional cost to you, I may receive small commissions for purchases made via these links. This helps to pay the bills and keep the site up and running. Thank you for your support!