The MSR PocketRocket 2 is a 2.6 oz / 74 g, backpacking canister stove with three foldable pot supports and an adjustable flame. It's lightweight, compact, and compatible with isobutane-propane fuel canisters (the most common kind of fuel canisters).
You'll have to bring your own pot to the party (it's not an integrated pot situation like the MSR Reactor or a JetBoil) and I've been (mostly) using the MSR Titan Titanium Kettle for solo backpacking trips with the PocketRocket 2, but any backpacking post/kettle/cup/skillet should work just fine.
Testing Conditions
I used the PocketRocket 2 for 1,000 mi / 1,600 km hiking on the Pacific Crest Trail, and for various shorter trips in between. I've used it in a variety of conditions which include cold, windy, and high-altitude.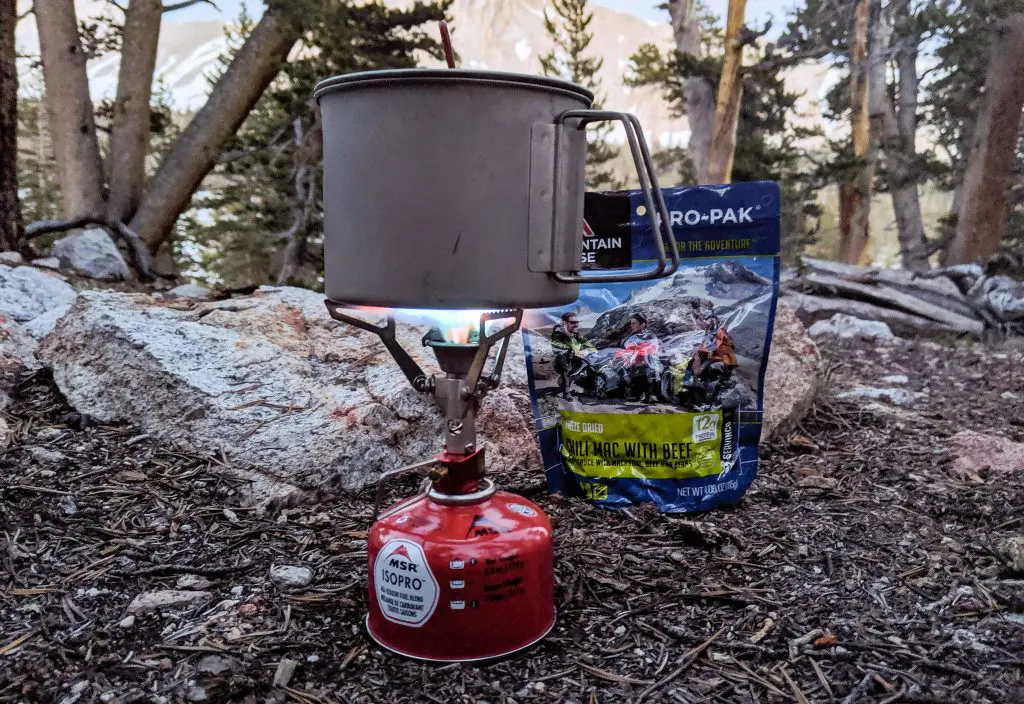 PocketRocket 2 Notes
The MSR PocketRocket 2 does not come with a pot. There are three foldable arms to support whichever pot/skillet/mug you decide to use with the stove. I (mostly) use the MSR Titan Titanium Kettle.
The stove does not come with fuel (like basically all stoves) – the isobutane-propane fuel is purchased separately and comes in 4 oz, 8 oz, and 16 oz canisters.
The Specs
Weight: 2.6 oz / 74 g
Width: 1.3 in / 3.3 cm
Height: 3.5 in / 8.9 cm
Fuel Type: Canister
Average Boil Time (1L): 3.5 minutes
Pot Supports: 3
Adjustable Flame: Yes
Country of Origin: South Korea
Warranty: 3-year limited (defects in materials/workmanship)
MSRP: $45
The Features
Needs no priming, preheating or pressurizing
Fully adjustable flame
Serrated pot-supports prevent the pot from shifting
The pot supports fold up/down
Compatible with most self-sealing canister fuel (fuel canister not included)
Hard-shell carry case included
The Good
The Compactness: The MSR PocketRocket 2 is compact enough to fit into an MSR Titan Titanium Kettle with an 8 oz fuel canister and a bandana (for pot cleaning). It's not the smallest/most compact stove out there, but it's pretty close. The three arms fold down and sit flush next to the base of the stove and the regulator folds around the base (or up next to the arms). It comes with a hard plastic case as well which the stove fits nicely into.
The Flame: The MSR PocketRocket 2's flame is great. I've never had it blown out in the wind (and I've never used a windscreen with it) and I've been pleased with the range of adjustability. It doesn't matter if you want to simmer or have what's basically a flamethrower scorching the bottom of your pot – this stove's got you covered.
The Fuel: Fuel for the PocketRocket 2 is easy to find both in the United States and abroad (I know this because I've had to ditch many a fuel can at the airport – you can't fly with them). It uses isobutane-propane fuel canisters which self seal and screw onto and off of the stove. Isobutane-propane fuel canisters are available in three sizes – 4 oz, 8 oz, and 16 oz. You probably won't need a 16 oz for backpacking (I keep one for car camping); I usually bring a 4 oz for just myself.
The Okay
The Pot Supports: The pot supports on the MSR PocketRocket 2 are solid, but they can be a little tricky to fold up and down sometimes. It's not terribly complicated, but it's definitely somewhere that improvement can be made. Additionally, the supports are rigid and require pressure to be moved, but I've seen on other people's stoves (not my own yet one of mine has become a bit loose) that they can become loose.
The Noise: The PocketRocket 2 is loud. I generally get used to the noise fairly quickly but always think to myself, "Damn, that was really loud," when I eventually turn it off. If you're looking to quietly make coffee in the morning without waking up everyone else at your campsite, this might not be the stove for you. That said, if you're a solo backpacker then you've got nothing to lose (unless you want to be able to hear animals sneaking up on you to steal your food – and then kill/eat you).
The Cold Performance: The PocketRocket 2 is a canister stove which means that you can expect to encounter performance issues if you plan to be using it for extended periods at high altitudes or temperatures below freezing; the propane and butane will vaporize at different rates and the canister will eventually fail. If you're looking for a stove that's going to be more reliable in extended periods of high altitude or below-freezing conditions, check out a liquid fuel stove like the MSR DragonFly.
The Bad
The Ignition: Honestly, there's not much to complain about when it comes to the PocketRocket 2. I guess the one thing some people may want would be an ignition switch (you have to use a lighter/matches/torch to light the PocketRocket 2). If this is something you absolutely need, check out the PocketRocket Deluxe instead – a slightly larger, slightly heavier version of the PocketRocket 2 with an ignition switch.
Who is it for?
Beginner Backpackers: If you're a beginner backpacker, the MSR PocketRocket 2 might be a bit intimidating since you need to light it with a lighter and you need to balance a pot on top of it. Something like a Jetboil Flash might be a lot more beginner-friendly, but you shouldn't let the PocketRocket 2 scare you. There's a small learning curve, but it's not too scary once you get the hang of it.
Weekend Warriors: This is honestly a perfect stove for weekend warriors. If you're thinking of backpacking stove options on a spectrum from "heavy, beginner-friendly stove" to cold soaking, then this falls right in the middle. If you're cooking for one (or two) and need a lightweight reliable stove, then you should probably check out the MSR PocketRocket 2.
Thru-hikers: This is consistently one of the highest-rated and most-common stoves among thru-hikers. I have used it on a number of long-distance hikes (those where I have elected to bring a stove) and have never regretted bringing it along. If you're not going stoveless or cold soaking all your means, then the MSR PocketRocket 2 is a solid choice.
Most-popular Alternatives
| STOVE | PRICE | WEIGHT | TYPE | DIMENSIONS | INTEGRATED POT | SIMMER CONTROL |
| --- | --- | --- | --- | --- | --- | --- |
| SOTO WindMaster | $65 | 2.3 oz/ 66 g | Canister | 2.5 x 1.3 x 1.8 in / 6.4 x 3.4 x 4.6 cm | No | Yes |
| MSR PocketRocket Deluxe | $70 | 2.9 oz / 82 g | Canister | 3.3 x 2.2 x 1.8 in / 8.4 x 5.6 x 4.6 cm | No | Yes |
| Jetboil MiniMo | $150 | 14 oz / 397 g | Canister | 5 x 6 in / 12.7 x 15.2 cm | Yes | Yes |
| Jetboil Flash | $110 | 13.1 oz / 371 g | Canister | 7.1 x 4.1 in / 18 x 10.4 cm | Yes | Yes |
| BRS-3000T | $17 | 0.88 oz / 25 g | Canister | 1.97 x 1.18 x 1.3 in / 5 x 3 x 3.3 cm | No | Yes |
Conclusion
The MSR PocketRocket 2 is a great backpacking stove. If you're just starting out backpacking, it might be a bit intimidating, but once you figure it out, you will be friends.
So long as you aren't going on a super-high altitude expedition or into the dead of winter, this stove will probably keep you quite happy. If you're looking for a compact, lightweight, three-season backpacking stove, there's no reason you won't be happy with this stove.
Weight

Fuel Efficiency

Boil Time

Ease of Use

Pot Stability
This page contains affiliate links, which means at no additional cost to you, I may receive small commissions for purchases made via these links. This helps to pay the bills and keep the site up and running. Thank you for your support!