Although manufactured and advertised as a climbing knife, I've taken to carrying the Petzl Spatha as my hiking knife. I used to carry a Leatherman Skeletool CX, but the only feature I ever used was the knife (mostly for cutting cheese) – so I decided to get something lighter.
Sure, an argument can be made by ultralight fanatics that this knife, at 1.5 oz / 43g, is still too heavy to be included in one's pack, but for now I will resist the pressure to deprive myself of a proper cheese-cutting device (although a credit card works well in a pinch). I'm not too into the idea of carrying a micro knife.
---
THE SPECS
Color: Yellow or Blue
Weight: 1.5 oz / 43g
Knife Blade Type: Partially Serrated
Open Length: 7 in / 180 mm
Closed Length: 4.25 in / 110 mm
Locking Blade: Yes
One-Handed Opening: Yes
Handle Material: Nylon
Blade Construction: Stainless steel
Product of: France
MSRP: $28.95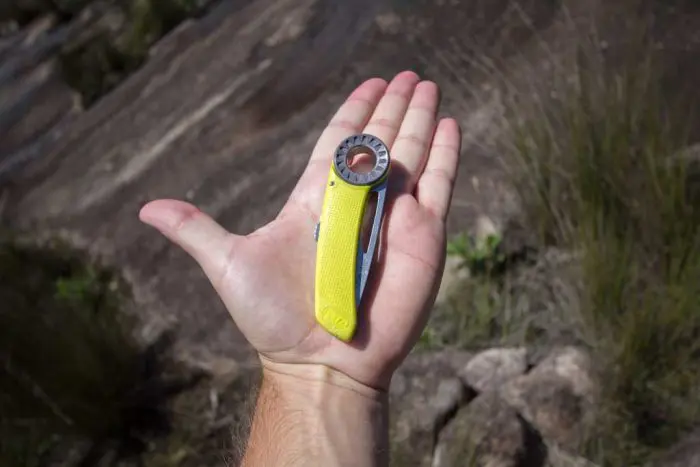 ---
WHAT WE LIKE
THE WEIGHT | Petzl removed the metal handle from this version of the knife giving it a weight of just 1.5 oz / 43g. For its size, it's one of the lightest knives available – it's lighter than a Snickers bar. There's really no argument against carrying a knife (aka a mountain lion deterrent) when it's this light.
THE BLADE | The blade is sharp. Despite my relentless mistreatment it's been resilient and does not appear to have dulled since being added to my pack (yes, occasionally I cut things that aren't edible). The blade's half closest to the handle is serrated and it easily chews through rope, clothing, or fingers. There's also a notch in the top of the blade which makes opening it with gloves easier.
THE HOLE | If you don't like carrying your knife in your pocket (or if you're actually using this knife for climbing), the hole at the top makes it easy to secure and access on a carabiner. This hole is also ribbed and can be gripped and turned to open the knife (instead of needing to grab the blade).
---
WHAT'S JUST OKAY
THE OPENING/CLOSING | Although it is possible to open this knife with one hand, it's not the easiest thing in the world (it's more like a one hand and one leg operation). The knife can also be opened by grabbing and turning the carabiner hole which (in addition to the notch in the blade) makes opening and closing the knife with gloves easier.
THE HANDLE | Although the handle saves weight, it's plastic. It's not the most knife handle you'll find (but remember that we're saving weight here). Don't get me wrong, I've beaten the hell out of this knife, but I don't know that I would trust the handle in a prying scenario.
---
WHAT WE NO LIKE
THE LOCK | The Petzl Spatha does not have a lock it to keep it in the closed position which means that an accidental opening could be possible. However, the knife requires a fair amount of force to open and I cannot imagine it opening on its own very easily (especially if inside a pocket or pack). Note: the blade DOES lock when open.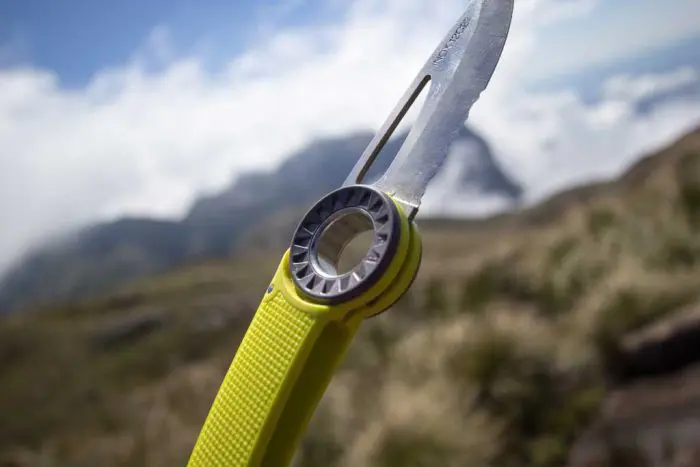 ---
CONCLUSION
If you find yourself neglecting your multi-tool and decide to focus on the thing you're (probably) using the most, your knife, then the Petzl Spatha is a great option. I have very much enjoyed making the switch to the lightweight Spatha. Check out the Petzl Spatha Knife.
---
Disclosure: This page contains affiliate links which means at no additional cost to you, I may receive small commissions for purchases made via these links. This helps keep the site up and running – thank you for your support!