The Ridge Merino Solstice Hoodie is a long-sleeve, lightweight, wool-blend hoodie with thumb loops, a relaxed fit, and a 30 UPF rating. It's great for shielding you from the sun whilst enjoying and frolicking in the outdoors.
Based in Mammoth Lakes, California (a Pacific Crest Trail resupply stop), Ridge Merino makes a wide selection of apparel (I also have their Aspect Midweight Baselayer) that's all worth checking out. I discovered them because of this hoodie (I'm always on the lookout for a great merino hoodie), and ever since getting a Solstice, it's been my merino hoodie of choice.
Comfort & Fit

Durability

Breathability

Sun Protection

Features
Testing Conditions
I have worn the Ridge Merino Solstice Hoodie hiking the Southern Sierra High Route, hiking the Sierra High Route, backpacking in the Grand Canyon, bikepacking in Joshua Tree, backcountry splitboard touring, and more. It has shaded me from the sun during blistering heat and kept me warm in the snow (I've used it with a base layer as well). Suffice to say, I've worn the Solstice Hoodie a lot.
---
Ridge Merino Solstice Hoodie Sizing Notes
I am 5'10" / 178 cm tall and weigh 185 lbs / 84 kg. I have the Ridge Merino Solstice Hoodie in a medium and feel like it's the right fit for me. It's stretched out a bit since I got it and I think a large would have definitely been too big on me. Even with a thick base layer underneath, the medium still fits me fine.
The Specs
Fabric Weight: 145 g/m2
Weight: 7 oz / 186 g
Fabric: 87% Merino wool 13% Nylon
UPF Rating: 30
Sleeve Length: Long
Hood: Yes
Thumb Loops: Yes
Colors: Crocodile (Olive), Mykonos (Blue), Asphalt (Gray)
Country of Origin: Thailand (wool from New Zealand)
Sizes: S, M, L, XL, XXL
MSRP: $79.95
The Features
Split and dropped hem for more coverage and ease of movement
Woven drawstrings for hood
Thumbholes
Screenprint embellishment
Hanger loop
All-natural performance: quick-drying, wicking
Naturally odor resistant
Designed and tested in Mammoth Lakes, CA
Ridge Merino Solstice Hoodie Photo Gallery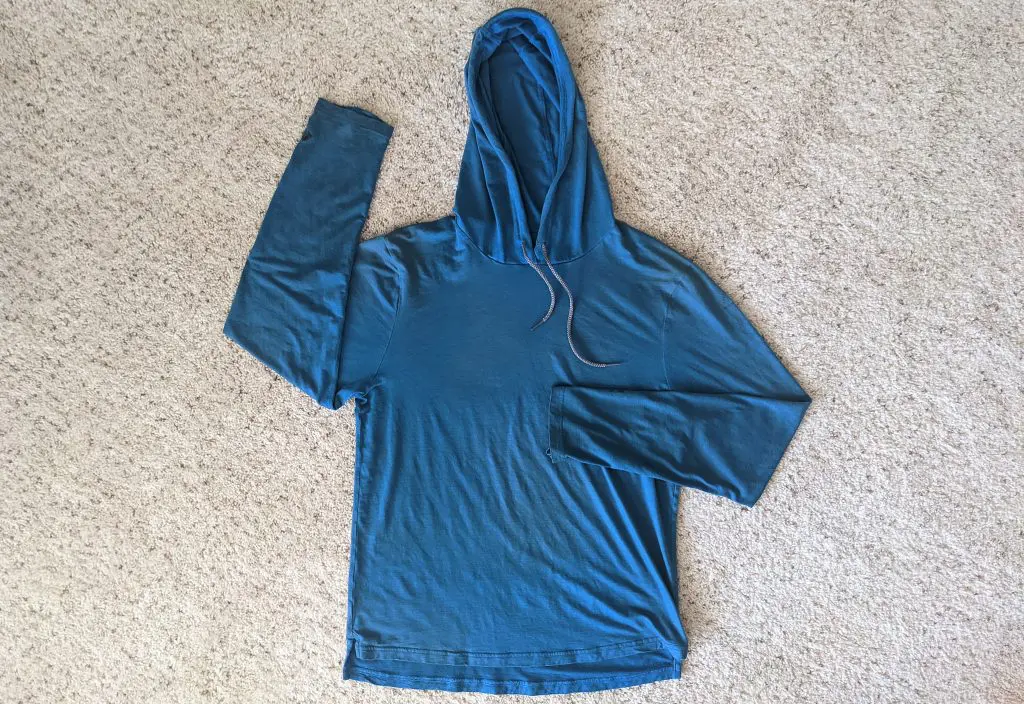 The Good
The Comfort: The Ridge Merino Solstice Hoodie fits great and is exceedingly comfortable. Not only have I hiked, biked, climbed, walked, run, and snowboarded comfortably in the Solstice, but I've also slept in it plenty of nights as well. The fit is great and it's incredibly comfortable. There is no itchiness and no problematic seams or tags to scratch against you. I've never found the Solstice to be uncomfortable except maybe it became overly crusty with dried salt from my sweat after three days of trekking in high temperatures in the Grand Canyon.
The Thumb Holes: The Ridge Merino Solstice Hoodie has thumb holes; I love thumb holes. The problem is when companies either make thumb holes too restrictive and there's too much pressure between your fingers when you're using them, or companies try to get fancy with their thumbholes (I'm looking at you, Voormi) and don't just stick with the basic, proven thumb hole. The Solstice Hoodie's thumb holes are simple, no-fuss, and don't hurt your hands when worn, for example, under gloves.
The Drying: If I can avoid wearing a shell (rain jacket), I will. I've worn the Merino Solstice Hoodie in light rain, I've jumped into lakes with it, and I've bathed in rivers with it – it never takes long to dry so long as the sun makes another appearance. I've also worn it damp to sleep in (not sure if this is recommended), and have always found it dry in the morning. Not the best way to dry your clothing, but it works. If you need to get your sweat salt out, a quick drip in a body of water, a solid wringing out, and then a small stint in the sun and you'll be set to continue.
The Cost: A lot of companies have taken to charging a lot for their merino hoodies – commonly more than $100. How much is the Solstice Hoodie? A reasonable $80. For a small company, I think this is more than fair. Honestly, even if this hoodie cost $100, I would still love and recommend it. That said, it's nice to see that Ridge Merino isn't trying to squeeze us for every penny they can (which might explain the stock situation – more below).
The Smell: A quick note here on the Solstice Hoodie and its smell after repeated days of living through sweat and disgustingness. As one would expect (or be promised) by the magical properties of merino, I have found this hoodie to be on the less stinky side of the spectrum. I have found it to start smelling more like all the dirt that's become ingrained in it before I start noticing anything akin to that horrible body odor of "needs to be washed or burned immediately".
The Okay
The Hood: The Ridge Merino Solstice Hoodie has a large hood that fits nicely either below or on top of a helmet. The hood has a drawstring that works well when pulled, but that can be subverted by a strong wind. I have also found that the drawstring doesn't allow for the hood to be cinched very well when the hood is being worn over a helmet (the best way to keep the hood cinched is to tie or overlap the ends of the drawstring). Also, the drawstring runs the risk of falling out since it's not secured inside of the hood and nothing is preventing either end from getting lost up in the hood.
The Fading/Staining: The material of Ridge Merino Solstice Hoodie has held up well to the elements and has faded less than a lot of the hoodies I've used in the past. However, I have managed to (what appears to be irrevocable) stain the hoodie at both thumb holes along the shoulders where my backpack straps sit. It has gotten to the point where it never really looks completely clean – even when it's straight out of the wash. If it were washed regularly (i.e. after each use), maybe this wouldn't happen, but I wash things on a much less frequent schedule.
The Bad
UPDATE: Ridge Merino has released new (and brighter) colors since the original review.

The Colors: I'm a big fan of bright and obnoxious colors – especially in the backcountry. Unfortunately, the Ridge Merino Solstice Hoodie offers us just three colors, Crocodile (what I would call olive), Mykonos (blue – this is what I have), and Asphalt (gray). It probably has something to do with the materials and dying and whatever, but as a consumer that's not my job to figure out. Just give me the colors. If a bright gold or purple version cost an extra $20 (maybe even $40), I would pay for it.
The Stock: Ridge Merino is a small company based in Mammoth Lakes, CA (a place any Pacific Crest Trail hikers will – probably – know well). Small businesses that make awesome products? Most excellent. The issue? Once people begin discovering these awesome products, they can be hard to get your hands on. The Solstice Hoodie isn't always in stock in all colors/sizes from Ridge Merino (and I don't know where else you can find them), so grab your size/color combo while you can.
Who is it for?
The Ridge Merino Solstice Hoodie is for anyone looking for a lightweight hoodie for outdoor activities. It's proven great for the sun, the snow, and everything in between. The only reason to maybe avoid this hoodie would be if you are going to be using it exclusively with a helmet and you're going to want to be wearing it over your helmet at all times (but I've found it to fit comfortably under a helmet – for both biking and snowboarding). At the time of writing this, it's my favorite merino hoodie and I would certainly recommend it.
Conclusion
The Ridge Merino Solstice Hoodie is a lightweight merino hoodie at a reasonable price point that delivers exceptional comfort and performance. It holds up well to abuse and I've found little to no fault with it. For hiking, biking, climbing, snow things, or anything else I find doing outdoors, the Solstice Hoodie makes an excellent companion.
Check out the Solstice Hoodie at Ridge Merino.
Questions, comments, or personal experience with the Ridge Merino Solstice Hoodie? Leave a comment below and let me know!
This page contains affiliate links which means at no additional cost to you, I may receive small commissions for purchases made via these links. This helps to pay the bills and keep the site up and running. Thank you for your support!