The Sierra Designs Convert 2 is a modular, two-person, four-season(ish) tent with plenty of living space for one and an acceptable amount of living space for two.
It's not quite a four-season mountaineering tent, nor is it a three-season backpacking tent. That said, it's suitable for four-season conditions if you're backcountry touring, snowshoeing, or slogging through the mountains in the winter (but probably won't be the best option if you're doing serious mountaineering).
The Convert 2 is modular in the sense that its vestibule can be removed (saving nearly 16 oz / 454 g) and it can be used without its fly (the tent body has no mesh except for the door and footbox window – both of which can be closed). If you need something a bit larger, Sierra Designs also makes the Convert 3 – a three-person version of the Convert 2.
Weight

Ease of Set-up

Weather Resistance

Durability

Packed Size
Testing Conditions
I have used the Sierra Designs Convert 2 for multiple nights in below-freezing temperatures and the snow. It came with me on a backcountry tour in Yosemite National Park and on a winter excursion to the North Rim of the Grand Canyon. I've also taken it into the Sierra Nevada on late winter/early spring trips where there was minimal snow but still plenty of cold. I've used it exclusively as a two-person shelter (i.e. I've shared it every night I've slept in it).]
The Specs
Minimum Weight w/o Vestibule: 4 lbs 2 oz / 1.871 kg
Minimum Weight: 5 lbs 3 oz / 2.353 kg
Packaged Weight: 5 lbs 12 oz / 2.608 kg
Doors: 1
Vestibules: 1
Vestibule Area: 16.4 ft2 / 1.52 m2
Floor Area: 30.3 ft2 / 2.81 m2
Peak Height: 43″ / 109.2 cm
Dimensions (in): 84″ x 55″(head) x 49″ (foot)
Dimensions (cm): 213 x 140 (head) x 124 (foot)
Packed Size (in): 15.75″ x 7″
Packed Size (cm): 40 x 17.8
Design: Semi Freestanding
Number of Poles: 3 poles – (3 poles hubbed together + 1 hoop pole + 1 vestibule pole)
Pole Material: Yunan UL Aluminum
Fly Fabric: 20D Nylon Ripstop, Silicone/1200mm PeU, FR CPAI84
Floor Fabric: 68D 210T Poly Ripstop DWR/2000MM PeU, FR CPAI84
Body Fabric: 20D Poly Ripstop DWR, FR CPAI84
Guylines: 8
Stakes: 15
Color: White (Body), Blue/Yellow (Fly)
MSRP: $499.95
The Features
Breathable 20d poly body fabric
Removable vestibule
Fully removable fly
20d nylon fly fabric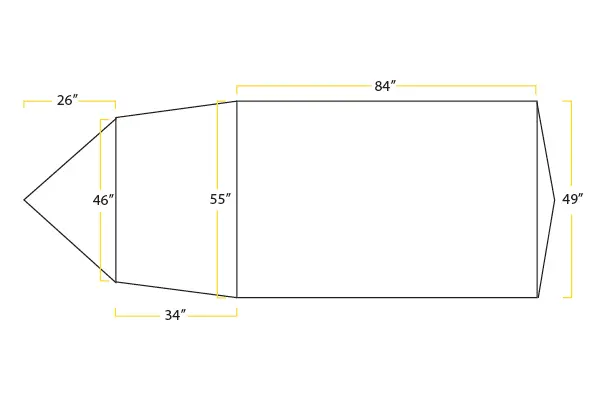 Photo Gallery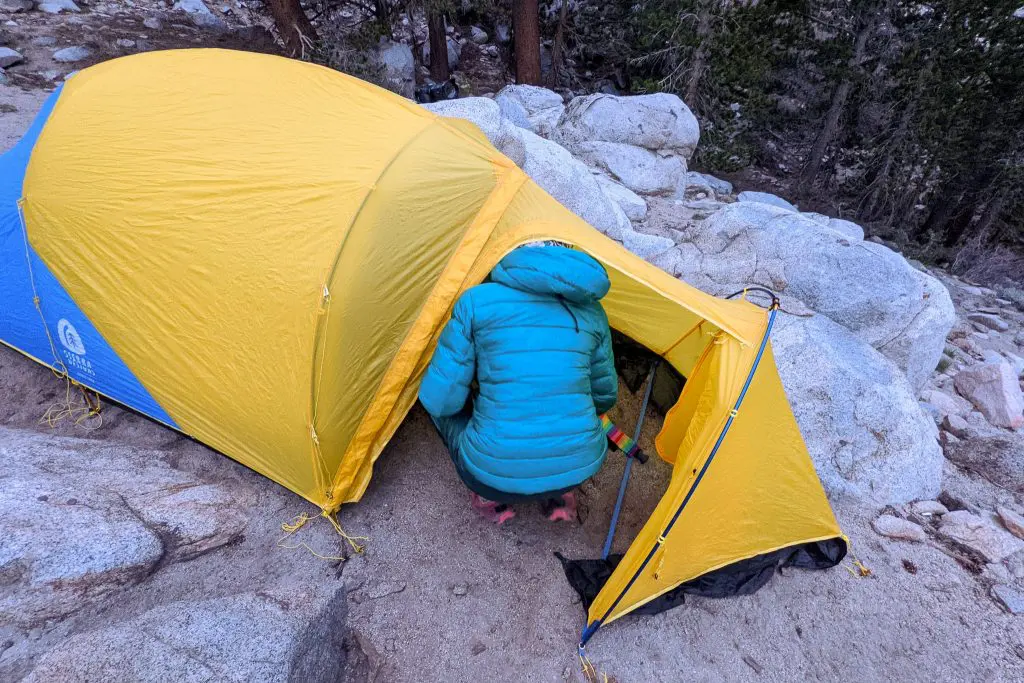 The Versatility: Perhaps the strongest feature of the Sierra Designs Convert 2, as suggested by the name, is the tent's versatility. It can be used in four-season conditions with the complete tent and vestibule, in three-season conditions with the vestibule removed, or in dry conditions with just the tent body. If you're looking to buy just one year-round shelter that can be adapted to the conditions at the time, the Convert 2 could be a shelter to consider.
The Packability: The Convert 2 comes with a compressible stuff sack capable of carrying the entire tent in a relatively compact package. I don't typically carry my shelters in a single package as I find it much easier to pack each piece of the shelter separately within my pack. By separating the different pieces of the Convert 2, it can pack relatively well and I can still keep my pack size to a minimum. The folded poles are also short enough to be packed inside of my pack (they're not longer than the lowest point I can roll my top down to).
The Price: The Convert 2 costs $500 – which is by no means inexpensive. However, the four-season tent market is crowded with shelters commonly costing $700 or more. When compared to comparable shelters, the Convert 2 is certainly a more affordable four-season option. Even the Convert 3 (a larger, three-person version of the Convert 2) comes in at $600. Again, if you're looking for a three-season tent, you can certainly get something lighter for $500, but if you want something that's also going to serve you well in four-season conditions, the Convert 2 is a (relatively) affordable option.
The Okay
The Weight: The Sierra Designs Convert 2 is fairly middle-of-the-road when it comes to its packed weight of 5 lbs 12 oz / 2.608 kg. Plenty of other (more expensive) four-season shelters are lighter (even some with two doors and vestibules), and plenty of three-season shelters come in at less than half this weight. However, as noted above, the Convert 2's strength is in its modularity and its ability to be used in a wide variety of environments. It's made with enough weight-saving measures to still be considered on the lighter side but is far from being the lightest four-season, two-person shelter available.
The Setup: I have no trouble setting up the Convert 2 on my own, but setting up the fly and vestibule can be a bit tricky. Especially because the vestibule requires a solid front stake placement to remain upright. I typically find the pole connectors that attach each of the crossbars (the ones with two attachment points) to be particularly difficult to attach and detach. You also need to be aware of each pole's orientation while setting up the tent. Overall, not terribly difficult, but certainly not the easiest setup either. Familiarizing yourself with the instructions is recommended.
The Condensation: In sustained, below-freezing conditions, I found that the Convert 2 (without the fly/vestibule on and with the door/footbox window unzipped – just the mesh exposed) left me with a fair bit of condensation in the morning on both the tent walls and on my sleeping bag. The best part about condensation in this environment? It was all frozen and rained down upon me in sheets of ice whenever I touched the sides of the tent in the morning. I have not had this same issue when also using the fly.
The Livability: The Convert 2 is a two-person shelter and I've used it exclusively as such. However, I find it to be a little tight for two. Although it has plenty of storage space for gear inside of the vestibule, it can feel tight for two when it comes to more than simply sleeping. I attribute this mostly to the single door and the way you need to get in and out of the tent through the side of the vestibule. If I was going to be living in/using this shelter long-term (e.g. at a base camp or something) with another person, I might consider the Convert 3 instead.
The Bad
The Pockets: I feel like there must be something I'm not understanding here because the Sierra Designs Convert 2 has just two small interior pockets. Why? It's certainly light for a four-season tent but comes nowhere close to the weight of a similarly three-season tent. Did they not include more pockets to save weight? Why would this be where they chose to save weight? As I said, I feel like there's something I simply don't know because I can't think of a good reason why there are just two small pockets in this tent. If you have an explanation, I would be happy to hear it.
The Door: The Sierra Designs Convert 2 has a single door at the front of the tent (where the vestibule is). I'm not a huge fan of single entry shelters when using them with more than one person, but I have other complaints with the door on the Convert 2. The door opens via a zipper that arcs up and around the door – no zipper exists along the bottom section of the door. This means that when you open the door, it falls to the ground. There's a way to secure it, which is fine, but still isn't my complaint. Outside of snowy/cold conditions, where bugs can be an issue, I typically quickly get into my tent and leave my feet/shoes outside with just the bottom of the tent door unzipped. I then remove my shoes and pull my legs into the tent. This maneuver is not possible in the Convert 2.
Who is it for?
Typically, I separate this section into the subheadings, Beginner Backpackers, Weekend Warriors, and Thru-hikers (and sometimes a few other relevant categories), but if you're looking to purchase a four-season tent, I am assuming you know what you're doing when it comes to sleeping outdoors (or maybe I'm wrong and you have no idea). This tent is best for someone who wants to purchase just one tent that can be used all year. It's not the best four-season shelter and not the best three-season shelter; it falls in an interesting space somewhere between the two.
As I pointed out above, this tent is big enough for two, but if you're going to be using it as a longer-term shelter at a base camp, I might give the Convert 3 a look, too – particularly if weight isn't of the utmost importance.
Wrap Up
Questions, comments, or personal experience with the Sierra Designs Convert 2? Leave a comment below and let me know! Check out the Sierra Designs Convert 2 here.
This page contains affiliate links, which means at no additional cost to you, I may receive small commissions for purchases made via these links. This helps to pay the bills and keep the site up and running. Thank you for your support!