Name: Mount Ibuki
Japanese name: 伊吹山 (Ibukiyama)
Location: Maibara, Shiga (滋賀県米原市)
Summit elevation: 4,518 ft / 1,377 m
Elevation change: 2,788 ft / 850 m
Round-trip distance from trailhead: 8.71 mi / 14 km
Round-trip time from trailhead*: 4:13 moving time / 5:25 total time
Difficulty: Moderate
Water on trail: Yes
Trailhead facilities: Parking, bathrooms, shops, water, vending machines
Nihon Hyaku-meizan: Yes
Mount Ibuki (伊吹山, Ibukiyama) is located on the eastern shore of Lake Biwa (琵琶湖) in Shiga Prefecture (滋賀県) on the border with Gifu (岐阜).
The summit can be reached via a trail up the southwestern face of the mountain, or via toll road and car (which, as you will read further down, makes the summit an awful place).
It's one of Japan's 100 Famous Mountains, and can be easily hiked in a single day (up and down).
*NOTE: The round-trip time listed above is based on my own experience. Please remember that your time may vary greatly.
GETTING TO MT. IBUKI
BY CAR: With your own transportation, getting to Mt. Ibuki is not difficult. The trail begins at Sannomiya Shrine (35.394449, 136.383000) which is at the back of a small residential area at the base of the mountain. Parking is ¥500, but if you're lucky you may be able to find somewhere a short walk away for free (I had no such luck). Even if you are willing to pay for parking, I suggest trying a bit north of the shrine to find local residents with large lots eager to accept your money; this way you avoid the crowds and congested narrow streets.
BY TRAIN: The nearest station to the trailhead is Ominagaoka Station (近江長岡) off the JR Tokaido Main Line (東海道本線). It's a 3 mi / 4.9 km walk from the station to the trailhead, but you will still be able to make it up and down Mt. Ibuki if you arrive early.
If you don't like the idea of walking, you can also catch the bus bound for Ibukiyama Tozanguchi (伊吹山登山口) to get you to the trailhead. Click here for that bus schedule.
BY BUS: You can also reach the Mt. Ibuki trailhead via bus from Shiga's Nagahama Station (長浜) if walking or busing from Ominagaoka Station doesn't sound too exciting (although this route is a bit slower). Click here for the schedule.
THE HIKE
Just past the shrine and trail map, you will see the trail leaving up some steps and into the forest.
The hike up Mt. Ibuki begins with a climb through a mostly tree-shaded hillside and up to another parking lot at the base of an abandoned ski resort (not as spooky as it sounds).
Here you will find a bathroom (possibly running water), vending machines, benches, and another small parking area for those who don't want to hike from the bottom (with a road that continues ever farther up – but no, this is not the toll road that continues to the summit).
From here until your next waypoint (the flat area just past the top of the disused gondola), the trail climbs steeply. To compensate you'll start to get some views back towards Maibara and Lake Biwa.
After about forty minutes of climbing, you will reach the aforementioned waypoint, the Fifth Station (五合目). Here you'll find an area with a covered seating, a bathroom, more of those terrible vending machines, and yet another parking lot (because some people can't be bothered to hike up from the trailhead).
Hang out here and/or grab your last refreshment before you head up towards the summit (you've still got a way to go).
From here forward the trail is uphill, exposed, and almost entirely switchbacks. If you've found yourself hiking on a crowded day (like I did), then be aware that you may need to spend much of your time climbing attempting to pass and hanging about being large groups of schoolchildren.
As you start up the switchbacks you know exactly what to expect since you can now see the trail all the way to the top (and if you can't, just know it keeps switchbacking above you).
The now exposed trail offers few places to escape the elements with the exception of the shelter at the Sixth Station (六合目) or some tree coverage before the switchbacks get out of hand.
When you get back to the top, make a right to head towards the circus of shops and the summit marker, or take a left to grab some more intimate views before heading into the crowds of tourists who drove to the summit.
THE SUMMIT
The summit of Mt. Ibuki is a large plateau that would normally be an enjoyable place to relax and take in the scenery (and it still is, so long as you aren't as bitter and jaded as I am).
However, Mt. Ibuki's summit, like the summit of Mt Fuji, has been turned into a horribly commercialized tourist attraction, completely stripped of any semblance of "being in nature".
I wouldn't have much against this hike if it weren't for the disaster that the summit has been turned into. At least a dozen buildings, shops, restrooms, and even people walking around in high heels can be found polluting the otherwise beautiful landscape (you might as well be at the mall).
Fortunately, the summit is large enough that you will have space to escape the crowds and get some space and views to yourself. Depending on the weather and the time of day, you could have views of Lake Biwa, Hakusan, the Japan Alps, and even a peek at Nagoya if your eyes are keen.
The builders of the road up to the summit at least had the awareness (or possibly it was just because of the ski resort that was here) to build the road mostly out of sight, so you won't have to deal with cars rolling directly past you as you enjoy the view.
A loop trail down to the parking lot (and another bathroom encircles the summit, and should take maybe half an hour to forty minutes to complete if you're feeling like the climb wasn't enough for you. Along this trail, you can find another summit marker, an old shrine, and some large metal walls whose purpose I could not understand (maybe something to do with the ski resort).
When you're finished, head back down the way you came (or try hitching to your next destination from the summit parking lot? Might as well take advantage of it being there, right?).
If you have time on the way down, you can check out the disused buildings at the top of the gondola (just past the Fifth Station) if you're feeling like some urban exploration. The buildings should be very obviously visible on the way down if you missed them on your way up.
MAP OF MT. IBUKI
The following was the route my GPS recorded on my hike up Mt. Ibuki.
I have no guarantee that this route is correct, nor that it can be accurately relied upon for backcountry navigation. It should serve only as a general guideline for what the trail is expected to look like.
I have also included screenshots of the recorded elevation profile and hike's overall stats in the case that any of you find any of it useful (imperial on left, metric on right).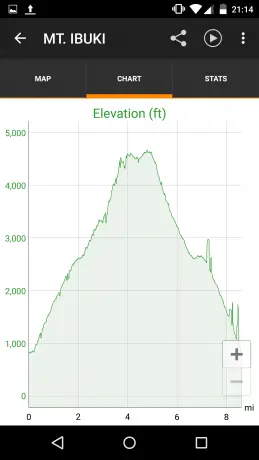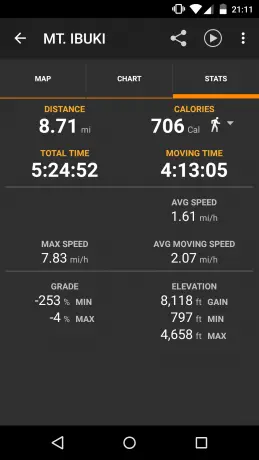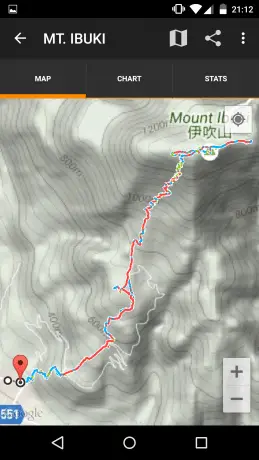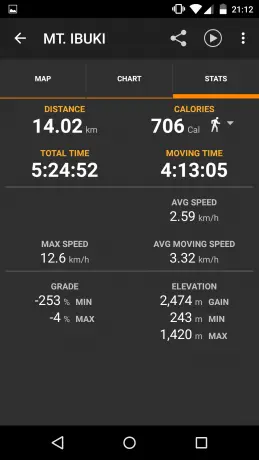 Conclusion
Mt. Ibuki definitely has both pros and cons.
If you are set on bagging Japan's 100 Famous Mountains, love switchbacks, and want a long but uncomplicated day hike with plenty of resources, then you've found your match.
On the other hand, if you hate crowds, can't stand to see the mountains of Japan decimated by commercialism, and want to actually "get out in the mountains" for the day, then Mt. Ibuki is best left for another time.
Have any questions about Mt. Ibuki? Want another post about another one of Japan's mountains? Have a suggestion to improve this information?
Leave a comment and let me know!