The Pacific Crest Trail was my first overnight backpacking trip. Crossing the Australian Outback was my first bicycle tour. The Arizona Trail was my first bikepacking trip (and close to my first time on a mountain bike). The Colorado River through Grand Canyon was my first rafting trip.
I'm drawn to the biggest, longest, most challenging adventures I can find on offer from the many outdoor sports of the world and next up I've decided to try my luck at running.
Unlike the worlds of bicycling and rafting which I came into with no preconceptions or history, running and I do have a history – a history of not agreeing with one another. I've never considered myself a runner. Walk two marathons in a day with a backpack through the mountains? That's cool. Run a 10k on a Sunday afternoon? My nightmare.
That said, as many times as I've said how much I hate running in the past, running 100 miles (160 km) sounds pretty cool; and from what I can tell, most ultramarathon runners hate running, too. So I've already got that going for me. The plan now? Run my first 100-mile race.
My First 100-Mile Race
I've decided to sign up for the Mountain Lakes 100, a race organized and put on by Go Beyond Racing, which will (hopefully) take place September 24-25 of this year. Why did I decide that this race would be my first race? A few reasons:
🏕️ It's (largely) along the Pacific Crest Trail (PCT) in Oregon (something about bringing it full circle) – the PCT through Oregon is considered by many to be "one of the flattest and most boring sections of the trail" (i.e. it's easy – relative to much of the rest of the PCT).
🏃 It's toward the end of the year which means I have – what's hopefully – enough time to train. Ideally, I would probably be looking at doing this next year, but I don't know that I can devote two entire years to running. There are mountains to climb (probably thinking too far ahead here).
⛰️ The Mountain Lakes 100 doesn't have a ton of elevation gain/loss. The entire course (should things remain as they are right now) has 10,639 ft / 3,243 m of gain and of loss. That's not nothing, but over 100 mi / 160 km, it is far from aggressive for an ultramarathon.
⛅ Should the past be any indication of what's in store this year, the race should take place in moderate temperatures – with averages around 45 to 70°F / 7 to 21°C. Some ultramarathons use extreme conditions to up the intensity; the Badwater 135 takes place in Death Valley in the height of summer. Is that more extreme? Most certainly. That said, I'm satisfied with the level of extremeness offered by a 100-mile race on its own.
🥳 I got in! The Mountain Lakes 100 is limited to 150 people per year. This year, everyone who applied before the application deadline (for the lottery) got into the race. Presumably, because there were only 150 (or fewer) people who registered. There is now a waitlist. If I had not gotten into this race (if there had been a drawing and I had not been selected), I would have probably signed up for the Pine To Palm 100 instead – also in Oregon, but with three times the elevation change as Mountain Lakes.
🏥 The Mountain Lakes 100 has (what is reported to be) a fantastic network of aid stations throughout. Some ultramarathons (apparently) offer little more than a course for you to follow and require you to supply your own crew to aid your run. This may be great for some events, but probably not my first ultra. While you are still allowed a crew for Mountain Lakes, the event also organizes aid stations for participants – 15 stops in total.
Goals and Expectations
My goal for the race is to finish. The cutoff for completing the Mountain Lakes 100 is 36 hours.
My secondary more ambitious goal is to finish within 24 hours. Why within 24 hours? Well, besides being a day, there seems to be something apparently magical about that number in the world of ultramarathons. Something else apparently magical about the world of ultras? Belt buckles.
Instead of medals, plaques, or certificates, finishers of ultramarathons get belt buckles as their trophies. Why belt buckles? I don't know, I haven't looked into it. But I am sure there's some story behind it somewhere and that it "just kind of became a thing". Yes, for completing the Mountain Lakes 100 within 36 hours, you get a belt buckle. Finish within 24 hours and you get a special "under 24 hours" belt buckle.
I need that belt buckle.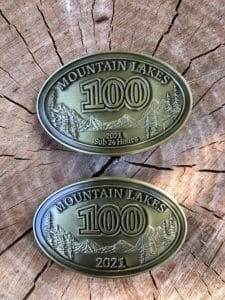 What's Next?
In the coming month I'll be diving into the world of running, ultramarathons, belt buckles, and more. There's a lot to unpack for what's probably one of the more minimalist sports I've found myself engrossed in.
Interested in signing up for (or volunteering at) the Mountain Lakes 100? You can do so on the probably (hopefully) soon-to-be-updated website UltraSignup.